5 Health Benefits Of Lentils, Nutrition, And Side Effects
Discover the surprising impact of consuming this wholesome household staple on your health.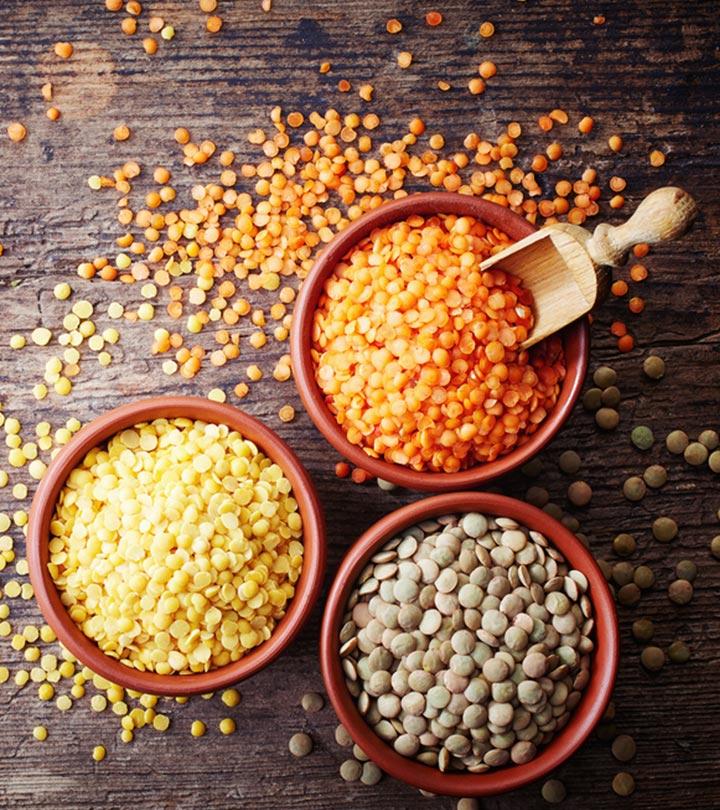 Lentils (Lens culinaris) are gluten-free and easy-to-prepare legumes. There are many health benefits of lentils as they have a high vegetarian protein content and are rich in dietary fiber. Lentils are an essential ingredient in vegan cuisine. Bioactive compounds, antioxidants, and polyphenolsi in lentils make them effective against several health problems. Moreover, they strengthen heart health, improve digestion, and can be of benefit to pregnant women. We examine the health benefits of lentils, their nutritional value and recipe ideas, and any side effects in this article. Take a look.

Know Your Ingredient: Lentils
What Is It?
A type of edible legume taken from a food crop plant, rich in carbs, proteins, vitamins, and fiber.
What Are Its Benefits?
Good for heart health, digestive health, and managing blood sugar levels.
Who Can Use It?
Anyone can eat them except those prone to constipation and flatulence.
How Often?
Can be included in a regular diet and consumed in moderation.
Caution
Those with digestive and gastrointestinal disorders should not over consume lentils.

Different Types Of Lentils
Lentils are classified into different categories based on their color. You can usually find brown, red, green, black, and yellow lentils.
Here are some of the most common types of lentils:
Brown Lentils: These are the most common variety of lentils. They have a mild, earthy flavor. They are available in colors ranging from light brown to very dark brown. They take 20 to 30 minutes to cook and can hold their shape well during cooking. They taste best in soups and stews.
Puy or French Green Lentils: These are small and mottled green with a glossy outer cover. They also can retain their shape after cooking and have a peppery taste. They have originated from the French region of Le Puy. These puy lentils have a crunchy texture and are ideal for salads and other side dishes.

Did You Know?
Carbonized remains of lentils dating back to 11000 BC have been discovered in Greece's Franchthi Cave. They are the oldest evidence of lentil usage till date.
Red Lentils: These lentils are the fastest to cook. They can cook within 10 minutes or less. These are a great addition to your meal and are rich in iron. These are the sweetest lentils and have a nutty flavor. You will find them as masoor dal in Indian and Middle Eastern markets.
Beluga: These are disk-shaped, tiny, and black. They very closely resemble caviar. They are naturally gluten-free and can make a great base for warm salads.
These are some of the important types of lentils available worldwide. We will look at their health benefits in the next section.
A survey done by the U.S Department of Agriculture (USDA) found that Americans consumed approximately 12 pounds of legumes (beans, peas, lentils, and chickpeas) per person in 2017. In the same year, the consumption of lentils reached its all-time high, which is 4.7 pounds per capita, indicating the popularity of these edible legumes.
What Are The Benefits Of Lentils?
1. May Improve Heart Health
Lentils are rich in bioactive compounds like polyphenols that help reduce the risk of cardiovascular diseases. A review published in the International Journal of Molecular Sciences suggests that consumption of lentils may help protect against cardiovascular diseases (CVD) (1). Another study conducted by the University of Indonesia (Jakarta) found that lentils can protect against cardiovascular diseases (2). Lentil sprouts also showed a positive effect on serum lipid levels in overweight and obese individuals with type 2 diabetes. Intake of 60 grams of lentil sprouts for eight weeks could positively impact their lipid levels (3).
Lentils are also rich in dietary fiber and may help lower LDL cholesterol levels and improve heart health (4), (5). They also can potentially prevent the development of atherosclerosis (build-up of fat in artery walls) (6).
2. May Support Digestive System
Lentils contain prebiotics that help promote the growth of Lactobacillae in the gastrointestinal tract. This, in turn, may promote gut health (7). Their high dietary fiber content also has a protective action against colon cancers (8). Lentils can also help promote bowel movements, prevent constipation, and keep the digestive tract healthy. Another study conducted by the University of Saskatchewan (Canada) found that consumption of green lentils may increase fecal weight (9).
3. May Be Beneficial During Pregnancy
One cup of cooked lentils has 358 µg of folate (10). Intake of foods rich in folate may help prevent neural tube defects in babies (11). According to the Centers for Disease Control and Prevention, women should consume 400 mcg of folate every day (12). Pregnant women are also recommended to consume diets rich in high-quality carbohydrates like lentils (13).
4. May Have Anticancer Properties
Lentils contain a unique protein known as plant lectin that has anticancer potential (14). They act as anticancer agents and may inhibit tumor growth cancer cell proliferation. In addition, the seleniumi  XAn essential component in many enzymes and proteins that helps in DNA synthesis and protects against cell damage and infections. in lentils may help reduce cancer risk (15). A diet rich in selenium may reduce the risk of cancer of the colon, prostate, skin, and bladder. However, more studies are warranted to understand this benefit of lentils in humans.
5. May Help Manage Blood Sugar Levels
A review published in the Journal of Chiropractic Medicinei  XAn alternative medicine that diagnoses, treats, and prevents the mechanical disorders of muscles and bones. suggests that foods high in dietary fibers help control blood sugar levels (16). Another study conducted on 3349 people found that regular lentils can help prevent type 2 diabetes in older adults with high cardiovascular disease risk (17). However, more studies are needed to prove this claim.
Intake of lentils in optimal amounts may also help in weight management (18). The high iron content in lentils may also help treat iron-deficiency related anemia (1).
These are the health benefits of eating lentils. We discuss the nutritional breakdown of lentils in the following section.
Nutrition Profile Of Lentils
According to the U.S. Department of Agriculture, one cup (198 g) of cooked lentils contains (10):
Calories: 230 kcal
Protein: 17.9 g
Fat: 0.752 g
Carbohydrate: 39.8 g
Fiber: 15.6 g
Calcium: 37.6 mg
Magnesium: 71.3 mg
Iron: 6.59 mg
Phosphorus: 356 mg
Potassium: 731 mg
Sodium: 3.96 mg
Zinc: 2.52 mg
Vitamin C: 2.97 mg
Niacin: 2.1 mg
Pantothenic acid: 1.26 mg
Thiamin: 0.335 mg
Riboflavin: 0.145 mg
These vitamins, minerals, plant compounds, and phytochemicalsi  XBioactive nutrients found naturally in plants that may provide desirable health benefits and reduce the risk of major chronic diseases. offer several health benefits. They also are high in plant protein and dietary fiber. Adding lentils to your daily diet can help you reap their benefits.
How To Add Lentils To Your Diet?
Serve crispy glazed pork belly with aromatic lentils with baked eggs and toast for a luxurious spin of bacon and eggs.
Add lentils to any soup for added nutrients.
Warming French lentils with walnuts and goat cheese can be a protein-packed vegetarian lunch option.
Broil salmon over lentil salad for your dinner.
Make lentil soup with lots of vegetables.
Prepare stews with lentils.
Try making dips and spreads with lentils.
Use lentils instead of beans in any recipe.
Precook lentils and keep them in the refrigerator for a quick protein source.
Make a lentil dip by mashing cooked lentils with a fork and adding garlic, onion, chili powder, and chopped tomatoes.

Quick Tip
You can eat lentils in different forms: soaked, germinated, fried, baked, and boiled. However, boiling remains the most widespread and common way of consuming lentils across the world.
You may also try the following simple and delicious recipes.
3 Simple Recipes You Can Try
1. Red Lentil Curry
What You Need
Red lentils – 2 cups
Vegetable oil – 1 tablespoon
Curry powder – 1 tablespoon
Onion – 1
Curry paste – 2 tablespoons
Ground cumin – 1 teaspoon
Ground turmeric – 1 teaspoon
White sugar – 1 teaspoon
Salt – 1 teaspoon
Minced garlic – 1 teaspoon
Minced ginger – 1 teaspoon
Tomato puree – 1 can (14.25 ounce)
Process
Wash the lentils in cold water.
Add lentils to a pot with enough water to cover. Bring to a boil, place a cover on the pot, reduce heat to medium-low, and simmer. Add water during cooking to keep the lentils covered, until tender, for 15 to 20 minutes. Drain.
Heat vegetable oil in a large skillet over medium heat.
Cook and stir onions in the hot oil until caramelized, for about 20 minutes.
Mix curry paste, curry powder, turmeric, cumin, chili powder, salt, sugar, garlic, and ginger in a large bowl. Stir into the onions.
Increase heat to high and cook, constantly stirring, until fragrant, for 1 to 2 minutes.
Stir in the tomato puree, remove from heat, and stir into the lentils.
2. Lentil Tacos
What You Need
For Tacos
Chopped tomatoes – 1 cup
Shredded lettuce – 1 cup
Chopped fresh cilantro – ¼ cup
Vegan corn or flour tortillas – 8 (6 inches)
Lime – 1 (cut into eight wedges)
Guacamole – 1 cup
For Spice Mix
Ground ancho chili powder – 2 teaspoons
Ground coriander – ½ teaspoon
Salt – ½ teaspoon
Ground fennel seed – ¼ teaspoon
Ground cumin – 1 teaspoon
Dried oregano – ½ teaspoon
For Filling
Cooked brown or green lentils – 2 ½ cups
Tomato paste – 3 tablespoons
Minced onion – 1
Hot sauce – 1 teaspoon
Water – 2 tablespoons
Chipotle chilis – 2
Minced garlic – 2 cloves
Olive oil – 2 teaspoons
Process
Combine ancho chili powder, cumin, coriander, oregano, salt, and fennel in a small bowl.
Heat oil in a large skillet over medium-high heat.
Cook onion and garlic, occasionally stirring until lightly browned, for about 3 minutes. Add spice mixture and cook, and stir until toasted, for about 30 seconds.
Reduce heat to medium and add cooked lentils, tomato paste, a few splashes of water, and chipotle peppers.
Cook, mashing lightly with a fork and adding water if necessary, until lentils are heated through and hold together for about 5 minutes.
Season with additional salt if needed and adobo or hot sauce.
Lightly toast tortillas in a cast-iron skillet over medium heat.
Spread about 1/3 cup of the filling down the center of each tortilla. Top with lettuce, tomatoes, and cilantro. Serve with guacamole and lime wedges.
3. Cranberry Lentil And Quinoa Salad
What You Need
Dried lentils – 1 cup
Bay leaves – 2
Quinoa – 1
Water – 2 cups
Dressing
Olive oil – 3 tablespoons
Finely chopped green onion – 1
Honey – 1 teaspoon
Lemon juice – 3 tablespoons
White wine vinegar – 1 tablespoon
Salt – ¼ teaspoon
Dried cranberries – ½ cup
Crumbled feta cheese – ½ cup
Coarsely chopped walnuts – ½ cup
Ground black pepper – to taste
Process
Place lentils and one bay leaf in a saucepan with enough water to cover and bring to a boil.
Reduce heat to medium-low and simmer until lentils are tender, for about 30 minutes. Drain and discard the bay leaf. Rinse with cold water until lentils cool. Transfer to a large bowl.
Bring 2 cups water, quinoa, and remaining bay leaf to a boil in a saucepan.
Reduce heat to medium-low, cover, and simmer until quinoa is tender and water has been absorbed, for 15 to 20 minutes.
Rinse quinoa with cold water until cool, and discard the bay leaf. Stir quinoa into lentils.
Heat lemon juice in a microwave-safe bowl in a microwave until warm, for about 30 seconds.
Stir honey into juice until dissolved. Add vinegar and salt. Whisk in the olive oil and season with black pepper.
Pour lemon juice mixture into lentils and quinoa.
Mix walnuts, cranberries, feta cheese, and green onion into the lentil and quinoa salad.
Toss to coat. Refrigerate until chilled, for about an hour.
Lentils are generally considered safe for many people. But they may also cause side effects in some. Scroll down to know in detail.
Side Effects Of Lentils
Intake of lentils is generally safe for many. However, lentils also contain compounds like trypsin inhibitorsi  XA protein and a type of inhibitor that controls the activation and reaction of the enzyme trypsin and other proteins. and anti-nutrients. These compounds include phytic acids that may bind to minerals like zinc, calcium, and iron and reduce their absorption in the body (19). Tannins and lectins are other natural compounds that may prevent the absorption of certain nutrients if consumed in excess (20), (21). The anti-nutrient content of lentils may decrease if they are soaked in water. Intake of lentils in higher amounts may also cause constipation and flatulence. They may even cause allergic reactions due to the presence of Len c 1 and 2 allergens (22). However, more studies are warranted to further understand these side effects.
Lentils are edible, gluten-free legumes with high protein content. They are rich in dietary fiber, low in calories, and contain several bioactive compounds. All these components are responsible for the immense health benefits of lentils. The intake of lentils may improve heart health, support the digestive system, be beneficial during pregnancy, help in diabetes management, act against tumor cells, and manage blood sugar levels. However, excess intake of lentils may cause some side effects. They may prevent the absorption of nutrients and cause constipation and flatulence. Hence, limit the consumption of lentils to reap their maximum benefits.
Frequently Asked Questions
Do lentils make you gain weight?
No, lentils cannot make you gain weight. Moreover, if consumed in moderation, they effectively help with weight loss because of their low-calorie content.
Do lentils burn belly fat?
Lentils are rich in soluble fiber. If included as part of a healthy diet and coupled with regular exercise, they may help reduce belly fat.
Which color lentil is healthiest?
Black-colored lentils are the healthiest as they are loaded with protein, fiber, calcium, and potassium that can promote overall health.
Do lentils make you poop?
Yes, lentils make you poop. These are packed with fiber that help relieve constipation and ease bowel movements.
Do lentils boost metabolism?
Yes, lentils help boost metabolism as they are high in protein. They are also rich in fiber that helps in the growth of beneficial gut bacteria.
Key Takeaways
Lentils (Lens culinaris) are gluten-free, easy-to-prepare legumes rich in protein and nutritional fiber.
Lentils can protect you against cardiovascular disease, assist the digestive system, prevent tumor growth and cancer cell proliferation, and manage blood sugar levels.
However, consuming excess lentils may produce adverse effects such as constipation, flatulence, allergic reactions, and more in some people.
Learn about the amazing nutritiona; and health benefits of lentils! Discover why lentils are a great addition to your diet and how they can help you stay healthy by watching this video.
References:
Articles on StyleCraze are backed by verified information from peer-reviewed and academic research papers, reputed organizations, research institutions, and medical associations to ensure accuracy and relevance. Read our editorial policy to learn more.
The following two tabs change content below.