Everything You Need To Know About Libra And Sagittarius Compatibility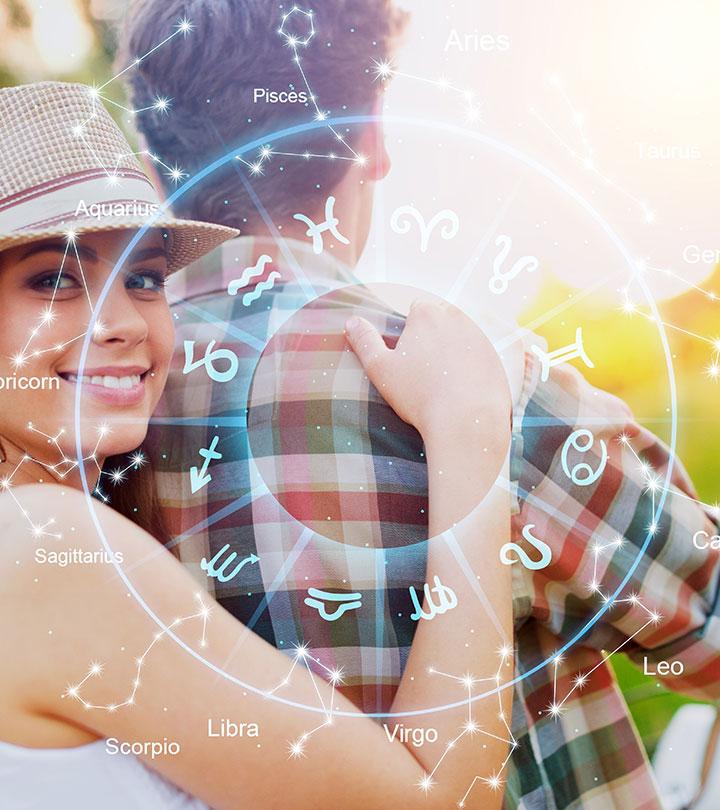 The relationship between air and fire signs is always dynamic, and the Libra-Sagittarius situation is no exception. Astrologers consider them compatible as these zodiac signs approach their relationship with enthusiasm and positive energy. This characteristic makes their long-term union stable and secure. The compatibility between Libra and Sagittarius thrives well, thanks to their mutual love and red-hot sexual chemistry. However, like other relationships, theirs also has some weaknesses.
This article will focus on various aspects of the Libra-Sagittarius relationship, including marriage, love, sexual attraction, friendship, and more. Start exploring!
Libra And Sagittarius Compatibility In Relationship
Compatibility between Libra and Sagittarius is undoubtedly high. The cardinal air sign — Libra — and the mutable fire sign — Sagittarius — complement one other. Their union is rich in excitement, passion, and intensity. People belonging to these zodiac signs have several similarities, helping them form a functional and harmonious pair. Also, they have numerous differences, which keep their relationship ticking and ensure that their love never gets mundane.
Sagittarius men and women have big hearts, and hence, Librans feel attracted to them. In association with Libra, the Archer understands the importance of peace in a couple's life. The signs feel exhilarating energy in their social atmosphere and love to go with the flow. The fun-loving and carefree nature of these two signs attracts them to each other.
However, things are not always easy between them. While Librans, ruled by Venus, prefer approaching situations with charm, thoughtfulness, and grace, Sagittarius, ruled by Jupiter, enjoys the thrill. This difference between the two signs describes why a Sagittarius and Libra relation may not always work well.
Let us look more closely at the dynamics of the air-fire union and see how harmonious the relationship between a Libra man and a Sagittarius woman can be.
Libra Man And Sagittarius Woman Compatibility
Astrologers consider Libra and Sagittarius as optimists. This couple has a natural affinity for each other. While their methods of expression differ, they can still ignite the fire of love in their relationship.
Libra men demand companionship and psychological stimulation from their romantic partners. They are charming and crave a significant other. Nevertheless, physical attraction and sexual relationships are not enough for them. They are always fascinating, gracious, and capable of bringing joy, balance, and happiness into their Sagittarian partner's life.
Sagittarian women, on the other hand, are restless and spontaneous. They are outgoing, friendly, and always like to participate in things that excite them. They hate cozy domesticity and feel fulfilled and satisfied when they are in a romantic relationship. A Sagittarian woman is the cheerful, happy-go-lucky child of Jupiter, who brightens, expands, and adds adventure to their Libran partner's life.
Astrologers consider a match between a Libra man and a Sagittarius woman heaven blessed. Their compatibility symbolizes prosperity and happiness, as the couple establishes harmony in several ways. Read on to know how their relationship fares when a Libra woman gets together with a Sagittarius man.
Libra Woman And Sagittarius Man Compatibility
The compatibility between a Libra woman and a Sagittarius man spells opportunities. When this pair interacts in a healthy, well-balanced manner, it can soar to heights that would have been impossible for either of them to reach alone.
When Sagittarius men fall in love, they give more priority to their independence. As responsible adults, they are innocent, flirtatious, and borderline bad boys. They are extraordinarily sports-loving and the proverbial bachelors who never fail to fascinate their partners.
Libra women personify femininity. Besides being intelligent and independent, they are charming, attractive, sensual, and grateful. They possess an uncanny ability to understand every side of a situation and, therefore, are great at putting people at ease.
While their styles differ, these zodiac signs complement each other. Often, Libra women are the leaders in this union, while their partners remain carefree. The couple is outgoing, charismatic, social, and extrovert. The best aspect of their relationship is their mutual need for intellectual stimulation from different people, places, and things.
The conjugation of the two beneficial planets — Venus and Jupiter — also offers their relationship romance, sexual desire, and tenderness, which leads them to a fairytale ending. Scroll down to read more about their sexual compatibility.
Libra And Sagittarius Sexual Compatibility
The sexual compatibility of Libra and Sagittarius depends on various factors indicated in their charts. However, they are most likely to enjoy their intimacy. The Libra-Sagittarius compatibility in bed is unique as they experience pleasure and enjoy enough personal space for growth, security, and building their self-esteem in each other's arms.
Sagittarius and Libra prioritize forming an enjoyable intimate relationship. Their primary goal is to keep their partner happy. They love experimenting with new things and follow it up with a smile and a sense of light-heartedness, which indicates that developing an intimate relationship was never a big deal for them.
The sincere nature of the Libra partners offers their relationship endurance and stability, forming a sound foundation for a long-lasting friendship between Libra and Sagittarius. Head to the next section to know how their compatibility translates into a friendly bond.
Libra And Sagittarius Friendship Compatibility
Libra and Sagittarius are opposite to each other in quite a few ways. However, both love to experience life and push boundaries. The compatibility of the Libra-Sagittarius friendship remains unmatched as they are addicted to each other's presence. Librans are the perfect audience for the wild and comical stories that Sagittarians love to weave.
The two zodiac friends love spending their evenings gossiping, consuming wine, listening to music, and rolling on the floor together as they burst into laughter. Undoubtedly, the Libra-Sagittarius friendship is a pocket of sunshine. One can call them big kids who never like to grow up when they become over-dependent on each other.
Though the peace-loving Libra attempts to induce calmness and stillness into the psychological state of their Sagittarius friends, these qualities fail to last much longer. This mismatch in their nature can make the relationship between Libra and Sagittarius a roller-coaster ride. Read on to know the strengths and weaknesses of their bond.
Pros And Cons Of Libra-Sagittarius Alliance
Pros
They attract each other and have a natural sense of understanding. It makes their bond flourish, forming a genuine rapport between them.
Generally, Librans are laid-back and easy-going, while Sagittarians find it easy and comfortable with a genuine partner. Libra brings stability to Sagittarius's whirlwind nature, which helps develop mindfulness over time.
On the other hand, Sagittarius brings excitement to Libra's life. It is an essential aspect for the Libras who feel loved and cherished in their relationship.
These zodiac signs also possess a forgiving nature. So, even if they find themselves in the middle of an intense argument, they have the solution to get out of it without any permanent emotional damage.
Cons
The main issue in the Libra-Sagittarius relationship is the difference in their outlook towards life. Sagittarius people are spontaneous and live in the present. Libras, on the other hand, look for long-term stability and peace.
Although the two zodiac signs do not demand different things, it is tough for them to plan anything together, especially in their relationship. Sagittarius being carefree, does not like to burden themselves with the thought of the future, and Libras fail to remain uncaring for long.
Sagittarians are trustworthy and never use harsh words during an argument. This behavior of Sagittarius irritates Libras, which results in some strong disagreements. Tempers start flaring up, causing hostile fights and even ending their relationship.
People may notice a battle between these two signs because Saturn, exalting over Libra, does not care about his son and the ruler of Sagittarius, Jupiter. The struggle might lead to a battle for supremacy and reaching the ruling position among them. But coming together should not be difficult for them as Libra and Sagittarius share a strong bond of understanding. In most cases, their compatibility is a great and unique one, allowing the partners to develop their emotional inner worlds and build their lives without any negativities.
Recommended Articles
The following two tabs change content below.