31 Best And Stylish Libra Tattoo Ideas For Women
Design ideas that embody the essence of the Libran personality in the most creative possible way.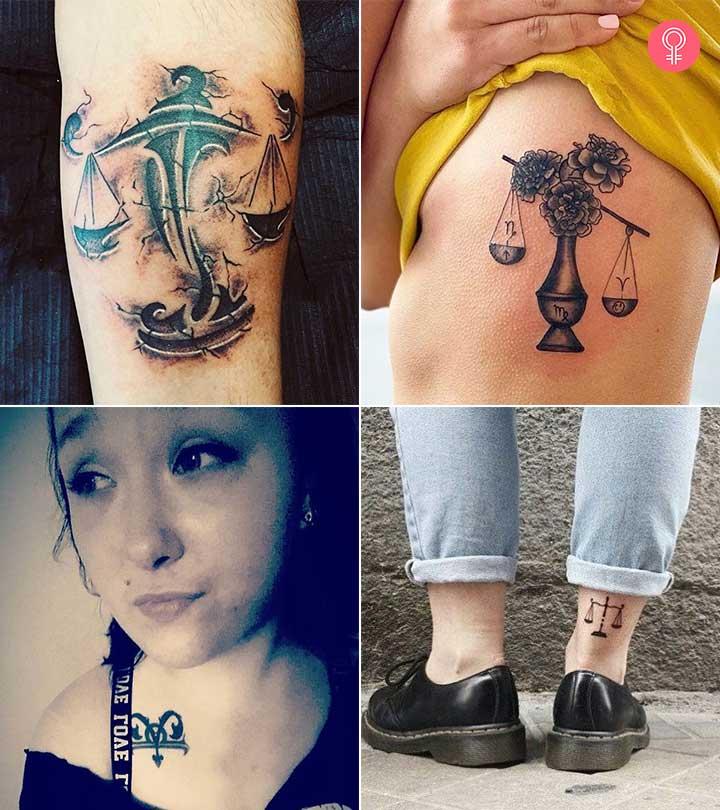 Libra is a sign of optimism, romance, and harmony. It is also linked to making sensible and just decisions. Thus, Libra tattoo ideas are extremely popular among people born under the sign of Libra (September 24th to October 23rd). You can also wear libra tattoos in honor of someone born under the sign of Libra.
A pair of scales representing balance symbolize the Libra zodiac sign. Libra is an air sign that occupies the seventh position in the zodiac. Tattoos inspired by the Libra zodiac sign date back centuries and were common in ancient Greece. The sign of Libra is associated with the goddess Themis, the ruler of justice. Themis holding the scales of justice is a traditional Libra tattoo.
If you are fascinated by astrology, you will love zodiac tattoo designs. Here is a selection of some tattoo designs inspired by the Libra zodiac that you should check out. Keep scrolling!
31 Best Libra Tattoo Ideas For Women
1. Tribal Libra Tattoo
Tribal art has its own fan base because of its unique inking style that has been around since ancient times. The bold use of black strokes and curved lines used to do this Libra scales tattoo lend it an edgy appeal.
2. Feminine Libra Tattoo
The best way to infuse grace and femininity into a tattoo is to add flowers to it. Floral designs denote elegance and beauty. This Libra tattoo with a blooming cherry blossom tree looks exceptionally graceful. The beautiful shading needs to be done by a seasoned artist.
3. Jesus Libra Tattoo
There are plenty of ways to experiment with your zodiac tattoo and add a unique meaning to it. This Jesus Libra tattoo is one-of-a-kind and uses the holy crucifix along with the Libra sign to portray your love for your faith along with your belief in the stars. The delicate shading and intricate details make this tattoo even more appealing. The full-length tattoo covers your forearm and is the perfect tattoo to flaunt on your sleeve.
4. Libra Shoulder Tattoo
If you like meaningful tattoos but prefer to keep them modest and chic, this is the ideal design for you. This tattoo featuring a set of scales weighing the sun and the moon holds a deep meaning. This delicate design is perfect to be inked on your collar bone.
5. Libra Tattoo On The Wrist
Wrists are the most popular body parts for getting tattooed. This rugged Libra symbol tattoo is sure to grab everyone's attention. Pair it with a colorful bracelet, and you are ready to look badass.
Trivia
The Hunger Games actor Josh Hutcherson has the libra sign tattooed on his left wrist adorned with stars around it.
6. Libra Tattoo With A Butterfly
Butterfly tattoos add beauty to your body art. This Libra arm tattoo with an intricate design and retro vibe looks elegant and trendy at the same time. The soft shading with a thin outline makes the tattoo even more attractive. The use of black ink makes it ideal for all skin tones.
7. Unique Libra Tattoo
If you want your tattoo to stand out in the crowd, this is the perfect design for you. This simple thin-lined Libra constellation looks gorgeous with the blue and purple strokes in the background. The color palette and mild strokes make it ideal for skin tones ranging from porcelain to beige.
8. Side Rib Libra Tattoo
The side rib is the most sensuous place to flaunt a tattoo. This tattoo of Libran scales topped with chrysanthemums is sure to be noticed in crop tops.
9. Libra Justice Card Tattoo
If you want a tattoo that is unique and will look unmatched no matter where you go, this tarot card tattoo featuring the Libra sign will add a mystic touch to your body art. The light shading and floral design make the tattoo even more enchanting and beautiful.
10. Miniature Libra Tattoo
Tattoos don't always have to be bulky and intricate to grab attention. Small designs also look gorgeous. This miniature tattoo of the Libra sign above your elbow will add a chic touch to your look.
11. Taurus And Libra Tattoo
The combination of an Earth sign – Taurus – and an air sign – Libra – symbolizes the power of a tornado. This tattoo features the outline of a bull with the Libran scales descending from its horns. It is truly one of a kind. This is the perfect tattoo to sport on your ankle.
12. Leo And Libra Tattoo
A mix of fire and air signs creates a bold personality. This lion head tattoo with blue eyes and the Libra sign on its forehead looks exceptional. The small size of the tattoo makes it ideal to sport on your upper arm.
13. Aries And Libra Tattoo
Combining two zodiac signs to form a tattoo is the new trend in astrological body art. This design combines the symbols of Aries and Libra to form a stunning design to be placed below your neck.
14. Libra Tattoo
If you like your tattoos to be expressive yet simple, word designs are the best option for you. They can be done using various fonts and can be flaunted anywhere on your body. This tattoo of the word 'Libra' written in a cursive font will look stunning on your knee.
15. Sagittarius Libra Tattoo Constellation
Constellation tattoos are a favorite among miniature tattoo lovers. This tattoo combines the constellations of Sagittarius and Libra and has the first initials of two beloved people written over them. This personalizes the piece and makes it perfect to adorn your wrist.
16. Libra Sun Tattoo
The sun holds a distinct place in the tattooing world. It exudes an aura of power and poise. The signs of Libra and the Sun combine to portray the radiant character of the wearer. The sun also lends an element of grace to this Libra tattoo.
17. Meaningful Libra Tattoo
If you are a fan of black tattoos, this retro Libra tattoo is sure to appeal to you. It features a set of scales balanced on an intricately decorated stand. The background is shaped like a diamond. This is the perfect geometric tattoo to sport on your calf.
18. Miami Ink Libra Tattoo
Miami ink tattoos are famous for being colorful and attractive. If you like eye-catching hues and loud designs, a Miami Ink Libra tattoo is the ideal choice for you. This sea-textured Libra sign tattoo at the back of your upper arm will add a quirky charm to your personality. The tiny stars and moon denoting the constellation of Libra make this tattoo even more gorgeous.
19. Themis Libra Tattoo
According to Greek mythology, Themis is the goddess of judgment. Themis tattoos are possibly the most detailed versions of Libra tattoos. This piece features the face of the blindfolded deity holding a set of scales.
20. Libra Tattoo With Name
If you want to deviate from the mainstream Libra designs and get a more personalized and unique piece, this is the ideal tattoo for you. It features a set of scales with a winged design. One plate features a name, while the other features the date of birth. The tattoo is highlighted in the background with a blue watercolor effect. If you are a Libran, this is the ideal design to sport on your forearm.
21. Libra Finger Tattoo
The fingers are the quirkiest places to get inked. If you are a fan of miniature tattoos, this Libra sun sign design is sure to win your affection. The tiny area makes it ideal for simple designs that are bound to be noticed. Be sure to take extra safety precautions with finger tattoos as they are the most exposed to water and tend to lose color the fastest.
22. Libra Ankle Tattoo
The ankles are interesting places to get inked. They have a relatively small surface area, so the tattoos sported on them are usually simple and less intricate. This Libra scales tattoo on your ankle will look flawless when you wear heels.
23. Libra Word Tattoo
Word tattoos are the most elegant designs to go on your skin. They can be done using different fonts and styles. This unique design of a faded Libra sun sign, topped by the word 'Libra' written in a cursive font, attracts attention immediately. The placement of the tattoo on your upper shoulder makes it ideal to be flaunted in deep neck t-shirts.
24. Libra Ear Tattoo
The best place to flaunt a miniature tattoo is probably your ear cuff. It is clearly visible and makes the design easy to flaunt. The word 'Libra' written on the outer lobe and the sign on the inner lobe make it even trendier.
25. Libra Scale Tattoo
This lightly shaded sketch of a set of scales on your forearm depicts the person you are in the simplest of ways. The light shade work makes the design perfect to be sported on most skin tones ranging from beige to espresso.
26. Libra Arm Tattoo
The upper arm is the most popular place to get inked as these tattoos can be flaunted conveniently in sleeveless tops or concealed with full sleeves. This simple yet chic design of a set of scales with 'familia' written at the bottom makes this design even more personal and authentic.
Trivia
In a nod to fellow Libra Lil Wayne's song "On my Libra scale I'm weighing sins and forgiveness," singer Halsey inked the scales on her right arm with the words "sins" and "forgiveness" around it.
27. Libra Yin-Yang tattoo
Yin-Yang tattoos have their own fan base. A Libra tattoo along with a yin-yang symbol represents the balance of the universe and your balanced personality. The rough-edged and splash effect makes this piece of body art even more alluring.
28. Geometric Libra Tattoo
With the advent of modern art geometric designs, tattoo artists have a new art form to explore. This Libra tattoo is formed using blocks and triangles. The dotted circle makes the tattoo even more appealing and attractive.
29. Libra Tattoo On The Back
Your back is the best place to flaunt a tattoo. The set of scales is drawn symmetrically on your back. The black and gray shading with the phrase "Follow your heart" makes this tattoo even more personal.
30. Libra Neck Tattoo
Neck tattoos look stylish and are the best tattoos to flaunt when you tie your hair in a bun. This trendy zodiac sign tattoo is simple yet grabs all the attention. Pair it with a beautiful neck-piece and get ready to make a big style statement.
31. Realistic Libra Tattoo
If you want your design to cover a considerable amount of space and look realistic, this Libra queen tattoo is the ideal choice for you. The portrait of a woman with a blindfold holding the scales of justice is the perfect design to adorn on your skin. Go to a seasoned artist to get this tattoo done.
Infographic: Unique And Trendy Libra Tattoo Designs For Women
Having one's zodiac sign permanently inked on one's body is a popular trend among tattoo enthusiasts. People with Libra zodiac signs, or those with loved ones of this sign, often experiment with different tattoo designs. The meaning behind the Libra tattoo is profound and unique; it symbolizes a person's zodiac sun sign, and akin to Lady Justice, the tattoo design also depicts truth and equality. The infographic below lists a few of the most well-liked Libra tattoo designs. Take a look!

Zodiac tattoos are very popular, particularly among celebrities who serve as role models for many individuals who get tattoos after them. Libra is the seventh Zodiac sign, and we have a whole compilation of Libra tattoo ideas for all those belonging to this zodiac sign. These tattoos are highly popular because there are so many various kinds of tattoos and ways to have them on your body. It's also a common choice because zodiac tattoos are often modest, making them ideal for those who don't want their tattoos to be too noticeable.
Keep in mind that tattooing necessitates extensive aftercare. Allow plenty of time for your tattoo to heal and keep it out of direct sunshine and water. I hope these designs inspired you.
Frequently Asked Questions
Which tattoo is lucky for Libras?
Swans and flower tattoos may be lucky for a Libra as the sign gravitates toward them.
The following two tabs change content below.