5 Benefits Of Licorice Extract For Skin, Its Uses, & Risks
Learn how to use this natural remedy to reduce inflammation and other skin benefits.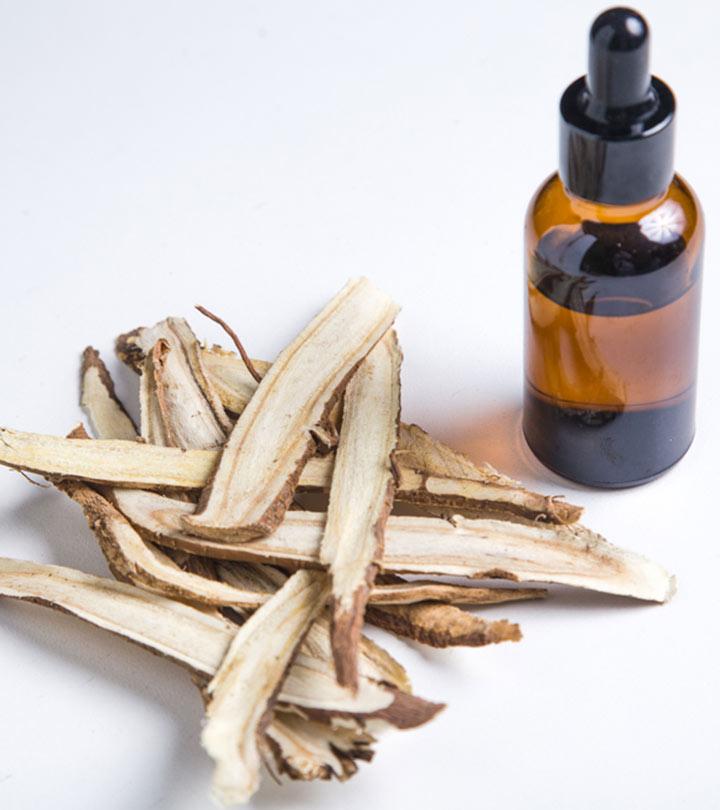 Licorice root extract is one of the natural alternatives gaining popularity in the cosmetic industry as it helps reduce stubborn dark spots, acne, and several other skin conditions. Licorice protects your skin from the damaging effects of the sun and helps in managing acne and discoloration, reducing dark spots, and more. Keep reading to know more about licorice and how it helps you tackle your skin issues to keep it healthy.

Know Your Ingredient: Licorice Extract
What Is It?
Root of a flowering plant that has a sweet, aromatic flavor.
What Are Its Benefits?
Licorice extract reduces skin itchiness, swelling, and redness, and helps reduce hyperpigmentation, sun damage, and acne.
Who Can Use It?
Licorice extract is suitable for all skin types.
How Often?
A tiny quantity of licorice cream or gel once daily is enough.
Caution
Pregnant and breastfeeding women should avoid consumption of licorice extracts so as not to interfere with the fetus' natural cognitive development.

Did You Know?
Licorice is the common name of the flowering plant Glycyrrhiza glabra.
What Is Licorice Extract?
Popularly known as mulethi or yashtimadhu, licorice plant is a perennial legume indigenous to Middle East Asia and India used to treat various medical ailments. Licorice roots are processed to obtain their antibacterial, anti-inflammatory, and antioxidant active compounds, which include glycyrrhizin acid and glabridin.


Trivia
It is believed that the genesis of Licorice was in China around 2300 BC. It was one of the 300 medicinal plants classified by emperor Shennong.
Benefits Of Using Licorice Extract For Your Skin
1. May Decrease Inflammation
Skin disruptions caused by pollution, diet, and lifestyle result in increased skin inflammation, itchy, swollen, and red spots, which are treated using topical hydrocortisone creams. The glycyrrhizin in licorice root relieves the swelling and redness in your skin, much like hydrocortisone (1), (2). The anti-inflammatory properties of licorice can subdue the signs of itchiness and redness.
Using licorice extract can help manage the symptoms of skin disorders such as eczemai  XA skin condition that causes itchy and inflamed patches when it reacts with an irritant or an allergen. and dermatitis (3). According to research, the glabridin in licorice helps combat skin inflammation caused by high-glucose stress (4).
2. May Combat Hyperpigmentation
The accumulation of free radicals in your body increases the production of melanin by your skin cells; this creates dark, patchy appearances on your skin known as hyperpigmentation. This is one of the causes of hyperpigmentation. But as this is not the primary cause, free radical production is inhibited by licorice root extract. It also prevents the over-production of melanin (5).
3. May Reduce Sun Damage
Prolonged sun exposure can create dark patches and dullness in your skin.
Glabrene, a powerful skin-lightening agent found in licorice extract, prevents the synthesis of tyrosinase enzymes (6). These enzymes are to blame for the darkening of the skin after sun exposure (7). In addition, high levels of sun exposure will activate these key enzymes, which are responsible for melanin production and the transport of tyrosine after converting it into melanin. This is responsible for the dark patches on the skin.
Liquitrin is another licorice component that aids in skin lightening as it breaks down extra melanin in your skin and protects it from hyperpigmentation (8).
4. May Alleviate Acne
Acne is an inflammatory skin disorder, which is characterized by open or closed comedones, papules, or nodules. Natural antibacterial effects of licorice aid in acne reduction.
Licorice regulates oil production and minimizes irritation on the skin and may be beneficial in lowering the red, patchy look in those with rosaceai  XA common skin condition in which blood vessels become visible and produce small pus-filled bumps on the face. .
5. Offers Skin Protection
Licochalcone A, an active component in licorice, provides skin defense advantages as it encourages your skin to create more antioxidants. Antioxidants strengthen the skin's natural defenses while the use of licorice lowers the incidence of UV-induced skin cancer.
Licorice extract may also aid in the regeneration of elastin and collagen in your skin as it contains nutrients such as amino acids, which are proven to promote skin hydration and moisturization.
Explore the various ways you can incorporate licorice root extract into your skincare routine.
How To Use Licorice Root Extract For Your Skin
Products And Formulations
Creams, gels, sheet masks, and lotions containing licorice are available and regular usage might help you achieve a radiant complexion. The extract content in licorice serums is greater.
Choose a gel-based licorice skin product for itchy and irritated skin. You can also make your own mixture by combining it with aloe vera gel to relieve skin irritation.
The combination of licorice with vitamin C is increasingly popular as it provides better protection against sun damage and hyperpigmentation. Look for serums that contain both the ingredients and use them before you apply a sunscreen.
You can also ingest licorice root powder for added benefit. However, keep a close tab on the amount you consume every day to avoid any harmful side effects (17).
Are you wondering how effective licorice root extract could be for you? Read on.
Who Should Use Licorice Extract?
Most skin types can withstand licorice extract.
If you are pregnant or nursing, avoid drinking licorice extracts.
According to several studies, mothers who consume licorice while pregnant may raise their child's chances of cognitive damage (10).
How Often Should You Use Licorice Extract?
Follow the package directions if you're using a topical application. A tiny quantity of the product is usually adequate. However, your dermatologist will instruct you on the proper dosage if you use a medicated licorice cream or gel.
There is no standard advice for licorice supplementation. Restrict glycyrrhizin intake to fewer than 100 mg per day, according to the
World Health Organization (WHO) and the European Scientific Committee of Food (SCF) (11).
After consulting your doctor, you can also take deglycyrrhizinated licorice (DGL) powders or capsules.
What Are The Side Effects Of Licorice Extract?
Topical Application Of Licorice Extract
An allergic response to licorice root extract is uncommon. However, when combined with other substances, it might create a response on sensitive skin.
To avoid skin irritation and allergies, do not use a licorice formulation with a product containing retinol or hydroquinone.
Consuming An Excess Of Licorice Root Supplements
Licorice tea and supplements are typically safe when consumed in small amounts and for a short period of time. However, in excessive quantities, they might have negative consequences.
Cortisol levels can rise as a result of elevated glycyrrhizin and might have a detrimental impact on your body's fluid and electrolyte balances.
Reduced potassium levels
High blood pressure
Muscle weakness
Abnormal heart rhythm
Excess licorice can also impact the function of your heart and cause fluid accumulation in the lungs (17). It is best to avoid consuming licorice extracts if you have high blood pressure, congestive heart failure, kidney disease, or low potassium levels (21).
Adverse Drug Interactions With Licorice
Licorice extract does not cause adverse reactions (when consumed in low doses) on its own. It can, however, adversely react with certain medications (17), (22). Licorice supplements may interact with:
Diuretics

i

  X

Water pills that help rid your body of excess water by allowing the kidneys to release excess sodium via urination.

Birth control pills or hormone therapy

Corticosteroids

i

  X

A drug that reduces inflammation and suppresses the immune system to treat conditions like asthma, hay fever, and allergic rhinitis.

Blood pressure medicines
Blood thinners
Cholesterol regulating medicines
Painkillers like nonsteroidal anti-inflammatory drugs (NSAIDs)
If you are on any of these above-mentioned medications, consult your doctor before taking licorice.
Infographic: Licorice DIY Face Mask
Licorice extract helps solve several skin issues, including acne, sun damage, and hyperpigmentation. It is available in the form of sheet masks, gels, creams, lotions, and supplements. However, you can also mix it with other natural ingredients to prepare face masks.
Check out the infographic below to learn how to prepare a licorice face mask with honey.


In Conclusion
Licorice extract has the ability to enhance skin tone, decrease inflammation, redness, and combat acne-causing germs. Licorice's active components (glycyrrhizin acid and glabridin) have powerful antioxidant, anti-inflammatory, and antibacterial activities and appear to be beneficial to your skin's health. However, before taking it orally, be aware of its side effects.
Frequently Asked Questions
Does licorice remove facial hair?
Anecdotal evidence claim that licorice powder face masks can reduce facial hair.
Can I add licorice powder to my cream?
Yes. Licorice powder is appropriate for skin care products such as creams. However, do a patch test before using it to avoid allergic reactions and ensure to follow the product instructions to use it.
Key Takeaways
Licorice root extract is widely used in skincare and cosmetics for its anti-inflammatory and antibacterial properties.
It helps soothe inflamed skin, reduce hyperpigmentation, blemishes, and signs of sun damage.
Moreover, it helps strengthen your natural skin barrier with regular use.
Sources
Articles on StyleCraze are backed by verified information from peer-reviewed and academic research papers, reputed organizations, research institutions, and medical associations to ensure accuracy and relevance. Read our editorial policy to learn more.