5 Benefits Of Licorice Extract For Skin, Its Uses, & Risks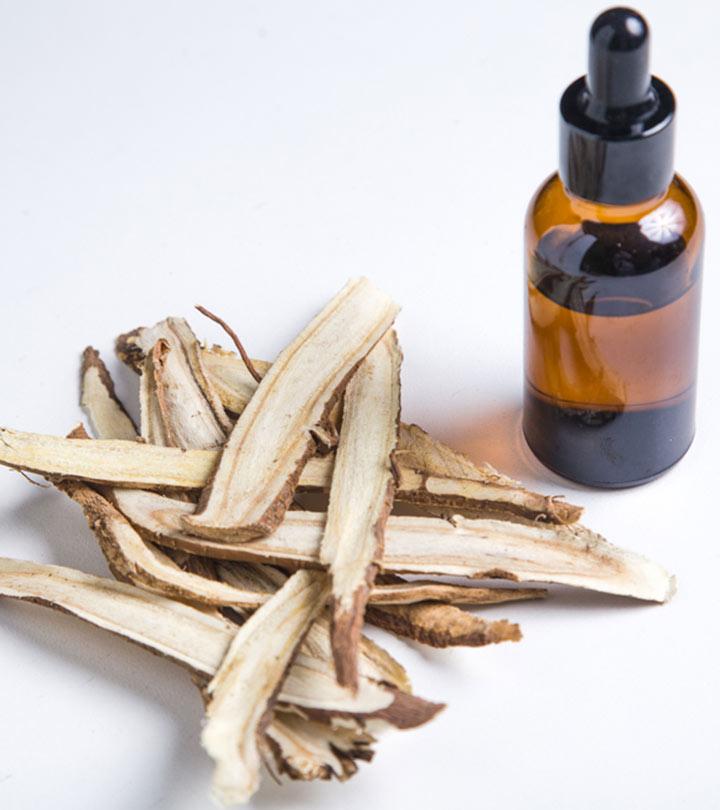 Licorice root extract is one of the natural alternatives gaining popularity in the cosmetic industry. It helps reduce stubborn dark spots, acne, and several other skin conditions. If you have never used licorice extract for skin, it is time you should give it a try.
It aids in protecting your skin from the damaging effects of the sun, managing acne and discoloration, reducing dark spots, and more. Keep reading to know more about licorice and how this helps you tackle your skin issues and help you keep it healthy.
What Is Licorice Extract?
The licorice plant is a perennial legume indigenous to Middle East Asia and India. It is popularly known as mulethi or yashtimadhu and is used to treat several medical conditions (1).
Licorice extract has also gained recognition in Eastern and Western medical practices. It is available in the forms of tea, capsule, powder, and liquid supplements.
Licorice roots are processed to obtain their active compounds. These active compounds, including glycyrrhizin acid and glabridin, are known for their many medicinal benefits. These are said to possess antibacterial, anti-inflammatory, and antioxidant properties.
Read on to know the various licorice extract benefits for your skin.
Benefits Of Using Licorice Extract For Your Skin
1. May Decrease Inflammation
Skin disruptions are common due to pollution, diet, and lifestyle. They can increase skin inflammation and cause itchy, swollen, and red spots. The usual remedy for such inflamed and irritated skin is the topical application of hydrocortisone (2).
You can switch to a natural remedy instead with licorice root extract gels and creams. The glycyrrhizin in licorice root relieves the swelling and redness in your skin, much like hydrocortisone (3), (4). The anti-inflammatory properties of licorice can subdue the signs of itchiness and redness.
Symptoms of skin conditions such as eczema and dermatitis could be easily manageable with licorice extract (5). According to studies, the glabridin in licorice could help fight skin inflammation associated with high-glucose stress (6).
2. May Combat Hyperpigmentation
An excess amount of free radicals in your body stimulates your skin cells to produce melanin. As the melanin produced is much higher than needed, it deposits into your skin, giving you a dark, patchy appearance. This is hyperpigmentation. Licorice root extract inhibits free radical production. It also inhibits melanin synthesis (7).
3. May Reduce Sun Damage
Prolonged sun exposure can cause your skin to develop dark spots and become dull.
Licorice extract also contains glabrene, a potent skin lightening agent. It inhibits the production of tyrosinase enzymes (8). These enzymes are responsible for skin darkening following sun exposure (9).
Liquitrin is another compound in licorice that helps with skin lightening. It disintegrates excess melanin in your skin and protects your skin from hyperpigmentation (10).
4. May Alleviate Acne
Acne is a condition marked by bacterial infections and excess oil production. Licorice has natural antibacterial properties (11), (12). These properties may help reduce acne.
Licorice also controls the oil production on your skin and reduces inflammation. It could be effective in reducing the red, patchy appearance of people with rosacea (13).
5. Offers Skin Protection
Licorice also provides defensive benefits to the skin due to its active compound, Licochalcone A. It stimulates your skin to produce higher concentrations of antioxidants (14). Antioxidants fortify the skin's natural protection. Licorice application may reduce the risk of UV-induced skin cancer (15).
Licorice extract also may help in the regeneration of elastin and collagen in your skin (16). It possesses various nutrients, like amino acids, known to improve skin hydration and moisturization.
Explore the various ways you can incorporate licorice root extract into your skincare routine.
How To Use Licorice Root Extract For Your Skin
Products And Formulations
Licorice skincare products are available as creams, gels, sheet masks, and lotions. Regular use of licorice formulations can give you a glowing complexion. Serums with licorice have a higher concentration of extract. You also find licorice ingredients in certain sunscreen lotions.
For itchy and inflamed skin, pick a gel-based licorice skin product. You can also create your unique blend by mixing it with aloe vera gel to soothe skin irritation.
The combination of licorice with vitamin C is increasingly popular as it provides better protection against sun damage and hyperpigmentation. Look for serums that contain both the ingredients and use them before you apply a sunscreen.
You can also ingest licorice root powder for added benefit. However, keep a close tab on the amount you consume every day to avoid any harmful side effects (17).
Are you wondering how effective licorice root extract could be for you? Read on.
Who Should Use Licorice Extract?
Licorice extract is compatible with most skin types. If you are looking for solutions for dark spots, dull skin, acne, melasma, and eczema, you may try licorice.
Avoid consuming licorice extracts if you are pregnant or breastfeeding. Some research suggests that mothers ingesting licorice during pregnancy may increase the risk of brain impairments in their child (18).
How Often Should You Use Licorice Extract?
If you are using a topical application, follow the product instructions. Typically, applying a small amount of the product is sufficient. If you are using a medicated licorice cream or gel, your dermatologist will advise you on the correct dosage.
Licorice supplementation has no standard recommendation. According to the World Health Organization (WHO) and the European Scientific Committee of Food (SCF), limit glycyrrhizin intake to less than 100 mg per day (19).
Notably, products do not always indicate the exact amount of glycyrrhizin in their formulations. It can be difficult to identify the appropriate dose, particularly for people who consume licorice products in large quantities. Discuss with your doctor and arrive at the correct dosage to avoid any side effects. Alternatively, you can also use deglycyrrhizinated licorice (DGL) powders or capsules after consulting your doctor.
Excess consumption of licorice can result in severe side effects. Find out what they are below.
What Are The Side Effects Of Licorice Extract?
Topical Application Of Licorice Extract
Licorice root extract can rarely cause an allergic reaction. On sensitive skin, it can cause a reaction if mixed with other ingredients. You can safely use licorice in combination with vitamin C as it improves the skin complexion and reduces the dark spots.
Avoid using a licorice formulation together with a product containing retinol or hydroquinone to prevent skin irritation and allergy. However, research in this regard is limited. Consult your doctor for further details.
Consuming An Excess Of Licorice Root Supplements
Licorice tea and supplements are generally safe when used in low doses and for a short duration. In large amounts, however, they can produce adverse effects.
Elevated glycyrrhizin can cause a rise in cortisol levels. It can negatively influence the fluid and electrolyte levels in your body. Overdose and prolonged use of licorice extract can cause (17), (20):
Reduced potassium levels
High blood pressure
Muscle weakness
Abnormal heart rhythm
Excess licorice can also impact the function of your heart and cause fluid accumulation in the lungs (17). It is best to avoid consuming licorice extracts if you have high blood pressure, congestive heart failure, kidney disease, or low potassium levels (21).
Adverse Drug Interactions With Licorice
Licorice extract does not cause adverse reactions (when consumed in low doses) on its own. It can, however, adversely react with certain medications (17), (22). Licorice supplements may interact with:
Diuretics
Birth control pills or hormone therapy
Corticosteroids
Blood pressure medicines
Blood thinners
Cholesterol regulating medicines
Painkillers like nonsteroidal anti-inflammatory drugs (NSAIDs)
More research is warranted to further understand some of these drug interactions with licorice. However, if you are on any of these above-mentioned medications, consult your doctor before taking licorice.
Licorice extracts contain antibacterial, anti-inflammatory, and antioxidant properties that help tackle your skin care issues. You may use licorice for skin-related issues like dark spots, acne, blemishes, and sun damage. It has several benefits to your skin, including soothing it, reducing the risk of UV-induced sun damage, skin lightening, and reducing acne. However, you may discuss with your doctor to know the correct dosage of licorice supplements. Also, if mixed with other ingredients, licorice may cause allergic reactions on sensitive skin. Therefore, always do a patch test before applying it.
Key Takeaways
Licorice root extract is widely used in skincare and cosmetics for its anti-inflammatory and antibacterial properties.
It helps calm inflamed skin and provides a good amount of sun protection.
Licorice is suitable for most skin types and helps reduce hyperpigmentation, blemishes, and signs of sun damage.
Moreover, it helps strengthen your natural skin barrier with regular use.
References:
Articles on StyleCraze are backed by verified information from peer-reviewed and academic research papers, reputed organizations, research institutions, and medical associations to ensure accuracy and relevance. Read our editorial policy to learn more.
The following two tabs change content below.