Types Of Lingerie – How To Choose Lingerie For Your Body Type
Feel confident and beautiful as you rock a piece that flaunts your frame.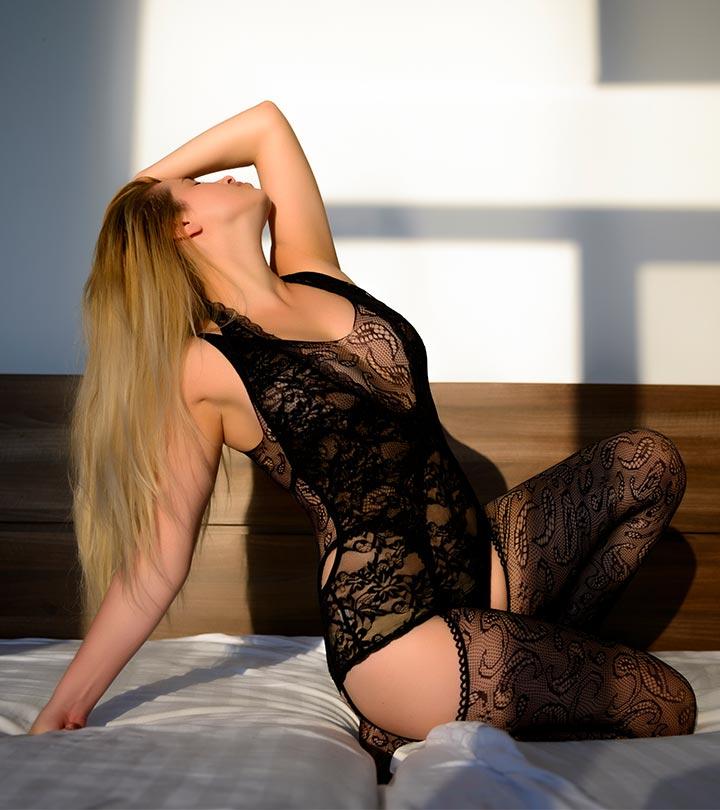 If you want to know about the types of lingerie and how they are different from the usual undergarments, we are here to help. In this article, we will discuss the many types of lingerie available. This will help you choose the one that you love instantly. So, don't hold yourself up anymore. Scroll through the page and give this article a read. Come on!

Ace The Look
Season: Go for embellished bodysuits and stockings during winter and lace or cotton lingerie during summer.
Quality: Invest in silk and satin lingerie as they tend to retain their shape even after multiple washes.
Washing: Hand wash lace or silk lingerie with a lingerie detergent as they may snag during a machine wash. If you prefer machine washing, put the lingerie in a reusable cotton wash bag to prevent it from tearing.
Storing: Fold and put lingerie in a box or put them on a hanger to retain their shape and elasticity.
What Does Lingerie Mean?
Undergarments are your basics, but lingerie is an indulgence. It is an indulgence every girl deserves — single or not! You'd be surprised to know what a tiny piece of clothing can do, considering that it is not even seen (except to your partner, maybe). It makes you feel good, happy, and confident.
In the early 19th century, delicate fabrics of lace, chiffon, hosiery, rayon, ruffles, feathers, and all the things that made your intimates sensuous began gaining popularity. Lingerie was just a status symbol initially. Then, women started splurging on it for important events like weddings and anniversaries. Though lingerie still holds a special place in some people's hearts, it is also a must-have and an investment that needs no reason.
Confused about what kind of lingerie will suit your body type? Read more below!


Trivia
Lady Duff-Gordon of Lucile, a prominent British fashion designer, was a pioneer in the creation of lingerie that liberated women from more constricting corsets.
How To Choose Lingerie For Your Body Type:
1. Lingerie For Hourglass Body Type
If you have a stereotypical "36-24-36" figure, wear lingerie that emphasizes your already hot body. With shoulders and hips that are of the same width and a slender waistline, anything sits well on this type of body. However, garter belts, teddies, and corsets are top-notch choices for this body type. You can also go for high-waisted panties or pair thong panties with a lace bra. If you are looking for comfortable options for panties opt for boyshorts or hipster panties to pair with a wireless bra.
2. Lingerie For Triangle Body Type
Big hips are all the rage right now, and the triangle body type is characterized by exactly that. Your hips are wider than your shoulders when you have a triangle body. The idea is to make your body look more balanced and proportionate. A lacy negligee with a balconette bra that is taut at the breasts but flows down around the hips is a great option. A bustier shapewear is also a great option to draw attention to your breasts. You can also try out a matching set with a ruffled bra and bikini panties or a strapless bra with seamless panties that levels out your shoulders and hips.
3. Lingerie For Rectangle Body Type
If you have an athletic figure with no defined curves, you have a rectangular body. You need something that cinches at the waist, and corsets are the best option for that. They add curves and look sensuous. If you have a long torso, a garter belt or a teddy will look great on you. You can also accentuate your breasts by going for a push-up bra or sports bra and bustier lingerie.
4. Lingerie For Inverted Triangle Body Type
Broad shoulders define this body type, and what you decide to showcase is a personal preference. Halter necks are your best option here. If you have a flatter bum, go for a teddy to divert attention away from it. A bralette with a matching lace panty or a thong is another sexy option. Matching cami sets are another option if you like a relatively tame look.
5. Lingerie For Round Body Type
If you have a rounded waist and your torso and upper body are much wider than your hips, you have a round body. This means you need lingerie that makes your body look proportionate. A negligee that hides chunks of your waistline and defines your bust line is a good option. A teddy also sits well on this type of body. For newbies, a pair of chemises or satin lingerie gowns are an interesting choice – they are sexy and give you coverage.
Now that you know what kind of lingerie looks great on each body type, here are all the types of lingerie that you can explore.
Different Types of Lingerie
1. Garter Belt
A garter belt looks complicated, but it's not. It is something you need to try at least once in your life. It comes with a corset or lace bra and a panty with four straps that hold up the stockings. You can wear it under skirts or dresses.
Expert fashion stylist Michelle Wagman, with over 20 years of experience, says, "You can be sure that the foot of your stockings will sit comfortably on your feet with a garter belt." It is a great starter for anyone just dipping their toes in the world of lingerie.
2. Camisole
Camisoles are practical and functional, but they don't have to be boring. A fully laced cami with a matching panty takes your intimate game to the next level. Wear it under shirts when you go out or to inspire your partner with it at night. Either way, it's a must-have in every woman's wardrobe.


Quick Tip
Additionally, layer a silk camisole under a blazer or cardigan for a touch of feminine appeal.
3. Matching Set
A few good matching sets are an essential in every woman's wardrobe. There's something incredibly sensual about matching sets that lifts your mood instantly. They are heavy on the pocket but worth the money.
4. Corset
Corsets reduce the size of your waist and camouflage any unwanted bulges. The lace ties enhance your figure and give it definition. Wear a corset like a regular top or cover it up with a sheer or transparent dress that does not take away the look completely but hides it just enough.
5. Bustier
A bustier is not very different from the corset, except that it focuses on lifting your bust. It works like a push-up bra and makes your breasts look well-rounded. The hook and eye closures sharpen the shape further.
6. Teddy
A teddy looks like a swimsuit. It is a perfect fusion of a cami (or a bra) and a panty. Think of a bodysuit made with luxurious fabrics like lace, satin, lycra, and leather. They are (usually) not padded but with enough underwire bra support.
7. Nightgown
Nightwears need to be soft and soothing and also sensual. Up your game with gratifying lingerie. A satin gown is incredibly comfortable for sleeping and sexy at the same time. Your choices are endless with nightgowns or robes. They come in short, full-length, and even 3-piece sets.
8. Negligee
It stays true to its name and is a total knock-out. If you're trying to shop for lingerie and not sure what might impress him, a negligee is your answer. It is sexy, feather-light, and sits smoothly on your skin.
While buying lingerie, it is important to know about your body. Your body structure and type play the most significant role in determining the types of lingerie that fits and looks best on you. We hope this information will help you with your lingerie purchase. While you are at it, make sure that the fabric is breathable. It should be of supreme quality as it will be in contact with your skin for a long period. You do not want the cloth to be harsh on your skin.
Infographic: Various Types Of Lingerie To Add To Your Collection
The first item you put on in the morning is lingerie, the most intimate of all clothing. When we suggest that your lingerie may set the mood for the day (or night! ), it should be no surprise, as good lingerie makes you feel bold and confident. Choosing one can be done for a particular occasion, a date, or even just a typical day when you want to feel especially special.
Therefore, in the infographic below, we've included everything from cute styles to seductive ones for everyone! Take a peek.



While buying lingerie, it is important to know about your body. Your body structure and frame size play the most significant role in determining the types of lingerie you should purchase. Once this information has been gained, you can buy your lingerie depending on your preferences. While you are at it, make sure that the fabric is breathable. The fabric should be of supreme quality as it will be in your skin's contact for a long period. You do not want the cloth to be harsh on your skin.
Frequently Asked Questions
When would you wear a teddy?
You can wear a teddy at a sleepover with girlfriends or a special night with your partner.
Are you supposed to wear lingerie under bodysuits?
No, it is not necessary to wear lingerie under bodysuits. Bodysuits are created as a smart garment to serve the purpose of lingerie while creating the perfect base layer.
What are lingerie in one piece called?
There are different variations of lingerie in one piece such as babydolls, teddies, body stockings, corsets, and girdles.
How do you wear lingerie outside?
There are multiple ways to wear lingerie outside if you can carry it off confidently. You can layer it under a sheer blouse and blazer along with tailored trousers or a skirt.
Can you wear a bodysuit with leggings?
Yes, you can wear a bodysuit with leggings or tights but it is not recommended. Pairing two body-fitting clothes can create an inappropriate and unflattering look
What do you wear under a see-through bodysuit?
You can make a statement by wearing a strappy bra or a lacy bra with unique strap details under a see-through bodysuit.
What lingerie is best for my shy girlfriend?
While it mainly depends on your partner's body type, shy women may not be comfortable showing too much skin. Hence, lingerie like a camisole or nightgown would make her feel more confident.
Key Takeaways
To achieve an appealing look for an inverted triangle body type, pair a bralette with a matching lace panty.
A matching set with a ruffled bra can perfectly suit a triangle body type.
For a rounded body type, opt for lingerie that covers the waistline and accentuates the bustline.
Matching sets look insanely seductive and are extremely affordable too.
Choose corsets, negligees, and camisoles to highlight your curves and create a more eye-catching look.
Watch the video to discover the essential role of lingerie and unravel the various types available. From comfort to style, explore the significance of these pieces.
The following two tabs change content below.