Different Types Of Lingerie | How To Choose The Right Lingerie For Your Body?
Lingerie! Sounds familiar? One of those words we often hear; we think "we " know the meaning, but we're not sure. It's a gray area or somewhere in between there. For the longest time, it was one of those words for me. What is lingerie and how different is it from your undergarments? What are the different types of lingerie? Did you know? If your answer to this is a Yes, then congratulations—we will discuss some basics and delve deep. No—Then you're just a few scrolls away from knowing all about it. We've got this!
If anything lingerie is one of the most exciting ways of self-indulgence that every girl deserves—single or not! You'd be surprised to know what a tiny piece of clothing can do, considering that it is not even seen (except to your partner, maybe). It makes you feel good, happy and confident.
Let's go over everything you need to know, and you'll be well on your way to one happy shopping spree at the mall.
What is Lingerie? What Is The Difference Between Lingerie And Undergarments?
For starters, lingerie wear is an undergarment, but the reverse is not always true. Comfort is not the first thing that comes to my mind when I think of lingerie because it isn't about that. It is meant to make you feel good, attractive and also sensuous. Wearing lingerie for your partner is cliched! Women buy and wear lingerie all the time, maybe not as often as they want to, considering the price but that has changed. The high prices are justified because of the fabrics used. They come in luxurious silk, chiffon, lace, and lycra. The designs are intricate and worth every penny you spend. I'd say we all deserve it and should go on a guilt-free trip as often as we can.
Different Types Of Lingerie
1. Garter Belt
Have you been meaning to try something like this? We all must have seen a picture like this at some point, and I have to admit that it looked complicated and far-fetched to me. But, it's not. A garter belt is something that holds your stockings tight, which otherwise can be uncomfortable. They come with four straps and are usually paired with a corset, bodysuit and bustier sets. You could wear these with skirt, dresses, etc. and skip wearing undergarments. The stockings are snug and intact works both ways. Plus it feels great to wear lingerie even when you're not showing it out. You should try this one out, especially if you're new to lingerie.
[Read: Famous Lingerie Brands]
2. Camisoles
I don't even know that Cami could be categorized as lingerie. Camis are more like a practical choice of lingerie. They are used as an everyday essential by most women—combining the slip and a bra, but also come in fancy options too. A fully laced cami with a matching panty makes an impressive set. It can be worn under your shirt when you go out, or tease your partner in the night. Either way, it's a must-have in every woman's wardrobe
3. Matching Sets
I don't know about you but for me, matching lingerie is unique and rare. I usually do not have the time and patience, at least I used to think until I realized that it could instantly make you feel like a princess and lift your mood up. There's something so sensual about them that I'd hate for you to miss. They might seem expensive, but they're worth every penny you invest. If not always, have a few for rainy days (you know what I mean!).
4. Corsets
Women always had a thing for corsets, because they magically reduce your waist size and camouflage any unwanted bulge. The tie-able lace that is used to fasten it intact enhances your hourglass figure further if you have one. Or gives it a nice curve for the not-so-hourglass figures as well. You can wear this as a regular top or cover it up with a sheer or transparent dress that does not take away the look completely but hides it, just enough.
5. Bustiers
A lingerie design which is not very different from the corset. However, the focus for this lies on uplifting the bust. It gives a curvy and firmness to the breasts and works more like a push bra. These come with eyes that can be hooked at the back to accentuate the shape further.
6. Teddy
Are you a fan of bikini? Here's something for you. For those of you who cannot sport a bikini, why not wear something that feels just as good. Teddy is a pleasurable combination of a cami (or a bra) and panty, but more like a bathing suit. You can get these in two-piece and different fabrics like lace, satin, lycra, leather, etc. These are usually not padded, but there's enough support from the underwires.
7. Nightgowns
Are you someone who just cannot sleep without comfortable clothing? Take it one step ahead and go with a gratifying lingerie nightgowns. They are flimsy, soft and sensuous. You can get these in many variants like short, long, backless, sleeveless, etc. It is a matter of choice, but every girl should own a couple of these at least to feel good if not for anything else. In fact, these can be addictive, try for yourself, and you will agree too.
8. Negligees
A total knock-out and something that never fails you. If you're trying to shop for lingerie and not sure what might impress "him"? Go with this one. Even otherwise, it is uber sexy as the name suggests. It is a feather light garment that sits smoothly on your skin and feels just as good.
How To Find Your Body Shape?
Lingerie feels great inside-out. However, not everything might suit all of us. But, how to choose lingerie for different body types? It is important to be aware of your body type, and that becomes a pivot to choosing lingerie that fits and feels right. Believe me when I say that this can make all the difference to your shopping experience.
1. Hourglass
As a rule of thumb, a 36-24-36 is an hourglass figure, if those are your vitals then you straight up know that you have an hourglass figure. In other words, your shoulders and hips are of the same size, with a slender waistline. So wear lingerie that adds oomph to your already hot figure.
Lingerie Suitable For Hourglass Shaped Women
Anything really sits well with this body type and nothing can actually back-fire. However, the garter belt, teddy, and corset models will take it top-notch. You could also go with a high leg panty or a thong with a lace bra. Needless to say, the lingerie set is something that has to be a part of your wardrobe.
2. Triangle
A body type we die for, and this is the new fad. Big hips are a thing now and yes by now you'd know where I'm headed. Triangle shape just means that you have a wider hip structure and that it is broader than your shoulders.
Lingerie Suitable for Triangle Shaped Women
The attention for this body type is invariably at the hips. If you like it that way great; if not try something that steers the attention away and creates an illusion that it's proportionate to the upper body. Try lacey negligee that has are flowing down below and are taut near your breasts. The bustier is something that will bring out the best in you by supporting your breasts and proportionately distributes attention. You could go with matching sets with a ruffled bra that creates an illusion. Another way to do this is wearing a bandeau that is straight and will make it feel like your shoulders and hips are at the same level.
3. Rectangle
Women who have everything on a straight line and no defined curves fall into this category. Your hips, shoulders, and bust are almost at the same level. There's not a definite waistline, and most athletic-looking bodies can be categorized as rectangle shapes.
Lingerie Suitable for Rectangle Shaped Women
If you like anything that cinches at the waist, corsets will be a clear choice for you. They add much-needed curves and will look utterly sensuous. You could go with a garter belt or teddy if you have a lengthier torso. You can make-do a bigger bustline with a push-up type lingerie, something along the lines of bustier lingerie.
4. Inverted Triangle
A shout-out to all the broad shouldered women out there. If you're reading this, you should know that this defines your body type. Your shoulders and bust line are wider than your hip width and can sometimes look athletic. The lingerie that you wear is more of a preference and which body part you choose to flaunt or cover up.
Lingerie Suitable for Inverted Triangle Shaped Women
Wear Lingerie with halter necks, and it's a life hack. If you have a flatter bum, then go with something like the teddy that distributes the attention equally. Even bralettes and a matching lace panty or thong if you don't mind might be your go-to. Go with matching cami sets that give you a relatively straight look
5. Round
It is pretty self-explanatory and as the name goes, this body type is rounded near the waist and has little or no definition. Your torso and upper body are much wider than your hips are. If you take your vitals, you will realize that there is not much of a difference. So, you could try lingerie that makes it all look proportionate.
Lingerie Suitable for Round Shaped Women
The negligee is one variant that both hides the chunks of your waistline and defines the bust line. These are taut at the bust and flowing from down below. If you're anything like me, you will feel comfortable in these. Another option is the Teddy's that will go just as well. Remember to try out dark colors as a beginner and if you're not very comfortable with the idea of lingerie (yet). Or, try any lingerie you fell in love with and pair it with a pair of chemises or satin lingerie gowns that are both sexy and gives you coverage.
Final Words Before We Let You Go
If you are a newbie in the lingerie world, we suggest that you go to a physical store to get a professional fitting done before you buy them. The collections on the online store can be very exciting. However, get your basics first especially considering the cost of the lingerie.
Bra and lingerie need not necessarily be of the same size, so for starters do not fret over trying something that might seem out of size for you. Try a couple and see what you feel comfortable in because that is the basis of wearing lingerie.
For beginners, try and build your wardrobe with a combination of both lingerie and undergarment sets. Take it forward from there depending on your comfort and taste.
Do not shy away from trying anything over-the-top because this is something that is very intimate; it's about you first. So, listen to your body, if it feels good, go for it.
Pay attention to the fabric, and do not venture into something you're not sure of. The material needs to feel smooth, silky and sit well on your skin. Get one great piece instead of two of them on sale; these investments are not worth the compromise. Again, it's for YOU!
If you're in cold countries, pair up your lingerie depending on the season, especially if you choose to wear them to work or a party. Lace and other thin fabrics might not be a good idea for winters for obvious reasons.
The most important aspect is not to throw them in your washing machine. They need to be hand washed; otherwise they will lose shape and can look worn out.
Everybody is unique, and every body is different. It deserves the attention, pampering, and indulgence. Being aware of yourself is the biggest and the most important piece of this puzzle. It uplifts your soul like no other. Here's hoping those clicks were worth it. Feel free to drop in a text if you have any questions and I'm happy to help. Until then love yourself and happy shopping!
Recommended Articles

The following two tabs change content below.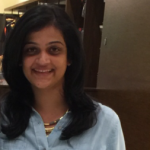 Latest posts by Pratima Ati (see all)