Top 10 Lip Primers Available In India – Reviews And Buying Guide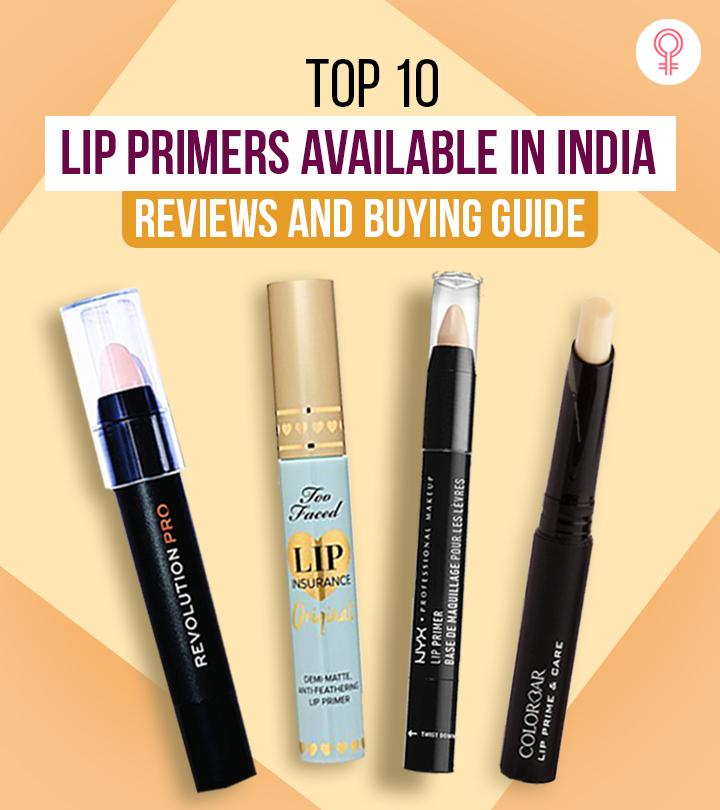 From bold ruby reds to classy maroons to subtle pinks – women's eternal love for lipsticks is evergreen. And rightly so! After all, lips are the most attractive features of a woman's face. However, nothing can be more annoying than your lip color fading away within hours of putting it on. Let's take the art of beautifying lips to another level by exploring the 10 best lip primers available right now. But first, let's answer the most important question.
What Is A Lip Primer And Why Do You Need One?
A lip primer is a color-locking solution that prevents chapping of lips, dryness, flaking, and peeling. In short, it protects your lips against damage and makes them soft and smooth. It acts as a base that allows your lip color to stay intact for long hours without smudging or fading. Just like you use a makeup primer before applying makeup, a lip primer works similarly on your lips. Lip primers are available in various forms like pencils, lipsticks, and crayons that can be used under your lip color.
Now, let's look at the top 10 lip primers that you can use to make your lips look attractive.
10 Best Lip Primers Available In India
e.l.f Lip Primer and Plumper looks like a beige lipstick. It is a multipurpose base and balm that offers the goodness of both a primer and plumper. You can apply this primer as a lipstick base and the plumper over the lipstick to increase its shine and improve durability. It creates an immediate soothing sensation on the lips. This non-sticky lip primer feels soft and silky on your lips and has a very mild cinnamon scent. It also prevents your lips from aging and darkening. This duo has long-lasting power and does not fade away.
Pros
Multipurpose
Immediate soothing sensation
Long-lasting
Mild cinnamon fragrance
Prevents skin aging and darkening
Cruelty-free
Vegan
Cons
None
NYX Professional Makeup Lip Primer offers the dual benefits of color correction and tone adjustment. The color-correcting property of this crayon-type lip primer restores the natural hue of your lips. The tone-adjusting property focuses on reducing dryness, chapping, freckles, fine lines, and pigmentation. This essential primer is made with Blasting Color Seal technology that makes your lipstick last longer without smudging. This primer is available in 2 shades – Nude and Deep Nude.
Pros
Stays on for hours
Reduces dryness and chapping
Evens out your lips' natural color
Available in 2 shades
Cons
Might appear a bit patchy
Feels waxy on the lips
Color bar Lip Prime &Care is not just a primer but also a lip care treatment that treats and conditions your lips. Its gentle, nourishing, and ultra-hydrating formula is made with age-defying and ultra-nourishing ingredients. Thus, it gives your lips a youthful-looking shine. The vitamins C and E in it fills in the wrinkles and plumps up your lips. Its scientifically proven formula boosts lip moisture and enhances the overall appearance of your lips.
Pros
Multipurpose
Ultra-hydrating formula
Anti-aging formula
Non-greasy
Scientifically proven
Free from added preservatives
Cons
Did you know that lines and wrinkles can show up around your lips too? Mary Kay Time Wise Age-Fighting Lip Primer is an all-in-one primer that instantly conceals the wrinkles around your lips and does not fade away. The light-diffusing microspheres in it improve the appearance of your lips and make them look healthy.
Pros
Multipurpose
Reduces fine lines and wrinkles
Does not fade away
Improves the appearance of your lips
Cons
This nude lip primer offers the goodness of nourishing oils that prevent lip darkening. This sheer  primer by M.A.C. can be worn with or without lipstick. It seals in moisture, nourishes the lips, and has impressive lasting power. It repairs lip darkening and pigmentation and restores the natural tint of your lips with regular use.
Pros
Nourishes the lips
Long-lasting
Reduces lip darkening
Suitable for regular use
Cons
SUGAR Cosmetics Seal The Show Lip Primer is an ultimate game-changer for moisturizing your lips. No matter what kind of lipstick you choose to wear – glossy, matte, metallic, or creamy –  your search for the perfect lip primer ends here. All you need is a single swipe of this colorless primer, and your lip color won't fade away. The packaging is lightweight and handy. It increases the longevity of your lip color without any creasing.
Pros
Moisturizes the lips
Lightweight
Does not cause creasing
Hydrating formula
Cons
None
Teen.Teen Lip Primer Smoothing Lip Base is a colorless hydrating primer that soothes and hydrates your lips. This primer creates an even base that is smooth and crease-free. Your lip color settles precisely in place without bleeding or fading when you apply this lip primer.
Pros
Hydrating formula
Improves the overall appearance of your lips
Does not crease
Cons
None
Create a smooth base on your lips with the Revolution Pro Lip Prime &Perfect. This chunky lip primer crayon hydrates your lips instantly and creates a smooth base before putting on any lip color. It fills in the cracks and creases to make it easy to apply richly pigmented lip shades.
Pros
Fills in the cracks and creases
Hydrates the lips
Cruelty-free
Cons
None
This fantastic colorless lip primer prevents your lipstick from feathering. The matte formula of this primer manages to repair and even out any hue damage. It makes lipsticks, lip glosses, and lip balms last longer without smudging. This vitamin E-enriched formula keeps your lips nourished and moisturized. It is also free from parabens, sulfates, and synthetic dyes. With this lip balm, you can rest assured that your lips are in safe hands.
Pros
Prevents feathering
Long-lasting
Smudge-proof
Moisturizes the lips
Paraben-free
Sulfate-free
Quick-drying formula
Cons
None
Anastasia Beverly Hills Lip Primer is a colorless, lightweight primer that hydrates, smoothens, and preps your lips to create a crease-free canvas for any lip look. Its waxy formula glides on smoothly, moisturizes the lips, and holds pigment for a seamless lip color application. This primer is ideal for layering underneath lip gloss or matte lipstick. This essential lip primer helps prevent your lip color from fading and feathering. You can also use it as a hydrating lip conditioner.
Pros
Lightweight
Hydrating formula
Glides on smoothly
Cons
None
Are you ready to add a lip primer to your makeup routine? Choosing the right lip primer with the right texture is essential. Otherwise, your favorite lip look might get ruined. Check out the next section to figure out how to choose the best lip primer for your needs.
How To Choose A Lip Primer – Buying Guide
Make sure your lip primer has a creamy texture. The primary purpose of a lip primer is to create a smooth base for your lips. A creamy texture will help you create a smooth and crease-free base to apply your favorite lip color without any worries.
Some people experience peeling on the lips, while others have cracked lips. So before purchasing a lip primer, go through an ample number of reviews to find one that best is best suited for your lip problem.
Choose a lip primer that offers sun protection. SPF 15 will protect your lips from UVB rays, which is recommended by dermatologists.
Matte lipsticks can be very drying. Your lip primer formula should have ingredients like beeswax, carnauba wax, and castor oil that heal and soften your lips from within. These primers make your matte lipsticks appear smoother without any cracks.
Choose a transparent lip primer or one that matches your lips' natural color.
Consider buying a multipurpose lip primer. Some primers are meant only for the lips, while others can be used on both the eyes and the lips. This is an excellent option for people who don't want to buy a separate primer for their eyes.
Avoid lip primers that contain harmful ingredients like parabens, silica benzyl alcohol, and BHT. Purchase the one that is enriched with natural ingredients like jojoba oil, argan oil, olive oil, etc.
Still wondering what the benefits of lip primers are? Check out the next section to find out more!
Benefits Of A Lip Primer
A lip primer makes your lip colors last longer than usual. Its formula is infused with ingredients that prevent your lip color from fading and smudging.
A lip primer creates a smooth and even canvas for lipstick. Go bold or subtle with your lips freely after prepping your lips with a primer.
Lip primers reduce the appearance of fine lines and wrinkles around your lips. They also prevent any kind of creasing.
How To Use A Lip Primer
Before applying makeup, you must create a flawless base with a makeup primer. Similarly, before applying lipstick, you should use a lip primer to fill in any creases. With a lip primer, you get to enjoy your day-outs without the constant worry of reapplication.
Apply a thin layer of your favorite lip primer before applying lipstick. Your lips will look plumped-up, nourished, and moisturized like never before.
Still think lip primer and lip balm are the same thing? Check out the next section to know the difference.
Lip Primer Vs. Lip Balm –What Is The Difference?
The main difference between lip balm and lip primer is that primer is used as a base to increase the longevity of your lip color while hydrating and nourishing your lips. Lip balm only nourishes and moisturizes your lips.
Lip primers create the perfect base with the right amount of moisturization and hydration. Adding one to your makeup routine can elevate the look of your lipstick. Pick one up from the ones listed above to take your lip game to a whole new level. 
Frequently Asked Questions
What does a lip primer do?
A lip primer is used to create an evenly moisturized base for your lips before applying lip color.
What can I use instead of lip primer?
You can use a lip balm as a base for your lips instead of a lip primer.
Can you put a face primer on your lips?
No, you can't use a face primer on your lips. It is better to invest in separate primers for your eyes, lips, and face.
How does using a lip primer enhance the overall appearance of lip makeup?
Using a lip primer improves lip makeup by creating a smooth canvas, enhancing lipstick performance and color, and providing hydration. Lip primers fill in fine lines and wrinkles, preventing feathering and creasing.
Can you recommend a lip primer that is suitable for use with liquid lipsticks
Yes. The SUGAR Cosmetics Seal The Show Lip Primer is one that suits all kinds of lipsticks including liquid lipsticks.
Can lip primers be used as a remedy for dry, chapped lips?
Yes, The Colorbar Lip Prime & Care functions both as a primer and a nourishing formula for dry, chapped lips. It offers hydration, smoothing and softening, and improved lipstick performance.
Can lip primers be used to create a long-lasting, kiss-proof lip look?
Yes, the e.l.f. Lip Primer and Plumper has a long-lasting effect that makes the lipstick kiss-proof and transfer-proof.
Can you suggest a lip primer that minimizes the appearance of lip imperfections, such as discoloration or uneven texture?
Yes. The M.A.C. Prep + Prime Lip Base is one that minimizes the appearance of lip imperfections, such as discoloration or uneven texture. It nourishes, repairs, and restores your lips.
Recommended Articles: