How To Use Lipton Green Tea For Weight Loss
Pro tips for taking this popular tea the right way for improved weight management. The use of Lipton green tea for weight loss is getting popular today. The brand's green tea is gaining attention, especially for its claims associated with weight loss.
The green tea comes from the Camellia sinensis plant. This tradition of consuming green tea originated in China. The tea contains many beneficial nutrients. It also contains an antioxidanti  XChemical compounds found in fruits, vegetables, and whole foods that lessen or stop the effects of free radicals. , epigallocatechin gallatei  XAn antioxidant that stops cellular oxidation and shields cells from damage caused by free radicals. (EGCG), whose benefits have been backed by science.
The tea may help reduce the risk of some cancers, protect the heart, combat obesity, and reduce the risk of type 2 diabetes (1).
Some may even consider it the best green tea for weight loss. Is Lipton good for you? If so, how effective is Lipton green tea? How true are its claims? Continue reading this unbiased review to know more.
Lipton Green Tea Review
Packaging – Lipton Green Tea comes in a rectangular, lightweight box. You can easily slip it in your bag and take it everywhere you go.
What's Inside The Box – Once you open the box, you can see a series of tea bags that you can easily pick.
Color – Close to church-glass yellow, this tea looks almost like an exotic elixir.
Smell And Taste– Smells refreshing. Tastes smooth if you steep it for a few seconds. Tastes bitter and grassy if you steep it for too long. If you prefer your tea strong, you can steep it for a minute.
Options – Lipton has launched flavored tea bags, such as Lemon Zest, Tulsi Natural, Honey Lemon, and Mint Burst. These are available in packs of 10, 100, and 25 tea bags.
Should You Consume Lipton Green Tea For Weight Loss?
Absolutely! It is simple to make, refreshing, portable, and, of course, it aids weight loss. Shavonne Morrison, RDN, states, "Lipton does have a green tea blend that contains both matcha and green tea. Matcha is a more concentrated form of green tea and a rich source of EGCG, a catechini  XPolyphenolic compounds (a type of organic compound) present in a variety of plants that serve as a source of antioxidants. that may enhance fat loss when combined with regular exercise."
But how does Lipton green tea help with weight loss? Find out in the next section.
How Does Lipton Green Tea Aid Weight Loss?
Here's how Lipton Green Tea helps in weight loss:
It is made from the finest leaves and has zero calories. It contains catechins that help flush out toxins from the body and slow down the aging process.
Flavonoids are great for weight loss. An 8 fl oz serving of Lipton green tea provides 150 mg of flavonoids. It has 0 g fat, 0 mg sodium, and 0 g carbohydrates.
It provides 35 mg of caffeine per serving. Caffeine induces thermogenesis and improves fat oxidation (2).
The natural relaxants present in this tea help combat stress and improve your metabolism (3).
So, there's no reason not to get your pack of Lipton Green Tea.
You may buy Lipton green tea bags or loose green tea. Follow the instructions below to prepare Lipton green tea to reap the maximum benefits.
How To Prepare Lipton Green Tea
There are two ways to prepare Lipton Green Tea – use loose leaves or tea bags. Here's how you can prepare it.
1. Green Tea With Lipton Loose Tea Leaves
What You Need
1 teaspoon Lipton loose green tea leaves
1 cup water
Tea infuser or teapot
Strainer
Saucepan
How To Prepare
Heat the water in a saucepan. Remove from the flame as soon as it starts boiling.
Pour the water into the tea infuser or teapot.
Add loose Lipton tea to the tea infuser or teapot.
Steep it for 3-5 minutes
Strain the green tea into a cup.
2. Green Tea With Lipton Green Tea Bag
What You Need
1 Lipton green tea bag
1 cup water
Tea infuser or teapot
Saucepan
How To Prepare
Heat the water in a saucepan. Remove from the flame as soon as it starts boiling.
Pour the water into the tea infuser or teapot.
Add the Lipton green tea bag to the tea infuser or teapot.
Steep it for 3-5 minutes.
Squeeze the green tea bag. You may keep it aside for a second dip.
Pour the green tea into a cup and sip!

Trivia
Kissa Yōjōki (Book of Tea), written by the Zen priest Eisai in 1211, is one of the earliest documents that discuss the fundamentals of cultivating green tea, its preparation, and how it may boost the five vital organs.
Easy, right? Here are a few more tips to make that perfect cup of Lipton green tea.
Lipton Green Tea Preparation Tips
You can use two green tea bags instead of one.
Use a teaspoon of Lipton Green Tea for each cup of green tea. For example, if you want to prepare two cups, use two teaspoons of the green tea.
Do not add sugar or artificial sweetener.
You can use flavored green tea if you don't like the taste of pure green tea.

Quick Tip
Green tea's flavor is significantly influenced by its steeping duration. Brewing too hot or too long releases high amounts of tannins, giving it a bitter and astringent taste.
A cup of Lipton green tea has many benefits. Scroll down to find out.
Lipton Green Tea Benefits
Helps flush out toxins
Tastes refreshing
Re-energizes your cells
Increases satiety levels
Metabolism-boosting
Easily available
Trusted
Easy to prepare
However, some people should avoid drinking Lipton green tea. Shavonne Morrison, RDN, says, "If you are sensitive to caffeine or taking medications that may be altered by caffeine, you should avoid drinking caffeinated teas. While green tea has significantly less caffeine than a cup of coffee, for example, it's good to be aware that it does still contain some caffeine."
Before we come to a close, here are a few weight loss tips.
Lipton Green Tea Weight Loss Tips
Drink at least 2 – 4 cups of Lipton green tea every day.
If your daily regimen includes a workout session or going to the gym, drink a cup of Lipton green tea an hour prior to your workout session.
You may drink it between meals or as a morning and evening as a diet beverage.
Carry a few Lipton green tea bags with you. Most of the offices, clubs, and other convention centers have hot water dispensers or coffee makers that can be used by everyone. Try making green tea there.
If you drink green tea regularly to lose weight, you should avoid eating processed, high-fat, or high-sugar foods and be physically active.
Looking to shed those extra pounds? Discover the secret to weight loss with Lipton Green Tea. Watch this video and start your journey towards a healthier you.
Infographic: Benefits Of Lipton Green Tea
Green tea has been consumed for centuries in Asia, where it originated, and its popularity has now spread worldwide. Lipton green tea is a popular and refreshing beverage that is widely recognized for its numerous health benefits, making it a favorite among health-conscious individuals. Check out the infographic below to learn more about its benefits.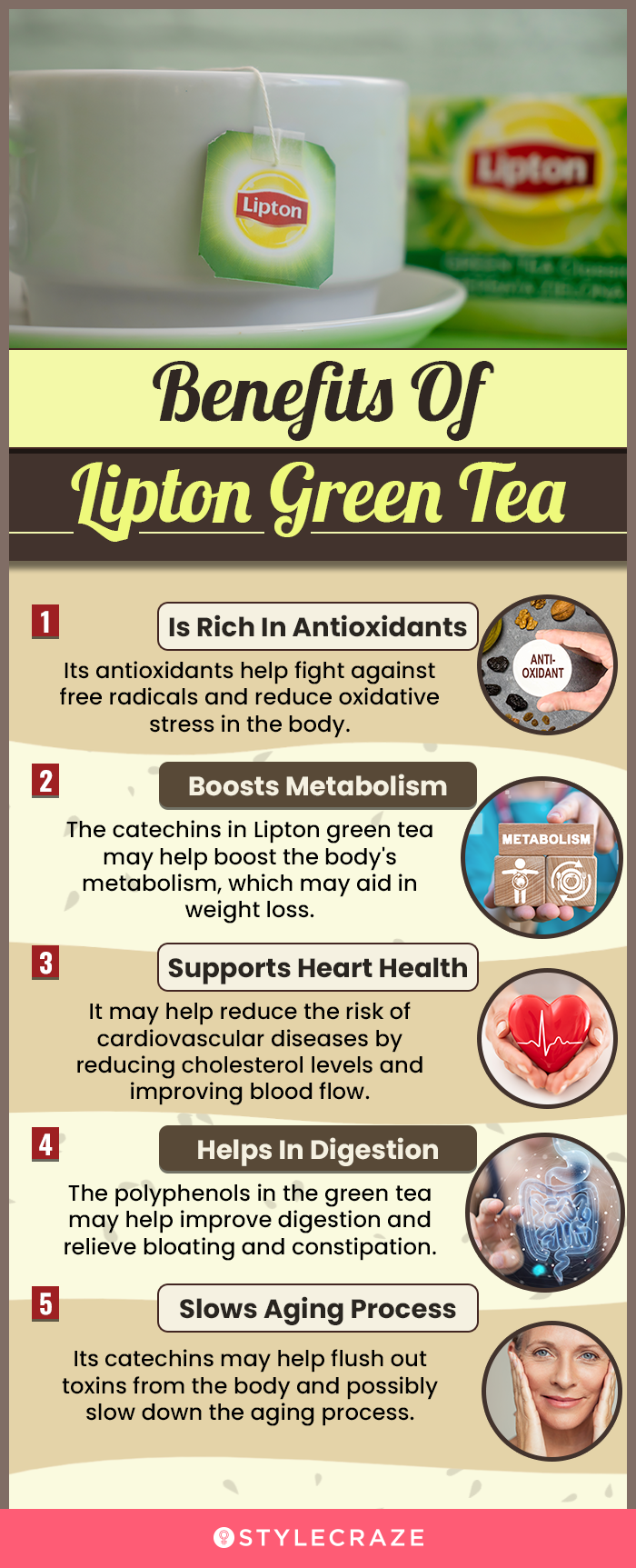 Consuming Lipton green tea for weight loss is definitely worth your money and time. It has zero calories and contains flavonoids and caffeine that help induce weight loss and improve fat oxidation, respectively. Also, there are numerous lipton green tea health benefits like flushing out toxins from the body, suppressing appetite, boosting metabolism, aiding in cardiovascular health, relieving stress, and replenishing your cellular health. You may drink at least 2-4 cups of green tea daily for effective results. If you are not a big fan of pure green tea, you can add honey to it or opt for flavored varieties of this refreshing beverage.
Frequently Asked Questions
How many times can I use a Lipton green tea bag?
Shavonne Morrison, RDN, says, "As far as reusing tea bags is concerned, it's not generally recommended. This is because once the tea leaves have been heated through, reheating them again will not make a strong or effective tea. While it's not harmful or unsafe to reuse a tea bag, you won't have the same benefits as a new tea bag."
Does Lipton Green Tea reduce belly fat?
Yes, the catechins in green tea can help reduce abdominal fat (4). However, a change in lifestyle, diet, and physical activity is also required to see visible results.
Can I drink Lipton Green Tea everyday?
Yes, you can safely drink 1-2 cups of Lipton Green Tea every day.
Can I drink Lipton tea on an empty stomach?
No, drinking tea on an empty stomach may affect your metabolism adversely.
How much weight can you lose with green tea?
That depends on your personal BMI, lifestyle, and healthy habits along with how much calorie deficit you create every day. Green tea just helps boost your metabolism and can be a good inclusion in your weight loss journey.
Key Takeaways
Lipton green tea may aid in weight loss as it contains antioxidants and catechins.
It also contains polyphenols that may lead to fat burning and increase metabolism.
It may help suppress appetite and reduce cravings.
Lipton green tea has a low-calorie content and may replace other sugary drinks.
Sources
Articles on StyleCraze are backed by verified information from peer-reviewed and academic research papers, reputed organizations, research institutions, and medical associations to ensure accuracy and relevance. Check out our
editorial policy
for further details.
The following two tabs change content below.