Listerine Foot Soak – Recipes And Tutorial For Soft Feet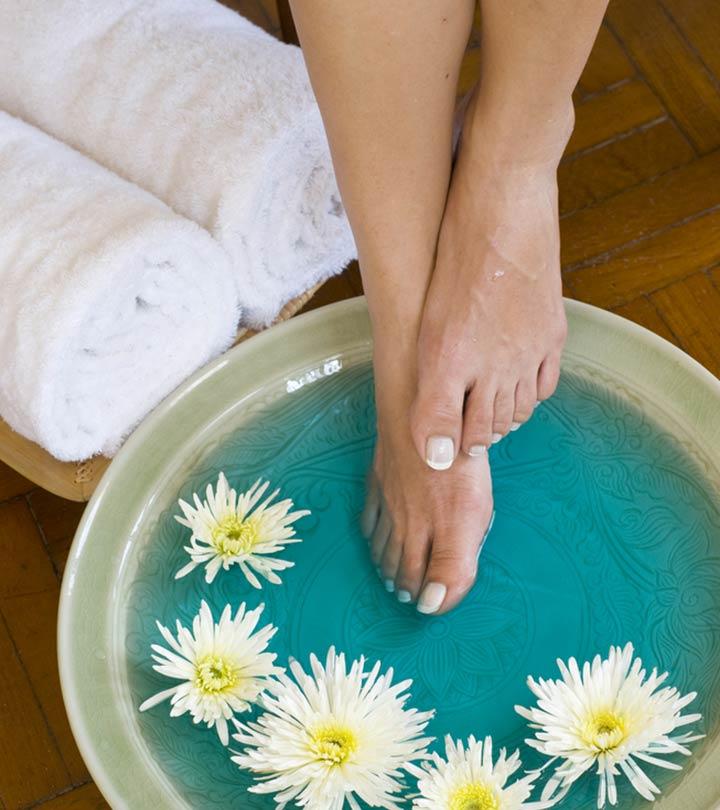 Rumor has it that Listerine foot soak can do wonders for your feet – especially if you have a foot fungus, dry and cracked heels, peeling skin, feet odor, or calluses. DIY and home remedy enthusiasts have tried it and they swear by it. So, does it really work? If yes, how does a mouthwash give you softer feet? How do you prepare a Listerine foot soak? Get all the answers and a tutorial with pictures right here. Swipe up!
Listerine Foot Soak – How It Works

Listerine is a popular mouthwash that helps prevent gingivitis and cavities. So, how does it work to remove dead skin, calluses, and foot fungus? Well, the answer lies in the ingredients of Listerine. It contains:
Methyl salicylate, which is chemically similar to salicylic acid. Salicylic acid is used as an exfoliant in many face washes and acne products (1).
Benzoic acid, which helps prevent the growth of microorganisms (2).
Thymol, menthol, and eucalyptol have antifungal properties, which may be helpful for people with athlete's foot (a fungal infection on the toes) (3).
Listerine mouthwash may work as a good foot soak as it helps cleanse the feet and prevent microbial growth. Moreover, it can prevent foot odor, leaving your feet feeling clean and fresh. But, how can you prepare this foot soak? Emptying a whole bottle is definitely not the way to go about it. Care to check out a few Listerine foot soak recipes? Then, scroll down to the next section.
Listerine Foot Soak Recipes
Take a look at the following Listerine foot soaks.
Note: Blue Listerine can stain your feet blue. So, make sure you use the amber-colored Listerine.
1. Vinegar And Listerine Foot Soak
Recipe
Take 1 cup Listerine and mix it with ½ cup of vinegar (you may use apple cider vinegar, as well).
Add this solution to a tub with 1-liter lukewarm water.
Put your feet in this Listerine and vinegar foot soak for 20-30 minutes.
Use a pumice stone or a brush to get rid of the dead skin. Be gentle.
Wash your feet with cold water and pat them dry with a towel.
Apply a moisturizer.
2. Baking Soda And Listerine Foot Soak

Recipe
Mix 2 teaspoons of baking soda with 1 cup of Listerine.
Add this mixture to 1 liter of lukewarm water.
Soak your feet for 30 minutes.
Use a pumice stone or a brush to gently get rid of the dead skin.
Wash your feet with cold water.
Dry your feet with a towel and apply a moisturizer.
3. Epsom Salt And Listerine Foot Soak
Recipe
Add 1 cup Listerine to 1-liter lukewarm water.
Add ¾ cup Epsom salt to this solution.
You can add 2 drops of lemon or rose essential oil for a pleasant fragrance.
Soak your feet for 30 minutes.
Gently rub your feet with a damp cloth or pumice stone.
Wash your feet with cold water and pat them dry with a towel.
Apply a moisturizer.
These are the three recipes that you can try at home. If you want some more inspiration, we have a tutorial for you. Check out this easy and effective Listerine foot soak tutorial below.
Listerine Foot Soak Tutorial (With Pictures)
What You Need
Listerine
White vinegar or apple cider vinegar
Water
Bath salt
Pumice stone
Coconut oil
A pair of socks
Once you have the ingredients, you are ready to start with the foot soak. Here's what you need to do:
Step 1: Add 1 liter of lukewarm water to a tub.
 Step 2: Add ½ cup of Listerine to the tub.
 Step 3: Pour in ½ cup of white vinegar (or ACV) to the tub.
Step 4: Mix in ¾ cup of bath salt.
 Step 5: Stir the solution and soak your feet in it. Wait for 10-30 minutes.
Step 6: Use a soft towel to dry your feet after 30 minutes.
Step 7: You can already see loose skin on your heels and toes. Use a pumice stone to gently scrub away the dead skin and calluses.
 Step 8: Apply coconut oil to your feet.
Step 9: Wear a pair of soft socks overnight to keep your feet protected.
Clearly, soaking your feet in Listerine is easy and cheap. But is it effective? To find out, let's take a look at a couple of 'before' and 'after' pictures in the following section.
Listerine Foot Soak – Before And After Pictures
These 'before' and 'after' pictures clearly show that dry, cracked, and peeling heels definitely look better after soaking in a Listerine solution.  With that in mind, let's take a look at the benefits of using Listerine foot soak.
Benefits Of Listerine Foot Soak
There are many benefits of using Listerine foot soak:
Gets Rid Of Bacterial And Fungal Infections: A study found that Listerine mouthwash has antibacterial properties that help reduce the risk of bacterial infections (4). We also know that menthol is a potent antifungal agent, which may help prevent toenail fungus like athlete's foot (5).
Relieves Muscle Pain: People with sore muscles can also get relief by soaking their feet in a Listerine solution, partly because warm water helps expand the muscle fibres. Also, the menthol in Listerine has a muscle-relaxing effect (6).
Cleanses The Feet: Listerine foot soak helps exfoliate the dead skin layers, softens dry skin, and cleanses away the dirt.
Removes Foot Odor: Sweating, wearing socks for too long, microbial infections, and not washing your feet regularly can cause smelly feet. A Listerine foot soak can help get rid of this embarrassing odor. (Note: If you add vinegar to your foot bath, your feet may smell like vinegar.)
So, these are the benefits of this unusual foot soak. But, are there any risks of using Listerine foot soak? Who should avoid it? Scroll down to find out.
Who Should Avoid It?
Avoid Listerine foot soak if:
You have an open wound on your feet.
You are previously known to have an allergic reaction to Listerine.
You are allergic to any of the ingredients found in Listerine.
You have sensitive skin.
You do not have cracked feet or athlete's foot.
To be on the safe side, you can take the following precautions.
Precautions To Take
It is best to use diluted Listerine and vinegar if it is your first time using this foot soak. Instead of using half a cup of each ingredient, use a quarter or one-sixth of a cup. You can always increase the concentration of Listerine and vinegar. If your feet start burning, wash them immediately and apply aloe vera gel.
Final Thoughts
Never in a million years did anyone think that Listerine foot soak could actually work. But, it is effective, safe, and cheap. Many women have tried it, and their verdict is positive. So, it's time to try it yourself. Remember, don't use it if you have an open wound or you are allergic to Listerine or any other ingredient mentioned in the recipe. With that in mind, go ahead and get soft and smooth feet like a baby's bottom!
Recommended Articles
Sources
Articles on StyleCraze are backed by verified information from peer-reviewed and academic research papers, reputed organizations, research institutions, and medical associations to ensure accuracy and relevance. Read our editorial policy to learn more.
The following two tabs change content below.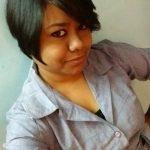 Ramona is a journalist-turned-content writer. She holds a Master's degree in English Literature and has been writing for the digital world for over five years. She specializes in writing for Skin Care. She has done a certificate course titled 'Dermatology: Trip To The Skin', offered by Novosibirsk State University. She believes that beauty begins with a good skin care regimen and is on a mission to eliminate all toxins from her routine. She helps and guides readers in selecting products and ingredients specific to their skin type/issue. When Ramona is not working, her books and passion for music, good food, and traveling keep her busy.