30 Stunning Long Dark Brown Hairstyles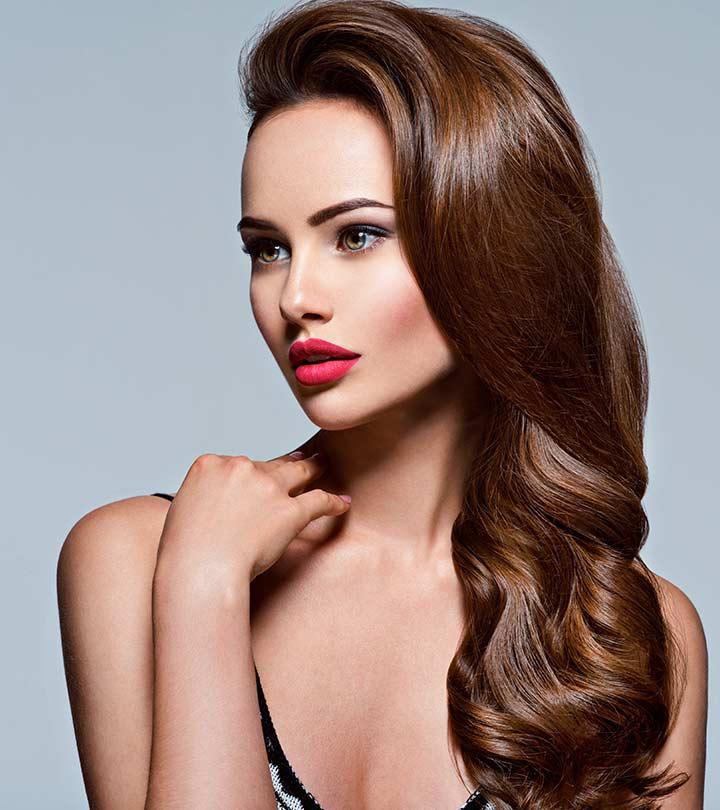 Brown hair looks spectacular. It looks shiny and adds more dimension to your hair. Styling it in new and unique ways might come across as hard, given how common brown hair is. So, I'm here to help you style those long flowy chocolate-colored tresses. Scroll down to check out my top 30 long brown hairstyles.
30 Stunning Long Dark Brown Hairstyles
1. Brown Layers
If you have brown hair, one of the best ways to flaunt it is to get it cut in some layers and curl your hair. If you have a square or diamond-shaped face, your facial outline may appear a bit harsh. Soften it with layers and flowy curls.
2. Dark Chocolate Brown
Chocolate just makes everything better. Getting over a break-up? Have some chocolate ice cream. Sleepy day at work? Drink some hot chocolate! Why not take that gooey richness to your locks? Add a nice chocolate coat over your brown locks and behold its glossy sheen!
3. Golden Brown
If you are looking to spice up your medium to long brown hair, look no further. Add some blonde hints to your brunette locks. It may look a bit ginger, but you can see the blonde shine through.
4. Straight Long Brown
Katie Holmes is the poster child for brown hair! She has stunning fine brown hair. If you have long hair like her, take a leaf out of her lookbook. Add some layers towards the ends of your hair. This will make your fine locks look thicker.
5. Balayage
Balayage is a hair coloring technique. Instead of using a brush to color your hair, use your hands. This gives it a more natural and flowy feel. To blend the balayage seamlessly into your natural hair color, begin coloring it from midway down your hair.
6. Sun-Kissed Hair
The world is going crazy for the perfect sun-kissed look. Sun-kissed brown hair has a touch of blonde in it. And I think we have a winner here! Light and dark brown hues come together to create this beautifully sunlit hair color on Keira Knightley.
7. Blowout
Blowouts are not just for the blonde ladies! Kate Beckinsale shows us how surreal brown hair can look. And all you need is a blowdryer and a round brush to create this look. The side parting and the layers are the icing on this brunette cake.
8. Caramel Highlights
Chocolate and caramel go hand in hand, so why not take that combo to your hair? If you have brown hair and want to jazz it up, add in some caramel highlights that are the same undertone as your hair and skin.
9. Mocha Highlights
One mocha, please! Mocha is a mix of espresso, hot milk, and chocolate. Not only does it taste delicious, but it is also perfect for your tresses! This muted brown shade will bring out your eyes. It also softens a harsh face shape.
10. Long Wavy Brown Hair
Zooey Deschanel is my favorite girl-next-door! Style your brown locks in some waves to flaunt them in all their glory. Keep your hair in the curling iron for just five seconds to get natural-looking waves. You don't want them to curl it in ringlets, but make it flow like a waterfall. 
Fun Fact!
Did you know that brown hair is not the most common hair color? It's black!
11. V Layers
Want to really jazz up your brown locks? All you need is a simple V-cut! The V-cut gives your layers that tapered look that makes it look like an inverted triangle. It makes your hair look more voluminous and thick.
12. Waist-Length Layers
Do you have waist-long hair like Deepika Padukone? If so, flaunt it like the goddess that you are. Style it in some small waves. Lighten it a from a few inches away from the roots. It will make your eyes pop, even if they are brown!
13. Face-Framing Highlights
Highlights that are added near the face to help define it are called face-framing highlights. They are picked based on your color preference, skin surface tone, and undertone. They can make a wide face look slender, and a short face look long. Is it magic or science? No, it's just a haircut!
14. Caramel Highlights With Layers
If you don't want to bleach your locks to add in caramel highlights, just blend them in with your brown tresses. It will give you this deep strawberry shade. Cut your hair in some layers, and you're ready to slay!
15. Cinnamon Balayage
Just a hint of cinnamon can change your whole look. If you have a chiseled jawline, opt for a cinnamon balayage. This will draw attention to the lower half of your face and accentuate it.
16. Dark Brown Beachy Waves
Looking for the brown version of beach waves? Sarah Hyland knows how to do it! Instead of big curls, opt for medium-sized waves. They will make your hair look thicker and fuller.
17. Hollywood Curls
Hollywood curls look stunning on long brunette hair. You will need a blowdryer, a round brush, and hair mousse to achieve this look. Apply the mousse to your hair, then roll it in sections with the brush. Use the blowdryer to form those curls.
18. Long Shag Cut
The shag cut is not just for short hair. If you have long hair, getting a shag cut can bring out your face shape and features. It can also show off your hair color and volume. A long shaggy look, like this one sported by Salma Hayek, will work wonderfully with thick hair.
19. Sun-Kissed Highlights
Add some blonde highlights to your brown hair to give it that sun-kissed touch. Don't add highlights throughout all your hair, just to parts of it. This makes it look like sunlight is hitting your hair naturally. 
Fun Fact!
Brunette is the French feminine word meaning 'brown-haired.' Brunet is the male word. Remember not to mix up those spellings!
20. Babylights
Babylights are subtle highlights that are done on fine hair. They are used to add dimension to your tresses. They also help in framing your face, but are not as loud as highlights. They are also low maintenance compared to highlights.
21. Wavy Brunette
Waves are a great way to flaunt brown locks. This is because they add volume and bounce to your tresses. Make sure that the waves start from the middle of your hair. When you place your hair in the curling iron or straightener, make sure it's spread out and flat.
22. Blonde Highlights
Adding blonde highlights to brown hair is a great way to create some contrast. The lighter shade at the bottom helps soften a sharp jawline while drawing attention to it. The darker roots make your face look longer.
23. Auburn Highlights
Auburn brown hair is truly divine. It adds a shine to your brown locks. Opt for a red that is the same undertone but a few shades lighter than your natural brown hair color. This hair look is sure to make you look like a bombshell.
24. Combed-Back Hair
Looking for a hairstyle that's perfect for a formal event? Opt for this stunning mousse-d waves look. Once you've styled hair your in waves, comb it behind your shoulders and set it in place with hair pins and hairspray.
25. Partial Highlights
Partial highlights are just done on the layers, not throughout all your hair. You can have fun contrasting layers, or go for simple face-framing layers like Jennifer Garner. You can see that she has opted for layers near her face that draw attention to her features.
26. Glamorous Curls
If you've always had straight hair, styling it in curls can give you the makeover you desire. Go the Zooey way and opt for piled-on curls. They bring out your brown tresses as well as make your facial features pop.
27. Dimensional Brown
A dimensional color job is a brilliant way to jazz up those long brown tresses. It adds depth to your hair and makes it look thicker. It also helps in framing your face. You can opt for highlights or a full ombre.
28. Brown Hair With A Ginger Hint
Ginger hair is quite the fad these days. Why not try it? Red and orange blend beautifully with brown. It adds a stunning gloss to your locks and makes them look surreal.
29. Long Curls
Lorde stunned us with her voice and her hair. Her deep dark brown hair is almost as beautiful as her songs. Add some light brown babylights to your long brown curls and pair the look with dark makeup.
30. Coily Brown Hair
Keri Russell floored everyone with her start as Felicity. But when she cut her brown curls off, it made headlines. Since then, she has gone back to her long brown locks and it looks stunning.
Those were my top 30 picks for hairstyles for long brown hair. Personally, I loved Deepika's Vanity Fair look. Which one did you like? Comment below and let me know!
The following two tabs change content below.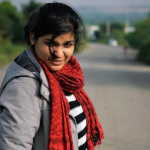 Anjali Sayee is a writer and an introvert. From studying Aeronautical Engineering and wanting to design her own airplane to writing articles on hairstyles, she has been on quite a journey. She believes that hair is one of the key factors that define a woman's personality. To quote her, "What's the first thing they do in the movies to show a personality change? Change the hair – because it has a life of its own." She's here to help you find the hairstyle you need. This bookworm is a self-professed Wholocker, a talented drummer, and an amateur photographer.