30 Best Long-Distance Friendship Lamps That You Will Love – 2022
Stay closer to your long-distance friends and families with these heartwarming lamps.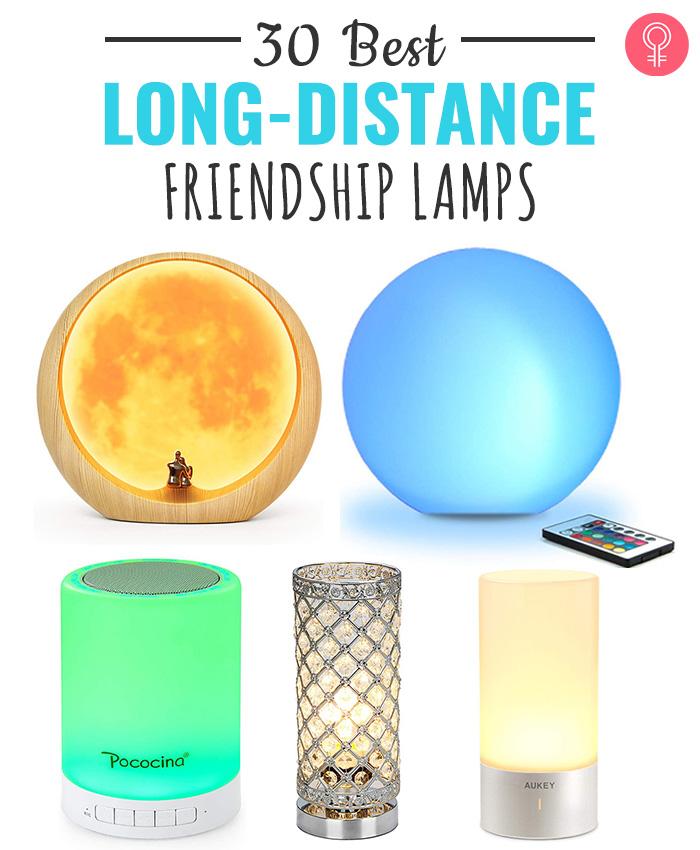 Distance is said to make the heart grow fonder, yet being apart from your friends and family can be difficult. The best long-distance friendship lamps can be just the thing you need to feel like you are always connected, no matter the distance. While social networking platforms and messaging applications make it simpler to stay in touch with your friends, investing in a pair of friendship lamps will give your relationships a more personal touch.
Friendship lamps are created with the intention of making people feel closer to their friends. They are a pair of lamps that are connected over the internet. When you tap one lamp, the other lights up, assuring your friend that they are in your thoughts. The 30 finest long-distance friendship lamps to give to a friend are listed here. Check them out below!
What Is A Friendship Lamp?
A friendship lamp is a smart lamp that offers soft light, so you can wind down and watch TV, curl up with a book, or enjoy your nap time. Friendship lamps are a set of identical Wi-Fi-enabled lamps that are connected to each other through the internet. They come with touch-based 'ON' and 'OFF' features, so you can light them up with a simple tap. These lamps offer different brightness settings and various color settings for multiple RGB shades.
Types Of Friendship Lamps
Two different types of friendship lamps are available on the market. The lamps with LED bulbs have different color options, whereas the other type of lamp emits a yellowish light, which is great for subtle mood lighting.
LED Lamp: LED lamps emit different beautiful colors that can jazz up any room. You have plenty of options to choose from, depending on your color preferences. The LED lamps offer thousands of RGB color combinations and are perfect to suit different moods and occasions. These lamps are very versatile: you can use them to light up your house party or place them on your bedside table.
Lamps With Normal Yellowish Light: This is a classic friendship lamp with different brightness settings, and it can be dimmed according to your needs. You can increase the brightness of the lamp and use it to light up the room or dim the lights for a relaxing atmosphere.
What Is A Long-Distance Friendship Lamp?
Long-distance friendship lamps are a set of two or more interconnected lamps through which people who are staying away from each other can communicate. They only require a power outlet and a functional Wi-Fi connection to get going. Just plug a small Wi-Fi bridge to the router, plug the power cord of the lamp, and you'll be able to start communicating with your friend who has the other lamp from the set.
There are generally two types of friendship lamps: the lamps with multicolor LED bulbs and the classic lamps that don't have touch sensors. As soon as both the people connect their lamps through Wi-Fi, a touch of lamp sends a message, and the other lamp starts glowing. All you need are a power outlet and a Wi-Fi connection.
How Do Friendship Lamps Work?
Friendship lamps are connected to each other through the internet. These lamps are hooked up to the Wi-Fi, and once the connection is established, you can communicate through the lamps using a unique identification number. When the lamps are connected to the Wi-Fi, if one person taps the lamp, the other one will also light up.
Friendship lamps are a creative and sweet way to maintain a long-distance relationship. Here are the 30 best long-distance friendship lamps you can consider gifting to your bestie.
30 Best Long-Distance Friendship Lamps
The Yarra Decor Bedside Lamp is a touch-activated lamp that allows you to adjust the brightness – low, medium, and high – according to your preference. This bedside lamp is ideal for bedrooms, living room, kids room, study room, and more. The linen fabric shade helps to soften the brightness without poking your eyes. The dual charging ports feature enables you to smoothly charge your gadgets like tablets, phones, and other smart devices. This decor lamp makes your room appear classy with a bright shade and classy look.
Key Features
Has dual USB charging port
Touch control USB lamp
3-way dimmable
Pros
Touch-control
Comfortable brightness
Convenient charging
Eye-protection
Compact design
Soft glow
Value for money
Giftable
Cons
Extremely sensitive touch panel
This LED moon lamp has 16 different color settings and includes remote control for smooth operation. The vibrant lamp is a beautiful replica of the moon and can be turned on with just a touch. You can even operate it from afar using the remote control that works from a distance of up to 30 feet.
The lamp has a rechargeable battery and can also be charged using your laptop, computer, or charging adaptor. It comes with a classy wooden stand that's easy to assemble and looks very serene.
Key Features
Comes with remote control, which works from a distance of 30 feet.
Has 16 different color settings.
Touch control to change colors and turn the lamp on or off.
Made using 3D printing technology.
Pros
Easy to use
Environment-friendly materials
Long battery life
Giftable
Budget-friendly
Cons
These are twin lamps that can be synced effortlessly, and they also double up as portable speakers. These multipurpose lamps are a thoughtful gift for your loved ones, especially if they love music. The Dikaou LED flame table lamp builds a very warm and intimate atmosphere in any room, and it can also enhance the mood by playing music.
This lamp is portable, and its speakers are Bluetooth compatible. It offers HD quality audio and enhanced bass along with the stunning flame. It is a vibrant lamp that can be placed in the bedroom, or the hallways and can be used as a high-quality sound system and lighting system for parties.
Key Features
Beautiful design that makes the flames feel realistic.
Compatible with all Bluetooth devices.
Offers HD audio and enhanced bass for an exceptional listening experience.
96 LED lights, 7-8 hours music playback time, 4-5 hours charging time, 5W speaker output.
Pros
Multipurpose
Sturdy
Lightweight
Compact design
Good volume quality
Giftable
Cons
In this adorable set of two friendship lamps, Filimin has retained the classic design of original friendship lamps while enhancing their functionality. If you are living far away from your loved one, stay connected with them through this amazing lamp.
This touch-sensitive friendship lamp connects through the Wi-Fi, and when the other person taps it, your lamp gets illuminated, reminding you that they are thinking of you. There are multicolored LEDs inside these lamps. After sending an email and connecting the lamp to the Wi-Fi, you can send sweet messages to your loved one with a single tap.
Key Features
The lamps have multicolored LEDs.
Works on Wi-Fi and is touch-sensitive.
A simple touch lights up the other lamp, letting your loved one know that you are thinking of them.
Pros
Set of 2
Handcrafted
Good quality
Available in mutliple colors
Easy to set up
Cons
Te Crystal table lamp with touch control and dimmable light is an ideal option to enhance the ambiance of your home. The lamp has a unique and intricate design and is loaded with sparkling crystals. This modern accent table lamp looks perfect in the bedroom. It can also add a touch of elegance to your living room or hallways.
The lamp has a touch sensor with 4 settings: low, medium, high, and off. 110 pieces of k9 crystals are securely wired on to the lamp, and these crystals add a serene glow. This lamp would be a perfect addition to your bedside table or your dining table.
Key Features
Loaded with 110 pieces of k9 crystal.
Modern accent table to brighten up the bedroom, hallways, living room, and other spaces.
Comes with 4 different settings that can be adjusted through touch.
Perfect gift for Christmas, Thanksgiving, birthday, or any special occasion.
Pros
Non-flickering
Sturdy design
Elegant lamp shade
Strong lamp holder
High-quality crystals
Energy saving
Cons
Not compatible with all bulbs
If you want a soothing lamp to match your luxurious interiors, try the Lifeholder table lamp with a posh wooden base and an LED bulb that changes color with remote control. The black solid wooden base comes with a linen fabric shade, which is a perfect combination to create a rich looking lamp for your bedside table.
The light brown and cream shade will brighten up your room. The wooden base also includes a USB charging slot that helps you charge your mobile phone and tablets.
Key Features
Black painted wooden base with USB charging slots.
Lampshade comes in cream and brown colors.
On/off switch on the cord and pull chain.
Bulb base for universal standard bulbs.
60W bulb (maximum capacity).
Pros
Elegant design
Easy to use
Gentle brightness
Non-dazzling light
Flicker-free
Muliple device charging point
Cons
None
Be it the kid's bedroom or the living room area, these portable bedside lamps are just the right fit for any space. The Night Light UNIFUN touch lamp comes with a rechargeable internal battery and a cool, dimmable 2800k-3100k warm white light. This lamp can also be controlled using the touch panel that switches the lights on or off within 3 seconds.
The RGB auto cycle offers color combinations of red, blue, and green to suit your mood.  The eye-friendly 360-degree light panel provides dim light for uninterrupted sleep. The battery lasts for up to 8 hours and works overnight.
Key Features
Touch lamp with different RGB combinations.
Comes with adjustable brightness.
2800k-3100k dimmable lights for sound sleep.
Pros
Easy touch control
Long-lasting battery life
Comfortable brightness
13+ colors
Eye-friendly light
Energy saving
Cons
If you are looking for a thoughtful and smart gift for your friend or family member, the Elecstars touch bedside lamp is a great option to consider. The lamp also doubles up as a good Bluetooth speaker. The touch sensors in the lamp enable you to alter the brightness settings easily.
This bedside lamp is also perfect for a kid's bedroom, and the touch-based switch on/off gives you full control over the lamp's functioning. The lamp has two exciting modes. The white mode switches on the white light, and the brightness of this light can be altered. The second mode is the colorful light mode, which lets you choose from a selection of six different colors: red, green, blue, purple, yellow, and pink.
Key Features
A touch-controlled bedside lamp.
Comes with an interesting dimmable feature to offer sound sleep.
Comes in colorful and white modes.
Pros
Easy on/off
Multipurpose
Comfortable brightness
Dimmable light
The speaker is compatible with most devices
Value for money
Cons
Here is a romantic gift for your partner that you can gift on your anniversary or Valentine's Day. The Mamre Moon ambient lamp has two lovers sitting under a red full moon. Apart from the design, the warm and cozy light settings of the lamp will light up your bedroom. The dimmable touch light sensor makes adjusting the brightness very easy.
The intensity of the light can be changed to suit your mood. It is an elegant, decorative lamp that can be used for Christmas parties, anniversaries, Valentine's Day, or any other special occasion. This woodgrain-colored bedside lamp is a romantic present that'll make your days memorable.
Key Features
Romantic lamp with 2 lovers sitting under a red full moon.
Cmes with a dimmable setting to suit your mood.
The warm light makes the room cozy.
Pros
Adjustable light intensity
Minimalist design
Comfortable brightness
Includes stickers
Works with a power bank
Cons
Expensive
Finishing is not good
Add a nature-inspired and tranquil twist to your home décor with this Electric Jellyfish tank table lamp. This eclectic lamp comes with jellyfish in a tank and looks quite realistic. The floating tendrils of the jellyfish look life-like, and the unusual lamp is sure to make heads turn. The color-changing LEDs make the tank look more natural.
This tank table lamp can be placed in offices, in living rooms, and even in office spaces to create an exotic vibe. The tank is driven by a noiseless motor, and it comes with 4-hour automatic shut-off function. The tank is also ideal for a kid's room as it creates a very stimulating and calming environment.
Key Features
Life-like jellyfish that make the tank look interesting.
Has color-changing LEDs and automatic 4-hour shut-off function.
Creates a calming environment.
Great gift for kids, friends, and colleagues.
Pros
High-quality product
Safe to use
Calming effect
Eye-friendly
Noise-free motor
Cons'
LED bulbs are not only power savvy, but they can also be used to brighten up the entire bedroom or living room when used with such beautiful lamps. The USB table lamp by Boncoo is an elegant and dimmable lamp that'll blend in with any décor. This lamp has a 6W soft white light LED bulb, and it produces minimal heat.
The lamp has three settings: medium, high, and off. The touch sensor makes it easy for you to adjust the light settings. The base of this lamp includes a charging slot for charging your phones, tablets, and iPad. This minimalist lamp lends a subtle elegance to your home.
Key Features
Dimmable lamp with touch control.
Adjustable light settings.
6W LED bulb to generate less heat output.
Pros
Touch sensor
Flick-free light
Anti-abrasion stand
Rust-resistant stand
Comfortable light
Quick-charging
Easy to assemble
Cons
Touch control may have issues
This wireless stereo-speaker-cum-lamp is a treat for those who love a soothing and colorful lamp by their bedside. The color of the light can be changed by simply touching the surface of the lamp. The soft light doesn't harm your eyes, and it offers a great calming environment.
This lamp also works as a Bluetooth speaker and has six different color themes to suit your mood. The wireless stereo speaker supports Bluetooth connection, TF card, FM radio, and is compatible with almost all Bluetooth devices. It has a built-in battery that guarantees up to 12 hours of music.
Key Features
High-quality wireless Bluetooth speaker.
Comes with 6 colors LED lights.
Built-in LI-Ion 2200mAh rechargeable battery.
Great gift for kids or friends.
Pros
Multipurpose device
Multiple colors
Long-lasting battery life
Portable
Good sound quality
Cons
Need a soothing and colorful lamp for your bedside table? Try the Cevitor Smart Home Wi-Fi Table Lamp. This lamp has dimmable, multicolored LED lights. The next-gen lamp can also be connected to Alexa for voice control, color change, and brightness adjustment. The lamp comes with a remote control function that allows you to adjust the light setting from anywhere using your smartphone.
The color spectrum, brightness, and luminance settings can be easily changed. It also includes a timer and countdown function that will help you set an automatic 'on' and 'off' schedule for your home appliances. This is an energy-efficient and smart gift for anyone who loves serene night lamps.
Key Features
A color-changing lamp that also works with Alexa and Echo Dot.
Remote control settings can be used to control the lamp using a smartphone.
Comes with a timer.
Light settings like colors and luminance can also be adjusted.
Pros
Elegant design
Soft light
Dimmable brightness
Sturdy
Easy to assemble
Cons
This small and soothing night lamp is a perfect addition to your bedside table. It is a touch-sensitive bedside lamp that radiates natural soft white light. You simply need to touch the lamp to turn the light on or off.
The lamp also comes with a seamless dimmer and memorizing capacity, so you can adjust the brightness at night and as per your mood. It comes with a 500 mAh rechargeable battery. This compact lamp can be placed on the bedside table, shelves, tables, or storage rooms. This is a great lamp for the kids' room as its dim light setting helps them enjoy a sound and deep sleep.
Key Features
Small and dimmable light with light-adjusting functions.
Comes with 500 mAh rechargeable battery.
Works on touch-based on/off.
The perfect addition to a kid's room.
Pros
Easy to use
Eye-friendly
Adjustable brightness
Cons
None
There's something about globe lights that lends a subtle elegance to any space. The Mr.Go 8-inch glowing ball is a remote-controlled color-changing globe you will love. The lamp has 16 color, 8 brightness, and 4 lighting modes. It is waterproof and has a rechargeable battery.
The lamp is a perfect addition to your bedroom or living room as it will help you rejuvenate and relax while creating a stimulating environment. It is portable and lightweight, and its 5-level dimming feature ensures that you have a sound and deep sleep. This cordless rechargeable lamp can stay lit for up to 12 hours.
Key Features
Realistic and color-changing globe lamp.
It has 16 color, 8 brightness, and 4 lighting modes.
5-level dimming ensures you enjoy a sound sleep.
Pros
Portable
Durable
Soothing light
Long battery life
Cordless charging
BPA-free
Lead-free
Cordless
Suitable for pools and bathtubs
Cons
Flimsy quality
Rubber plugs are difficult to use
Touch control lamps are ideal for bedrooms, especially when at night you don't like to flip through the table to switch the lights on and off. This table lamp with LEDs and touch control functionality is ideal for those who love to curl up with a book in hand.
It is suitable for use in bedrooms, living rooms, and offices. You can adjust and choose the colors from the color spectrum at the top of the lamp. The touch panel allows you to switch between three modes of warm light: soft, medium, and bright.
Key Features
Made using toy-grade ABS + PP plastic.
Durable and 100% safe for children.
Comes with adjustable light and color settings.
Touch controlled switch off and switch on functions.
Give your home a professional touch with the Hugoai LED table lamp. This lamp gives flicker-free lighting and provides illumination for a long time. It offers around 16 million color combinations, so you can pick just the right color to suit your mood.
The adjustable light setting helps you dim the brightness at night. This is a great lamp for your bedside table. You could use it to make your dates more romantic.
Key Features
16 million color combinations to suit your mood.
Comes with brightness settings to dim and brighten the light.
Ideal for romantic dinners and reading.
Pros
Easy touch control
Stable light
Professional optical structure
Dimmable lights
Night mode
Safe to use
Cons
The light is not replaceable.
It is very important to create a snug and relaxing atmosphere in your bedroom. The Pococina wireless dimmable night lamp is ideal for creating the right ambiance. This lamp-cum-Bluetooth-speaker has a stunning smart touch control with LED color-changing mood light to suit your needs.
This multifunctional table lamp is also a wireless speaker and music player. It switches on and off with a single tap and has 2OW, 40W, AND 60W brightness. With different colors and brightness settings, you can use this lamp as a reading light or as a dim night light.
Key Features
Wireless speaker that plays music with a micro SD card.
Has a stunning array of LED colors.
Offers different brightness settings.
Works as a lamp, wireless speaker, music player, and a hands-free speaker for phones.
Pros
Touch control
Easy to use
Dimmable light
Good volume standards
Multipurpose
Portable
Various color options
Cons
This is an ideal gift if you want to offer a thoughtful gesture to a newly married couple or a friend who loves a soothing atmosphere when they enter their home. The Filimin Friendship Lamp is a touch lamp that offers a wide range of 256 colors.
You can change the colors and switch the lamp on or off using the touch-sensitive metal base. In addition, you can connect to the Wifi and use the exclusive Filimin connect app and connect to multiple other lamps.
Key Features
 Touch lamp with 256 color modes
 Touch feature to change the color of the lamp
 Can connect to various other lamps
Pros
Set of 2 lamps
Handcrafted
Multiple color options
Easy to use
Comfortable light
Minimalist design
Cons
If you are looking for a simple, easy-to-use lamp, your search ends here. The Biilafor touch lamp has a 5-level, dimmable warm white light and 13 color-changing RGB LEDs. It also has a portable table sensor control and a USB charging port. This lamp is perfectly suited for hallways, offices, living rooms, study rooms, and bedrooms.
The 360-degree touch control has a white light mode and three brightness levels along with a multicolor setting. The lamp is battery operated, and the rechargeable battery can be powered through the USB port. The dimmable light settings and the color-changing capabilities of the lamp make it a great addition to your home. Its eclectic design only adds to the charm of this lamp.
Key Features
The rechargeable battery can be charged via USB.
Comes with 13 color-changing RGB settings.
360-degree touch control to adjust brightness settings.
Pros
Modern design
5 brightness adaptable modes
Various color settings
Eye-friendly
Energy-saving
Lightweight
Portable
Remote controlled
Cons
If you are looking for a unique and creative gift for your loved ones, check out this dazzling elephant 3D-illusion lamp. This stunning lamp from YKL World has a night touch switch and  seven different color modes and is a perfect table-top lamp.
This lamp, which creates a 3D illusion of an elephant, lends a charmingly surreal feel to your interiors. The lamp can change colors to pink, red, blue, green cyan, yellow, and white. Its 3D vision creates a very realistic feel, even though it is a flat elephant figure. The light is soft and doesn't flicker. It is an energy-saving light that can be connected to your PC using a USB cable.
Key Features
Ideal for baby's room, study room, home office, bedroom, etc.
Creates a very impressive 3D image.
Offers 7 color modes.
Great for desk or table decoration.
Pros
Easy to use
Energy saving
8 changeable color modes
Long-lasting battery life
Value for money
Cons
Love those traditional-looking lamps? Here is a smart lamp with the traditional design that will brighten up your living room or bedroom. The set is made using nickel, which gives the lamps a sophisticated feel.
The lamps have a polished aluminum base and are brushed with nickel to prevent dirt marks and fingerprints. The fabric drum shades are perfectly stitched and look very chic. These understated lamps will make your rooms look more fashionable and radiant.
Key Features
Set of 2 lamps.
Lamps with a blend of traditional design and smart features.
13 inches tall lamps to spread equal and bright light to every corner of your room.
Pros
Elegant design
Durable material
Adjustable brightness
Fingerprint resistant
Easy to assemble
Value for money
Cons
If you want a smart and versatile gift for your friend or loved one, have a look at this multifunctional lamp. The night light by Boiabs is a 5-in-1 bedside lamp with a Bluetooth speaker, touch control, digital alarm clock, and calendar. It is a colorful night light for the bedside table.
It has a clock speaker with color-changing LEDs, with 48 different color options. The lamp is touch-activated and can control the brightness of the room. The classic white color creates a very calming and sophisticated vibe in the room.
Key Features
All-in-one speaker with Bluetooth, digital alarm clock, wireless music player, hands-free speakerphone, and night light.
Has touch sensors for hassle-free operation.
Built-in 440mAh battery.
Classic and compact design, ideal for the kids' room.
Pros
Lightweight
Quick-charging
Good sound quality
Comfortable brightness
Long-lasting battery
Travel-friendly
Cons
This Portable Touch Lamp is great for living rooms, bedrooms, and study rooms. The elegant lamp has a portable design and a dimmable warm white light. The lamp also has a color-changing RGB feature and is great for traveling, relaxation, reading, or outdoor camping.
The brightness and colors can be changed with a simple touch, and it also turns on or off with a single tap. You can change the colors and sync the colors with the music by pressing the speaker mesh for 2 seconds.
Key Features
 Versatile night light that changes colors
 Portable touch lamp that syncs the light with the music
 Perfect for traveling, sleeping, camping, and reading
Pros
Multipurpose
Long battery life
Sturdy metal handle
Good sound quality
Cons
This is a cool night light lamp with Bluetooth speaker and a rechargeable battery. The lamp has different brightness settings, and it also comes with a selection of seven different colors. It offers colorful and romantic lights for a dinner gathering, parties, or even for creating a soothing space in your home.
The lamp doubles up as a portable Bluetooth speaker that allows you to play audiobooks, music, or FM radio while on a trip. Any Bluetooth device can be attached wirelessly to the lamp, and the speaker also supports hands-free calling.
Key Features
Acts as a romantic light for dinners and parties.
Multifunctional lamp
Bluetooth speaker that allows you to play audiobooks, music, and take calls.
Pros
Good-quality speaker
Easy to use
Compact design
Portable
Budget-friendly
Cons
None
Go for the UNIFUN Night Light to spread tranquil light in your room. You can use it to light up any space in your house, be it your bedroom, your study, or the hallway. This compact lamp has auto cycle RGB color combinations and light settings.
The colors and brightness are adjustable with a single touch and through toggle buttons. The lamp provides soothing light for reading or sleeping at night, and it is a touch-controlled device. It is an effective lamp for kid's rooms, living rooms, and offices.
Key Features
 Soft and serene light for the bedroom.
 Comes with four brightness levels.
 Brightness and color settings can be adjusted with a touch.
Pros
Auto-off feature
Easy touch control
Dimmable brightness
Eye-friendly brightness
Long battery life
Cons
This is one of the best electronic gift items available on the market currently. The color-changing LED moonlight makes it look stunning. The lamp can be dimmed, which makes it an ideal choice for a night light.
The Marrado bedside lamp also acts as a fine Bluetooth speaker. This touch-enabled smart LED moon lamp + Bluetooth 4.2 speaker combo is a wireless music player that also plays FM radio. The sensitive touch control allows you to adjust colors and modes of the lamp with a few gentle taps.
Key Features
The lamp comes with hypotonic light mode with red light for sleeping.
The dynamic light mode with RGB colors creates a delightful ambiance.
Sensitive touch control to switch modes.
Doubles up as a wireless speaker and FM radio.
Pros
Eye-friendly light
Cordless design
Adjustable brightness
Auto-off timer
5 levels of brightness
Cons
This is a perfect gift option for kids, friends, spouses, family members, or any loved one. The Ecolor Smart Table Lamp is a lot more than a lamp and has some incredible features. The lamp offers 18 scene modes with stunning RGB night light and other rainbow color combinations. The dimmable bedside lamp casts a soft glow as you curl up for the night.
It works on Wi-Fi control, has a timer function, and has 3 music modes. You can operate the lamp and adjust different settings using a smartphone.
Key Features
 Dimming and timer settings allow smooth dimming from 0 to 100.
 Timer automatically shuts off the lamp.
 Multiple lighting patterns create a perfect ambiance for hotels, bedrooms, living rooms, or parties.
Pros
Compact design
Adjustable light direction
Dimmable
Portable
In-built timer
3 music modes
Eye-friendly
Energy-saving
Cons
The on/off feature gets unsteady.
If your home has a classy interior with lots of wooden furniture, these amazing bedside table lamps will be a beautiful contrasting addition to your room. These modern and simple lamps are designed to fit in well with the décor of spacious bedrooms, living rooms, and even office spaces.
The lamps are created with high-quality metal body and linen fabric shade. They can elevate the beauty and aesthetics of a serene room with their delightful light. The lamps can hold standard bulbs of different colors.
Key Features
Classic and interesting design.
Metal body with heavy-duty linen lampshade.
Can be fitted with CFL or LED bulbs.
Pros
Eye-friendly
Safe to use
Versatile
Lightweight
Soft illumination
Rust-proof stand
Cons
Looking for a luxurious yet smart electronic gift? Try the Ore International k313 white glass floral touch lamp. You'll love this vintage lamp with intricate floral designs. The lampshade is made of frosted white glass, and the golden trimmings lend it a quaint elegance.
It has 3-way touch sensor control and works with a 40W bulb. The brightness can be set to low, medium, or high to suit different needs. This artistic floral lamp is a perfect addition to your living room or bedroom.
Key Features
Vintage floral design.
Touch feature to switch the lamp on and off, and adjust brightness settings.
3 different brightness settings to suit your mood.
Pros
Elegant design
Easy to assemble
Polarized plug
Value for money
Cons
There are a few factors you should consider before buying a long-distance friendship lamp. Here's what you need to know.
Things You Must Know Before Buying A Long-Distance Friendship Lamp – Buying Guide
Usage
It is important to understand what you and your friend/partner will be using the lamp for before you buy a long-distance touch lamp. If you both are in two different time zones, you may not be able to use the lamp as desired. Also, if your friend/partner is working on the field and is home only for very short periods, this might not be very useful for them.
Style is very important when you are considering gifting a long-distance relationship lamp to your loved one. Choose an elegant lamp that matches your interior décor and personal tastes.
From the classic beige and yellow CFL bulbs to colorful LED lamps, there are myriad color variations for long-distance friendship lamps. These lamps are available in different RGB color variants. Pick a color combination that you both will like and light up your rooms.
Long-distance friendship lamps work if they are hooked up to the internet, so you'll need a strong Wi-Fi connection. The compatibility of the two Wi-Fi networks is also important. You and your friend should use compatible Wi-Fi bands of 2.4 GHz or any other frequency to make both the lamps work well in sync.
You will need the right power adapters to make long-distance friendship lamps work efficiently. Given that you and your loved one are in different places, you may have access to different kinds of power sockets. If the power sources are different, you may have to purchase an adapter separately to make the lamps work.
It is important to buy a lamp that fits your budget. There are plenty of lamps available on the market, so do some research before you buy one. Select lamps with the features that you need. Spend your money on the lamps that offer all the necessary features and are reasonably priced. Don't go for the cheapest lamps as they might not last long.
Apart from the design, cost, and other features, also consider the size of the lamp before making your purchase. Consider the location where the lamps will be placed before you decide on the size of the lamps. Compact and table-friendly lamps are a good choice if the other person lives in a small, cozy space. If they live in a more spacious house, a bigger one will be a better choice to brighten up their room.
Why Trust StyleCraze?
The author Pratyasha Ray is a product writer who loves picking up meaningful decor options that make your home more beautiful. She vouches for the best long-distance friendship lamps as the perfect gift to celebrate your friendship even when your friend is away. She has done comprehensive research on the products for her readers to pick the best ones. These lamps look unique and lighten the ambiance of your room like no other.