123 Great Long-Distance Friendship Quotes And Sayings
Long-distance friendship takes work, and there are a few ways to bridge the gap.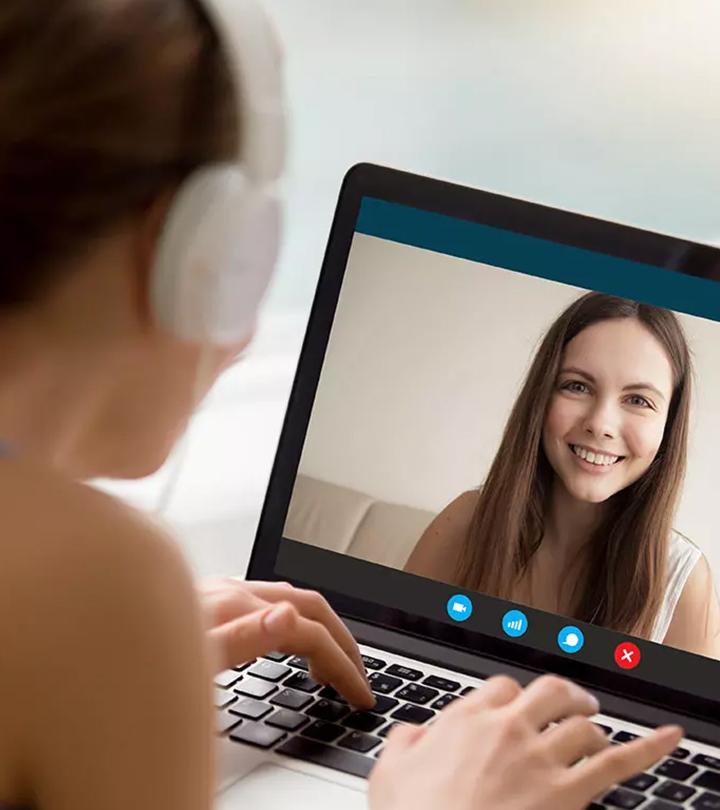 Long-distance friendships are special in their own way. And what's better than sharing a few long-distance friendship quotes with your friend? Your friends may annoy you and call you at any time of the day or night – but you cannot live without them. They are the ones with whom you share your joys and sorrows. From helping you deal with problems at home to recommending you for a new job – friends are selfless. Here are a few amazing long-distance best friend quotes you can send to your friends to make them feel extra special and tell them how much you miss them. Scroll down!
55 Long-Distance Friendship Quotes
"No distance of place or lapse of time can lessen the friendship of those who are thoroughly persuaded of each other's worth." – Robert Southey
"True friends stay with you no matter the distance or time that separates you from them." – Lance Reynald
"Sweet is the memory of distant friends! Like the mellow rays of the departing sun, it falls tenderly, yet sadly, on the heart." – Washington Irving
"A single rose can be my garden… a single friend, my world." – Leo Buscaglia
"If ever there is tomorrow when we're not together… there is something you must always remember. You are braver than you believe, stronger than you seem, and smarter than you think. But the most important thing is, even if we're apart… I'll always be with you." – Winnie the Pooh
"Growing apart doesn't change the fact that for a long time we grew side by side; our roots will always be tangled. I'm glad for that." – Ally Condie
"For beautiful eyes, look for the good in others; for beautiful lips, speak only words of kindness; and for poise, walk with the knowledge that you are never alone." – Audrey Hepburn
"Be slow to fall into friendship; but when thou art in, continue firm and constant." – Socrates
"True friends are never apart, maybe in distance but never in heart." – Unknown
"Nothing makes the earth seem so spacious as to have friends at a distance; they make the latitudes and longitudes." – Henry David Thoreau
"The most beautiful discovery true friends make is that they can grow separately without growing apart." – Elisabeth Foley
"There is magic in long-distance friendships. They let you relate to other human beings in a way that goes beyond being physically together and is often more profound." – Diana Cortes
"There are friendships imprinted in our hearts that will never be diminished by time and distance." – Dodinsky
"I don't cry because we've been separated by distance, and for a matter of years. Why? Because for as long as we share the same sky and breathe the same air, we're still together." – Donna Lynn Hope
"True friendship is when two friends can walk in opposite directions, yet remain side by side." – Unknown
"True friendship resists time, distance, and silence." – Isabel Allende
"We are like islands in the sea, separate on the surface but connected in the deep." – William James
"So what if the distance is too long? What matters is that we have the courage of love to cover any distance which dares to separate us." – Unknown
"Long-distance relationships are like wind to a fire; it puts out the small ones, but inflames the big ones." – Unknown
"Remember, the greatest gift is not found in a store nor under a tree, but in the hearts of true friends." – Cindy Lew
"There is no distance too far between friends, for friendship gives wings to the heart." – Unknown
"Friends are connected heart to heart. Distance and time can't break them apart." – Unknown
"A part of you has grown in me, together forever we shall be, never apart, maybe in distance, but not in heart." – Hakan Massoud Nawabi
"A friend who is far away is sometimes much nearer than one who is at hand. Is not the mountain far more awe-inspiring and more clearly visible to one passing through the valley than to those who inhabit the mountain" – Kahlil Gibran
"No matter where you are, you will always be looking at the same moon as I am." – Unknown
"Though we drifted apart in distance I still think of you as being right here. And although we have many new friends, it is our friendship that means the most to me." – Unknown
"A thousand miles seems pretty far, but they've got planes and trains and cars. I'd walk to you if I had no other way." – Plain White T's
"I may not always be there with you, but I will always be there for you." – Unknown
"Though miles may lie between us, we're never far apart, for friendship doesn't count the miles, it's measured in the heart." – Rozina Hasham
"If you're out on the road, feeling lonely and so cold, all you have to do is call my name, and I'll be there on the next train." – Carole King
"I'm never sad when a friend goes far away, because whichever city or country that friend goes to, they turn the place friendly. They turn a suspicious-looking name on the map into a place where a welcome can be found." – Helen Oyeyemi
"A strong friendship doesn't need daily conversation, doesn't always need togetherness, as long as the relationship lives in the heart, true friends will never part." – Unknown
"We all take different paths in life, but no matter where we go, we take a little of each other everywhere." – Unknown
"If one day you feel like crying, call me. I can't promise to make you laugh, but I'm willing to cry with you." – Unknown
"Distance means nothing when someone means everything." – Unknown
"Another day that passes is another day closer to seeing you again." – Unknown
"The people who are meant to be in your life will always gravitate back towards you, no matter how far they wander." – Unknown
"Here is my favorite thing about long-distance besties; it can be years since you have seen each other and, the minute you start talking, it is like you were never apart." – Becca Anderson
"When twilight drops her curtain down and pins it with a star, remember that you have a friend though she may wander far." – L.M. Montgomery
"If the days won't allow us to see each other, memories will, and if my eyes can't see you, my heart will never forget you." – Unknown
"If there is one thing you never need to doubt, it is our friendship. I am always just a phone call away." – Unknown
"Your absence has not taught me how to be alone, it merely has shown that when together we cast a single shadow on the wall." – Doug Fetherling
"If distance were measured in terms of the heart, we'd never be more than a minute apart." – Unknown
"If there ever comes a day when we can't be together, keep me in your heart. I'll stay there forever." – A.A. Milne
"Can miles truly separate you from friends… If you want to be with someone you love, aren't you already there?" – Richard Bach
"Friendship is the only cement that will ever hold the world together." — Woodrow Wilson
"Remember that life's most valuable antiques are dear old friends." — H. Jackson Brown, Jr.
"Your friends will know you better in the first minute you meet than your acquaintances will know you in a thousand years." — Richard Bach
"True friendship is a plant of slow growth…" — George Washington
"Friendship's the wine of life." — Edward Young
"For it would then be true friendship, such as no hope, no fear, no self-interest can sever. That is a friendship that stays with people until they die—and that people die for." — Lucius Annaeus Seneca
"Some people go to priests; others to poetry; I to my friends." — Virginia Woolf
"What I realize now in hindsight is that there is a natural ebb and flow to friendships. There are times you think there's nothing left between you, that you've hit the bottom, but the special ones survive, find ways of restoring themselves." — Colette McBeth
"No friendship is an accident." — O. Henry
"The greatest gift in life] is the gift of friendship, and I have received it; the greatest healing therapy is friendship." — Hubert Humphrey
68 Funny Long-Distance Friendship Quotes
"'Tis the privilege of friendship to talk nonsense, and to have her nonsense respected." – Charles Lamb
"There is nothing better than a friend, unless it is a friend with chocolate." – Linda Grayson
"Friendship is Love without his wings!" – Lord Byron
"Good friends are like stars. You don't always see them, but you know they're always there." – Unknown
"Definition of a long-distance relationship: Inconveniently the most effective way to find out if you really love each other." – Unknown
"I miss you like an idiot misses the point." – Unknown
"Whoever coined the term 'absence makes the heart grow fonder' was an idiot. Absence makes a bitch grow crazy." – Toni Aleo
"If you think missing me is hard, you should try missing you." – Unknown
"They say long-distance relationships will teach you to communicate well… We should be mind-readers by now." – Lisa McKay
"Want to learn how someone really handles frustration? Put them in a long-distance relationship and give them a slow internet connection." – Lisa McKay
"Very often I realize that the time people spend apart is as important in maintaining relationships as the time they spend together." ― Joyce Rachelle
"We live so far apart because the world just isn't ready for that much AWESOMENESS" – Unknown
"You and I are more than friends…. We're like a really small gang." – Unknown
"We've been friends for so long, I can't remember which one of us is the bad influence" – Unknown
"I miss your stupid face." – Unknown
"And then she knew that you could become homesick for people too." – Beau Taplin
"Love is missing someone whenever you're apart, but somehow feeling warm inside because you're close in heart." — Kay Knudsen
"If you have two friends in your lifetime, you're lucky. If you have one good friend, you're more than lucky." ― S.E. Hinton
"You know someone is very special to you when days just don't seem right without them." — John Cena
"When something is missing in your life, it usually turns out to be someone." — Robert Breault
"Nothing makes a room feel emptier than wanting someone in it."— Calla Quinn
"A true best friend may get you into trouble, but they will always be there to pull you out of it too." ― Kaylee Stepkoski
"Anything is possible when you have the right people there to support you."― Misty Copeland
"Truly great friends are hard to find, difficult to leave, and impossible to forget."— G. Randolf
"I think we dream so we don't have to be apart so long. If we're in each other's dreams, we can play together all night." — Bill Watterson
"A friend is someone who gives you total freedom to be yourself." ― Jim Morrison
"When the world is so complicated, the simple gift of friendship is within all of our hands."— Maria Shriver
"A real friendship should not fade as time passes, and should not weaken because of space separation." — John Newton
"The only way to have a friend is to be one."— Ralph Waldo Emerson
"Friendship marks a life even more deeply than love. Love risks degenerating into obsession, friendship is never anything but sharing."―  Elie Wiesel
"Friendship is unnecessary, like philosophy, like art… It has no survival value; rather it is one of those things that give value to survival." ― C. S. Lewis
"My friends are my estate."― Emily Dickinson
"Remember, the greatest gift is not found in a store nor under a tree, but in the hearts of true friends."— Cindy Lew
"If I had a single flower for every time I think of you, I could walk forever in my garden." — Alfred Lord Tennyson
"A good friend is a connection to life — a tie to the past, a road to the future, the key to sanity in a totally insane world."― Lois Wyse
"When you miss someone in your life, just close your eyes and think about the things that you do when you are with each other." — Jeramae Panabia
"Distance means so little when someone means so much." — Tom McNeal
"Friendship is selfless love, care, respect, and honor not a profitable opportunity."― Santosh Kalwar
"Friendship is the golden thread that ties the heart of all the world." –John Evelyn
"Where we love is home — home that our feet may leave, but not our hearts."–Oliver Wendell Holmes
"Friendship is the hardest thing in the world to explain. It's not something you learn in school. But if you haven't learned the meaning of friendship, you really haven't learned anything."– Muhammad Ali
"Life is partly what we make it, and partly what it is made by the friends we choose."– Tennessee Williams
"It is by chance that we met, by choice that we became friends."— Henri J.M. Nouwen
"Each friend represents a world in us, a world possibly not born until they arrive." –Anais Nin
"If you have nothing in life but a good friend, you're rich." –Michelle Kwan
"True friendship is like sound health; the value of it is seldom known until it be lost." –Charles Caleb Colton
"True friends are like diamonds — bright, beautiful, valuable, and always in style." –Nicole Richie
"No matter how far you manage to go, distance will never be able to erase those beautiful memories. There is so much goodness that we shared together." –Lucy Aims
"Ocean separates lands, not souls." – Munia Khan
"A friend is someone who knows all about you and still loves you."– Elbert Hubbard
"I would rather walk with a friend in the dark, than alone in the light." –Helen Keller
"Life is an awful, ugly place to not have a best friend." –Sarah Dessen, "Someone Like You"
"A real friend is one who walks in when the rest of the world walks out." –Walter Winchell
"The best mirror is an old friend." –George Herbert
"A friend knows the song in my heart and sings it to me when my memory fails." – Donna Roberts
"A friend is what the heart needs all the time." – Henry Van Dyke
"No man is so perfect, so necessary to his friends, as to give them no cause to miss him less." – Jean De La Bruyere
"That's the worst way to miss somebody. When they're right beside you and you miss them anyway." – Pittacus Lore
"There are no goodbyes for us. Wherever you are, you will always be in my heart." – Mahatma Gandhi
"If there ever comes a day when we can't be together, keep me in your heart. I'll stay there forever." – A. A. Milne
"What is the opposite of two? A lonely me, a lonely you." – Richard Wilbur
"As contraries are known by contraries, so is the delight of presence best known by the torments of absence." – Alcibiades
"Your absence has gone through me, like thread through a needle, everything I do is stitched with its color." – W.S. Merwin
"The joy of meeting pays the pangs of absence; else who could bear it?" – Nicholas Rowe
"When you miss me just look up to the night sky and remember, I'm like a star; sometimes you can't see me, but I'm always there." – Jayde Nicole
"I exist in two places, here and where you are."  – Margaret Atwood
"There should be a little gap between you and your friends, though you'll miss their companionship and you'll also miss their disrespect." – Michael Bassey Johnson
"For the two of us, home isn't a place. It is a person. And we are finally home." – Stephanie Perkins
Infographic: How To Keep Long-Distance Friendships Alive
You can keep your long-distance friendship thriving in many ways apart from just sending each other quotes and sayings. For example, you can send them surprise gifts with their favorite snacks or outfits.
Check out the infographic below to learn more ways to keep a long-distance friendship strong.



A strong friendship will always sustain no matter the distance. So do not worry about how far away you are from your friends, because the love and affection you share with them matter. Although you miss out on the opportunity to hang out with your buddies often and do fun things together, you can always express your love for them by sharing these long-distance best friend quotes. We are sure your words will touch their hearts and show the significance of your unique bond and help you cherish it.
Frequently Asked Questions
Why are long-distance friends the best?
Long-distance friends are the best because you always have your next meeting to look forward to. You can make plans for the next time you see them and always have a blast together. And when you realize that this friendship thrives despite the distance and several days of disconnect, you appreciate its strength even more.
Can long-distance friendship last?
Yes. If both friends don't hesitate to reach out to each other regularly, you can enjoy a lasting long-distance friendship.
What is the best line for a best friend?
You can describe a best friend through a quote by Aristotle. He said, "A true friend is one soul in two bodies."
How do I cheer up my long-distance friend?
There are many ways to cheer up a long-distance friend, like telling them why they are special to you, reminding them of your favorite memories together, and sharing a funny meme with them, and showing support through constant communication. You can also film a funny video and send it to them to cheer them up!

Send your best friend a message from afar! Click on the video and learn how to craft the perfect message for your long distance best friend.