14 Cute Long Sweaters To Wear With Leggings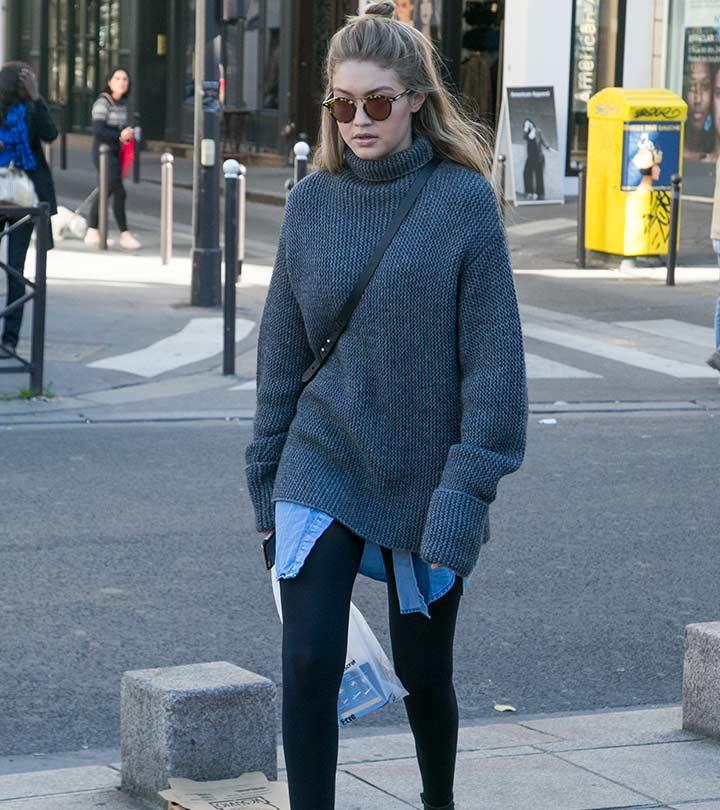 Sweater weather definitely has to be one of our favorites. The thought of warming up in your sweater on a cold day along with some hot chocolate and a good book to read is tempting, isn't it?
You can never really go wrong with sweaters. They are cute, comfortable, and look extremely stylish when paired with the right outfit. Sweaters on leggings can make you look good effortlessly. We'll show you how!
Let's take a look at some of our cute sweater ideas to wear with leggings.
1. Black Sweaters On Leggings
Black on black is classic. You can flaunt this dark outfit, night or day. It exudes drama, charisma, and a whole lot of comfort.
A cute black sweater paired with black leggings, black shades, and a black sling bag is perfect. Nina's knee-length boots complete her outfit, making it a complete 'black on black' outfit of the day.
2. Oversized Sweaters On Leggings
Larger than life sweaters are to die for. From plush pullovers to furry cardigans and heavy cable knits, oversized sweaters are the ultimate go-to for comfort, style, and warmth on a cold day.
You can style them with a casual pair of sneakers or even ankle boots. Go big with your oversized sweaters or go home, honey!
3. Long Sweaters On Leggings And Boots
If your aim is to look smart, confident, and everything that screams power, what better way to do that than sport this outfit? This outfit idea is funky and super creative. Pairing the long sweater with boots is a total 10/10!
4. Long White Sweaters On Leggings
How can we not adore white? It is simply heavenly and very elegant. Long white sweaters are a must-have in every woman's wardrobe. They look amazing on leggings and embody comfort and a chic sense of style. You can pair them with ballerinas or even boots.
5. Oversized Sweater On Short Tights
This outfit is a combination of charm and playfulness. The oversized sweater in this pretty shade of pink has our heart. Pairing it with short black tights makes the outfit look sporty. This idea is definitely cute!
6. Red Sweaters On Leggings
Coffee and errands kinda day? Put on your red sweater, pair it with black leggings, and run along! Pairing it with a cool pair of shades and sturdy black Vans gives more power to your outfit.
7. Long Pullover Sweaters On Leggings
If you want to look on point, but not try too hard at the same time, long pullover sweaters are the way to go.
You could wear one on a cloudy day and pair it with ankle-length boots. This outfit is sophisticated and extremely feminine. This would be a classic way to portray your sense of style.
8. Tunic Sweaters With Leggings
Tunic sweaters are a lazy way of dressing up, but their loose fit makes them stylish and appealing. To make them look neater and defined, pair them with a nice belt at the waist.
9. Sweater Dresses On Leggings
Dresses might not be your best option on a cold day, but if you are a sucker for them, watch out for sweater dresses. They look absolutely stunning and keep you warm and comfortable. You could style this outfit by wearing it with leggings and boots.
10. Hoodie With Leggings
This outfit is nothing but goals! Gigi Hadid does it just right. Color coordinating your hoodie with your leggings to create a funky two-piece outfit is a brilliant idea.
A pair of sturdy running shoes and statement shades add a little drama and glam to your outfit. You're ready to seize the day. It could be to run errands, grab a coffee, or even hang out with your friends – this outfit works for plenty of occasions.
11. Crop Top Sweaters On Leggings
Crop tops never go out of trend, and crop top sweaters are even more trendy. They are playful, form-fitted, warm, and comfortable. You could pair them with cute platform sneakers or knee-length boots.
12. High Collared Sweaters On High Waist Leggings
High collars never fail to make a statement. Pairing this cute sweater top with high waisted leggings makes it all the more stylish and comfy. You could wear shoes or heeled boots to finish off the look, depending on your preference.
13. Sweaters On Leather Leggings
This is a pretty bold move – because not everyone can pull off leather leggings with confidence. If you think you've got it in you, put on a baggy sweater to go with your leathered leggings, along with pointed-toe boots. You could also wear platform shoes instead of the boots. And you're good to go!
14. Hoodie And A Jacket Over Leggings – A Layered Outfit
Layering is always fun and creative. However, it is often easy to mess up and look suffocated. This outfit will help you look different and give you more character.
Put on a sweater that isn't too heavy or thick. Opt for light colors like grays or shades of nudes. For the jacket, pieces of denim are a great fit. If it gets warm later in the day, you can always take off your jacket and sport your outfit with the sweater and leggings. For this outfit, shoes will work the best.
These were a few of our cute sweater ideas to wear with leggings. We hope you liked them. Stay stylish and warm this winter, but most importantly, stay tuned for more fun ideas to glam up your wardrobe to look your best!
The following two tabs change content below.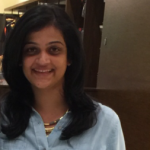 After working in Marketing and Business Development for a few years, Pratima Ati jumped ship to pursue two things she loved – fashion and writing. She's now a full-time Fashion & Lifestyle writer and has never looked back ever since. She sleeps early, reads often, and when she can't, she finally gives a closure to all the characters living in her drafts. Sometimes, they pass off as poetry too! That, and her training in Indian classical music and playing (learning) the veena keep her sane, civil, and bearable.