Top 9 L'Oreal Hair Serums In India – 2023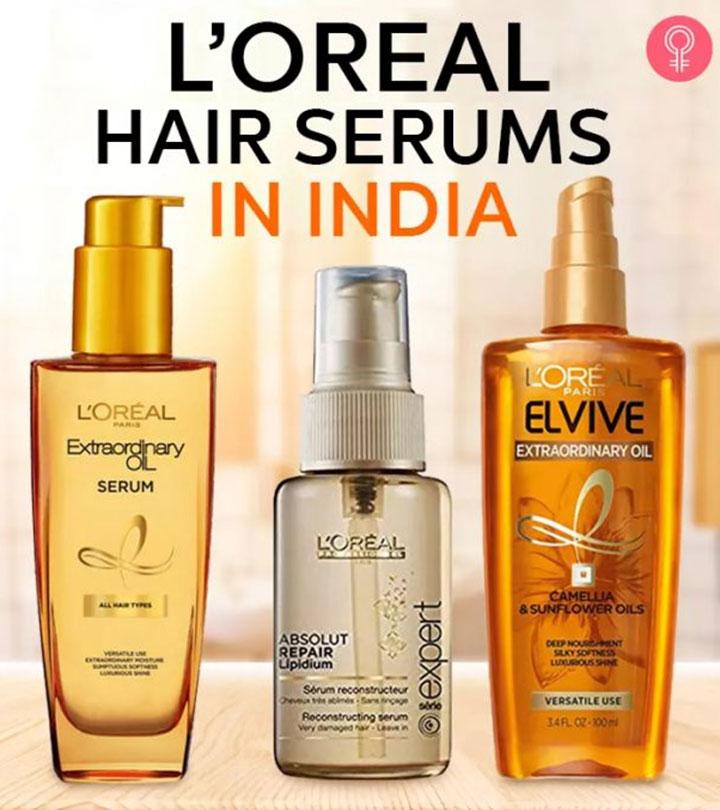 Are you struggling with hair damage? Does your hair look dull even after oiling and washing your hair thrice a week? Are you tired of spending money on those expensive bottles of shampoo? Well, look like you need hair serum. Hair serums work well to transform your hair. Just apply a few drops of hair serum to your semi-wet or dry hair. This will give your hair a glossy sheen and control the frizz. There are many hair serums available in the market, but the one brand that you should look out for is L'Oreal.
We have reviewed the top 9 hair serums from L'Oreal available right now. Check them out below!
9 Best L'Oreal Hair Serums You Should Try in 2023
The Smooth Intense Smoothing Serum from L'Oreal is made of argan oil and silk proteins that are rich in essential fatty nutrients. It deeply nourishes your hair from root to tip. It makes your hair smooth and manageable for 48 hours after application. This serum also protects your hair from the effect of humidity and keeps it shiny. Its texture is non-sticky, and you only need a small amount per use, which means that it lasts long.
Pros
Deeply nourishes the hair
Smoothens the hair
Makes hair manageable
Long-lasting
Non-sticky
Protects hair from humidity
Cons
Not suitable for dense, curly hair
Expensive
Your hair is exposed to a lot of damage regularly. L'Oreal Paris Total Repair 5 Serum combats all the visible signs of dull and damaged hair like hair fall, dryness, roughness, dullness, and split ends. It smoothes and repairs damaged hair. Wash your hair, apply this serum, and leave it on. Use this serum as a leave-in conditioner for salon-like treatment.
Pros
Fights hair damage
Smoothens the hair
Suitable for daily use
Non-greasy
Acts as a leave-in conditioner
Removes tangles
Mild fragrance
Cons
None
L'Oreal Paris Elvive Extraordinary Oil is housed in a see-through chrome yellow bottle. It gives you smooth and shiny tresses in just one application. Its small nozzle dispenses the required amount of serum. The serum is lightweight and has a runny consistency. Its fragrance is fantastic, and it gives you a spa-like feel every time you apply it. Keep your tangles, dryness, and frizzy hair at bay with this beautiful serum and get shiny, luscious locks that last all day.
Pros
Attractive packaging
Fragrance lasts all day
Non-sticky
Reduces dryness and frizz
Imparts shine to the hair
Detangles the hair
Cons
Availability issues
Expensive
L'Oréal Professionnel Serie Expert Liss Unlimited Blow Dry Serum is formulated to control the frizz for up to 96 hours. The serum makes the hair soft and controls the frizz. Primrose oil infused in the serum adds shine to the hair and makes the hair manageable. The professional formula allows you to obtain a perfect salon-like hairstyle.
Pros
Travel-friendly
Good fragrance
Soft and smooth consistency
Long-lasting
Cons
Are you looking for a hair serum that combats frizz and dryness? Try out the L'Oreal Professionnel XTenso Care Serum. It is infused with pro-keratin treatment, which makes it an ideal product to nourish your hair from root to tip. You can also bring some added shine to your lifeless hair with this serum. This Nutri-constructor serum works best for people with chemically straightened hair.
Pros
Reduces dryness
Tames frizz
Imparts shine
Travel-friendly packaging
Suitable for straightened hair
Cons
L'Oreal Professionel Serie Expert Liss Unlimited Blow Dry Serum is a smoothing serum that tames frizz and enhances shine. It is powered with pro-keratin complex and formulated with primrose oil that makes hair manageable, silky. This serum instantly makes hair soft and smooth. Apply it on towel-dried hair to get lustrous tresses. The mesmerizing, mild scent of the serum is an added bonus.
Pros
Suitable for all hair types
Pleasant fragrance
Non-greasy
Cons
None
Repair your damaged hair with the L'Oreal Professional Serie Expert Absolut Repair Lipidium. It is enriched with lipids and ceramides that regenerate your hair by strengthening the hair follicles and protecting your hair. This serum makes the hair stronger, softer, and longer while reinforcing the fibers.
Pros
Soft
Moisturizing
Extra shine
Non-greasy
Manageable hair
Cons
None
The L'Oreal Paris Elvive Smooth Intense Frizz Taming Serum polishes your hair surface and adds shine to it. It is an intense leave-in serum that instantly tames frizz upon application. It also gives you manageable hair for the next 72 hours. This hair serum is perfect for summers as it is an anti-humidity serum. It makes your hair tangle-free, frizz-free, and silky smooth. Its effects last for 2-3 days.
Pros
Adds shine
Smoothens frizz
Humidity-resistant
Long-lasting effect
Cons
None
L'Oreal Paris Extraordinary Oil Serum is the ultimate remedy for providing deep nourishment to your hair. It has a lightweight formula that shows immediate results. It is enriched with a blend of 6 rare flower oils, sunflower oil, coconut oil, and soybean oil with other botanical extracts to provide hydration and moisturization to damaged hair from root to tip. It is suitable for normal, dry, dull, rough, frizzy, and damaged hair. It can be used in many versatile ways – before washing your hair, after towel-drying your hair, or before using any hair-styling tool. You can also apply it before you go to sleep to wake up with manageable hair the next morning.
Pros
Provides deep nourishment
Makes hair manageable
Lightweight
Non-greasy
Does not weigh down your hair
Suitable for all hair types
Can be used as a heat protectant
Multipurpose
Cons
None
Have you tried any of these L'Oreal Paris hair serum products? If not, you're just a few clicks away from adding that gorgeous shine to your hair that will make heads turn. Get salon-style hair at home in seconds by grabbing one of the serums listed above!
Frequently Asked Questions
Which L'Oreal hair serum is the best?
The L'Oreal Smooth Intense Serum, L'Oreal Paris Extraordinary Oil Hair Serum, and the L'Oreal Paris Total Repair 5 Serum are some of the best hair serums.
Can we apply hair serum daily?
According to experts, using hair serum on a daily basis is not recommended. However, you can use a serum after washing your hair with a shampoo or before styling your hair. If you have unmanageable hair, use an oil-based serum.
Does hair serum really work?
Yes, hair serum works well for those with damaged and frizzy hair. It also tames flyaways and adds shine to your tresses.
Are there any precautions or side effects to consider when using L'Oreal hair serums?
No, there are no side effects to using L'Oreal serums. However, chemicals in them, such as silicone, might cause scalp irritation and inflammation, rash, and hair fall and breakage if used in excess.
Can L'Oreal hair serums be used in combination with other hair care products?
Yes, you can use hair serum in combination with other hair care products. Ensure that the ingredients in the products do not react with each other and follow the correct sequence.
Can I apply Loreal serum on dry hair?
Yes, you can apply Loreal serum on dry hair before styling as a heat protectant.
Recommended Articles:
Best Natural Hair Serums Available In India
Best Serums For Frizzy Hair Available In India
Best Hair Growth Serums Available In India
Best Hair Serums In India That Add Volume And Bounce To Your Oily Hair
Best Serums To Control Hair Fall Available In India