Top 13 L'Oreal Mascaras Of 2022 – Add Length, Volume, And Definition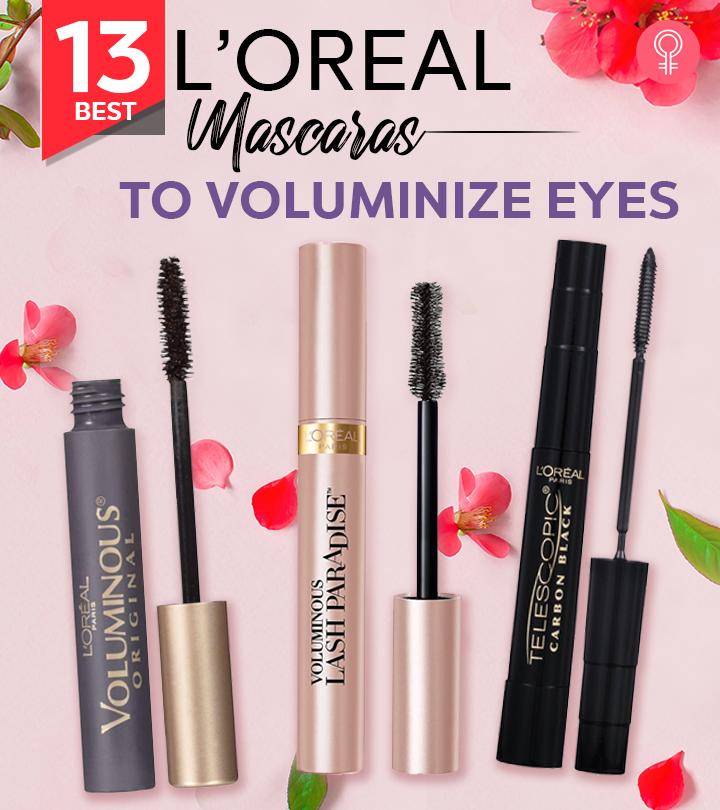 We all want long, voluminous lashes, and even though not all of us have been blessed with them naturally, we're glad that some of the best L'Oreal mascaras can help us achieve that look! These mascaras are fit for every occasion. They create a dramatic effect and add volume to flattened lashes. The wide range of options from L'Oreal allows you to give your eyelashes length and volume while preventing them from getting smudged for hours! Check out our top picks below.
13 Best L'Oreal Mascaras Of 2022 That You Must Try
The L'Oreal Paris Voluminous Mascara is uniquely formulated to resist clumping, soften, and build lashes. It is claimed to increase the thickness of your lashes by up to 5x. If you want long, voluminous, thick eyelashes, the L'Oreal Paris Voluminous Original Volume Building Mascara is the right pick for you. The formula contains panthenol and ceramide-R that nourish each lash. The mascara is lightweight and instantly boosts every lash look. It is easy to apply and can be removed with soap and water.
Pros
Lightweight
Available in different shades
Ophthalmologist-tested
Suitable for sensitive eyes
Gentle on eyes
Non-clumping
Cons
The L'Oreal Paris Makeup Double Extend Beauty Tubes Mascara is a revolutionary lash extension that provides up to 80% longer-looking, nourished lashes. It gives you a long, voluminous look that lasts for up to 16 hours. It is infused with panthenol and D-ceramide that nourish, protect, and strengthen the lashes. The mascara is smudge-proof, waterproof, fade-proof, and long-lasting. It is suitable for sensitive eyes.
Pros
Long-lasting
Suitable for sensitive eyes
Safe for contact lens wearers
Smudge-proof
Waterproof
Fade-proof
Stays up to 16 hours
Ophthalmologist-tested
Hypoallergenic
Easy removal
Two-step bristle brush
Cons
No thicker and longer lashes
The Extra Volume Collagen Waterproof Mascara from the L'Oreal range adds volume and lengthens the lashes. It also gives the lashes a jet black color. It claims to enhance the eyelash thickness by up to 12x. It is waterproof too – exactly what the monsoons need. The mascara doesn't clump or create a mess under the eyes. It also doesn't irritate sensitive eyes.
Pros
Clump-free
Thickening
Hydra-collagen complex formula
Long-lasting wear
Fade-proof
Removes easily
Waterproof
Safe for sensitive eyes
Cons
This cult-favorite mascara from L'Oreal not only lengthens your lashes but also gives them a dramatic volumizing effect with ease. The brilliant soft, wavy brush holds a generous amount of formula. It provides silky volume coats on every lash for an even, feathery effect. The smooth formula glides easily through the lashes and creates a full lash fringe effect. It is easy to layer, and is fade-proof and long-lasting. It adds a bold definition that lasts throughout the day.
Pros
Long-lasting
Fade-proof
Provides long-wearing makeup
Does not flake
Smudge-proof
Soft wavy bristle brush
200+ bristles for adding extra volume
Value for money
Cons
None
The L'Oreal Paris Telescopic Lengthening Mascara doesn't flake or get untidy under the eyes. It enhances the lashes by adding extra length without clumping them. The patented brush with a dramatic formula enhances the lash length. The mascara claims to boost volume and length of the lashes by 60%. It is ophthalmologist-tested and suitable for sensitive eyes and contact lens wearers. The wand is super easy to use, and the bristles pick up just enough of the product to give a neat finish. The long-lasting formula provides smudge-proof makeup wear that lasts for up to 16 hours.
Pros
Ophthalmologist-tested
Hypoallergenic
Long-lasting wear
Suitable for sensitive eyes
Safe for contact lens wearers
Smudge-proof
Flexible dual-precision brush
Easily glides on lashes
Cons
None
The L'Oreal Paris Voluminous Butterfly Mascara stretches the lashes corner to corner. It is called the 'butterfly' mascara as the triangle brush stretches the lashes and makes them look like butterfly wings. It claims to boost the lash volume by 6x and leaves them with the desired lift and length. The asymmetrical wing tip shape of the brush coats each lash evenly and glides smoothly over it. It adds magnitude and bulk. The uniquely designed brush holds the cocoon fibers to maximize coverage and leave a smudge-proof appearance.
Pros
Long-lasting
Waterproof
Clump-free
Flake-free
Smudge-proof
Ophthalmologist-tested
Hypoallergenic
Suitable for sensitive eyes
Safe for contact lens wearers
Tested under dermatological control
Cons
May cause a burning effect
The L'Oreal Paris Million Lashes Washable Mascara adds bold volume with a clean definition, for an exclusive dramatic lash look. The millionizer brush has long and short bristles at both ends. It separates each lash and adds extra volume from the root to the tip. A built-in, anti-clump wiper removes extra mascara for a clean and impactful look. The mascara can be removed easily with soap and water.
Pros
Long-lasting
Smudge-proof
Waterproof
No overload
No clumps
Ophthalmologist-tested
Hypoallergenic
Suitable for sensitive eyes
Safe for contact lens wearers
Cons
None
The L'Oreal Voluminous False Lashes Mascara adds fabulous volume to the eyelashes. The 3D sculpting brush with a volumizing formula creates a sculpted false lash. It is infused with fibers to thicken, lengthen, and curl the lashes. It doesn't clump, and the wand it comes with helps in easy application. The bristles of the brush are tiny, and are especially effective for people with small eyes. This mascara doesn't irritate the eyes.
Pros
Provides intense 3D effect
Clump-free
Flake-free
Smudge-proof
Removes easily with soap and water
Safe and gentle for eyes
Suitable for contact lens wearers
Cons
May dry up easily in a few hours
The L'Oreal Paris Volume Million Lashes Mascara adds volume, luster, definition, and length to your lashes. The lovely wand gives a fanned-out effect to your lashes. This effect makes the eyes look wide and awake. The mascara dries quickly without any clumping. The wand's bristles are a little thick, and the elastomer applicator makes silky smooth coating and gives a lengthening effect. The millionizer brush holds up the curls well. The in-built wiper removes excess mascara neatly without any flakes under the eyes. The jet black color the mascara gives will definitely earn you a lot many compliments.
Pros
No clumping
No overloads
Thickened brush adds extra volume
Multitude bristles separate lashes
Contains a wiping brush
Boosted with jet black effects
Cons
The L'Oreal Paris False Lash Bambi Eye Mascara leaves users with popping eyes and widens their look. It instantly adds volume, and 4 out of 5 women observe bigger eyes. It claims that it did not clump upon application in 90% of the users. The washable formula glides smoothly on the lashes and leaves them sculpted and elongated. It contains hydrogenated jojoba oil, palm oil, and panthenol that nourish and hydrate lashes.
Pros
Waterproof
Glides smoothly on lashes
Long-lasting wear
Does not clump
No build-up
Makes eyes appear bigger
Cons
The L'Oreal Paris Lash Architect 4D Mascara aims at giving a soft and feathery finish, unlike the usual dense and bold effect mascaras usually give. It is waterproof, smudge-resistant, and does not clump even on rainy days. It is the perfect voluminous mascara meant for daily wear and a casual look.
Pros
Long-lasting
Recommended for casual wear
Gives a bold and dense look
Smudge-resistant
Waterproof
Does not clump
Cons
The L'Oreal Paris Voluminous Superstar Red Carpet Mascara is a 2-in-1 formula with a super-volumizing primer that builds a dramatic volume on every lash. It creates an ultra-smooth base to maximize the mascara impact. It is infused with a fiber-rich formula that lengthens the lashes to their extremes. The light-reflecting pearls provide a glittering effect in the night and truly make it ideal for the red carpet look.
Pros
Super-voluminous
Maximizes mascara impact
Fiber-rich lengthening effect
Super-extended
Glittering effect
Lightweight
Glides smoothly
Cons
None
The L'Oreal Paris Very Different Unlimited Mascara is a unique combination of fixing the waxes that gently cover each lash to give a more voluminous look. It has a 2-in-1 action through its straight brush that works for lengthening the lashes and a bendable wand that gives more lift. This unique design allows one to coat both the outer and inner lashes. The unique coating creates a smooth, non-clumpy look and easily glides on the lashes and defines each of them. The mascara is creamy, waterproof, and smudge-resistant.
Pros
2-in-1 action
Smudge-resistant
Waterproof
Gentle on eyes
Coats from root to tip
Creamy texture
Coats both upper and inner lashes
Long-wear formula
Holds for 48-hours
Easy to remove with warm water
Cons
None
These are the 13 best L'Oreal mascaras that you can buy online. But why L'Oreal, when the market is flooded with other brands too? Well, there are a few reasons. We have covered them below.
Why Should You Consider L'Oreal Mascaras? 
L'Oreal offers a wide range of products that add volume, lengthen lashes, and offer waterproof and smudge-proof effects.
They are budget-friendly, and not heavy on your pocket.
They are easily available online.
L'Oreal Paris mascaras can be used as long-wear makeup that lasts for up to 16 hours.
If you are using a mascara the first time, we have got you covered.
How To Apply A Mascara? 
Start with applying a lash serum to add some base. Adding a serum adds some extra TLC as it is formulated with invigorating formulas.
If you have straight lashes, you can use a lash curler to add curves.
Use the L'Oreal Paris Voluminous Lash Primer that acts as a base to hold your mascara for long.
Coat your lashes from the root to the tip and slowly wiggle it upward.
Coat it again if needed or to add more volume.
A few coats of mascara hold your lashes for longer, adding that gorgeous, flirty look. L'Oreal Paris mascaras are waterproof and smudge-proof that can be used in any weather for a long makeup wear. Pick the right one from this list and start flaunting your eyelashes today.

Why Trust StyleCraze?
Baishali Bhattacharya, the author of this article, is certified in makeup techniques. Putting her expertise and knowledge of the topic into her research, she has scoured numerous websites to bring you this list of the best L'Oreal mascaras. The article includes a detailed description of each product and a pros and cons list. Moreover, she has also included a section on applying mascara for your convenience.
Recommended Articles