L'Oreal Paris Casting Creme Gloss Hair Color Review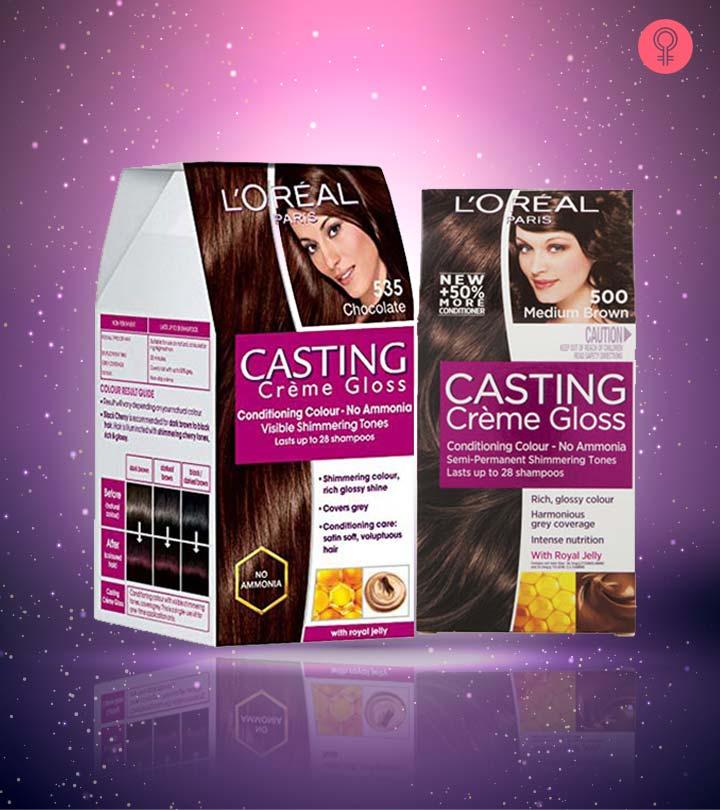 Looking for a change or a quick fix to cover up your roots? No matter what your requirement is, there's a solution for it in inexpensive hair color options in your local drugstore. I was overwhelmed by the choices in front of me, and I bet this happens to you too.
I decided to try the L'Oreal Paris Casting Creme Gloss Hair Color, and if you're curious to find out how this hair color performs, read on to find out. You may just find your holy grail hair color to achieve that salon-perfect hue right at home!
The L'Oreal Paris Casting Creme Gloss Hair Color is a new generation of No-Ammonia Color that gives you gorgeous looking hair with four times the gloss. It covers grays, giving you natural-looking color, visible shimmering tones, and ultra shine. This wholesome beauty treatment for your hair lasts up to 28 shampoos and gives intense nutrition for healthy, satin-soft, and voluminous hair. Its non-drip formula provides an easy and clean application in just 20 minutes and is suitable even for beginners.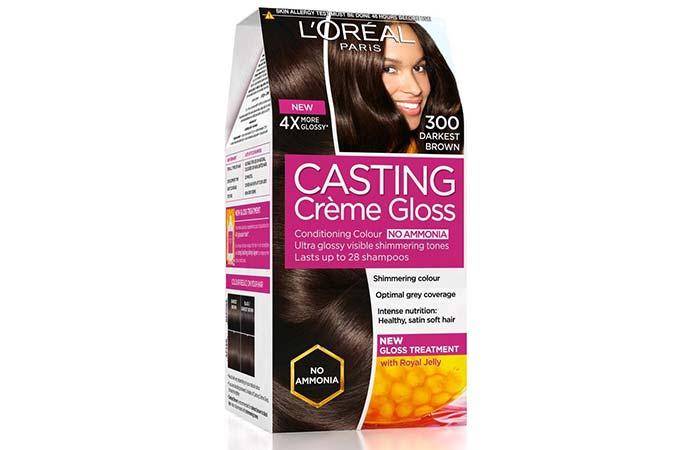 Price at the time of publication: ₹550
Features And Benefits
No ammonia
4X glossy shine
Natural-looking color
Delicate fragrance
Non-permanent
Easy to use
Packaging
The contents of this hair color come in a cardboard case. It contains one tube of creme colorant, a bottle of developer, a bottle of Nutri-Shine conditioner, a pair of professional quality gloves, and an instruction leaflet. The cardboard case has relevant information printed on it such as the shade and a color result guide.
Ingredients
Creme Colorant: Water, Cetearyl Alcohol, Propylene Glycol, Deceth-3, Laureth-12, Ethanolamine, Oleth-30, Lauric Acid, Toluene-2, 5-Diamine, Polyquaternium-6, Glycol Distearate, Resorcinol, Hexadimethrine Chloride, Silica Dimethyl Silylate [Nano]/Silica Dimethyl Silylate, CI 77491/Iron Oxides, CI 77891/Titanium Dioxide, 2, 4-Diaminophenoxyethanol HCl, M-Aminophenol, Ascorbic Acid, Mica, Sodium Metabisulfite, Thioglycerin, 2-Methylresorcinol, Pentasodium Pentetate, Carbomer, Fragrance
Developer Creme: Water, Hydrogen Peroxide Cetearyl Alcohol, Sodium Stannate, Trideceth-2 Carboxamide Mea, Pentasodium Pentetate, Phosphoric Acid, Ceteareth-25, Tetrasodium Pyrophosphate, Glycerin
Shine-Enhancing Conditioner With Royal Jelly: Water, Cetearyl Alcohol Behentrimonium Chloride, Peg-180, Amodimethicone, Cetyl Esters Hydroxyethylcellulose, Trideceth-6, Chlorhexidine Dihydrochloride, Limonene, Linalool, Benzyl Alcohol, Isopropyl Alcohol, Citric Acid, Cetrimonium Chloride, Citronellol, Hexyl Cinnamal, Amyl Cinnamal, Royal Jelly, Fragrance
My Experience With L'Oreal Paris Casting Creme Gloss Hair Color
In the spur of the moment, I decided to color my hair. I had dark brown hair and wasn't keen on going all-out with a radical change, so I decided on Burgundy just to get that tinge of color. Also, I was more attracted to the L'Oreal Casting Creme Gloss because it's an ammonia-free product. This is my experience with it and here's how it works.
Easy To Mix And Apply – Check!
The L'Oreal Casting Creme Gloss is incredibly easy to use. I followed the steps in the instruction leaflet and mixed the dye. The texture of the dye was very glossy, and it didn't drip. It also smelled decent. What I observed was this hair color penetrates deeply into the hair while nourishing and conditioning each strand. It also covers every gray strand with much ease. I saw rich tones through my hair, and it looked so natural.
Easy To Remove – Check!
In case you get the color on your skin, this does not leave a horrid stain – just a soapy cloth or a wet wipe efficiently removes the color. This is a major bonus for all the clumsy women out there. However, the overall experience of application is mess-free and simple.
Gorgeous Color – Check!
After 20 minutes or so I rinsed my hair and used the conditioner that came along with the color. It seals in the intense shine and gloss. I was left with soft, smooth, and shiny hair. The color also added a lot of dimension to my hair and made it look a whole lot livelier and vibrant.
Even if you're a beginner, this is something you can work with. It's ideal for people who are sensitive to chemicals, and it does not have that awful chemical-like smell to it.
Different Shades In L'Oreal Paris Casting Creme Gloss Hair Color
The L'Oreal Paris Casting Creme Gloss Hair Color comes in a whole bunch of stunning shades. Let's take a look at what L'Oreal offers on this front.
This Burgundy/ Plum color is the perfect statement-making shade if you are too shy to go in for a very bright color like blue, red or green. It's dark enough to be subtle yet fashionable and trendy enough to stand out as fierce and unique. It's one of the hottest shades for fall and winter!
Price at the time of publication: ₹630
This gorgeous deep red is one of the most versatile hair color options from this range. It's not 'in-your-face' and can be pulled off by anyone so well. It also enhances facial features while adding a certain mysterious charm to your whole look.
Price at the time of publication: ₹649
This is my favorite brown from this range, and you can never go wrong with this one! It's so chic and classy, plus the richness of the color adds a lot of dimension to your hair.
Price at the time of publication: ₹584
Mahogany hair color is all the rage, and it's waving its way through the hottest trends. If you're bored of your Plain Jane brown or black hair, it's time you amp up your game of tresses and try this shade.
Price at the time of publication: ₹577
Whether you want to hide those grays or just want to go in with an intense black color, this Ebony Black shade has you covered.
Price at the time of publication: ₹599
If you've been dying to go dark, this is a great option. You can also use it to freshen up your current brunette shade!

Price at the time of publication: ₹550
Beautiful dark brown hair can look so shiny, stunning, and rich! It has a ton of depth on its own, but you can also add bold highlights to this to create your multidimensional masterpiece.
Price at the time of publication: ₹630
Talk about a color that has gorgeous versatility, and it'll be this Medium Brown shade. Especially if your complexion is fair and you have light eyes, this color makes for a sophisticated and elegant choice.
Price at the time of publication: ₹630
Inspired by the famous Bollywood actress Sonam Kapoor, this Dark Chocolate color looks classy and dramatic. Add a few highlights, and you're all set!
Price at the time of publication: ₹550
Who doesn't love chocolate? This one's a medium chocolate shade that will have you dyeing to be a brunette!
Price at the time of publication: ₹551
This one's a lovely, cool-toned chocolate shade and is compatible with any skin tone! You have to try it! It doesn't require too much maintenance or styling.
Price at the time of publication: ₹577
L'Oreal also has these shades in its Casting Creme Gloss Hair Color range, some of which are available exclusively in the UK.
500 Cheryl's Brown
210 Blue Black
443 Auburn Henna
100 Liquorice
543 Golden
554 Chili Chocolate
645 Amber
630 Caramel
634 Chestnut Honey
356 Cherry Cola
388 Cocoa Moccacino
732 Vanilla Moccacino
734 Rich Honey
780 Caramel Moccacino
1010 Light Iced Brown
1013 Light Frosted Blonde
Pros
No ammonia
Easy to use and wash
Leaves you with a rich color
Makes hair softer and smoother
Adds a whole lot of shine to the hair
Color lasts up to 25 washes
Color fades evenly and slowly
Reasonably priced
Cons
If you have dark hair, the color may not look like what is represented on the box. For instance, the shade "Cherry Red" will leave you with only a tinge of red. You will be able to achieve that exact cherry color if you either first bleach your hair or happen to have a lot of grays.
How To Use This Product?
Apply on hair roots and leave it on for 25 minutes.
Apply the color mixture on your lengths and leave on for 10 minutes.
Rinse your hair and condition.
Shelf Life: 36 months
Will I Recommend This Product?
Yes! I highly recommend the L'Oreal Paris Casting Creme Gloss to anyone who's looking for a convenient and inexpensive way to cover grays or just have fun with a new hair color. With minimal mess, it will leave you with a temporary and less damaging change than most at-home hair colors. Also, your hair is guaranteed to look vibrant and shiny. On the whole, the L'Oreal Casting Creme Gloss sure left me impressed, and this is going to be my go-to hair color for a long time!

I'll have to say that life's too short to have boring hair and everything looks better in color! That was my experience with the L'Oreal Paris Casting Creme Gloss hair color. Have you tried this? What did you think of it? Let me know in the comments section below.
Frequently Asked Questions
Does this hair color impact hair health or cause damage?
The Loreal Paris Casting Creme Gloss has an ammonia-free formula, enriched with natural ingredients like mica, walnut, and argan oil. Its nourishing formula causes minimal damage during the coloring process.
Is this hair color suitable for sensitive scalps?
These hair colors have a rich conditioning creme formula that is gentle and nourishing, therefore suitable for sensitive scalps. However, you can consult a dermatologist or professional hair colorist to ensure the specific color product you use is non-irritating.
Are there any tips or suggestions for getting the best results with this hair color?
Here are a few tips to get the best results from Loreal Paris Casting Creme Gloss:
• Apply the color on unwashed, damp hair to minimize probable damage.
• Use lukewarm water to rinse the color off after 20 minutes. Do not use shampoo for the next 72 hours.
• Decrease the frequency of your hair washes to make the color last longer.
• Use L'oreal Paris's Elvive Color Protect shampoo and conditioner to maintain the vibrancy of your hair color.
Recommended Articles