11 Best L'Oréal Shampoos Available In India
Defeat bad odor and dandruff with formulas that would not weigh your hair down.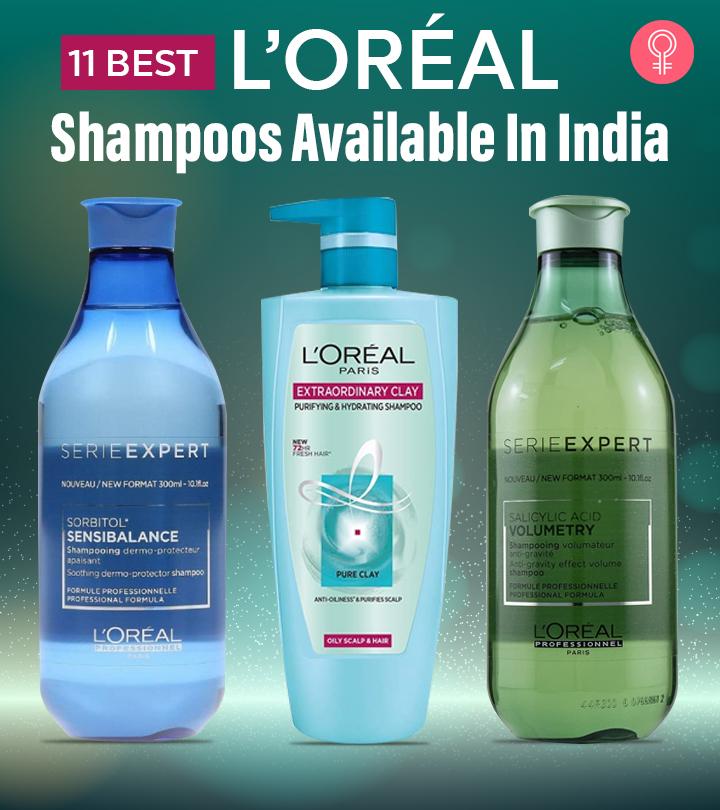 The L'Oréal hair care range has a solution for almost all hair concerns. Their innovative and unique shampoos contain high-quality ingredients that treat the hair with utmost care and get to the root of all your problems – literally! By including these shampoos in your hair care routine you can achieve salon-perfect tresses at the comfort of your home. If you are searching for the best L'Oréal shampoo for your hair concern, check out our extensive list of 12 best L'Oréal shampoos for 2021 available in India that will give your hair some refreshing TLC.
Best L'Oréal Shampoos Available In India
The six oils formula of the L'Oréal Paris 6 Oil Nourish Shampoo harnesses the goodness of almond, argan, olive, jojoba, camelina, and coconut oils to deliver deep nourishment to the hair follicles. This luxurious blend cleanses the hair while reducing dryness to make the hair soft and manageable. It strengthens and thickens the hair strands while bringing back the lost shine due to heat styling tools or chemical treatments. This residue-free cleanser is suitable for dry and dull hair.
Pros
Improves manageability
Moisturizing
Pleasant fragrance
Cons
None
The L'Oréal Paris Total Repair 5 Shampoo is formulated using innovative ceramide technology to restore shine and luster to chemically treated and damaged hair. It tackles five signs of damaged hair like split ends, hair fall, roughness, dryness, and dullness. This shampoo is enriched with hydrolyzed wheat protein and ceramides to nourish the hair and revitalize the follicles.
Pros
Prevents breakage
Adds bounce and volume
Combats dryness
Pleasant fragrance
Cons
None
The Fall Resist 3X Anti-Hair Fall Shampoo from L'Oréal Paris is crafted with arginine extract, an amino acid that combats hair fall by nourishing the scalp and improving blood circulation. This shampoo delivers a triple treatment that effectively deals with the cause of hair fall. It strengthens the hair follicles to make each strand healthier and stronger while restructuring the hair fiber to prevent breakage and split ends. This gentle cleansing formula stimulates hair growth and restores natural thickness.
Pros
Reduces hair fall
Strengthens brittle hair
Nourishes hair follicles
Detangles hair
Cons
Price at the time of publication: ₹284
The L'Oréal Paris Color Protect Protecting Shampoo is designed for color-treated hair and is infused with a UV filter light reflection system to reduce damage due to harmful sun rays. This nourishing shampoo helps increase the life of the color while protecting the hair from external stressors and pollutants. It enriches the radiance of the color by accentuating and highlighting the tones. This shampoo is gentle on hair and combats dryness by moisturizing the roots.
Pros
Protection from UV rays
Pleasant fragrance
Protects hair color
Sulfate-free
Cons
None
Price at the time of publication: ₹379
The nourishing formula of the L'Oreal Paris Professionnel Serie Expert Absolut Repair Shampoo is enriched with gold quinoa and wheat protein. These deeply nourishing ingredients condition and repair dry damaged hair to restore shine and luster. The shampoo leaves the hair feeling smoother and stronger with a natural shine. With regular use, it can combat damage due to heat styling, UV ray exposure, and chemical treatment while transforming dull and lifeless hair to soft and healthy.
Pros
Increases manageability
Suitable for daily use
Induces shine
Pleasant fragrance
Cons
None
The rich and purifying formula of the L'Oréal Paris Extraordinary Clay Shampoo delivers intense and long-lasting hydration to the hair strands while eliminating oil and impurities from the scalp. The powerful effects of kaolin clay detangle the hair strands to leave them smooth and frizz-free. The shampoo reduces flakiness and dandruff and infuses a cooling effect to soothe all irritations. It is designed to combat hair concerns related to dry lifeless shafts and oily roots.
Pros
Cools and purifies the scalp
Moisturizing
Pleasant fragrance
Cons
None
The L'Oréal Professionnel Serie Expert Instant Clear anti-dandruff shampoo is formulated with piroctone olamine and citric acid to hydrate and refresh the scalp while visibly reducing dandruff and flakes. The piroctone olamine prevents dandruff, combats hair loss, and restores hair growth. The citric acid in the formula regulates the scalp's pH to maintain its health. This shampoo controls sebum production and eliminates dirt to keep the scalp itch-free while the hair feels light and refreshing. It is suitable for normal to oily hair.
Pros
Deep hydration
Pleasant fragrance
Reduces visible flakes
Cons
The conditioning formula of the L'Oréal Paris Dream Lengths Shampoo is formulated with castor oil and vegetal keratin. These restorative ingredients prevent breakage, help to mend split ends, and maintain overall hair health. The shampoo is rich in vitamins B3 and B5 to strengthen the hair strands and stimulate hair growth. It effectively cleanses the hair of dirt and grime while adding shine and improving hair texture.
Pros
Prevents breakage
Adds shine
Frizz-control
Pleasant fragrance
Cons
The antioxidant properties of the Vitamino shampoo from L'Oreal Professional protect color-treated hair while infusing shine and radiance into the color. It is crafted with resveratrol to nourish and strengthen the hair follicles to promote hair growth. The UV filters in this cleanser prevent damage from harmful sun rays and ensure the color does not fade.
Pros
Enhances shine
UV ray protectant
Color protectant
Frizz-control
Cons
None
The Nutri-reconstructor Xtenso Care Shampoo from L'Oreal Professionnel is designed for chemically straightened and relaxed hair. It is blended with the innovative pro-keratin+Incell technology to boost moisture levels and combat dryness caused due to chemical treatments. The keratin forms a protective layer on the hair shafts to shield and protect them from daily pollutants. The Incell molecules penetrate the hair follicles to strengthen and protect the hair fiber. The shampoo volumizes the hair while making it smooth and manageable.
Pros
Prevents breakage
Controls dryness
Imparts shine
Boosts moisture
Frizz-control
Cons
None
The L'Oreal Professionnel Hair Spa Deep Nourishing Shampoo harnesses the benefits of water lily and purified water to enrich the hair with nutrients and moisture. Water lily soothes scalp inflammation and helps to restore hair health. The purified water in this formula adds shine and prevents split ends. The shampoo is designed to revitalize dull and dry hair by rehydrating the hair strand from root to tip.
Pros
Hydrating
Enhances shine
Soothes the scalp
Cons
L'Oréal has got shampoos for every hair type and concern. These are professionally crafted formulas to target specific hair issues without affecting the scalp and hair health. Go ahead and choose the one that suits your hair type and concern from our list.

Recommended Articles