Top 10 Lotus Flower Tattoo Designs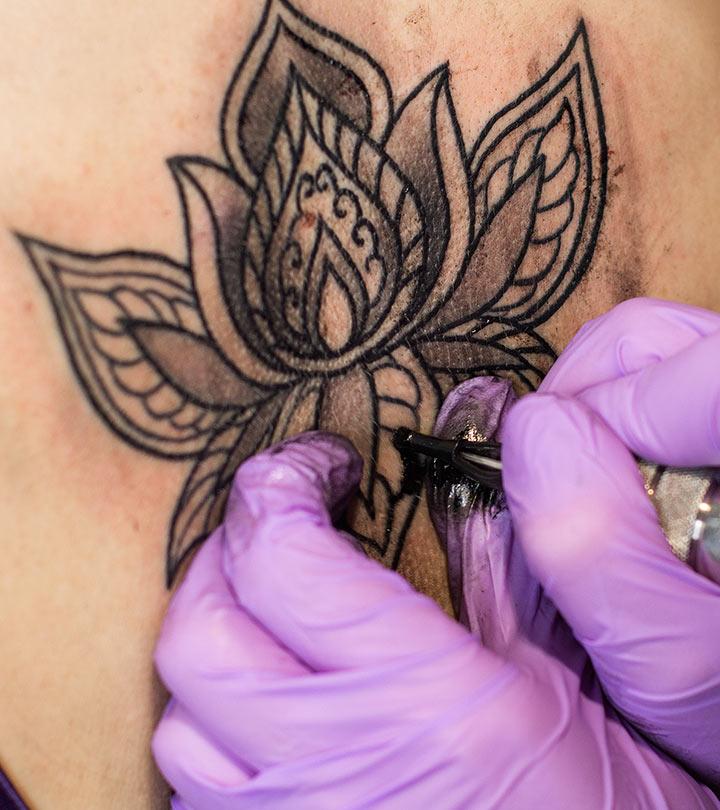 The lotus has for long held much symbolic value in two of the major religions of the world – Hinduism and Buddhism. While in Buddhism the lotus symbolizes a variety of values depending on the colour of the flower, for Hindus the lotus flower is associated with Lord Vishnu and Brahma. Universally, the lotus symbolizes the ultimate and divine perfection. It is because of all these attributes that the lotus has gained much prominence in all forms of art including tattooing. These top ten lotus tattoo designs are perfect examples of contemporary tattoo art using the lotus motif.
Top Ten Lotus Tattoo Designs:
1. Miniature Upper Back Lotus Tattoo:
Small and subtle, this lotus flower tattoo is for those who seek out art that is simple yet attractive. Take a look at how this beautiful tattoo is created using a rich shade of Prussian blue. For best results, have this tattoo replicated on your skin as depicted here by a seasoned tattoo artist only.
2. Tribal Lotus Tattoo:
This attractive lotus tattoo is apparently inspired by tribal art and is bound to be a favourite for those with an affinity to tribal art forms. Have this attractive tattoo replicated on your skin by an experienced tattoo artist and enjoy the admiration of your friends and peers.
[ Read: Tattoos ]
3. Blue Lotus Tattoo:
This brilliant lotus flower tattoo stands out for its use of vibrant colours such as blue, orange, and purple. Make a note of the detailed ornate patterns used to embellish this piece of art. Mostly open to experimentation, you could work with other bright colours whilst having this inked on your body.
4. Bold Black Lotus Tattoo:
Created using a bold shade of midnight black, this tattoo is sure to grab attention and much admiration. Stay true to the original concept as depicted here, however the use of other colours could very well accentuate this piece of art.
5. Upper Back Lotus Tattoo:
This lotus tattoo designs, inked in vibrant shades of peach, gold, and black, is a riot of colours and definitely hard to ignore. Make a note of how this tattoo seems to glow like a burning flame. To insure maximum impact, make sure your tattoo artist does not deviate from the original design while replicating it on your skin.
[ Read: Lotus Tattoo Designs ]
6. Lotus "Mandala" Tattoo:
In Sanskrit, the meaning of a 'Mandala' is a circle which encompasses many virtues such as perfection, unity, eternity, and completeness. This Lotus Mandala tattoo aims not only to please your senses with its aesthetic appeal but to also be a source of inspiration for a wholesome life.
7. Lotus Foot Tattoo:
Foot tattoos have gained such popularity in recent times which makes it impossible to leave out this ornate lotus foot tattoo from our list. Created using a single shade of pure black and painstaking shading and intricate details, having this tattoo replicated on your body is worth a trip to your nearest tattoo parlour.
8. Lotus With Aum Tattoo:
The lotus with its high symbolic value is juxtaposed with the symbol Aum in this creative tattoo. For those who are unaware, Aum symbolizes divine and complete peace. This aesthetic piece of art has much spiritual significance.
[ Read: Joker Tattoos ]
9. Lotus Wrist Tattoo:
Looking for a miniature yet attractive tattoo to embellish your wrist?This lotus wrist tattoo is the perfect find for you. With a clear emphasis on attracting attention, this lotus tattoo is best replicated in a bold shade of black.
10. Miniature Red Lotus Tattoo:
Small yet attractive tattoos are the current trend and this miniature red lotus tattoo is the perfect specimen. This subtle yet aesthetic lotus tattoo could easily embellish your ankles, wrists or the nape of your neck to perfection. The Lotus, with its message of cause and effect, is the perfect motif for those looking for their first tattoo design. Meaningful, spiritual, yet beautiful, this symbol in its myriad forms is sure to give you a taste of the beauty of tattooing.
Hope you found these lotus tattoo designs very interesting. If you are a tattoo lover, you are surely going to get one of them inked on your skin. Leave your feedback to us.
Hope you found these lotus tattoo designs very interesting, there are lot more you can choose from on 'Tattoos For All'
The following two tabs change content below.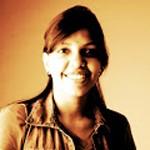 Latest posts by Shruti Goenka (see all)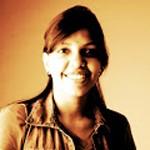 Shruti Goenka
Hi I am very passionate about makeup, fashion and health related topics, I always had a soft corner for makeup and beauty. I believe makeup has the power to enhance features and can turn flaws into strengths. Makeup keeps me busy and yet it gives me the opportunity to follow my passion.