143 Romantic Love Messages That Will Make Him Feel Adored
Cute and romantic ways to make your partner feel special and make his day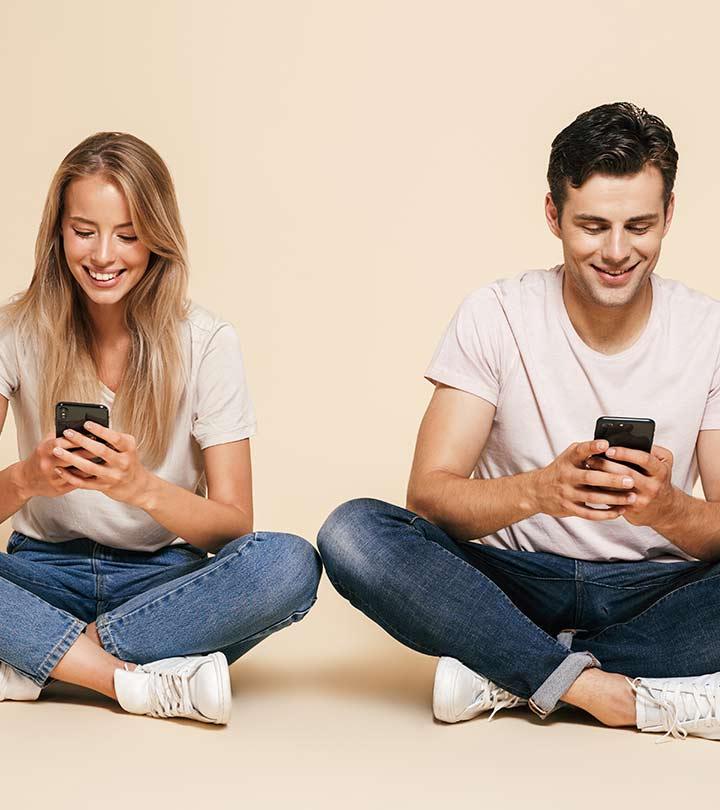 When it comes to conveying your emotions to the love of your life, words always seem to fail miserably. However, if you wish to express gratitude and appreciation and show you are passionate for your boyfriend through heartfelt, perfect love messages for him, we have just the thing for you. In this article, we have compiled a list of meaningful, dreamy, and heart-warming love notes that will surely put a smile on their face and make them feel special and appreciated. From fond and tender sentiments to amorous and intimate declarations straight out of your dreams, these loving and captivating messages are designed to enchant and endear the heart of your loved one. Keep reading to turn your aspirations into reality.
Romantic Love Messages
If you are head over heels in love with him and want to tell him what he means to you but do not just want to write 'I love you' messages then here are a few true love messages you can send:
Darling, I may not tell you this every day, but you are a sweet dream come true for me, and I thank the universe for giving you to me.
My love for you only grows stronger with every passing day.
You are the best thing that happened to me. You are not just my partner, you are a thoughtful person who enriches my life in every way.
I promise to love you until my last breath, creating our own true love story.
I thank God for every breath I take because I take it thinking of you.
I love you to infinity, my amazing partner.
Sweetheart, I think I am addicted to you. I can't ever seem to get enough of you.
I never knew I could love someone to the extent I love you.
I can stare into those eyes of yours until eternity.
Oh boy, you take my breath away every time I look at you.
I miss your breath against mine, sweetheart.
Every second away from you feels like a lifetime.
You are the only amazing person I can imagine spending my whole life with, making my future a canvas of sweet dreams.
My heart races at the thought of you, which ignites a beautiful feeling within me. I can't wait to see you again.
You make me weak in the knees every time you look at me.
My reason for waking up every single day is you, my love, and I am so glad that I have you in my life, my true motivation.
Loving you is the best decision I have ever made and I will choose you over and over again.
With you, my darling, every moment is a love story waiting to be written.
Every day with you feels like a sweet dream I never want to wake up from.
I love the way you make my heart race a thousand miles and make my soul come alive.
You are the sunshine that brightens even the darkest of my days.
I never knew that love could be such an incredible thing until I met you and finally found what I had truly been missing my whole life.
You are not just my partner but my heart's deepest desire.
Before you I always felt like a puzzle missing its main piece, now with you in my life darling, I feel truly complete.
Your love is the sweet melody that plays in my heart every single day and its rhythm is what keeps me going.
I never truly believed in things like fate or destiny but with you in my life now, I can finally understand the true meaning of serendipity.
I was an atheist my whole life but with you in it now I have started believing in god.
My love for you is like an eternal journey that starts at forever and never ends.
In your arms my love, I have found my safe haven, my happy little place that I can always take shelter in.
You are the true love of my life and I cherish every second of the day we get to spend together.
Whenever I am with you my love, the world instantly fades away, and it's just us and our love that surrounds me warmly.
Just a single hug from you fades away all of my worries.
You are my rock, my backbone, and my greatest support.
I never truly believed in manifestation but I guess praying for someone like you did come true.
With you, I have learned that love is not just a word, it's an action, a choice, and a constant commitment.
From the moment I saw you, I knew I wanted my days to be filled with just you.
Sweet Love Messages
How about going a little sweeter on him today? Try sending him any of these sweet, emotional love messages listed below to express your love for him as sweetly as you can:
I love you like nobody else ever can because you make me feel like the luckiest girl in the world.
All I want to do is cuddle against your chest right now. Come back soon.
You make my life worth living, baby.
My life would be so meaningless without you in it, for you bring true meaning to every moment we share.
Our love story is far from a fairytale, but it is still my favorite because you are my prince charming.
Sweetheart, I just messaged to remind you how much I love you.
You are the only amazing person I want to come home to because being with you brings the true meaning of comfort and warmth to my heart.
You, my special person, are the perfect mix of everything I ever wanted in a guy.
Do you have any idea how much I miss you every waking second?
I will love you like there's no tomorrow until I breathe my last, creating an amazing life filled with unforgettable moments.
Every time I hug you, I never want to let go because it's a beautiful feeling that brings us closer.
Darling, you blow my mind away by just being you, and being with you fills my heart with true happiness.
I sleep well only when you are next to me, and seeing your beautiful smile gives me a sense of warmth. I am missing you so damn much.
You are like a breath of fresh air in my otherwise dull life.
I am amazed at how just hearing your name makes me blush hard.
You are one in a million, baby. And I am glad you are mine. I feel like the luckiest girl ever to have you as my partner.
Saying you are my everything would still be an understatement.
Aren't you tired from constantly running through my mind?
Your love is the anchor that keeps me grounded in this chaotic little world.
I was never a rom-com person but I don't mind watching the cheesiest romantic movies with you.
A good morning text from you is all I need to start my day with unfathomable energy.
Before forever was only a word for me and now with you in my life, it actually means something.
Our love is like a fine wine, it only gets sweeter and better with time.
You have taught me the true meaning of love, kindness, selflessness, and unwavering devotion.
Our love story is my favorite because it's a story of two hearts that found their forever homes in each other.
My love for you is as vast as the universe and as endless as the ocean.
With you I know our honeymoon phase will never come to an end.
After finding you I truly understood what I had been yearning for my entire life.
Saying 'I love you' in every single language would still not be enough.
Your love is the melody that calms my soul and the fire that kindles my passion.
Your love is like a soft blanket that keeps me warm at all times, even when we are miles apart.
Love always felt like a battlefield to me but with you, it feels like a walk in the park.
You are the reason behind my smile, the joy in my heart, and the love in my life.
My love for you is beyond words, beyond measure, and beyond time, it is simply infinite.
My life was like a blank canvas until you came and painted on it with beautiful colors.
If candies are sweet, your love is sweeter, and now, I have developed a sweet tooth!

Quick Tip

You can send a lovely, sweet message as a good morning wish to brighten up his whole day.

Deep Love Messages
You know that your love for him knows no bounds. But how could you possibly express this to him, especially during those tough times? These sweet, deep love messages might help:
I miss your touch, I miss your scent, I miss your hugs, and I miss your warmth. In short, I miss you.
Out of all my addictions, you are my favorite.
I want to unravel this beautiful journey called life only with you, be it during bad times or good.
You make me feel emotions I never felt with anybody else.
Every time I look at you, I say a silent prayer and thank God for sending you into my life.
My life with you has been a roller coaster ride, and I love it.
I am so lucky to have fallen in love with my best friend, who is a beautiful person inside and out.
I always wondered what kind of guy I would fall in love with. I finally found my answer. He is the epitome of perfection and the best of his kind – YOU!
No matter what, I will never let go of you. You are the most amazing partner I could ever ask for.
If I had to describe life in one word, it is your name that I would call out.
Love, you complete me in ways I never imagined.
I am the luckiest person alive because I have you, and I can't wait to spend my entire life with you.
I want you to take my hand and sway me through every hurdle in life.
If I was given a chance to change anything in my past, I would go back in time and find you sooner.
I love the way your breath feels against mine as we kiss.
When we first met, I had no idea you would end up being my universe.
I still remember the day you waltzed into my life and changed it for the best.
Thank you for loving me for who I am, and for accepting all my flaws and quirks with open arms.
I would rather die than imagine myself with someone else but you.
When I say 'I love you,' I'm saying it with every beat of my heart.
I simply cannot imagine my life without you because you have become an inseparable part of my soul.
Air, water and you are all I need in my life. I wish for nothing else.
You are my greatest blessing and I truly thank the universe for bringing you into my life.
Every moment with you feels like a page from a sweet love story.
Why do I think that all the romantic songs were written just for you?
The stars, the moon, and the universe itself, I know they all secretly brought you to me.
Such a silly game called love but I would rather play it with you than anyone else.
Your love is the most precious treasure I have ever had the privilege of holding in my heart.
Loving you is like breathing, I wouldn't be alive without it.
Meeting you was my fate, falling in love with you was my choice, and I will choose you every single day of my life.
If I were a poet, I would have written countless poems about you.
My life would be bland if you didn't come into my life. Thank you for making it so flavorful.
Cute Love Messages
Here are some cute, romantic text messages to woo your bae, :
I love stealing glances at you when you aren't looking.
I didn't believe in fairytales until I met you.
When I see myself in twenty years, I see you sitting next to me.
You give me butterflies every time you look at me.
My heart flutters every time I think of you.
I want to be the reason behind your beautiful smile and the source of your true happiness.
Love, you are my pride.
Out of all the people in my life, I love you the most, as you hold the true meaning of love and joy in my life.
I am facing such a hard time keeping my mind off you.
You could be arrested for all the hearts you break by being taken.
All I want to do right now is wrap you in a bear hug, hold you close, and never let go, just like my teddy bear.
Cupid's bow surely hit me hard this time because nothing else can explain the deep love I have for you.
You may not have been my first kiss but I am confident you will be my last.
Forget butterflies, you got me feeling a whole zoo inside my stomach!
Every single day with you is a new adventure and I can't wait to see where our love takes us next.
With you I can truly forget the worries that often keep me up at night, now it has been replaced with your thoughts.
You are the cheese to my macaroni, without you, my life would simply be like a boiled pasta.
I am not a princess, but you are the prince charming who swept me off my feet.
I smile like a fool in love when I think of you and I wouldn't have it any other way.
You got me glued to my phone twenty-four-seven but I have no complaints about that.
125. I so am glad that apart from being my boyfriend, you are also my best friend and partner in crime.
I knew I would fall for you but didn't think it would be this hard!
Every single text from you makes my heart skip a beat, it's like a sweet addiction I never want to let go of.
Thanks to you now I have no more fictional boyfriends.
Never truly believed that soulmates existed but then you came and proved me wrong.
You make my heart sing a sweet song of love and I just can't stop dancing to its melodious tune.
Being with you is like a never-ending day at the amusement park, simply full of excitement and joy.
How many times have I been enchanted by that smile of yours? I think I have lost count.

Quick Tip

You can often send a cute, deep love message to make it easy for him to effortlessly maintain a long-distance relationship.

Special Love Messages 
Have you always wanted to tell him how special he is to you? Then send sweet messages for him to fall in love. And you can easily do that with these love wishes or messages:
Darling, you are the sole reason for my existence.
This life is too short for all the things I have planned for us to do in our amazing lives.
You are much more special to me than words could ever fathom; you are a thoughtful person who brings light to my life.
I can't wait to make memories worth a lifetime with you, creating beautiful moments that will span our entire life together!
I feel a whole new emotion when I am with you. I guess this is what people call love.
Baby, I can happily be yours forever if you let me, for you are truly a beautiful person.
You ignite indescribable feelings in me, creating a true love story that words could hardly capture.
I wish time would freeze when I am with you.
I want to spend the rest of my life in your arms, where each moment feels like a pleasant dream.
I want my happily ever after to be only with you.
My love for you is deeper than the deepest of oceans, and you are the one who made me see the true meaning of life.
Infographic: 10 Best Love Messages For Your Boyfriend To Make Him Feel Special
The magic words 'I love you' are said way too much or not enough. Sometimes, it's hard to bring yourself to say it, even if you feel it or are a caring person. Well, there are other heartfelt and thoughtful words that can express just as well how much your man means to you and let him know that you appreciate and value him. These words are like fragments of a beautiful, pleasant dream, creating a mosaic of emotions that show your genuine appreciation and unwavering affection.
Check out this infographic for 10 romantic text messages that you can send over text to make your man feel special and cherished.



Now that you have a good idea about framing lovely, sweet messages for your boyfriend, take this chance and make him feel loved. Words have the most extraordinary power to express your love and show you are affectionate, so make good use of them and fill your bond with immense joy. No matter how tired he feels after a hard day of work, if he sees a romantic, sweet text message from his special someone, his worries will no longer have a place in his life, and he will surely feel enamored and devoted. These lovely, cute, and sweet messages for him can make his day.
Frequently Asked Questions
What is the 12-word text?
"12-word text" is a chapter of the book "His Secret Obsession" written by relationship expert James Bauer. The idea of the 12-word text is linked with the concept of hero instinct, a biological drive that ignites deep desires in a man for a woman.
What are the three words to say to a guy?
The three words that can melt a man's heart and make him feel valued and loved are – "I appreciate you." These words make them feel acknowledged.
How can I touch his heart with words?
Be genuine about your feelings and express how much you are in love with him to touch his heart with your words. You can take inspiration from the Special Love Messages in the article.
How can I be romantic over text?
Some people are romantic by nature, but others can also show their feelings honestly. You too can be romantic by flirting, giving compliments, and expressing how much you adore them.
What are true love messages?
True love messages are those that convey your emotions and affection with utmost sincerity to the amazing person you love.
What are the sweet love words?
Sweet love words are simple messages that convey just how smitten you are with your partner in the most adorable way.
How do I make him feel special?
You can make him feel special with romantic, sweet, and perfect love messages, gifts, compliments, small surprises, or by just being there by his side.
How do you express real love?
True love is expressed in numerous ways. You can express your love through words, actions, effort, and unwavering commitment to your partner.
Open the floodgates of affection with this heartwarming video filled with love messages for that special someone. Check it out!