100 Best Love Messages For Your Wife That Will Express Your Feelings
It's never too late to express your true feelings to your better half through sweet messages.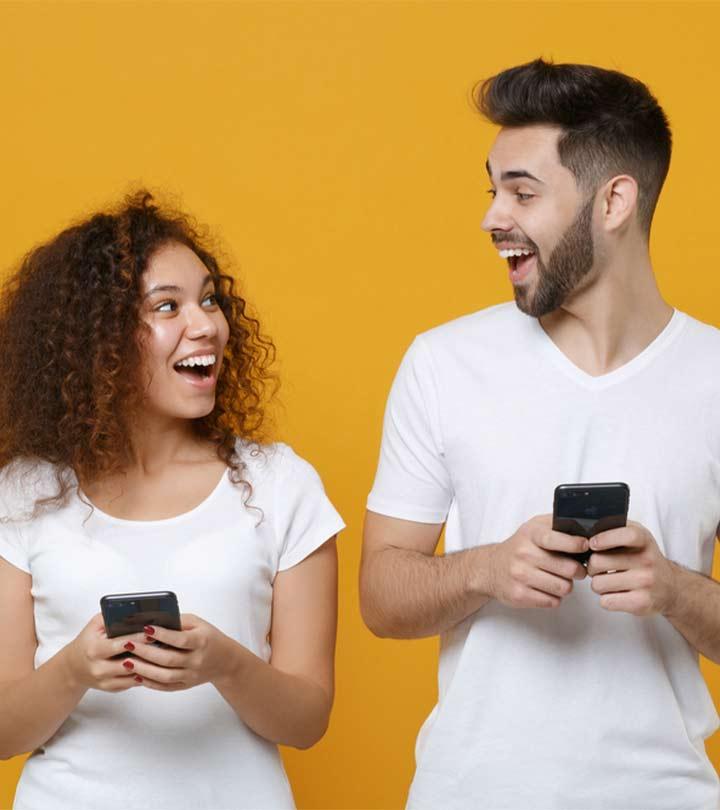 Your wife understands you like no one else and has always stood firm beside you. You know how much effort she puts into keeping the relationship strong and moving. Though she does not do all these expecting something in return, it would be lovely if you send at least a few love messages to your wife and express your feelings.
Yes, it is not always about expensive gifts and candlelight dinners; an unexpected love-filled message can make your spouse the happiest.
A romantic and affectionate message expressing your emotions and addressing how much she means to you can be the best gift you can give your beloved on a regular, monotonous day.
To make things easier, we have listed around 100+ love messages you can send your partner to keep her happy and strengthen the relationship. Keep reading to choose the best message for your wife.
Romantic Messages For Your Wife
These romantic messages for your wife will bring a new spark to your romance!
I think of you a thousand times a day. You inspire me daily, my guiding light.
Believe me when I say your love is more than a world to me. It's so real that I can't ignore it. It's so precious and special that I can't get enough of it.
I love you without knowing how, when, and from where. I love you without any problem or pride. I am fully devoted to you. I love you because I do not know any other way of loving but this, in which there is no you or me, which is so intimate that your hand upon my chest feels like mine, that when I fall asleep, it's your eyes that close.
With your smile brighter than the sun and your eyes magnificent as the deep blue ocean, you can achieve everything you set in your mind. So smile because our future only gets brighter and better with time.
Our love may have matured and we may no longer be sentimental, but you are still the sexiest and the most beautiful woman in the world I have known. We are married, and it confirms how lucky I am to share my life daily with you.
The best thing about being in love with you is that I have begun to enjoy every season of life with the utmost zest. Such is the magic spell of your love to me, sweetheart.
Seeing or thinking of you puts a smile on my face because you make me ultimately happy. Loving and caring for you comes naturally, clearly indicating how worthy you are to me.
Have I told you lately how much I love you? You are an incredible woman, and I love you more than I can ever express.
I cannot imagine surviving all the hardships of my life without your pure love and undying support. Keep holding my hands tightly like this forever. I love you.
Home is wherever you reside. I look forward to seeing you every day because you calm the wildest waves of my dreams. You fill me with so much compassion and love that I am always grateful to God for you.
You will never age nor fade – you will forever be etched in my memory. Love you so much!
Each time, I get lost in your sparkling eyes and become overwhelmed because I have never experienced something like this.
You're always on my mind and in my heart. That's where you belong. I love you to the moon and back!
My love for you has nothing to do with me. It's all about how you are and how you bring happiness to everyone around you.
You are my sun, my moon, and all of my glittering stars.
Deep Love Messages For Your Wife
Nothing beats a love message for her with a deep meaning. These messages will make your wife read them twice before she falls in love with you all over again!
My thoughts are free to flow, but it's so amazing how often they head toward you.
You have made me realize that love is the best-feeling anyone can have. Thank you for coming into my life and making it perfect.
We were together. I forgot the rest of the world.
What's food without salt? What's the point of having eyes that can't see? Tell me, what's the use of legs without walking? What's the use of water if it can't quench thirst? Tell me the meaning of my life without you by my side! I love you!
I'm getting butterflies in my stomach thinking about you every time.
My love for you will never fade. It will only grow more to keep you happy always.
So it's not going to be easy. It's going to be tough. We'll have to work at this every day, but I want to do that for you. I want you forever and every day.
What would life be without you? So tasteless, boring, and dark. You came into my life, added spices, and made it fulfilled. I could never have enough of you. I will love you till the end of tomorrow.
Thinking about you for a few moments can turn a bad day into a bright one.
I thought that love was overrated until the day I met you. You changed everything, my world, my life, and me!
I may not be your first love, first kiss, first sight, or first date, but I just want to be your last of everything I said.
I don't know how life would have turned out had there not been your constant support. You have always been closer than anyone else, like a shoulder to the arms, like the nail to the finger, like the eye to the face. Thank you for always being there.
I realized that since I can't get you off my mind, you are probably supposed to be there permanently. My thoughts are always about you, and I am happy I have you.
I don't need a thousand reasons to feel special. All I need is you by my side. You are the sunshine of my life.
I do fight with you sometimes because it's fun until it isn't. Those small fights are a gesture of my love.
Even if I was a musician, I couldn't find the lyrics to describe your love. Even as a writer, I couldn't find the right words to tell you how much you mean to me. You are the best thing that happened to me. I love you!
There is no particular reason I am thinking of you right now except that you are always there beside me. Even in your absence, my thoughts for you are constant.
I Love You Messages For Your Wife
Share these unique messages with your wife; she will surely be impressed by your adoring nature!
Nothing in this world is comparable to the joy I get with you, baby. They say love is blind, but I can see it through your eyes. You bring me so much happiness; I only want to reciprocate it. I love you!
Sometimes we fight and I don't know why. I'm not trying to be the hard-headed person that I am sometimes. I am sorry. Love you always.
Because of you, my life is blooming with fun, and there is no shortage of love!
Whenever I want you to smile, I know what to do. I simply close my eyes and think about you! Love you!
Sweeter than honey, brighter than the sun, beautiful than a peacock, calm like a flowing river, you're outstanding in every way, my queen. I love you, always.
I act stupid, and there's no excuse for it, but it doesn't mean I don't love you.
Thinking of you empowers me to be a better person with every passing day, which is why I keep you in my mind all day. Love you always.
You're my last love, everything I ever desire. Keep showering me with your love, baby.
Your feelings are precious to me. Tell me what is bothering you. I want to listen and hear everything without interrupting you because I love you.
My life has never been this better, my love. I wish we had met earlier.
I love you, and we are meant to be forever, and being together was written into our destiny.
I can't comprehend which is better, waking up next to you or sleeping next to you. Love you.
I feel so lucky to have you, and I'm here to listen to whatever you want to talk about.
Your love is all that makes me a happy person in this world full of sorrows.
I realized that since I can't get you off my head, you are probably supposed to be there forever. My thoughts are with you every moment, my dear love.
You make me want to see the sunrise every day, to know I have another day to hold you and love you with all I have. I treasure you, baby girl, till my last breath.
I want you to feel safe in my arms, my love.
Sweet Love Messages For Your Wife
These sweet love messages remind your wife that she indeed is the sweetest person in your life!
There is no particular reason for me to think of you right now except that you are forever woven in my heart. Even in your absence, my thoughts for you are countless.
You're the best thing that life has given me so far, and I know nothing else can replace your place in my heart. The love I have for you is pure and endless.
You're unlike anyone I've ever come across in my life. Love you, my priceless.
If there's another lifetime, I'll still choose you, my love. I can't imagine my life without you, my darling.
This message only has a few words, but I want you to know that words alone can't express my love for you. I love you beyond words.
We live in two different bodies but share a single soul. We talk in one single language of love, and the only thing we are good at is caring for each other. Thank you for becoming the love of my life!
I, 100%, without a doubt, have the best wife! Love you, sweetheart!
It's hard to explain myself or to put all my words together in one statement. The only easy course is loving you. Just one look into your eyes makes everything in my life glow like a shining sun.
It doesn't matter whether we are together or not. Either way, I think of you, and this always makes me feel special.
I love you beyond the stars in the sky and fish in the sea.
Sometimes I can't take my eyes off you… you look so freaking sexy, my love.
Call me crazy because I'm about to decorate the sky with your name for the whole world to see how much you mean to me. I love you!
I promise you – even if the sky falls or the stars stop glowing, I will always be with you till the end of time. You are in my thoughts even when we are separated.
You are my sunshine, sweetest blessing, and utmost joy. I wouldn't have been able to do anything without you, the love of my life!
I've been thinking about how perfect you are for me, and I decided that there is nothing compared to the love that you have given me.
The water shines by the sun. And it is you who makes my life worthy.
Long Distance Love Messages For Your Wife
These love messages for your wife can make the distance between you seem like nothing! A love message from you after a long day will make her think of all the treasured memories and cherished moments she has spent with you.
As flowers could not be separated from their fragrance, I could not be from you. Love you always.
Distance gives us a reason to love even more. It hurts so much to be separated because our souls cannot be separated.
Maybe we are far away from each other, but I feel closer to you every time. I am always with you, no matter what may come.
I miss you even more in my sleep! Why can't you just be teleported here?
Whenever I see the moon, it walks with me everywhere. It reminds me of you every time. But I can't do it for my whole life.
I am jealous of the moon as it can lull you to sleep, and I can't. I am jealous of the sun as it kisses you awake, and I can't. I hope to see you soon.
At night, I can feel your presence nearby when I gaze at the shining stars in the sky. I can feel your warmth surrounding me.
The thought of being with you tomorrow gives me the strength to get through this long day.
Every day seeing your photo is not what I want. Every day talking on the phone is not what I want. I just want you by my side, always beside me.
Even with an ocean between us, we are never completely apart. You are always in my heart. Your pure love bridges any distance and breaches the barriers. Soon, we will be with each other.
Waiting hurts, but it's fine. Because you are worth waiting for. I love you with all my heart.
As long as you're in my heart and I am in yours, no distance is great enough to keep us separated.
The soft music of your voice mesmerizes me, and I can still feel it in my ears. I want to listen to it. Come back soon, my love. I miss you.
Life is difficult without you, but knowing I have you makes it easier.
You are the sun to my sky, and without you, besides, I see darkness around. Come back soon.
That grinding sound you hear is the sound my heart makes as I await your return.
It is said distance multiplies love. But I want to say I don't want this distance to increase love. What I want is you beside me.
Sweet Birthday Wishes for your Wife
Your wife's birthday is probably the most special day in your life. Surprise her with a gift and any of these wonderfully sweet messages!
I'll never forget that shine in your eyes that made me fall for you. Happy birthday, my love! Hope you never lose that sparkle.
Very few people meet their soul mates, but I have been fortunate enough to marry mine! I hope you have a beautiful birthday. Happy birthday!
Blow your candles out and make a secret wish, and I will do everything to make it come true. Happy birthday my dear!
The way you look at me makes my heart skip a beat. I love you, my beautiful wife. Happy birthday!
After all these years of being together, you still make me feel like the teenage boy who wants to win your heart. You are still my high school sweetheart. Happy birthday!
Let's make this a birthday worth remembering. It's all about you today, and I want to make you feel like the happiest woman on the planet.
Age is only a number. Every year you become wiser and more attractive! Happy birthday to my beautiful wife!
Dear Wifey, my life was colorless before you came in. You made my days sublime. You are a blessing in my life. Happy birthday!
Happy birthday, and best wishes for a truly perfect day because you are so special to me. I wish you a wonderful day.
My goal is to keep you smiling. And when it starts to fade away, I'll do whatever it takes to brighten your day. Happy birthday.
Even the sweetest of birthday cakes could not be as sweet as you are. Happy birthday to the loveliest woman in the world, my wife and my love.
You are a princess to your parents and a queen to me. You rule our world. Happy birthday, sugar!
The fact is that nobody does it for you as I do it for you, except for your birthday, because with each passing year, you look more gorgeous.
Your birthday cake is proof that your sweetness makes my life's bitter moments worth accepting. Happy birthday.
You are the woman who has made our family grow strong. I love you, and I hope you will be blessed with many more years on this earth and by my side.
Happy birthday to my soulmate, someone who has shown me the best, cooked food at midnight, and always woke up before me. I couldn't have found anyone like you. Love you, my wife!
I am lucky to see you smile daily, and I am even luckier to call you mine. Happy birthday!
You are the sweetest thing that happened to me and you know how I cannot resist sweet things. Happy birthday, my dear!
Infographic: Thoughtful Love Messages For Wife That Will Express Your Feelings
Telling your wife how much you love and appreciate her is greater than any gift you can give her. If you feel lost in this extensive list of love messages for your wife, don't worry. We shall make it easy for you. Scroll down to the infographic below to find the most thoughtful love messages from the lot for her. Remember, she deserves the best.



You don't need to plan elaborate dates or vacations to express your love for your wife; a simple, heartfelt love note can do the trick! If your words of love for your wife are genuine and romantic, they will surely lighten her mood and make her blush. For instance, something like, 'My thoughts are free to flow, but it's so amazing how often they head towards you,' or 'I love you beyond the stars in the sky and fish in the sea,' can convey your feelings of adoration and devotion toward your wife. Take hints from the article to write love messages for your wife, or pick the one you think will make her day.
Frequently Asked Questions
What can I tell my wife to make her smile?
Cute jokes about her, your first interaction, her activities that you like, and nice things about her appearance are a few things you can tell your wife to make her smile.
How can I express my love to my wife?
You can express your love by communicating with your wife. Respecting her individuality, listening to her, complimenting her, planning surprises, and being supportive are a few ways to express your love for your wife.
How do I tell my wife how much I love her?
You can tell your wife how much you love her by using words like "I love you" or "You mean the world to me." Additionally, you can express your love to her by doing little things that make her job easier, spend quality time with her, or give her nice presents.
How do I melt my wife's heart?
Surprise her with romantic gestures such as a candlelit dinner, a surprise weekend getaway, or a heartfelt love letter.
How do I make my wife feel loved?
You can make your wife feel loved by performing small acts of kindness every day that make her work easier like helping with errands around the house, complimenting her, or just being there and attentive.
How often should I send love messages to my wife?
You can send love messages to your wife as often as you'd like, however you don't want to overwhelm her at the same time. 2-3 love messages a day might be more than enough to let your wife know she is on your mind.
How do I make my love messages to my wife more personalized?
You can include specific details that show you know and appreciate her, such as reminding her of an old shared memory, or acknowledging a recent accomplishment.
Show your wife that you care for her with these powerful words of affection. Check out this video for the inspiration to make your wife feel special and loved.