49 Love Poems For Your Wife That Will Warm Her Heart
Because heartfelt gestures with mere simple words can make her day like no other.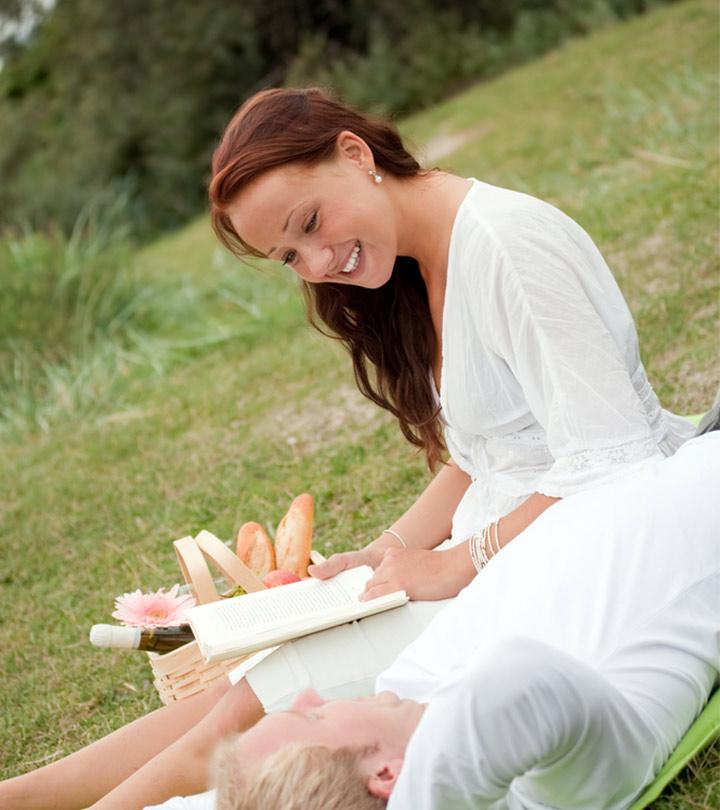 Expressing your love for your wife can warm her heart and make her feel loved. And what better way to express your feelings than sharing thoughtful love poems for your wife? So, get poetic and let her know what she means to you. This true gesture will surely leave your partner grinning from ear to ear. If you have no clue how to come up with heartfelt verses, we have got you covered. This article has some meaningful compositions to help you express your fondness, devotion, adoration, and loyalty. Scroll down for more information!
True And Deep Love Poems For Wife
1. Every day I love you more,
you will be forever what I adore,
you are my joy, my treasure, my heart,
today, tomorrow, forever,
we will never be apart.
2. You gave light to my soul,
You helped me to be whole,
I have felt love for you before,
And it will be more and more,
You are mine, my dear
You are the angel from above
Who taught me how to love.
Please, forever keep me near.
3. Why is it that my heart still skips a beat,
every time I feel your touch?
How is it that someone so wonderful,
lets me love them oh so very much?
4. Without you I am incomplete,
never have I missed someone so,
my arms long to hold you tight,
and I'll never let you go.
Your face, your lips, your soul, your heart,
please promise me we'll never again be apart.
For without you, I am but a shell.
You are my heaven and without you is hell.
5. I'll plant a row of daisy seeds,
In the space below each eye,
So they'll remind you of your beauty,
When they bloom each time you cry.
6. I know a girl who is better than strawberry.
She is farther than the grand white Fujiyama.
She is purer than the water of the holy Suraj Tal
From where the stream of Chandra flows down
The gorgeous heights of the Himalayas.
She is the spring of joy to me.
7. We walked down the streets into nowhere
Only guided by the trust we have in each other
We spoke with one voice,
Unafraid of our faults and frailties.
I choose you over me
For you owe me my existence.
If life has a duplicate
I won't hesitate to recreate,
Step by step,
Pattern after pattern,
The moments I shared and still share with you.
8. I step into our home
And there you are already in wait
To embrace me warmly
And to ask me how my day went.
It's a routine I can't get enough experiencing
Because it is the singular reason I am always hasty
To head home after work.
I love you, baby.
It is never the wrong time to let your spouse know how close you hold them to your heart. So, profess your love with these short yet awe-inspiring poems for your wife.
I Love You Poems For Wife
1. You're the right in my life
That removes every wrong;
You're the power in my life
That makes everything strong;
You're the remedy of my life
That cures every illness;
You're the calm in life
That diffuses all my stress;
You've always believed
In everything I've done;
You aren't just my everything
You are my number one.
I love you.
2. My angel, my life, my entire world,
please be with me always, my one and only girl.
I love you so deeply, that I know is so true,
for there is no one else, my heart beats just for you.
No matter what happens, you're always the one
that I want to come home to; I'm the earth to your sun.
3. Your cuteness knows no bounds,
your beauty has no limit,
you are the only woman in the world,
to which I will commit.
I look at you and gasp in awe,
wondering how you're mine,
you take my breath away, my dear,
for you, I'll walk the line.
4. Your lips are so soft and red,
kissing you deeply is all that's in my head.
Your face so bright and warm,
guiding me through the darkest storm.
Your eyes twinkle like stars in the night,
when you stare at me my soul takes flight.
My love for you is pure and true,
a feeling which I never before knew.
I promise to be there and love you forever,
and when others leave you, I will never.
I am here to shield you from harm,
I promise to always be your lucky charm.
There is only one thing I know for sure,
my love for you forever is pure.
5. From the moment we met,
I never had a doubt,
That you were my everything,
That you were a knock-out.
I still wonder how it happened,
That you somehow fell for me,
A simple little nothing guy,
Got such an angel to marry!
6. I find it easy to tell you how much I love you
But sometimes, I feel that it has become a routine
Giving you just the words,
And not the promises.
While I have the time,
I want to let you know
That in loving you
I will stand by you,
Fight for you,
Fend for you,
Live for you,
Die for you.
Is romance on your mind? If yes, why not let your better half get a taste of that warm feeling with a sweet verse? Dedicate these I love you poems to describe your longing for her!
Romantic Love Poems For Wife
1. When I feel the warmth in her heart,
I know she is the one from whom I shall never depart.
When I rest my head on her knees,
I can weave a future of dreams.
As my love, I silently profess,
To my darling princess.
2. I'm jealous of the morning sun
That gets to be the first to see you
Or the coffee cup
Who gets to kiss your sleepy lips awake.
3. My lips are full of kisses
they pucker and plump when you are near,
This pair isn't happy until your lipstick we smear,
My lips are full of kisses
even now they move your way
for the promise of heaven is just a kiss away!
4. Wine comes in at the mouth
And love comes in at the eye;
That's all we shall know for truth
Before we grow old and die.
I lift the glass to my mouth,
I look at you, and I sigh.
5. I never knew about happiness;
I didn't think dreams came true;
I couldn't really believe in love,
Until I finally met you.
6. I keep myself busy
with the things I do,
But every time I pause,
I still think of you.
For couples who like to keep it short and sweet, the next section has just the stuff for you. Convey your deepest desires in a few words and let the subtext do the talking!
Short Love Poems For Wife
1. L is for the 'laughter' we had along the way.
O is for the 'optimism' you gave me every day.
V is for the 'value' of of being my best friend.
E is for 'eternity,' a love that has no end.
2. I don't need just one day to celebrate our love,
I get to do that every day.
Through kisses, hugs, and daily talks,
Nothing can make me stay away.
3. I would love to say
that you make me
weak in the knees,
But to be quite upfront,
and completely truthful,
you make my body forget
it has knees at all.
4. It is hard to describe the feeling of love
The feeling of your heart skipping a beat
Or of flying like that of a dove
These are the feelings I have when we meet.
5. I'm happy I'm the one to be in love with you,
I want to scream my lungs till I'm blue,
I want the world to know I have you,
How happy I am to be in love with you.
6. Giving me your all
Without complaining at all.
I belong to you, come what may;
You will always be mine, that's all I can say!
True emotions are the ones that come straight from the heart and are untainted by practicality or any limitations. Let your wife know how her thoughts make your heart beat faster every time she crosses your mind with these short love poems.
Poems For Wife From The Heart
1. If I had the words to describe my feelings for you,
I would be the happiest man in the universe,
But words seem to fail me time and time again,
So I have to settle for the words in this verse.
2. The sugared scent of the marigold in full bloom,
Can't ever overpower your presence in the room.
Even in the middle of the crowd, you are the only girl I see,
In the front of the altar, it is the place for you and me.
3. I love the way you nag and glare,
It makes me know how much you care.
I love the way you walk just like a man,
Not really sexy but I'm sure a fan.
I love you just the way you are,
No pretensions even from afar.
I love you because you love me too,
Just like the way I do.
4. Every time I hear the echoes of your angelic voice
All other sounds vanish, even the smallest noise.
You always show the perfectly carved poise
If ever your love would be mine, I'll be the luckiest among all boys.
5. No certain equation can solve for the amount of love I feel for you.
Even scientific methods can't prove it, darling it is true.
Language can't provide the words to express how much I love you.
Physics can tell the magnitude of the force of our love, it doesn't even have a clue.
6. You came into my life like a star
And filled my heart with joy,
You took my pain as if it was yours
And gave me love that no one could.
You gave me a shoulder to cry on,
You were my pillar when I was falling,
You were my strength when I felt low.
With your smile, you made my living on earth worthwhile.
7. Stunning and beautiful, not like a flower or a tree,
More breathtaking than those and only I can see,
My heart beats your name right down to the core,
Filling me with such joy and so much more,
Your eyes so amazing, I just can't look away,
They're gorgeous and shining throughout the day,
Here in my arms is where you belong,
Our two hearts beating to the same song.
While every day you spend with your loved one is special, birthdays have a charm that turns up the romance meter. As your wife steps into a new year of her life, why not shower her with all the love and passion you hold for her? Keep scrolling.
Love Poems For Wife's Birthday
1. Day by day, months pass by,
Month by month, years go by.
You've always been when I needed you or otherwise,
Today is your birthday and to the occasion I must rise.
To bring a smile to your lips all day,
Is my goal in every possible way.
Happy birthday, my wife!
2. Happy birthday, sweetheart,
You are the sole reason for our love,
The angel sent to me from up above.
You came into my life and gave me the joy,
Your smile is still my biggest decoy.
I want to bring the moon for your birthday,
But I promise to deliver the beauty of the moon on this day.
3. Happy birthday, my love,
It is tough to tell you how I feel,
Vows and rings did our love seal.
We may have our ups and downs,
But when you are not around, I feel like I'm in the dumps.
On your birthday, I make another vow,
A promise to always leave you feeling wow.
4. You are the true gem of my life,
The many things we shared,
The way you really cared,
This is to you, my beautiful wife,
Happy birthday to you!
May you get everything you wish and new!
Keep smiling!
5. I may never be able to become
A husband as amazing and awesome
As the wife you have been to me
And changed the course of my destiny.
If I can be even an ounce of what you are
I will be able to take my life really far
Until I catch up with you, sweetie
I want you to keep inspiring me.
Happy birthday.
6. The word gorgeous
Is way too demure
To personify your love
Of which I am so sure.
The word lovely
Is too mild of a compliment
Coz baby you are
Prettiness' perfect embodiment.
Happy birthday.
7. You, my sweetheart, are no less than a princess to me,
You fill my life with happiness and glee.
I depend on your advice at each step of my life,
I am so damn glad that God gave you to me as my wife.
Happy birthday, sweetheart.
May you have a life as long as my love for you.
Isn't waking up next to your beautiful wife the most relaxing and peaceful moment of the entire day? And while you rather stay under the sheet for much longer, it is not possible. So, start the day with these love-filled verses to keep the morning sweetness lingering throughout the day.
Good Morning Love Poems For Wife
1. I miss you this morning,
I missed you yesterday,
Watching the sun shine,
Here is what I have to say –
For you I wish an awesome today,
Keep smiling and have an excellent day,
Good morning!
2. As I sip my cup of coffee,
I remember you my dear,
And I want to be with you,
I want you to be near.
In my life in every way,
This is a new day,
So, good morning for today!
3. My days are incomplete
Without you sweetheart,
Nights are painful because
With you, I never want to part.
The only days that don't
Seem to be never-ending
Are the ones that I spend
With you all morning and evening
I love you!
Read more – French Love Quotes
4. Mornings are filled with mist,
Mornings are a delight,
Was thinking about you all night,
Coz you are not in sight,
Wishing you a lovely morning today,
Because it's just another awesome day,
Good morning my dear,
Wish you were near!
5. I think of you on this bright morning,
I can see the gleam of sunshine,
Am I remember your charming face,
And, taking you in my arms I wish I could embrace,
Wish you a very good morning my dear,
Wish you could be near!
6. When I opened my eyes and saw you here,
My arms could not help but draw you near,
I sigh in wonder and stare in awe,
In my dreams, I know, it was you that I saw,
Your beauty ignites me, my angel from above,
Good morning my dear, my breathtaking love.
7. Good morning my love,
All night did I wait,
To tell you this moment,
You are my destiny, my fate.
8. I'm sending you this message to tell
You're all that I think
About these days
Right from the time
I wake up.
Good morning, my dear.
Have a lovely day.
9. Wake up this day,
Wake up, my dear,
To this beautiful morning dew.
Wake up, sweetheart,
As everything is so new,
Wake up to the wonderful sun rays,
As I wish you a beautiful day,
And a very good morning to you!
Let your words reflect your affection and feelings and express your love by dedicating these love poems for her.
Infographic: Tips To Write A Poem For Your Wife
Sending your wife an 'I love you poem' can make her day. What's even better is if you can write one yourself for her. If you feel it's too daunting a task, check out the infographic for some practical and easy tips that can help you pen your thoughts like a poet!



Most women love nothing better than to be assured of how deeply valued and cared for they are. They want to know you cherish them like they are the only ones for you, especially after the marriage. Whether you choose words of affirmation, gifts, acts of service, or physical touch, it can never be too much when it lets them know you care. However, if your spouse is a romantic, these love poems for the wife can sweep her off her feet and make her day! For bonus points, deliver the poem of your choice from this post with her favorite flowers and watch her light up.
Frequently Asked Questions
How can poems be used to express love and affection to a wife?
Poems are one of the most intimate and affectionate ways of conveying your love towards your wife. They are a convenient method for those who struggle to put their emotions into words or aren't great at expressing their feelings verbally.
How can poems be used to reconcile or apologize to a wife?
For times when your wife doesn't want to listen to you, slide a beautiful poem through the door about your true feelings and how apologetic you feel – that is bound to make an impression on her when she reads it.
In which style is a love poem for a wife written?
There are no strict styles to follow when writing a love poem for your wife. As long as you use your own distinct voice to express your sincere feelings, your poem will surely reach her heart.
What makes a poem romantic?
A poem that is riddled with intense and passionate emotions is a romantic one.
What are some unique and romantic ways to express love for your wife through poetry?
Use your imagination and creativity to compare your wife's best qualities to other precious things in the world. Incorporate imagery from nature or mythology, or give examples from classic love stories. However, what makes your poetry truly unique is the element of your personal feelings and emotions.
What are some popular themes for love poems dedicated to wives?
Heartwarming love poems for wives generally revolve around the theme of marriage, the honeymoon phase, and physical and emotional intimacy.
How can a love poem for your wife be personal and authentic?
To make your love poem for your wife personal and authentic, include past memories and episodes from your relationship and express your gratitude and reflections on those moments. Elucidate and express appreciation for all the things you love about her. Also, include your wishes about the things you wish to express with her in the future.
What poetic devices can be used to create a romantic and meaningful love poem for your wife?
You can creatively use any poetic device to pen down the most romantic and meaningful love poems for your wife. However, alliterations, repetitions, personifications, and similes can be exceptionally appealing for romantic expressions.
What are some creative ways to present a love poem to your wife?
Some creative ways to present a love poem to your wife are:
• Dedicating it as a surprise at an open mic event or on a radio show
• Hand-writing it on a note or greeting card
• Making a personal movie with video clips or photos of you both and adding the poem as subtitles or a voiceover
• Attaching the poem to a gift or fresh bouquet of flowers
How can a love poem strengthen the bond between husband and wife?
A personalized love poem speaks of the effort and creative labor of the poet. If one partner feels deeply enough to write a love poem and the other partner is able to feel and appreciate the emotions expressed, it will help the couple connect in a soul-gratifying way. Such kind of connections can help strengthen the bond between husband and wife, as they can help the couple be more vulnerable and raw with each other.
Showcase your enduring love with these romantic lines. Watch and share these heartfelt words to express your love and sincerity with your partner. Check out the video.