101 Love Quotes For Girlfriend To Express Your Emotions
Express your feelings and put a smile on her face with words inspired by these quotes.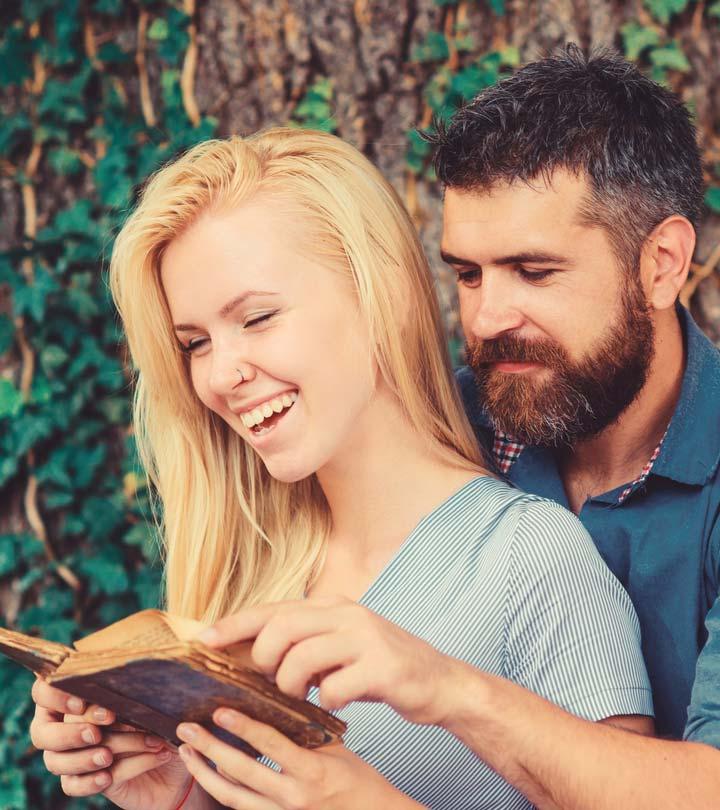 Your love is beautiful, and you want to share it to its fullest extent. A few love quotes for girlfriend can help people struggling to express their feelings. Love is full of emotions that are difficult to describe. Finding the right words for your girlfriend is not always easy. We have compiled a list of heartfelt love quotes to inspire you.
Relationship Expert, Dr. John Ryan De Oca says, "These can be useful when you can't think of anything to say. But also, the practice of this can help you develop your own romance language to exchange with your partner. Research shows that creative works such as writing poems or songs work on the same part of the brain as emotional expression."
Communicate your emotions to your beloved with these quotes. Browse our collection of sweet love quotes for your girlfriend that will touch her heart and make her feel special and happy. Have a look.
Heart-Touching Love Quotes For Your Girlfriend
You adore and cherish every moment spent with your partner who leaves you enamored, enraptured by her beauty and charm. Your true love, your girlfriend, fills your heart with an irresistible longing for more heartwarming memories together in your everlasting bond.
You can't help but feel the inspiration in every magic moment you share with your girlfriend as you are transported to a dreamy world that leaves you infatuated and mesmerized. Here are some famous quotes and adoring expressions that can help you convey your feelings to her:
"Do I love you? My God, if your love were a grain of sand, mine would be a universe of beaches." – William Goldman
"Love me and the world is mine." – David R. Reed Jr.
 "You make everything feel possible. You make me possible." – Brothers & Sisters
 "You think you're one of millions but you're one in a million to me." – Brad Paisley
 "But the you who you are tonight is the same you I was in love with yesterday, the same you I'll be in love with tomorrow." – Gayle Forman
 " When I follow my heart, it follows the path towards you." – Anonymous
 "We are made of particles that existed since the moment the universe began. I like to think those atoms traveled 14 billion years through time and space to create us so that we could be together and make each other whole." – The Big Bang Theory
 " I wish I could turn back the clock to find you sooner and love you longer." – Anonymous
 "All of me loves all of you." – John Legend
 "Kiss me. Kiss me as if it were the last time." – Casablanca
 "To live without loving is not really to live." – Moliere
 "There are never enough '5.'" – Lenny Bruce
 "Come, live in my heart and pay no rent." – Samuel Lover
 "Love is old, love is new. Love is all, love is you." – The Beatles
 "Grow old along with me! The best is yet to be." – Robert Browning
 "I need you so much closer." – Benjamin Gibbard & Christopher Walla
 "I love you more than I have ever found a way to say to you." – Ben Folds
 "I do know some things. I know I love you. I know you love me." – Game of Thrones
 " A hundred hearts would be too few to carry my love for you." – Anonymous
 "I love you the way a drowning man loves air. And it would destroy me to have you just a little." – Rae Carson
 "So, I love you because the entire universe conspired to help me find you." – Paulo Coelho
 "Storm clouds may gather and stars may collide, but I love you until the end of time." – Moulin Rouge
 "Whatever happens tomorrow, or for the rest of my life, I'm happy now…because I love you." – Groundhog Day
 "I love you. I knew it the minute I met you. I'm sorry it took so long for me to catch up. I just got stuck." – Silver Linings Playbook
 "For all the things my hands have held, the best by far is you." – Andrew McMahon
 "You should know how great things were before you. Even so, they're better still today. I can't think of who I was before you ruined everything in the nicest way." – Jonathan Coulton
 "My heart shall be thy garden." – Alice Meynell
 "I love you right up to the moon—and back." – Sam McBratney
 "I've never had a moment's doubt. I love you. I believe in you completely. You are my dearest one. My reason for life." – Ian McEwan
 "You have bewitched me, body and soul, and I love, I love, I love you. I never wish to be parted from you from this day on." – Jane Austen
 "You see, this is all we need. A couple smokes, a cup of coffee, and a little bit of conversation. You and me and five bucks." – Reality Bites
"I know that somehow, every step I took since the moment I could walk was a step towards finding you." – Nicholas Sparks

 "No measure of time with you will be long enough, but we'll start with forever." – Stephenie Meyer
 "You're the best thing I never knew I needed. So now it's so clear I need you here always." – Smith Shaffer
 "If I had to dream up the perfect woman, she wouldn't even come close to you." ­– Boy Meets World
 "You make me happier than I ever thought I could be and if you let me, I will spend the rest of my life trying to make you feel the same way." – Friends
 "Your words are my food, your breath is my wine. You are everything to me." – Sarah Bernhardt
 "It's like my life isn't even real to me unless you're there and you're in it and I'm sharing it with you." – Gilmore Girls
 "I come here with no expectations, only to profess, now that I am at liberty to do so, that my heart is and always will be…yours." – Jane Austen
 "I want to tell you with my last breath that I have always loved you. I would rather be a ghost, drifting by your side as a condemned soul, than enter heaven without you. Because of your love, I will never be a lonely spirit." – Crouching Tiger, Hidden Dragon
 "Sometimes your nearness takes my breath away; and all the things I want to say can find no voice. Then, in silence, I can only hope my eyes will speak my heart." – Robert Sexton
 "You are the one girl that made me risk everything for a future worth having." – Simone Elkeles
 "You are the finest, loveliest, tenderest, and most beautiful person I have ever known—and even that is an understatement." – F. Scott Fitzgerald
 "You and I, it's as though we have been taught to kiss in heaven and sent down to earth together, to see if we know what we were taught." – Boris Pasternak
 "Because of you I can feel myself slowly but surely becoming the me I have always dreamed of being." – Tyler Knott Gregson
It's not always about the romantic dinners or expensive shopping sprees, even a sweet heartfelt love note or romantic quote for your girlfriend can make your girl feel blessed and happy.
Sweet And Cute Love Quotes For Your Girlfriend
 "I could not tell you if I loved you the first moment I saw you, or if it was the second or third or fourth. But I remember the first moment I looked at you walking toward me and realized that somehow the rest of the world seemed to vanish when I was with you." – Cassandra Clare
 "When they ask me what I liked the best, I'll tell them, it was you." – City of Angels
 "Not even in my weakest moment have I considered letting you go." – Judith McNaught
 "It was love at first sight, at last sight, at ever and ever sight." ­– Vladimir Nabokov
 "If I could ask God one thing, it would be to stop the moon. Stop the moon and make this night and your beauty last forever." – A Knight's Tale
 "If I had but an hour of love, if that be all that is given me, an hour of love upon this earth, I would give my love to thee." – Alice Sebold
 "I know by experience that the poets are right: love is eternal." – E.M. Forster
 "If the sun refused to shine, I would still be loving you. When mountains crumble to the sea, there will still be you and me." – Chris Cornell
 "He stepped down, trying not to look long at her, as if she were the sun, yet he saw her, like the sun, even without looking." – Leo Tolstoy
 "I look at you and I would rather look at you than all the portraits in the world." – Frank O'Hara
 "A magnificence that comes out of your eyes, in your voice, in the way you stand there, in the way you walk. You're lit from within." – The Philadelphia Story
 "My night has become a sunny dawn because of you." – Ibn Abbad
 "I wish you to know that you have been the last dream of my soul." – Charles Dickens
 " I like it when you smile and I love it when I am the reason behind it." – Anonymous
 "For the two of us, home isn't a place. It is a person. And we are finally home." – Stephanie Perkins
 "You're a beautiful woman, you deserve a beautiful life. Nothing less." – Water for Elephants
 "And when you smile, the whole world stops and stares for a while, cause you're amazing, just the way you are." – Bruno Mars
 "Each time you happen to me all over again." – Edith Wharton
 "And what do all the great words come to in the end, but that? I love you—I am at rest with you—I have come home." – Dorothy L. Sayers
 "One day you will ask me which is more important—my life or yours? I will say mine and you will walk away not knowing that you are my life." – Khalil Gibran
 "I seem to have loved you in numberless forms, numberless times, in life after life, in age after age forever." – Rabindranath Tagore
 "My blind eyes are desperately waiting for the sight of you." – Richard Burton
Let's now look at some deep love quotes in English for your girlfriend in our next section that show your girlfriend your true feelings and express how much you love her.
Deep Love Quotes For Your Girlfriend
 "I would find you in any lifetime." – Kanye West
 "She wasn't doing a thing that I could see, except standing there leaning on the balcony railing, holding the universe together." – J.D. Salinger
 " I love you not only for who you are but also for who I am when I'm with you." – Anonymous
 "No matter where I went, I always knew my way back to you. You are my compass star." – Diana Peterfreund
 "You are imperfect, permanently and inevitably flawed. And you are beautiful." ― Amy Bloom
 "I wish I could show you when you are lonely or in darkness the astonishing light of your own being." – Hafiz
 "I kiss your vision as it rises before my mind." – Winston Churchill
 "And I'd choose you; in a hundred lifetimes, in a hundred worlds, in any version of reality, I'd find you and I'd choose you." – Kiersten White
 "Soul meets soul on lovers' lips. – Percy Bysshe Shelley
 "My love for you is a journey, starting at forever and ending at never." – Anonymous
 "Every atom of your flesh is as dear to me as my own: in pain and sickness it would still be dear." – Charlotte Brontë
 "For 'twas not into my ear you whispered but into my heart. 'Twas not my lips you kissed, but my soul." – Judy Garland
 "She is the only evidence of God I have seen with the exception of the mysterious force that removes one sock from the dryer every time I do my laundry." – St. Elmo's Fire
 "One word frees us of all the weight and pain of life: That word is love." – Sophocles
 "Our love cannot be measured, it just is." – John Paul Stevens
 "The only thing we never get enough of is love; and the only thing we never give enough of is love." – Henry Miller
 "In case you ever foolishly forget; I'm never not thinking of you." – Virginia Woolf
 "Remember, we're madly in love, so it's alright to kiss me anytime you feel like it." – The Hunger Games
 "I want you today, tomorrow, next week and for the rest of my life." – I.A. Dice
 "We get old and get used to each other. We think alike. We read each other's minds. We know what the other wants without asking. Sometimes we irritate each other a little bit. Maybe sometimes take each other for granted." – Johnny Cash
 "I want to live a day less than you so that I never have to live without you." – Anonymous
 "I feel wonderful because I see the love light in your eyes." – Eric Clapton
 "Love is when you meet someone who tells you something new about yourself."– André Breton
 "Yes, I'm drunk. And you're beautiful. And tomorrow morning, I'll be sober but you'll still be beautiful." – The Dreamers
 "I love you and it's getting worse." – Joseph E. Morris
 "For you see, each day I love you more, today more than yesterday and less than tomorrow." – Rosemonde Gerard
 "I love you so much I almost forgot to brood." – Angel
 "When I'm around you, I kind of feel like I'm on drugs. Not that I do drugs. Unless you do drugs, in which case I do them all the time. All of them." – Scott Pilgrim Vs. The World
 "I cannot exist without you—I am forgetful of everything but seeing you again—my Life seems to stop there—I see no further. You have absorb'd me." – John Keats
 "O tell her, brief is life but love is long." – Alfred Lord Tennyson
 "Never above you. Never below you. Always beside you." – Walter Winchell
 "Ever thine. Ever mine. Ever ours." – Ludwig van Beethoven
 "When you meet the right person, you know it. You can't stop thinking about them. They are your best friend and your soulmate. You can't wait to spend the rest of your life with them. No one and nothing else can compare." – How I Met Your Mother
Infographic: Top 10 Quotes To Express Your Love
It is often not easy for one to express complex emotions, such as love. You may not always find the right words to describe your love for your partner. But, worry not! We have curated some of the finest love quotes to help you. Check out the infographic below and take notes!


These best love quotes for your girlfriend can help you feel more confident in expressing your fond emotions for your beloved. Whether it is a special occasion or just a random day that you want to brighten up, giving words to your feelings through the messages above would make her feel special and bring a smile to her face. Moreover, you can choose these best quotes for your girlfriend to fit her mood or that suits the place or time to add to the element of surprise and keep the romance alive.
Frequently Asked Questions
How do famous poets and authors convey their love and yearning for their partners through their works?
They write poetry and stories about their beauty, the time they spend together, and their feelings. For example The Love Song of J. Alfred Prufrock by T. S. Eliot and Shakespeare's Sonnets by William Shakespeare.
How do love quotes from different cultures and languages reflect the diversity of love and emotions?
While love is the language that every culture understands through one's actions, it is important to note that different cultures express their emotion and love differently. This diversity comes from the experience they have in their life and how they have felt in a cultural context.
Can love quotes be used to mend a broken relationship and reignite the spark in a relationship?
Yes, love quotes can be used to mend broken relationships and reignite the spark. However, we cannot guarantee that it will work for all.
How do classic love quotes from literature and films continue to inspire people in modern times?
Catherine's affirmation "I am Heathcliff" from the classic The Wuthering Heights is one of the most famous lines in the book of love. This line still inspires people because it speaks of the unconditional love that they both had for each other and gives voice to the feelings and thoughts that people fail to express with words. (Note: You can personalize love lines for your girlfriend with specific details about your relationship and your girlfriend's unique qualities.)
How can love quotes be used to celebrate anniversaries and special milestones in a relationship?
Answer: Not all of us are writers or know how to explain our feelings, these quotes help us give voice to our feelings, claims, beliefs, and thoughts. The love quotes make it easy to express our love for the person.

Want to make your girl feel extra special? Check out this heartwarming video below featuring 9 beautiful quotes that will make her heart flutter with joy.