Low-FODMAP Diet For IBS: Foods, Benefits, And Recipes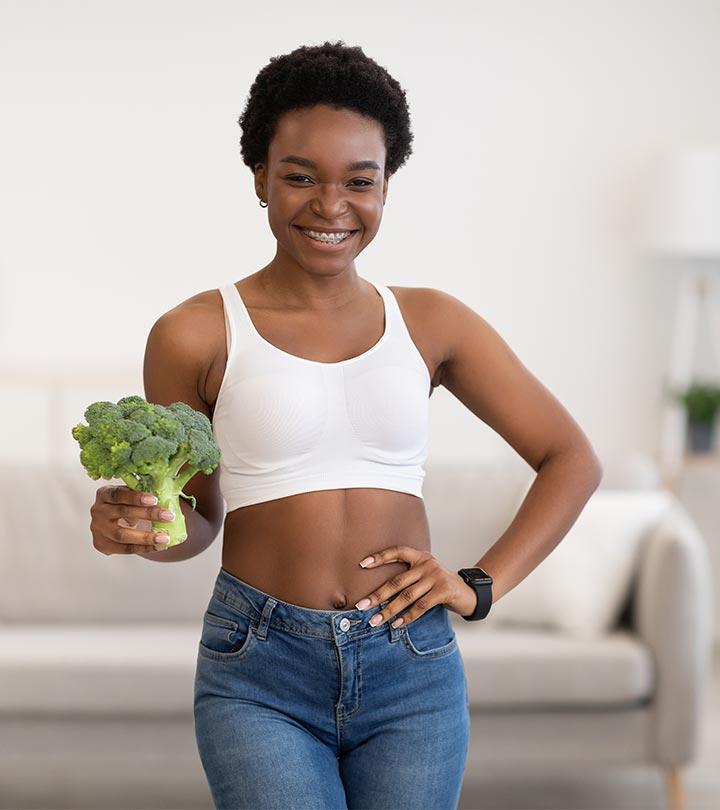 Indigestion and bloating after eating unhealthy, oily foods are understandable. But regular stomach cramps, bloating, and indigestion are the typical signs of IBS or irritable bowel syndrome (1). This gastrointestinal issue affects about 11-12% of the global population (2). Naturally, it raises questions about how to manage the symptoms. The answer lies in the low-FODMAP diet. Stacey Simon, MS, RD, CSG, CDN says, "There is mounting research that supports the low-FODMAP diet to alleviate the IBS symptoms" (3), (4).
What is a low-FODMAP diet and what foods should you eat? Find out from the registered dietitians themselves! Here's your guide to a low-FODMAP diet as advised by the experts. Scroll down!
Definition: What Is A Low-FODMAP Diet?
The low-FODMAP diet is a short-term, three-phase nutritional strategy to reduce the symptoms of IBS, such as stomach cramps, diarrhea (IBS-D), mucosal stool, constipation (IBS-C), mixed bowel patterns (IBS-M), iron deficiency, anemia, and rectal bleeding (1). FODMAP stands for Fermentable Oligo- Di-, Mono-saccharides and Polyols.
Christine Randazzo Kirschner, MS, RDN, CDN, and co-founder of Amenta Nutrition, says, "FODMAPs are small short-chain carbohydrates that are either poorly or not absorbed at all in the small intestine. They draw water into the intestine and are also fermented by the bacteria in the colon. The water plus the gas produced from the fermentation cause the intestines to expand, which may cause pain and discomfort in some."
She adds, "The low-FODMAP diet initially eliminates all FODMAPs, then re-introduces them one at a time to determine which FODMAPs, if any, are triggering symptoms. That way, they have a better understanding of what can be included in their regular diet moving forward."
Why is a low-FODMAP good for you? Let's hear it from the expert and know what research says in the following section.
Benefits: Why Is A Low-FODMAP Diet Good For You?
A low-FODMAP diet helps reduce and keep the IBS symptoms at bay. Moreover, chronic IBS can cause physical and mental distress. A 2021 study shows that a low-FODMAP diet reduces gastrointestinal symptoms and improves the quality of life of people with IBS (5). If the doctor has confirmed that you or your near and dear one has IBS, start the low-FODMAP diet for relief. Scroll down to see what registered dietitians advise to eat on the low-FODMAP diet.
Eat: List Of Low-FODMAP Foods
Registered Dietitian Liz McMahon advises consuming low-FODMAP foods and practicing portion control. She says, "There are many foods that you can eat on the Low-FODMAP diet, especially because it is portion size-dependent. This means you can consume smaller portions of certain foods like broccoli, sweet potatoes, some beans, and almonds. Although proteins and fats do not contain any FODMAPs, be careful of added seasonings (like garlic and onion) or flour for thickening (like wheat flour)."
Co-Founder of Rooted Nutrition Therapies, LLC, Becky Bell, MS, RDN, LN, CLT, advises, "Enjoy all kinds of animal proteins, like chicken, fish, pork, and beef. You can also enjoy low-FODMAP carbohydrates, such as bananas, kiwi, blueberries, oranges, potatoes, rice, and oats, and low-FODMAP veggies, including leafy greens, carrots, and green beans."
Here's a consolidated list of low-FODMAP foods you can consume:
Vegetables: Carrot, bok choy, green beans, alfalfa, broccoli, pumpkin, sweet potatoes, squash, turnips, lettuce, kale, tomato, cucumber, zucchini, chives, eggplants, potatoes, bamboo shoots, bell peppers, celery, and scallions
Fruits: Banana (1, unripe), muskmelon, orange, kiwi, pineapple, blueberry, strawberry, raspberry, lemon, clementine, and grapes
Protein: Chicken, beef, lamb, pork, cold cuts, and minced meat
Grains And Cereals: Oats and oatmeal, quinoa, rice, popcorn, gluten-free cereals, bread, and pasta, buckwheat, pretzels, and tortilla chips
Dairy: Eggs, lactose-free milk, butter, dark chocolate, cheese like cheddar, feta, mozzarella, parmesan, brie, Swiss, and cottage cheese (3-5 squares)
Milk Substitutes: Almond, coconut, soy, rice, and oat milk
Nuts And Seeds: A handful of almonds, hazelnuts, chestnuts, peanuts, pecan, walnuts, sesame seeds, sunflower seeds, and pumpkin seeds
Condiments: Raspberry and strawberry jams, soy sauce, golden syrup (1 teaspoon), tomato sauce, mayonnaise, and mustard
Sweeteners: Aspartame, stevia, and saccharin
Beverages: Black coffee, water, wine (one drink), herbal tea and peppermint tea (weak), and orange juice (125 mL)
Scroll down to find out what foods you need to avoid on this diet.
Avoid: List Of High-FODMAP Foods
Liz McMahon advises, "Avoid garlic, onion, whole wheat bread and pasta, green peas, blackberries, artichokes, apples, avocadoes, milk chocolate, and most dairy products (except for lactose-free)."
Christine Randazzo Kirschner, MS, RDN, CDN, asks to be careful. "FODMAPs can be found in beverages and processed foods like bars and even in some medications and supplements (vitamin gummies)," she says.
Here's a consolidated list of high-FODMAP foods you should avoid:
Vegetables: Garlic, onion, cauliflower, cabbage, peas, spring onion, and asparagus
Fruits: Apples, ripe bananas, avocado, grapefruits, pears, plums, peaches, watermelons, mangoes, blackberries, apricots, raisins, and sultanas
Protein: Mushrooms, kidney beans, black beans, soybeans, broad beans, lima beans, and sausages, and other processed meats
Grains And Cereals: Granola, muesli, rye, semolina, spelt, barley, bran, gnocchi, couscous, muffins, bread, cereal, and pasta
Dairy: Greek yogurt, plain yogurt, buttermilk, sour cream, ice cream, cream, cream cheese, ricotta cheese, and custard
Milk And Milk Substitutes: Cow milk, goat milk, soy milk made with soybeans, and sheep milk
Nuts And Seeds: Cashews and pistachios
Condiments: Mixed berries jam, hummus, pasta sauce, Tzatziki dip, and relish
Sweeteners: High fructose corn syrup (HFCS), agave, honey, sorbitol, xylitol, inulin, isomalt, maltitol, and mannitol
Beverages: Sodas with HFCS, apple juice, pear and mango juices, and strong teas
For your convenience, we have included a sample low-FODMAP diet chart to get started. Here's what it looks like.
Diet Chart: Low-FODMAP Meal Plan
| Meals | What To Eat |
| --- | --- |
| Breakfast (8:30 a.m.) | A cup of oatmeal made with almond or coconut milk with 4-5 strawberries and 5-7 almonds + 1 cup of black coffee |
| Snack (11:00 a.m.) | ½ cup of muskmelon |
| Lunch (12:30 – 1:00 p.m.) | ½ cup of rice + pan-tossed broccoli, tomato, sweet potato + 3 oz grilled chicken/beef |
| Snack (3:30 p.m.) | 1 cup of herbal tea (weak) + 1 small cup of tortilla chips with mayo |
| Dinner (6:00 – 7:00 p.m.) | 1 cup of pan-seared pork + a cup of cooked bamboo shoots, bell peppers, carrots, and bok choy + ¼ cup of buckwheat or rice + 1 cube of dark chocolate |
You can tweak this diet plan depending on the low-FODMAP phase you are in. If you are in the first phase, avoid all high-FODMAP foods. In the second phase, talk to a registered dietitian to know how to re-introduce certain FODMAP foods and see if you can tolerate them. Update your diet plan accordingly.
When it comes to diets, many people assume they are for weight loss. Does the low-FODMAP diet aid weight loss? Let's see what the experts have to say below.
Myth Buster: FODMAP Diet Aids Weight Loss
 All diets are not for weight loss, especially those used to treat certain health conditions, like the low-FODMAP diet for IBS. Becky Bell says, "A low FODMAP diet is not recommended for weight loss. It is a restrictive diet that cuts out a lot of generally healthy foods. While it is effective for relieving digestive symptoms, it's not recommended for general wellness or weight loss."
"The low-FODMAP diet is a temporary diet meant to help understand food triggers as they relate to IBS symptoms," reiterates Kirschner.
All the experts agree that a low-FODMAP diet is a temporary diet for reducing the IBS symptoms and not weight loss. For weight loss, check out these 8 expert-recommended diets.
While you are on a low-FODMAP diet, avoid eating out or ordering in. The ingredients used, including the condiments, could potentially be high in FODMAPs. Don't worry. You don't have to be a chef to cook yourself a delicious low-FODMAP meal at home. Here are three yummy recipes you can cook.
Cook At Home: 3 Delicious Low-FODMAP Recipes

1. Buckwheat Porridge With Golden Syrup
Ingredients
½ cup of buckwheat
2 cups of oats or almond milk
1 tablespoon of strawberry jam
1 tablespoon of golden syrup
1 teaspoon of dark chocolate, melted
1-2 walnuts, crushed
How To Cook
Soak the buckwheat for 4 hours.
Drain the water.
Add the buckwheat to a pan.
Add a cup of almond or oat milk and bring it to a boil.
In another pan, add the rest of the almond or oat milk.
Stir intermittently until the milk thickens.
Add the melted dark chocolate to the cooked buckwheat.
Mix well and scoop it into a parfait glass or a bowl.
Add the thickened milk and a spoon of strawberry jam.
Top it with crushed walnuts and a little drizzle of golden syrup.

2. Broccoli And Bean Sprout Soup
Ingredients
10 broccoli florets
½ cup of bean sprouts
¼ cup of chopped celery
1 teaspoon of cheddar cheese
1 teaspoon of parmesan cheese
2 cups of water
How To Cook
Boil two cups of water.
Add the broccoli florets and bean sprouts. Cook for 2 minutes.
Prepare a bowl of ice water.
After two minutes, soak the broccoli florets and sprouts in the ice water for 30 seconds and strain.
Toss them into a blender.
Add the celery, parmesan, and cheddar cheese. Blend well.
Add a little bit of the water used to blanch the broccoli and bean sprouts if required.
Transfer the soup into a bowl and enjoy!
3. Asian-Style Pineapple Chicken And Rice
Ingredients
100 g chicken
½ cup of bell pepper
½ cup of pineapple
¼ cup of chopped chives
½ cup of rice
1 ½ cup of water
2 tablespoons of lemon juice
1 tablespoon of golden syrup
1 tablespoon of soy sauce
1 teaspoon of scallions
2 tablespoons of olive oil
Salt to taste
How To Cook
Boil 1 ½ cups of water and add the rice.
Stir with a fork intermittently. Strain the water once the rice is cooked.
Marinate the chicken with lemon juice and a pinch of salt.
Heat a non-stick pan and add olive oil.
Add the chicken and fry it over medium heat until cooked.
Add soy sauce and scallions. Toss well.
Add in the pineapple and bell peppers. Cook for about a minute over high heat.
Add the golden syrup and toss everything together. Take the pan off the heat.
Plate the rice and chicken.
Garnish with chives.
Drooling yet? Well, all the recipes mentioned here won't take more than 45 minutes to prepare. You can enjoy all three meals at home without irritating your gut.
Just like all other diets, the low-FODMAP diet may have a few side effects. Let's find out what the experts say.
Risks: Potential Side Effects Of The Low-FODMAP Diet
Stacey Simon, owner of Stacey Simon Nutrition LLC, says, "In the elimination phase of the low-FODMAP diet, people are at higher risk of developing nutritional deficiencies due to a large reduction in commonly consumed foods. Further, this diet is complex and requires close collaboration with a Registered Dietitian to ensure all nutritional needs are met."
Registered dietitian Liz McMahon adds, "The diet eliminates a lot of foods rich in prebiotics (like garlic and onions), which is not beneficial in the long term. Any elimination, including Low-FODMAP, may create food fears in some people."
"It can be frustrating and stressful to manage (stress alone can exacerbate IBS-related symptoms)," points out Christine Randazzo Kirschner, MS, RDN, CDN.
As you may have noticed, the low-FODMAP diet is not a great diet for vegetarians and vegans. It lacks good plant-based sources of protein. Thankfully, you can find low-FODMAP protein powders that you may add to your diet. Here's what the experts recommend.
Substitute: Low FODMAP Protein Powder
"I find that collagen protein powders are generally well tolerated by people with IBS, and they are allowed on a low-FODMAP diet," says Becky Bell, MS, RDN, LN, CLT.
Christine Randazzo Kirschner advises, "When purchasing a protein powder, consider looking out for the following:
Look out for polyols that are often used as low-calorie sweeteners (xylitol, sorbitol, and mannitol)
Plant-derived proteins (i.e., soy, pea). They can be difficult to purify (likely to have GOS and fructans).
Look out for lactose or whey protein.
Avoid products with the word "prebiotic" (synonymous with FODMAP -inulin, chicory root, etc.)."
It is best to consult with a registered dietitian before buying a protein powder. As a precautionary measure, you must also know if at all this diet is for you. A low-FODMAP diet may not work if you do not have IBS. In the following section, experts advise on who should not follow this diet. Take a look.
Precaution: Who Should Not Follow Low-FODMAP Diet?
"People who do not have either IBS or IBD shouldn't just go ahead and try it, as it can be very restrictive," says Liz MacMahon. "You also end up eliminating many prebiotic fibers, which are important for overall gut health," she adds. "It is especially inappropriate for someone with a history of an eating disorder. Also, growing children or pregnant women should be extra careful when considering this diet," remarks Kirschner.
The Takeaway
A low-FODMAP diet is a short-term dietary strategy for managing and reducing IBS symptoms. Eliminating the FODMAP foods from your diet and then gradually introducing the high-FODMAP foods can increase food tolerance and improve the quality of life. Consult your doctor to find out if your gut problem is due to IBS. If yes, talk to a registered dietitian to know the best low-FODMAP dietary approach to reduce the IBS symptoms.

References:
Articles on StyleCraze are backed by verified information from peer-reviewed and academic research papers, reputed organizations, research institutions, and medical associations to ensure accuracy and relevance. Read our editorial policy to learn more.
Recommended Articles
The following two tabs change content below.