15 Best Lumbar Support Office Chairs That Offer Comfort All Day – 2023
A practical and helpful solution to overcome the challenges of long work-from-home hours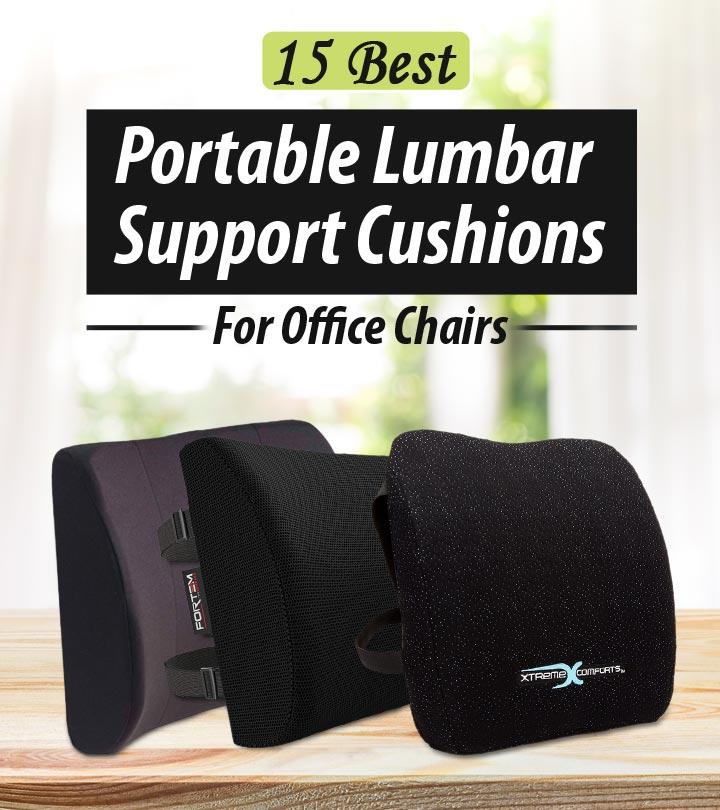 Whether you're back inside the office or working from home for the foreseeable future, the one thing you should never compromise on is proper lumbar support for your office chair. With much of the urban population leading a sedentary lifestyle due to the pressures of modern life, back pain and other orthopedic issues have become increasingly common. These problems can cause severe discomfort and diminish your quality of life.
Having the right amount of lumbar support can do wonders for your posture, offering pain relief and keeping it from aggravating. Stephen Holt, a fitness and nutrition coach, states, "Adding a lumbar support to your office chair or car can be a simple solution for alleviating back pain." Back support for office chairs is one of the main features one should always invest in when buying office chair accessories.
This post lists the top 15 lumbar support cushions to add to your work chair. Not only are they good for the body, but the ones we've chosen are portable, easy to maintain, and offer outstanding comfort throughout the day. Take a look!
15 Best Lumbar Support Cushions For Office Chairs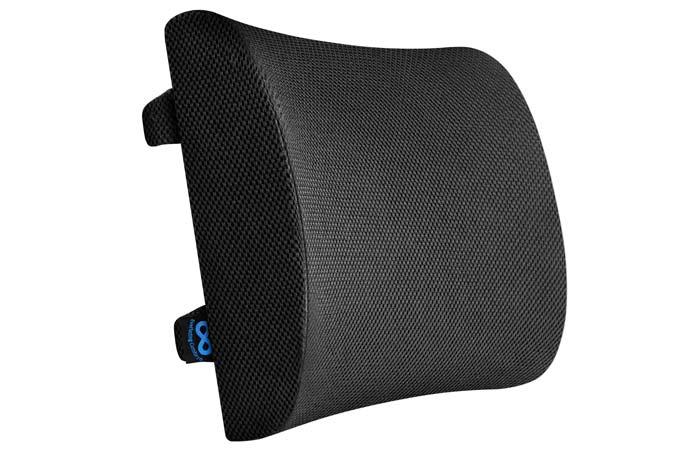 The Everlasting Comfort Lumbar Cushion is an orthopedic back cushion that provides complete lower back support. It has a unique naturally curved structure. It targets the exact problem area to give maximum comfort. The special curvature allows you to place this cushion anywhere along the back of an office chair.
It offers relief from neck pain, and pain in the upper, middle, thoracic, and lower back or spine. The natural curvature provides proper alignment and helps you maintain the appropriate posture. The lumbar cushion features allow you to sit comfortably for hours at a time. Its dual adjustable straps prevent it from sliding down from the chair. The special fabric texture of the cushion allows airflow and keeps your back cool and dry. It provides comfort and lower back pain relief. Watch this Youtuber's review to know more about the product.
Pros
Made with premium quality foam
Foam is not too soft or not too firm
Machine washable
Adjustable dual straps support the back
Portable
Fits in any chair/car seat
Hypoallergenic
Breathable
Comes with 3D mesh cover
Available in 5 different fabric colors
Cons
Bulky structure
Velvet cover may create discomfort.
Too big for a small office chair.
Price at the time of publication: $39.99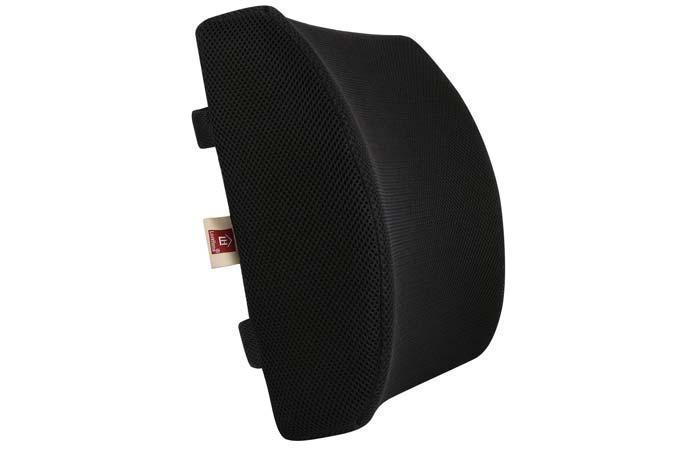 The LoveHome Memory Foam Lumbar Support Back Cushion is ergonomically designed. It is recommended by chiropractors and orthopedic doctors to alleviate lower back pain and provide durable support. The special contoured design helps in proper alignment of the back, hip, and spine. This lumbar support for computer chairs provides relief to the lumbar and vertebra area from pain and fatigue. The ergonomic premium quality foam increases blood circulation and relieves muscle tension. It also may offer relief from sciatica pain.
The firmness of the memory offers optimum support even after hours of sitting. The durable high-quality buckle strap prevents the cushion from slipping down from the chair. Its additional extension straps make it fit perfectly on most chairs. The 3D mesh keeps allows airflow and keeps your back dry and cool.
Pros
Perfectly fits in most chairs
Good for spondylosis
Made with premium quality foam
Breathable fabric
Easy to wash
Great support for a long travel
Orthopedically-tested
Anti-sweat absorbable fabric
Antibacterial
No chemical smell
Portable
Available in 8 different fabric colors
Cons
Bulky structure
Too big to fit in a car seat.
Price at the time of publication: $29.99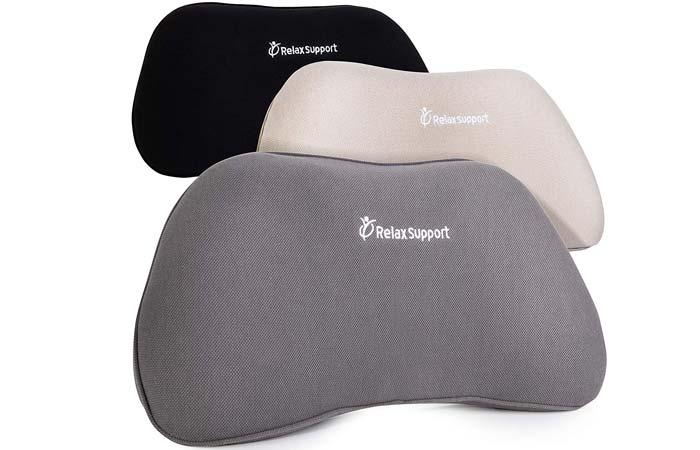 The RelaxSupport Back Support Pillow has a steadfast grip-strap technology that gives it the perfect size and shape to make you feel supported. You do not have to struggle to fit it in your chair.
It gives your back the desired firmness as you spend maximum time in front of a system in the office. The fabric of the pillow cover is breathable. It allows airflow and keeps your back cool and dry.
Pros
Fits easily in any chair or car seat
Easily breathable fabric
Easy to wash
Anti-sweat fabric
Comfortable
Portable
Provides great support
Perfect in size
Cons
Straps are small.
Pillow is too thick.
Price at the time of publication: $24.9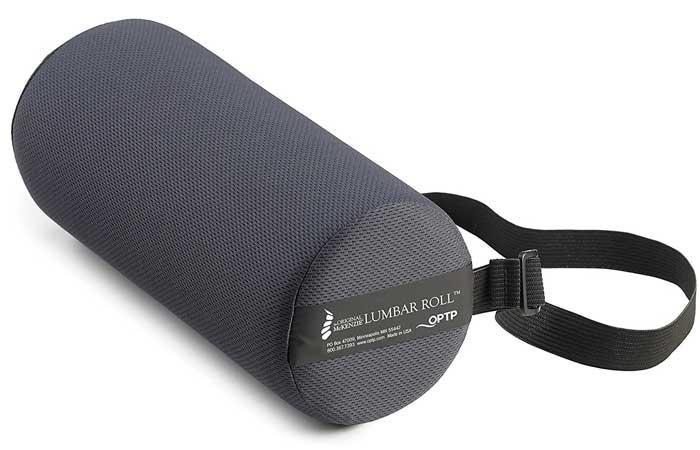 The Original McKenzie Lumbar Roll by OPTP has been in business for over 25 years. This top-selling back roll is recommended by physical and occupational therapists, chiropractors, and orthopedic therapists. The design is simple to ensure proper spine alignment and corrects your posture while sitting for long duration.
It is made of special high-quality, long-lasting, and moisture-absorbing 100% polyester fabric. Its firm foam alleviates pain in the lumbar spine and reduces physical stress. It is 11 inches long and 4.75 inches in diameter. It is easy to carry and fits well into the sitting position. The built-in strap made of latex takes the shape of your sitting chair or car seat and provides optimum comfort.
Pros
Easily adjustable
Breathable fabric
Moisture-resistant
Portable
Easy to wash
Cost-effective
Cons
Firmness may reduce after 2-3 weeks of use.
Poor quality elastic strap.
Roll may slip up and down due to its curvature.
Price at the time of publication: $24.95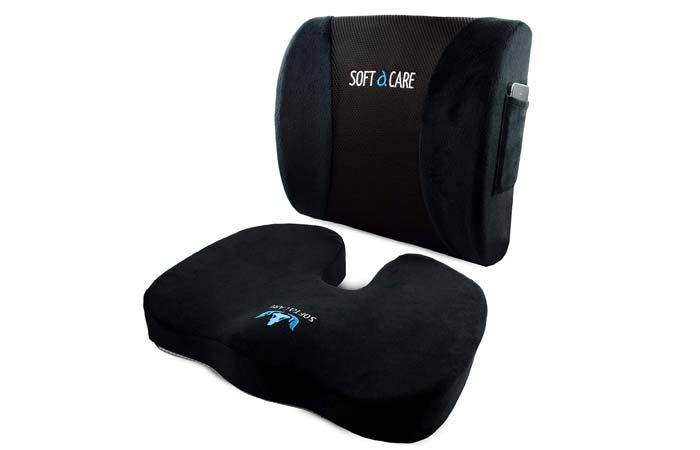 The SOFTaCARE Seat Cushion is a set of two cushions that gives support to the entire spine, including your coccyx region (a bone at the base of your spinal column), and your back. The unique design of the seat cushion decreases pressure and muscle fatigue up to the coccyx.
It provides optimum relief from sciatica, herniated discs, tailbone injuries, and pregnancy back pain. The cushion has high-quality memory foam, a soft velour case, a breathable mesh, and the appropriate diameter. The two adjustable straps of the cushion keep it in position.
Pros
Easily fits any seat
Breathable fabric
Easy to wash
100% pure high-density premium memory foam
Suitable for long journeys
Non-slip rubber bottom
3D ventilation
Moisture -absorbent
Cons
Seat cushion can be too soft.
Not suitable for people with a heavy build.
Both cushions could be difficult to carry at a time.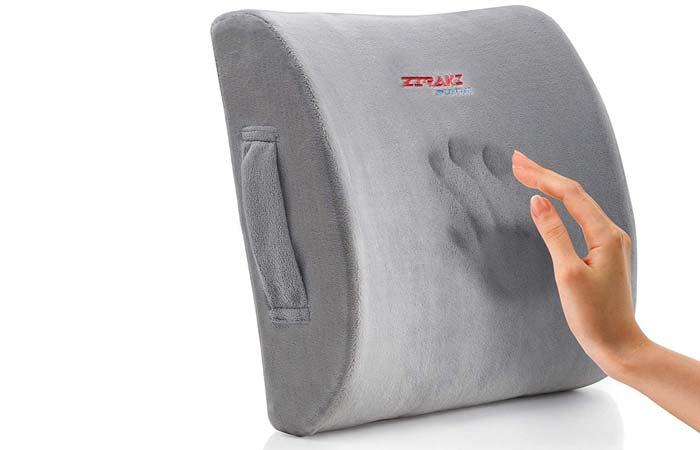 The Ziraki Memory Foam Lumbar Cushion is created with premium quality memory foam that takes the unique shape of your spine and protects it from stiffness and pain. The soft comfort molded cushion straightens and corrects your posture by aligning to the arch of your lower back.
Its unique build and adjustable strap help it fit into any chair and allow easy replacement. The convenient zipper along the cushion makes it easy to wash. The traveling bag it comes with allows you to carry the cushion anywhere. These lumbar cushion benefits support your back at any given point.
Pros
Improves posture
Supports the natural contour of the spine.
Come with an easy-to-carry traveling bag.
Convenient zipper for easy washing.
Comfortable memory foam to support your lumbar spine.
Cons
Cushion can be too firm initially.
Cushion may become flat after multiple uses.
Bulky structure
Poor quality zipper
Price at the time of publication: $19.99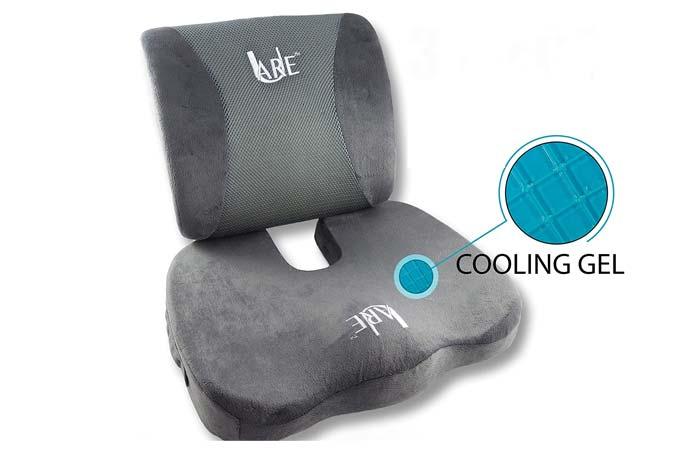 This 3-in-1 cushion set provides pain relief from backache, hip discomfort, sciatica, pregnancy back pain, herniated discs, tailbone injuries, hernia pain, and any other discomfort in the spine and gluteus maximus (the largest of the three muscles in the buttock that move the thigh). The 100% memory foam provides optimum comfort to your spine, takes care of your back, and works as a great outdoor cushion for sporting events.
The lumbar support has a breathable mesh embedded with a cooling gel for heat disbursement. The unique U shape of the seat cushion provides optimum relief for the entire spine, down to the tailbone and coccyx. The cushion comes with a rainproof outdoor cover that protects it from the outside environment. The slip-resistant grip pattern prevents the cushion from slipping down. It comes with a zipper bag and is easy to carry.
Pros
Cooling gel disburses heat
Adjustable pillow to focus on the pain area
Travel-friendly
100% premium quality memory foam
Suitable for long journeys
Easy to wash
Cons
Poor quality straps (tends to fall down after use)
May release a strange chemical smell.
Cushion feels hard.
Not suitable for those with a broad physique.
Price at the time of publication: $75.99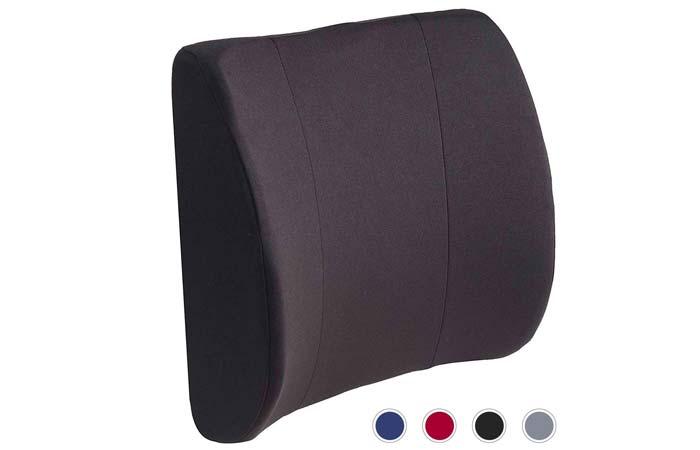 The Duro-Bed Lumbar Support Pillow helps relieve the pain that comes from slouching for a long time. This orthopedic pillow is often recommended by chiropractors to ease back pain.
The pillow contains a wooden insert that corrects spine alignment. This unique feature prevents the cushion from slipping down and offers proper support. The removable cushion is easy to wash, and the polyester cover is sweat-absorbent.
Pros
Made of molded, highly-resilient foam
Easy to wash
Wooden insert supports the back.
Reasonably priced
Travel-friendly
Suitable for any sitting arrangement.
Cons
Thick cushion pad
Bulky structure
Poor quality elastic band
Price at the time of publication: $17.15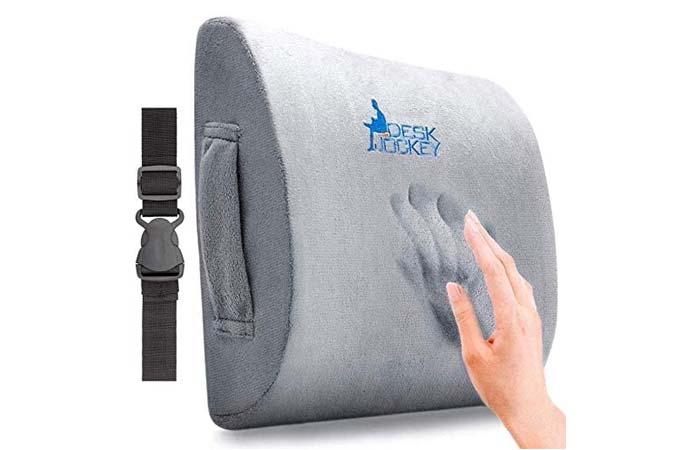 This clinical therapeutic grade memory foam is designed to provide relief from back pain, sciatica, herniated disc, back impairment, osteoarthritis, and issues with spinal curvature. This soothing cushion holds the shape of your spine and offers pain relief.
This cushion fits any sitting arrangement and does not release a chemical smell. The cushion fabric is breathable, removable, and washable. The extension strap makes it easy to adjust with any chair. The cushion is travel-friendly.
Pros
Great comfort
Dense foam with good support
Adjustable strap
Breathable fabric
Easy to remove and wash
Cons
Poor quality strap clip
Firmness may not suit all.
Cushion becomes flat after multiple uses.
Price at the time of publication: $28.99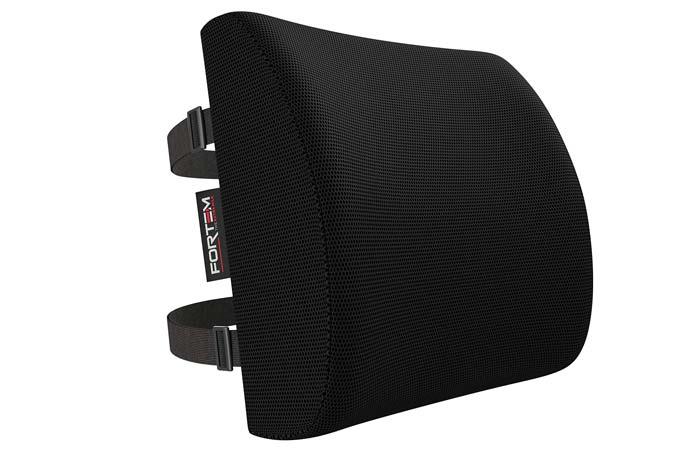 The Fortem Lumbar Support Pillow is ergonomically designed. Its contoured shape makes it a perfect fit for any chair. It supports the lower back, correcting the posture and keeping your spine properly aligned. The lumbar support pad alleviates pain by reducing pressure and stiffness when sitting for a longer time. It also helps with muscle tension, sciatica pain, and mid and lower back pain.
This is made with 100% premium quality memory foam with a detachable polyester cover that is easy to remove and wash. It comes with a durable metal zip, a high-quality buckle, and an adjustable elastic strap. The breathable 3D mesh ensures proper inflow and outflow of air and keeps your back dry and cool.
Pros
Lightweight
Breathable fabric
100% premium quality memory foam
Alleviates muscle tension and pain
Easy to remove and wash
Easy to install to any chair
Available in 2 fabric colors
Durable stitching
Cons
Takes time to inflate the cushion.
Too stiff for a large frame.
Some may feel the width is excess.
Price at the time of publication: $17.99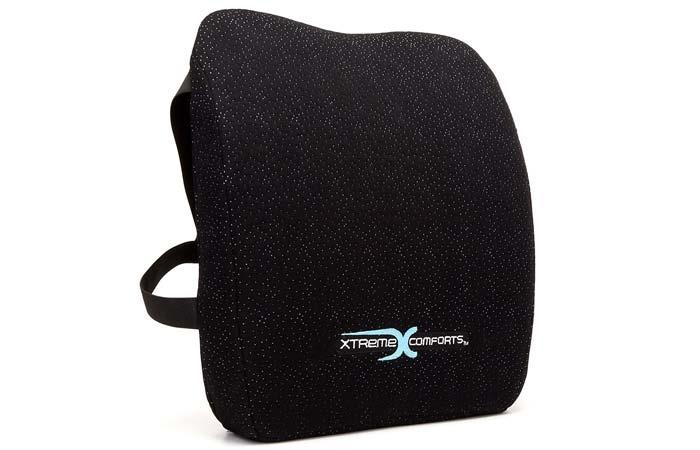 The Xtreme Comforts Memory Foam Back Support Cushion alleviates back pain by maintaining the right spinal alignment. This ensures there is increased blood flow to your lower extremities. If you have back pain from pregnancy, herniated discs, sciatica, arthritis, scoliosis, and other related conditions, this back cushion can help.
The cushion is made with exclusive deluxe body active memory foam that will never get lumpy and flat even with multiple uses. The uniform density provides the support that you will need all through the day. The 100% eco-friendly bamboo cover provides superior air circulation and keeps your back cool and dry. The cover is bacteria-resistant, easy to detach, and washable. The adjustable 4-point strap easily fits in any sitting chair.
Pros
Hypoallergenic cover
Fabric made with bamboo
Super soft and comfortable
Easy to remove and wash
Versatile and fits any chair
Bacterial resistance
Sweat-resistant
Adjustable strap
Comes with a protective carry bag for traveling.
Cons
Not returnable
Bulky structure
Too thick for a car seats.
Price at the time of publication: $25.59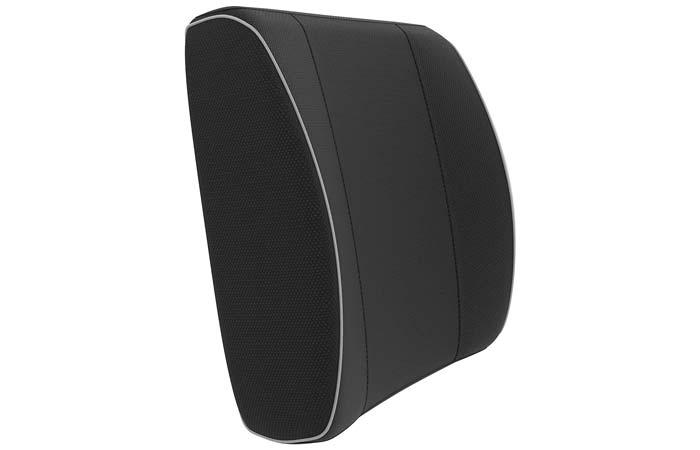 The Vremi Premium Memory Foam Lumbar Support Pillow alleviates back pain, aligns your spine, and corrects your posture as you lean back into the pillow. It regulates blood circulation, relaxes pinching nerves, and keeps spine healthy.
The cushion is made with 100% deluxe quality memory foam. The cushion has stable firmness and does not get flat even with multiple uses. It is made with hypoallergenic breathable 3D mesh that is easy to detach and is washable. The adjustable straps give a perfect fit to any chair.
Pros
100% premium quality memory foam
Breathable fabric
Hypoallergenic
The mesh cover is easy to machine wash.
Provides ultimate comfort
Easily adjustable dual strap
Versatile
Cons
Smaller than the usual size.
Can be too thick to support the back.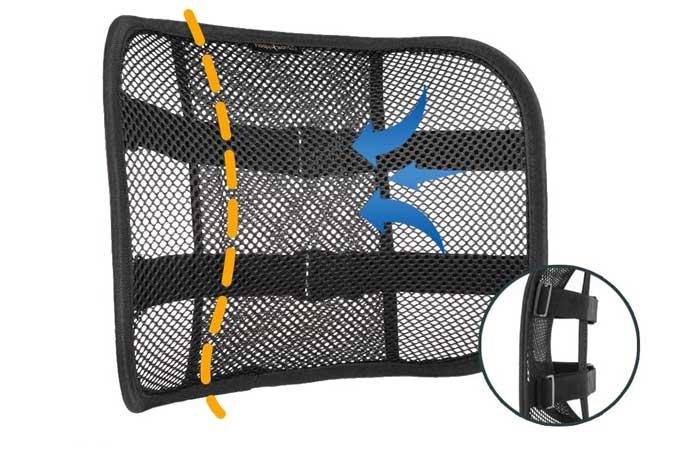 The ergonomically contoured design of this cushion provides good support to the lower back and alleviates both acute and chronic pain. It is a cost-effective solution to ease lower back pain from bad posture, arthritis, and injuries. It aligns to the curvature of your spine and prevents slouching.
It is built with a high-quality breathable mesh, along with a premium quality elastic band and adjustable straps. The adjustable double strap keeps the lumbar pad in its place and fits perfectly to the chair. This lumbar support for desk work is perfect for your office chair and the seats in your car/truck. The strong stitches make it durable and lightweight.
Pros
Cost-effective back support
Breathable fabric
Easy to wash
Strong stitches
Lightweight
Cons
Price at the time of publication: $24.99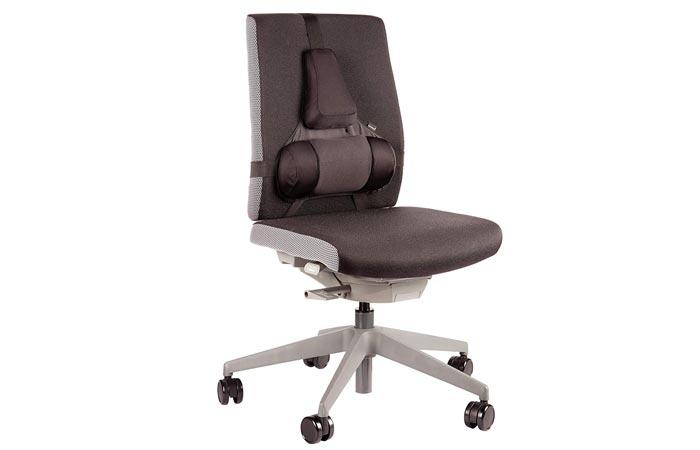 This is a 2-tiered support system that provides mid spinal support for good posture, and lower lumbar support that conforms to the natural body curvature. The high-quality memory foam provides support and warmth to your tiring muscles.
The Tri-Tachment system ensures stability and eliminates the need for readjustment. The cushion is made of soft, breathable fabric. It is contoured for a relaxed fit and the fully adjustable design fits most office chairs.
Pros
Breathable fabric
Tri-Tachment system makes it easy to fit in the chair
Premium quality memory foam
Cons
Won't fit larger chairs.
Not ideal for curved chairs.
No usage manual
Price at the time of publication: $49.63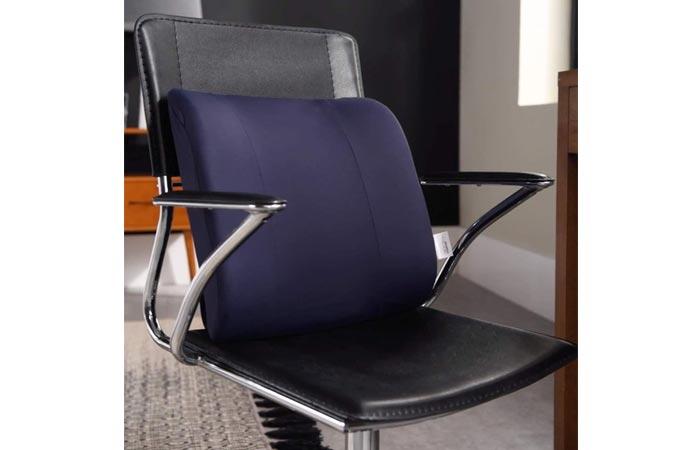 This legendary lumbar support conforms to the unique shape of your spine and provides lower and back support. It is easy to remove and washable.
This superior quality lumbar cushion attachment is allergen-resistant and durable. The Tempur material never loses its shape. It offers superior support and alignment even after multiple uses.
Pros
Easy to remove
Premium quality foam
Never loses shape
Allergen-resistant foam
Easy to wash
Durable foam
Cons
Foam is hard.
Too large
Has no straps.
Can get displaced easily.
Price at the time of publication: $89
These are the top lumbar support cushions on the market. You can use them in your office chair to ensure a healthier and pain-free posture. But do they really work?
Do Backrest Lumbar Cushions Really Work?
A backrest cushion is always a great option to support your back and for comfortable office seating. Sitting at your job all day can create stiffness in the spine, pinch the nerves, and increase overall physical stress. A firm quality foam in the lumbar cushion provides support to your spine as it aligns to its curvature. This lumbar support for prolonged sitting also allows proper blood circulation to the lower part of the body.
If your daily work involves sitting at a place for longer duration, a backrest lumbar cushion is advisable. Make sure to consult an orthopedic doctor.
In the following section, we have briefly reiterated the benefits of a lumbar support cushion.
Benefits Of A Lumbar Support Cushion
Provides back support.
Takes the shape of your spine.
Ensures adequate blood supply.
Provides relief from back pain, sciatica pain, arthritis pain, and pregnancy back pain.
Relaxes nerves in the lumbar area.
Alleviates back numbness.
The lumbar support cushion recommendations listed in this article are among the most popular ones on the market. However, it is always good to know what you must look for among the many lumbar support types available. The following buyer's guide can help you make a smart choice.
Buyer's Guide
Choose a flatter back pillow to support your back.
If your job involves more movement, a durable strap is important to support your cushion.
The fabric should be breathable to absorb moisture. This also leaves your back cooler and dry.
An adjustable support is required for making adjustments as one progresses during the day.
Why Trust StyleCraze?
The author, Aditi Naskar, holds a diploma in health and wellness. She has curated a list of portable lumbar support cushions for office chairs after carefully reading product specifications and user reviews on different e-commerce websites. Her list comprises cushions that are made with premium-quality foam. Not only are these cushions adjustable as per your comfort and needs, but they are also easy to wash and are made of breathable fabric.
Frequently Asked Questions
Where should you place your lumbar support cushion?
Sit straight against the chair and insert the cushion above your belt line. There is a natural curve in the spine in that area – the thickest part of the cushion should fit into the curve. Adjust a little to feel comfortable.
Should you sleep with lumbar support?
Yes, if you have persistent back pain, you can sleep on a lumbar support pillow. Align it along the curvature of your spine as you sleep on your back. However, understand that it might bother your sleep if you are not a natural back sleeper.
How do you know if you need lumbar support?
If your lifestyle needs you to sit still for a long period throughout the day, it is wise to use a lumbar pillow whether or not you experience back pain. The lumbar pillow will help support the spinal curvature and correct your posture.
Can you use a regular pillow behind my back instead of a lumbar support pillow?
No, a lumbar pillow is specially designed to align with your spine's natural curve. Replacing it with a regular pillow will not give you the same benefits.
How much lumbar support do you need?
An average person's lumbar depth is between 06 inches to 2 inches. Make sure the pillow you use lets you sit straight comfortably and not pushes you to lean forward.
Recommended Articles