27 Luscious Dirty Blonde Hair Shades
Check out this new hair color that Jennifer Aniston and Gigi Hadid flaunt effortlessly.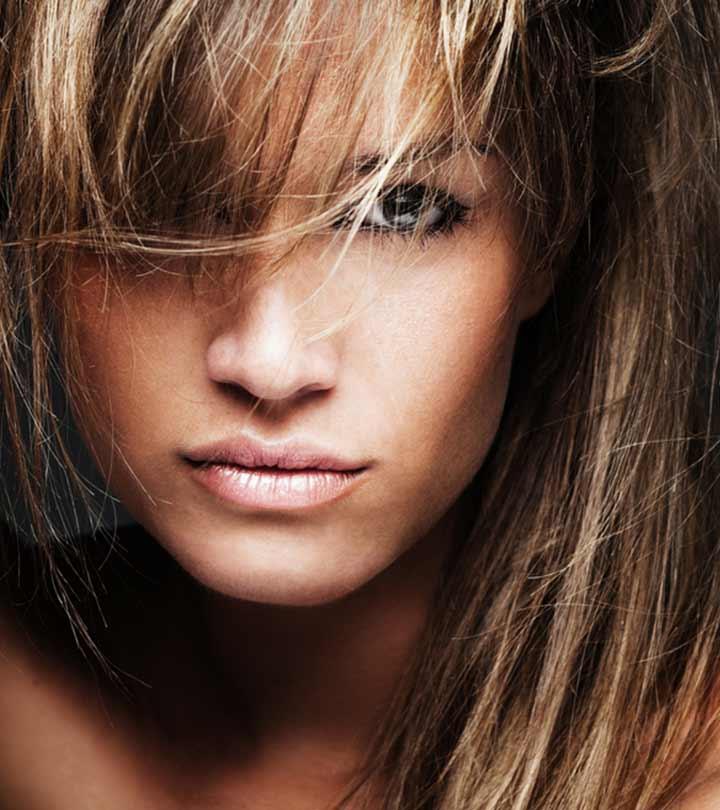 Dirty blonde is a versatile hair color. It is a dark blonde shade that can pass off to be a very light brown tone. Keep reading to check the top trending luscious dirty blonde hair shades. But first, here's some backstory on this elegant hair color!
It is hard to imagine that people bonded in their hate for this shade a decade or two ago. It was so disliked that people called it dishwater blonde. People who are born with blonde hair color would either dye their hair darker or bleach it lighter. Thankfully, now people are embracing the versatility of this hair shade. Celebs such as Gigi Hadid and Jennifer Aniston have flaunted the dirty blonde hair color fabulously! Scroll down to know more about this hair color and its many shades.

Before You Get Started
Dirty blonde shades tend to be cool or neutral-toned. Therefore they can be customized to suit all skin tones.
Since dirty blonde is such a specific dark blonde and light brown shade, it is always recommended to get it done by a professional, especially the first time you try it out.
Perform the dyeing procedure on one-day-old hair to protect it from hair color chemicals.
What Is The Dirty Blonde Hair Shade?
Dirty blonde is a shade that is somewhere between dark blonde and very light brown. While it is naturally a cool tone, bright blonde hues (like gold) can be added to it to make it warm. You can also add an ashy hue to make it cooler.
It is also called 'dishwater blonde' as it resembles the color of water after dishes have been cleaned in it. Weird, I know!
It works best with light to medium complexions. Ashy or brownish dirty blonde hair looks the best on a cool skin tone. If you have blue or green eyes, these shades will make them pop. A dark dirty blonde shade will look good on warm skin tones.

Did You Know?
Gigi Hadid, Jennifer Lopez, Jamie Chung, Jennifer Aniston, Rachel McAdams, and Beyoncé are some famous personalities that have sported the luscious dirty blonde hair look.
How To Dye Dark Hair Dirty Blonde
The best part about this color is that you can get it on any natural hair color without going through too much hassle. You don't need to bleach your hair since it is between dark and light hues and can be modified as desired. Whether you have a light, medium, dark blonde, or even a brunette highlight or base, you can get a pretty dirty blonde hair color done on it. However if you have pre-colored hair you may need to use a bleach to lift that color!
Here's what you need.
Dyeing Pack
You will have to buy a dyeing pack depending on the dirty blonde shade you want. This pack comes with a developer and a lightener. Some kits might come with a toner, while for others, you will have to buy it separately. The developer bonds with the pigments in the pack and is responsible for imparting color to your hair. It is also called an activator. The lightener changes your natural hair pigments and makes your hair lighter. The toner removes any yellow or orange tints from the hair. An ash-based toner will help remove any yellowness from your colored hair. Some packs include a color application bowl, brush, and a color applicator bottle. But if they don't, you can buy them at a general store or a beauty supply store.
Beauty expert, Kerry E. Yates suggests, "If you're looking for an ash toner, look for shades that have violet, ash, or brown hues in their shade designator."
Once you have your dyeing kit ready, here's what you need to do.
Procedure
Before you start, make sure to cover your clothes with a thick sheet or towel. Also, wear old clothes to avoid staining. Apply some petroleum jelly on the skin near your hairline and the skin close to your hair. This will prevent any color from staining your skin. Last, but definitely not the least, wear gloves.
Mix the developer and lightener until you reach a creamy color consistency that you like. This blend will lighten your natural hair color and activate the dirty blonde shade on your hair.
Apply the mixture to your hair, starting about an inch and a half away from the roots and all the way to the bottom. Apply the mix to your roots at the end. The roots take on color very quickly and can become darker than required if left for too long. So, attend to your roots at the very end.
Keep checking your hair every 10 minutes. Once the color has reached a shade you like, wash off the mix from your hair.
Pat your hair dry with a towel to get rid of the excess water. You need your hair damp for the next step.
Apply the toner and developer. This mix will remove any yellow or brassy tints from your hair. Apply it thoroughly on your hair. If you want to ease the process look for a toning mask or shampoo.
Finally, deep condition your hair. This moisturizes your hair and roots. Apply conditioner to your hair and cover it with a shower cap. While you take a bath, the steam from the hot water will open up the cuticles, allowing the conditioner to moisturize your hair thoroughly. Wash it off with cold or lukewarm water to lock the moisture in.
Once you have dyed your hair, here's what you can do to maintain it.
Hair Maintenance
Use a shampoo and conditioner that are specifically made for colored hair. These products are tailor-made to protect your hair from any damage or breakage caused due to the coloring.
Use lukewarm or cold water to wash your hair. Avoid hot water as it will dry out colored hair, leading to breakage. Do not comb or brush your hair when it is wet as wet hair is super fragile and can break easily.
Use a hair mask twice a week. Leave it on for about five minutes and then wash it off.
Air dry your hair instead of using heating tools.
You can also use a leave-in conditioner. It detangles your hair and tames frizz. It also moisturizes your hair, makes it soft, and reduces brittleness and breakage.
Apply coconut oil to your hair to nourish it back to health. Do this at least 3-4 times a week. Also, while applying the oil, massage your scalp gently. Kerry E. Yates says, "Add in the slugging technique – apply on the mid-lengths and ends, wrap with a cotton cloth or soft flannel, and leave overnight. Rinse in the morning."
Use sulfate-free, color-safe shampoo and conditioner.
Use a toning shampoo, but be careful not to overdo it, as it can stain your hair if left on for too long.
And now, here are 27 luscious dirty blonde hair shades that you need to check out!
27 Luscious Dirty Blonde Hair Shades
1. Platinum Highlighted Dirty Blonde
Adding platinum highlights to the muted dirty blonde shade is the best way to brighten the look. The hints of platinum blonde at the ends of the coffee-blonde waves add dimension and depth. The hints of golden blonde here and there blend the two shades beautifully.
2. Dirty Blonde And Pink Ombre
Pastel pink ombre adds a fun dimension to the dirty blonde hair. The blonde highlights placed strategically around the face with pink ends instantly illuminate it. Keeping the roots dark ensures that your hair color looks gorgeous even when the roots grow.
3. Natural Dirty Blonde
If you have naturally dirty blonde hair, you are the envy of many women. Curl your hair in slight waves at the ends to add a fuller look and a beachy vibe.
Kerry Yates adds, "This shade is a mix of level 7 and level 8. Look for shades that contain the shade designations 7N, 7A, 8A, or 8N in their name." The N stands for natural colors and the A stands for Ash shades.
4. Champagne Dirty Blonde With Highlights
Lighten your hair with a champagne blonde color to suit your warm skin tone. Add highlights to frame your face. This dirty brown shade will make your hazel eyes pop.
"If your hair is a natural light brown shade or darker you cannot achieve this color without bleach. Look for shades that have a shade designation of 10V (violet), 10A, or any shades that deliver a blonde beige," says Kerry Yates/a>.
5. Sandy Dirty Blonde
Use an ash-toned dye to get this beautiful beige-toned dirty blonde ombre. This sandy shade looks incredible and works well with both warm and cool skin tones. It is a blend of highlights and lowlights that really brings out the best in dirty blonde hair.
6. Dirty Ash Blonde
This deep dirty ash blonde shade will make blue and green eyes pop. This lovely color looks flattering on cool-toned skin complexions. The tousled and somewhat bedhead wispy ends add an edgy feel to the entire look.
7. Golden Dirty Blonde
Blend pale fine gold highlights with your dishwater hair. This will lighten and add warmth to your dirty blonde hair. The neutral color looks great on any skin complexion and has a 'grew-up-on-the-beach' vibe to it.
Kerry Yates says, "This look is totally on trend, and is achieved with a root shadow plus blonde highlights. Ideally, this technique is best executed by professionals."
8. Deep Dirty Honey Blonde
This ombre shade is in great demand, and it's fairly obvious why. Start off by darkening the roots with a light brown color and then use a honey color to lighten your hair as you go down. Keep the color in the midsection of your hair for a little longer to give it that deep, naughty honey shade.
9. Golden Platinum Dirty Blonde
This fantastic shade suits warm skin tones. It is light, bright, and luminous. Apply lightener to take out as much of the natural hair pigment as possible. Then, add gold to it, but don't keep it on for too long as you only need a subtle golden glow.
10. Dirty Ginger Blonde Highlights
If you thought you couldn't have the perfect blend of ginger and blonde, you're wrong. Add a light ginger tone to your hair and highlight it with a light dirty blonde shade to get this stunning result. The best part about this is that some parts of your hair will be darker than the others, which helps add dimension to your face.
11. Dirty Blonde Ombre
This boho hair shade is fantastic! The tone looks super beachy, messy and summery. Just darken your roots and lighten from halfway down. Absolutely beautiful, isn't it?
12. Dark To Light Dirty Brown Blonde
Darken the top of your hair with a deep brown shade and use a very subtle light brown shade as you go down to give your hair a gorgeous ombre. The blonde lowlights scattered in between add character to this look, while the wavy hair makes it bouncy and playful.
13. Lowlights On Dirty Blonde
Lowlights are a great way to frame the face and make it appear thinner than it is. This one combines beautiful warm tones with light cool hints to create a gorgeous dirty blonde look. It suits light to medium skin tones very well.
14. Sassy Warm Dirty Blonde
The warm dirty blonde shade is wonderfully vibrant. The waves add dimension and texture to the hair and make it look a perfect 10/10.
15. Half and Half Dirty Blonde
This look is a blend of half deep dark blonde and half light dirty blonde. It is perfect for warm skin tones. If you have blue eyes, this is the color you need to try to make them pop.
16. Fading Dirty Brown Blonde
The best thing about having natural wheatish hair is that you can manipulate it to the color you want. This lovely dark to light dirty brown/blonde look is highly coveted. It is a warm toned hair blend that looks stunning when styled in waves that bring dimension and shine to it.
17. Dirty Pink Blonde
Pink and dirty blonde make for a dynamite combo. This lovely shade will make brown, gray, and blue eyes pop and suits cool skin tones. Those curls at the end create a more voluminous, erotic look.

Quick Tip
If pink is not your vibe, you can opt for other cool tones like lavender and mauve that serve as excellent alternatives.
18. Platinum Dirty Blonde
This shade accentuates the cool tone of your naturally dirty blonde hair. Start lightening your hair, leaving about two inches near the roots. Your naturally dark dirty blonde roots just add a dramatic touch that is so tempting it is to-die-for. You can even use an ash toner to create a smoky look.
19. Violet On Dirty Blonde
Yes! This is how awesome violet will look on your dirty blonde hair. So badass and edgy! This shade will look great on all cool skin tones and a few warm tones too.
20. Pastel Dirty Blonde
Pastel colors are colossal right now. And this beautiful blend of pastel colors with dirty blonde hair is spectacular. The color blend will look especially great on warm skin tones. Drown in those beautiful waves of color. However, this is a holographic effect that needs a pair of skilled hands. Ask your stylist to get the desired effect!
21. Dark Butterscotch Dirty Blonde
I've never liked butterscotch until now! Deep dirty blonde hair when mixed with butterscotch looks incredible. Perfect, right? This color suits warm skin and it will accentuate blue, hazel, gray, and green eyes.
22. Light Ash Dirty Blonde
This is a cool toned shade that (obviously) looks stunning on cool skin tones. If you have gray or blue eyes, this shade will enhance them. Also, if you have hints of green in your eyes, this shade will make them pop.
23. Dirty Coffee Blonde
The blend starts out looking like espresso and ends in a light cappuccino. And who doesn't like coffee? This cool dirty blonde blend suits cool and warm skin tones alike. Moreover, gray eyes look incredibly superb with this hair look.
24. Dirty Blonde Balayage
A balayage of light and dark hues of dirty blonde makes for a very beautiful sun-kissed look. This blend looks excellent on all skin tones. The light ends will make your jawline appear thinner, and the combination of colors will make your face look elongated.
25. Cool Dirty Blonde Blend
A balayage of alternate stripes of metallic ash and dirty blonde looks terrific. This is definitely on my list of hair colors to try out. This blend will make green eyes pop. Hazel and blue hints will be accentuated as well. Simply wow!
26. Strawberry Highlights On Dirty Blonde
This is a shade that is in high demand right now. Slightly lighten your dirty blonde hair (very slightly!) and add rose or strawberry tones in streaks for a provocative look. The streaks add dimension to your hair, and the straight hair makes you focus on the strawberry highlights.
27. Shiny Mochaccino Blend
Infographic: Top 6 Dirty Blonde Hair Color Ideas
Dirty blondes are so in fashion! No matter if you have brunette, light, or dark blonde natural hair, you can get this hair color and customize it accordingly. It is easy to maintain and helps strike a perfect balance between light and dark shades. The infographic below highlights the hottest dirty blonde shades, perfect for all hair types and skin tones. Take a look!


Awaken your inner lioness! This is a mix of golden caramel hues and brown that suits both warm and cool skin tones. The dark roots and the lighter shades will make your face look long and slender. It also flatters green, blue, and black eyes.
Try these vivacious shades out! Remember to find out if your skin tone is cool or warm before you try any shade. Dirty blonde hair is very versatile, so feel free to play around with it. You can go for both the disheveled, unkempt hair look or the raunchy look with dirty blonde color. It is great for a disarrayed yet effortlessly chic appearance. No matter what you choose, be ready to turn heads wherever you go.
Frequently Asked Questions
Is dirty blonde more brown or blonde?
Dirty blonde is somewhere in the middle of brown and blonde. However, stylists consider it a shade of blonde.
Is dirty blonde a rare color?
Yes. It is not a color that frequently occurs naturally. And because of its past reception by the public, dirty blonde dyes have been slow to pick up.
Is dirty blonde hair hot?
Yes. In recent years, this hair color is gaining popularity with top celebs like Jennifer Lopez, Jennifer Aniston, Beyonce, and the likes flaunting it.
Does dirty blonde hair lighten in the sun?
Yes. The sun can lighten any hair shade. However, you will need constant exposure and extra measures to notice any visible change, which is not recommended as it may damage your tresses.

Fan of gorgeous dirty blonde hair? Watch this video for some amazing dirty blonde hair colors that will inspire you to get one for yourself. Let's dive in!

The following two tabs change content below.