Macadamia Oil For Hair – Benefits And How To Use
Hydrate, strengthen, and smoothen your hair with a few drops of this nutrient-rich oil.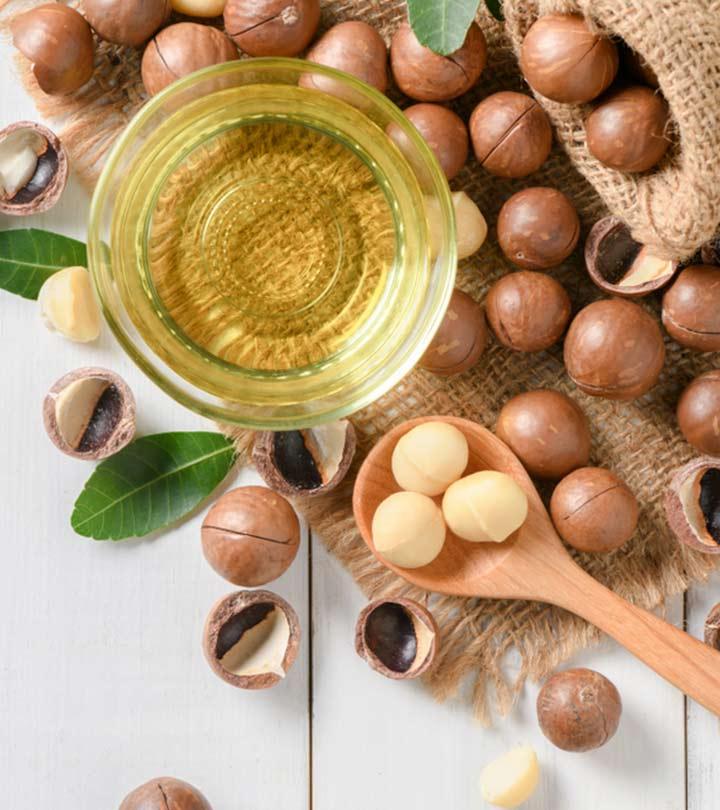 Macadamia oil is obtained from macadamia nuts and is filled with nutrients. It is slowly gaining popularity in the hair care world. Here, we have elaborated on the benefits of macadamia oil for hair. Anecdotal evidence suggests that using macadamia oil on the scalp can improve hair growth. It rejuvenates the hair, gives a shiny look, and repairs the damage. Macadamia oil is used as an ingredient in many hair care products. This article discusses all the information you may want to know about Macadamia oil, its benefits, and more. Keep scrolling!

Know Your Ingredient: Macadamia Oil
What Is It?
Oil extracted from macadamia nuts.
What Are Its Benefits?
May enhance hair texture, elasticity, strength, and hair growth, prevent hair breakage and split ends, and improve minoxidil absorption.
Who Can Use It?
Suitable for all hair types.
How Often?
Daily or 2-3 times a week.
Caution
May have rare allergic reactions; hence, a patch test is recommended.
How Does Macadamia Oil Help Hair And Scalp?
Anecdotal evidence suggests that using macadamia oil is extremely beneficial for the hair and scalp. It is said to improve hair texture, structure, and elasticity. It may also increase hair shine, provide frizz control, and repair damaged hair. But, does science agree with these benefits?
1. May Improve Hair Strength
Macadamia oil contains a high amount of lipids (fatty acids) (1). Hair is made up of lipids. Since macadamia oil contains lipids, it may help strengthen your hair and improve its texture and quality.
2. Contains Essential Nutrients
Macadamia oil contains fatty acids, tocopherols, and squalene (1). Tocopherols have antioxidant properties that protect the hair from damage. Squalene is thought to be the protective agent in sebum. It may even help in sebum production. It also has antioxidant properties, which offer UV protection (1).
3. May Promote Minoxidil Absorption
The oleic acid in macadamia oil may make the scalp better absorb minoxidil (a hair growth medication) (2). Minoxidil is often used to promote hair growth.
4. May Improve Hair Health
Macadamia oil contains fat, protein, carbohydrates, and fiber that may nourish your hair and improve its health (3).
5. Increased Collagen Production
Macadamia oil contains essential amino acids (4). Amino acids help in collagen production (5). Collagen is a protein that contains keratin, which strengthens the hair. Increased collagen production may help improve hair elasticity. Amino acids can also balance pH levels and improve hydration.
6. Treats Dry Hair
This natural nut oil has moisturizing and regenerative properties that can help treat dry hair (6). It also helps repair damaged hair (7).
7. Moisturizes Your Hair
Macadamia oil is a triglyceride oil and contains up to 80-84% of monounsaturated fattyi  XA dietary fat that helps the reduction of bad cholesterol levels and maintenance of overall cell heath in the body. acids (8). This means it can be used as a hair moisturizer.
8. Offers UV Protection
This oil contains palmitoleic acid, which protects the cell membrane from lipid peroxidationi  XA chain of reactions where oxidants attack lipids in the body. This can lead to cell damage and eventual cell death. (8). This also makes it an excellent emollienti  XAn ingredient that can trap moisture to reduce dryness and help keep the skin smooth and hydrated. . It has UV protection properties that may help protect your hair from heat damage.
9. May Stimulate Hair Growth
Macadamia oil is a great natural source of vitamin E that aids hair nourishment (3). This vitamin can be used to stimulate hair growth. Vitamin E is known to improve blood flow. It also has antioxidant properties that can help prevent hair loss and hair damage.
10. Improves Hair Smoothness
Macadamia oil, due to its high fat content, penetrates the hair easily and smoothens it (3). This can also help prevent frizz and boost hair shine.
11. May Improve Hair Manageability:
Macadamia oil is said to help detangle hair, which makes it easier to tame and style.

Did You Know?
Macadamia nuts were originally known as 'Jindil' or 'Kindal Kindal' by the Native Australian tribes. It was only in the 1850s that they were named Macadamia nuts after John Macadam, the Scottish-Australian scientist.
What Are The Nutrients Found In Macadamia Oil
Macadamia nut oil contains oleic acid, palmitoleic acid, and tocopherols. It is enriched with 80-84% of monounsaturated fatty acids, which makes it ideal for moisturizing hair. It also contains polyunsaturated fatty acidsi  XA dietary fat with nutrients that have been found to improve hair growth, density, and also aid with healthy circulation in the scalp. like linoleic and linolenic acids, which may promote hair repair and help improve hair health (3).
Squalene – which is present in sebum – and campesteroli  XA plant-derived steroid that mimics cholesterol and is used in supplements as a natural treatment for hair and scalp conditions. and stigmasterol – which may strengthen hair – are also found in this oil. Other nutrients found in macadamia oil include calcium, magnesium, sodium, potassium, niacin, phosphorus, and folate (3). Research shows that a deficit in these nutrients may cause hair loss (9).
Now that you know all the hair benefits offered by macadamia oil, let's check out how to use it!
How To Use Macadamia Oil For Hair Growth
Head Massage: A hot oil massage with macadamia oil may stimulate hair growth and improve hair quality. Massaging the scalp can increase blood circulation, which could then improve hair thickness and length.
Deep Conditioning Treatment: Macadamia oil can be used as a deep conditioning treatment to moisturize and strengthen your hair. Apply warm macadamia oil to your hair and cover it with a shower cap. Leave it on for at least 30 minutes. You can also leave it on overnight. The high fat content in macadamia oil moisturizes your hair.
Hair Masks:
You can mix macadamia oil with other natural ingredients like egg, yogurt, banana, and papaya to create homemade hair masks. These masks nourish your hair with nutrients and improve the hair texture.
Conditioning Shampoos: You can add macadamia oil to your regular shampoo to make it moisturizing. If you have dry hair, doing this will prevent your shampoo from stripping away its natural oils and leave it healthy.
Finishing Product: You can use a few drops of macadamia oil to add shine to your hairstyles and prevent flyaways or stray hair. It can also be used before heat styling your hair to protect it from severe heat damage.

Quick Tip
You can use macadamia oil once or twice a week for nourishing your hair. You can also add macadamia nuts as a topping for your favorite salad.
Wondering which hair type macadamia oil is best-suited for? Find out in the next section!
What Hair Type Is Best-Suited For Macadamia Oil?
Macadamia oil can be used on all hair types. Research shows that macadamia oil can specifically be used to treat dry or damaged hair (3).
Anecdotal evidence suggests that this natural oil is good for treating and conditioning curly hair and boosting its curl definition and bounce. It is also said to improve hair manageability, making curly hair easy to handle and style. Its high fat content makes it ideal for moisturizing curly hair. It can also be used to regulate sebum production in overly dry or oily hair.
Now, let's answer the most important question.
Are There Any Risks Or Side Effects?
Topical macadamia oil is considered safe to use on hair and skin. However, it is advised to perform a patch test to check for allergies and to prevent any adverse effects like burning, redness, swelling, or inflammation. Apply a little macadamia oil to the forearm or back of the neck and wait for a few minutes. If any noticeable irritation occurs, discontinue use immediately.
Infographic: How Macadamia Oil Can Promote Hair Health
When it comes to nurturing and enhancing your hair, macadamia oil is a true gem. It is packed with essential fatty acids, vitamins, and antioxidants and offers a range of benefits that can transform the health and appearance of your hair. Check out the infographic below to explore the top benefits of macadamia oil for hair and how it can elevate your hair care routine.


Macadamia oil is gaining popularity as an ingredient in several hair care products. Anecdotal evidence suggests its high nutritional content offers multiple benefits, including boosting collagen production, stimulating hair growth, and improving overall hair health. You can use macadamia oil for hair growth as part of a head massage, hair mask, or deep conditioning hair treatment. While macadamia oil is safe for use, conduct a patch test to prevent side effects such as burning, swelling, or redness. If you notice any of these symptoms, stop its usage and consult your doctor.
Frequently Asked Questions
Is macadamia oil better than coconut oil?
No. Although this hair oil penetrates the hair strands, coconut oil can penetrate the hair follicles much better and prevent protein loss.
Is macadamia oil good for low porosityi  XThe capacity of hair strands to soak and retain moisture, which determines the kind of external hydration and nourishment they need. hair?
No. Macadamia oil is made up of omega acids, which have large particles, making it difficult for the oil to penetrate low porosity hair.
Is macadamia oil better than olive oil?
Both the oils have a similar moisturizing and nourishing effect on hair. You can choose the one that suits your hair.
Key Takeaways
Macadamia oil is used in many hair care products with its high nutritional properties.
It helps nourish your scalp with essential nutrients while keeping your locks smooth, shiny, and well-moisturized.
Head massage, shampoo, masks, and deep conditioning are various ways of including macadamia oil in your routine.
Discover the secret to beautiful, healthy hair with macadamia hair oil. Transform your locks with this luxurious oil for a glossy, nourished finish with the help of this video.
Sources
Articles on StyleCraze are backed by verified information from peer-reviewed and academic research papers, reputed organizations, research institutions, and medical associations to ensure accuracy and relevance. Check out our
editorial policy
for further details.
The following two tabs change content below.