10 Pictures Of Madhuri Dixit Without Makeup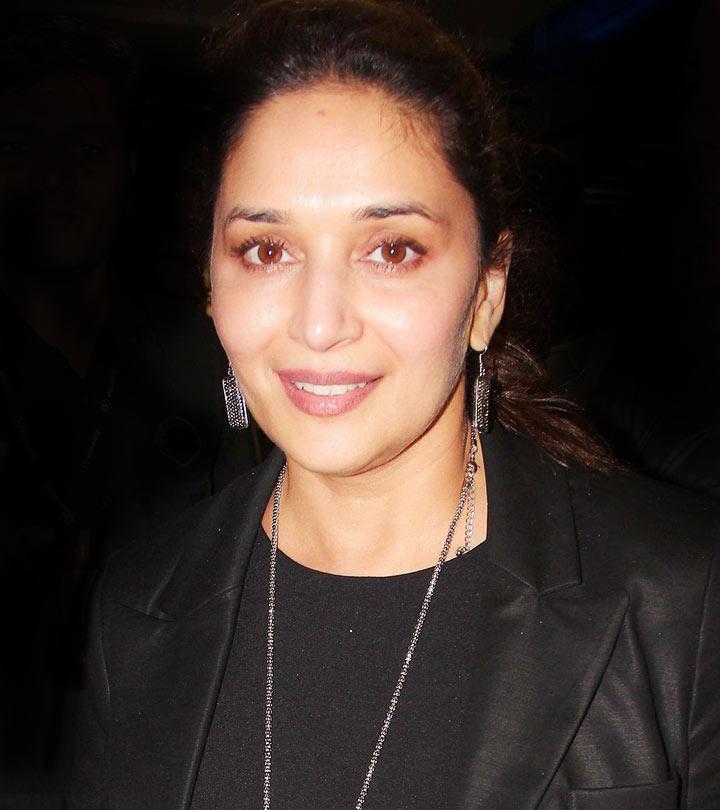 Bollywood has time and again been blessed with naturally charming actresses, and Madhuri Dixit-Nene without makeup is a case in point. This charming diva has been a heartthrob of the '90s generation and continues to inspire us with her talent. She is a talented actress and an extraordinary classical dancer, the master of her craft. Dixit-Nene landed lead roles in movies like Sajan, Dil, Raja, Beta, Koyla, Khal Nayak, Hum Aapke Hai Kaun, and Dil To Pagal Hai, and ruled the hearts of many with her extraordinary personality and mesmerizing looks. In addition, movies like Aaja Nachle, Devdas, and Ye Jawani Hai Diwani became major hits as her dancing skills swept the audience off their feet. She has also been a judge and mentor in numerous Indian reality shows and guided participants with her expertise and knowledge. Even today, Dixit-Nene does not look a year above 30, even though she is in her early 50s. Swipe up to check out some pictures of this diva flaunting her de-glam look.
Madhuri Dixit Without Makeup Images

Here are some of the Madhuri Dixit photos without makeup to prove our point.
1. Madhuri With Her Personal Trainer
The secret of Madhuri Dixit's toned figure is regular exercise. Although she prefers dancing to exercise for keeping in shape, she does not comprise with the necessity of working out so and when required. She looks stunning without any touchup in this picture.
2. Madhuri At International Airport
Ever chased by the paparazzi, the snap was taken outside the international airport of Mumbai. With no hint of makeup, Madhuri looks gorgeous and stunning as usual.
3. Madhuri At Her Father's Prayer Meeting
Madhuri was very close to her father. No wonder, the industry poured down to console the celebrity when she lost her mentor recently. Although a cheerless event, she turned up well dressed in a white kurta pajama.
4. Madhuri Dixit With Her Kids
Her two sons, Arin and Raayan are closest to her heart. She spends as much time as possible with the kids. Look how stunning the celebrity mother looks here without any makeup.
5. Madhuri Dixit With Her Colleagues
Madhuri caught up her colleagues Madhur Bhandarkar, Ajay Devgan, and Imran Hashmi during an event. With minimal touchup and slight lipstick, she looks a diva as always. Her smile has been the greatest makeup she wears all the times.
6. Madhuri Dixit Spotted In A Mall
Draped in a stylish Anarkali suit, Madhuri appeared in a shopping mall with her favorite no makeup looks. This true Indian beauty loves to dress traditional most of the times. She believes that Indian women look best in traditional attire.
7. Madhuri At Siddhi Vinayak Temple
A true believer of God, Madhuri visits temples on regular intervals. The picture was taken outside the famous Siddhi Vinayak temple of Mumbai, India. With no visible makeup, she appeared as another girl next door. Nevertheless, anyone can see how pretty she looks without touchups.
8. Madhuri After Her Childbirth
Madhuri soon got back into shape after her childbirth. The snap was taken just few months later her elder son Arin was born. You can see how pretty she looks with the baby in her lap.
9. The Ever Smiling Diva
Another picture pretty smile appearance of Madhuri. She is stunning in every look. No matter with or without makeup, her smile alone can create a sensation.
10. Madhuri Dixit Gets Back From The USA
Madhuri settled in the USA after her marriage in 1999. The picture was taken at the airport when she got back to India with her husband Dr. Nene. She looks yummy as ever in this casual look.
Bollywood diva Madhuri Dixit-Nene is a natural beauty. She does not need makeup to look flawless. These pictures of Madhuri Dixit-Nene suggest that it is perfectly normal to go makeup-less at times and allow the natural skin to breathe the fresh air instead of staying covered with tons of makeup products. So, take your inspiration from this super successful and talented Bollywood actress and let your skin be. But make sure to have a healthy lifestyle and use sunblock when you step outdoors.
The following two tabs change content below.