Maid Of Honor Duties Before, During, and After The Wedding
Wedding dress shopping, bachelorette planning, giving a toast...the MoH has a long list of duties!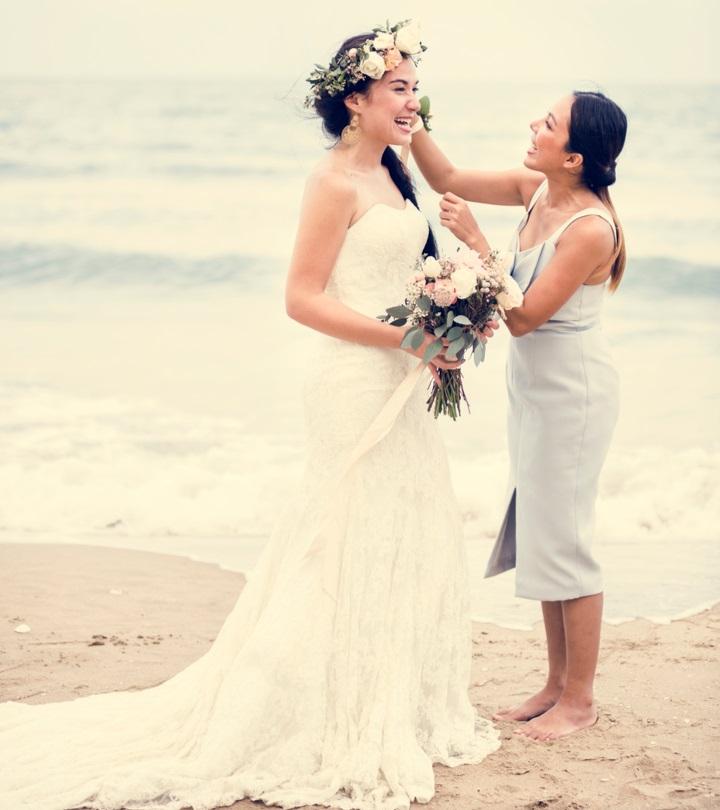 So, you have been chosen to be the maid of honor at a wedding? Take a bow; you have earned yourself the most important and beautiful job at any wedding. It speaks volumes about your dependable personality and the trusting and loving relationship between you and the bride-to-be.
But, it can also be an overwhelming job. With brides being the focus of all those glossies, articles, blogs, and videos, there is precious little for a maid of honor to reach out to for guidance. What are the duties of a maid of honor? Is there a maid of honor duties timeline that one can draw up and follow? The answer is yes.
Read on to know how to plan, prepare for, and execute your maid of honor duties to perfection and not lose your energy or nerves in the process.
Who Is A Maid Of Honor?
For starters, a maid of honor is the foremost among the bridesmaids. The bride-to-be will choose a close friend, a sister, or a relative as her maid of honor. It is both a huge honor and a massive responsibility. If you have been chosen as a maid of honor, pull those socks up, as this job begins the moment you are chosen.
A maid of honor's duties range from helping the bride with the wedding prep, hosting pre-wedding ceremonies, being the bride's confidante and caretaker throughout the stress-filled journey up to the wedding, ensuring smooth execution of the wedding ceremony and its after-party, down to official tasks, such as being the bouquet holder, ring bearer, and a signatory to the wedding.
There is hardly any time to waste when managing an event as important and deeply personal as a wedding. It could mean that your involvement begins as early as 6-12 months before the wedding date. Although this might seem like one harrowing task already, it doesn't have to be so. All you need is a well-chalked-out pre-wedding maid of honor timeline with a checklist of duties you can tick out as you go.
Maid Of Honor Duties Before The Wedding
1. Pre-Wedding Preparations
A good task, to begin with, would be a get-together of the bridal girl gang. It will serve as an ice breaker, planning meet, and a fun time together if you plan it right. Make sure to get all the girls to pitch in ideas. Keep the bride's suggestions at the center of it all. Things you will need to plan out are:
Shopping trip dates
Convenient dates for events like bridal shower, bachelorette, and other events
Potential venues, décor themes, and references for outfits
Budgeting for the events and ceremonies you will host
Fittings and alteration dates
List of other necessaries (you might want to plan well for wedding day or pre-wedding emergencies)
Delegation of duties to other bridesmaids
2. Pre-Wedding Ceremonies
The pre-wedding ceremonies may include the bridal shower, the bachelorette, and the rehearsal dinner. Your role as a hostess depends on the bride and her family's level of interest. Some brides prefer to be more hands-on, while others prefer to delegate. In some cases, a family member might want to host the bridal shower. Your role then transforms from a hostess to a helping hand. Be flexible.
Budget these events realistically and sensitively, especially if you aren't the only one footing the bills. The last thing a bride needs before her wedding is a bunch of bickering friends with differences of opinions, hurt feelings, and pricked egos. Communication is key here.
3. Pre-Wedding Breaks And Winding Down Activities
Technically speaking, a bachelorette party or trip falls into this category. It isn't as much about a social convention as it is about giving the bride a much-needed me time before she settles into her new life as someone's life partner.
But then, it is not all the breather she needs. From insecurities during dress trials to pre-wedding jitters, a bride can go through a roller-coaster of emotions. The mental and physical stress of executing a wedding from start to finish can be daunting for everyone, including you.
Create some space for break and relaxation at different points in your timeline. Plan a spa break, a weekend retreat, or a fun evening with the girls to finalize the wedding playlist…by dancing away to your favorite songs all night! Spread these out over the months leading up to the wedding.
A very good idea that is rarely ever explored is to plan a quick relaxing massage for the bride on the day of her marriage, right before her makeup and dressing time. A good massage is the safest and surest way to relax the bride before her long, tiring D-day.
The wedding day will test your mettle as the designated hostess, organizer, and emotional support provider to the limit. It is going to be a long day with many responsibilities and surprises. Again, it is not something to fear. Just prepare well ahead for the day.
Maid Of Honor Duties During The Wedding
1. Start Before Others, End After Everyone Else
The maid of honor needs to be dressed and ready before the bride so that she can be around during the dressing session to assist the bride. If you plan to organize a massage or a pre-dress up relaxation session for the bride, you can use that time to get ready, ensure the bridesmaids get dressed, and most importantly, clear up the room, so the bride can come back to a clean and hassle-free bridal suite and get dressed in peace.
2. Bride's Mommy For The Day
No kidding. Like a toddler's mommy, you will have to help the bride with getting dressed, staying fed and hydrated, calming her fears, wiping her tears (maybe her nose, too), bustling her outfit, arranging her veil, and her train, and even trips to the toilet! Yes, you read that right. The lady will need extra help to deal with every restroom situation once she is dressed. Through many a giggle and ingenious maneuvers, you will probably have to help her pee in peace. However, don't push your way in if the bride doesn't want help.
3. Food, Drink, And Emergency Kit
Stock up a kitbag with emergency supplies and some tiny snack packets. Finalize a good, healthy, and protein-rich snack beforehand and stock up on it. You might want to have a bottle of water or the bride's favorite energy drink (ideally non-alcoholic).
Keep paper towels, face tissues, and maybe even straws handy. Throw in emergency essentials like pins, clips, a needle and thread, fashion tape, pain meds, band-aids, mints, and an extra pair of everything from earrings to hose.
You might have to attend to the bride's phone along with yours on the wedding day. So, either incorporate deep pockets into your outfit or find yourself an easy-to-handle clutch or purse big enough to hold two phones.
4. Stylist, Seamstress, And Attendant
You are responsible for the way the bride's outfit looks. Being there during the dressing is just one part of it. When the bride walks up the altar, you will need to ensure her train and veil are properly spread out.
A good tip would be to use your dress-fitting trips to learn a few tricks about bustling the gown, handling the veil, and a few extra emergency tips and hacks from the dressmakers.
5. Hostess, Coordinator, And Messenger
As the hostess of the day, make sure everyone is happy, welcomed, and involved. Speak to the guests and try to get everyone to the dance floor during the after-party. Coordinate with everyone – from the bridesmaids and relatives to the vendors and servers.
A cute little duty for a maid of honor on the wedding day is to play messenger between the bride and groom before they come together at the altar. Take it a step further and sneak in a silent moment for the bride and groom together. Give them 5 minutes of a breather from the festivities to look at their wedding from a distance. They will cherish that moment forever.
6. Speech
Keep your speech short, sweet, and embarrassment-free. Ideally, your speech shouldn't be more than 5 minutes long. Spare the couple and the guests those embarrassing memories from your college days and any cringy jokes. Prepare ahead for the speech and have it written down. Don't wing it.
Even after the wedding is over, it is not a bad idea to take your maid of honor duties forward and help the new couple in small, simple, and not so intrusive ways.
Maid Of Honor Duties After The Wedding
Offer to keep the bridal outfit with you if the bride isn't wearing it to her honeymoon. You can also watch over the kids and pets over the honeymoon period if either or both are involved.
It is not a bad idea to take permission of the honeymooning couple and clean up, restock, and pre-warm their future home before they come back. The couple might be more than happy to come back to a warm, cozy home rather than a cold, empty one.
A maid of honor plays a pivotal role in the wedding and comes with multiple responsibilities. Maid of honor duties include helping the bride with all arrangements for the wedding and the pre-wedding ceremonies and the post-wedding parties. In addition, the maid of honor acts as a confidante and close friend to see the bride through the stress and nerve-wracking excitement of the big day. Finally, the official duties of the maid of honor are to act as the ring bearer, bouquet holder, and signatory to the wedding. It is a great honor and lofty role to play.
Frequently Asked Questions
Is the maid of honor supposed to get the bride a gift?
Yes. The maid of honor is supposed to get the bride a gift.
Does the maid of honor walk alone?
Yes. The maid of honor walks down the aisle alone.
What does the maid of honor wear?
The maid of honor can wear the same dress as the bridesmaids or something that makes her stand out from them.
Is the maid of honor supposed to pay for the bachelorette party?
Usually, the cost of a bachelorette party is split between the maid of honor and the bridesmaids.
Key Takeaways
A maid of honor can be the bride's sister or best friend who has a lot of responsibilities to make sure the wedding goes smoothly.
A maid of honor gets all the bridesmaids together and plans out all the important activities before the wedding. These responsibilities range from organizing the bachelorette party, bridal shower to budgeting shopping sprees and fixing dates for all these activities.
On the day of the wedding, the maid of honor is ready before everybody else and attends to all the needs of the bride such as getting her dressed, giving her food and water.
Recommended Articles
The following two tabs change content below.
Shivani Chandel is a postgraduate in English literature from Panjab University, Chandigarh and a certified relationship coach. She has over...
more