53 Makeup Quotes For The Makeup Junkie
Never run out of captions for your selfies with these quirky, fun-to-read quotes.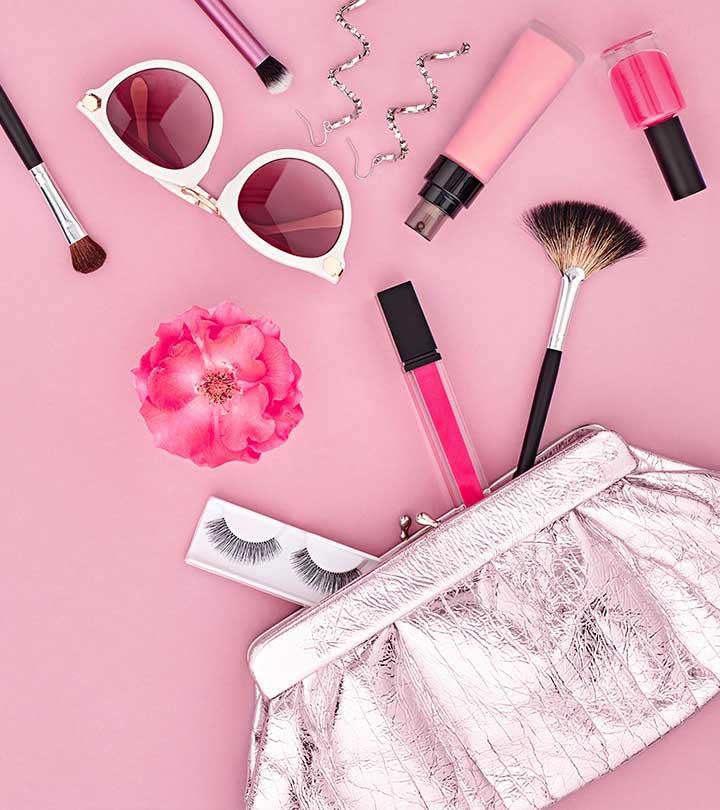 A fun makeup quote is the best way to caption a makeup selfie! Are you looking for enlightening insights into the art of makeup? Well, these makeup quotes can instill confidence in you and make you feel attractive daily.
There is nothing like the enjoyment that comes from learning new makeup techniques. We all have our beauty regimens to match our style, and makeup is genuinely a miraculous tool for transformation and enhancement: it is both powerful and life-changing. Rather than shying away from the radiance of our true selves, it allows us to showcase our unique personalities and express our creativity through artistry and self-expression. There are no established rules, and you can express yourself in whatever way you wish. To honor the art of makeup, we have compiled a list of 50 insightful makeup quotes. Let's get started!
53 Famous Makeup Quotes Every Makeup Enthusiast Will Relate To Short Quotes About Beauty
Makeup has the power to transform your mood and empowers you to be a more confident person. Let makeup define who you want to be! Here are some beautiful makeup quotes.
"A smile is the best makeup any girl can wear."– Marilyn Monroe
"If you're sad, add more lipstick and attack." – Coco Chanel
"I love the confidence that makeup gives me." – Tyra Banks
"Never ask a girl with winged eyeliner why she's late." – Unknown
"Beauty begins the moment you decide to be yourself." – Coco Chanel
"Joy is the best makeup. But a little lipstick is a close runner-up." – Anne Lamott
"Makeup is the finishing touch, the final accessory." – Marc Jacobs.
"Creativity is your best makeup skill, don't be afraid to experiment." – Pat McGrath
"Your eye makeup says so much about you and your style." – Laura Mercier
"You can be a woman who wants to look good and still stand up for the equality of women." – Meghan Markle
"I do put on a little makeup every day because it helps me feel put together. Mascara is essential." – Emma Stone
Famous Beauty Quotes
"Treat your makeup like jewelry for the face. Play with colors, shapes, structure – it can transform you." – Francois Nars
"The most beautiful makeup for a woman is passion. But cosmetics are easier to buy." – Yves Saint Laurent
"That's one of the things I love about makeup. You can change your whole attitude by just doing your eyeliner or lipstick differently." – Beyonce
"I just like playing with makeup and clothes – so I really don't feel like there are rules, and if there are rules, then I think it's up to you to break them." – Kesha
"Beauty is power, and makeup is something that really enhances that; it's a woman's secret." – Charlotte Tilbury
"Foundation should unify tone, but it shouldn't take away the individuality of the skin." – Francois Nars
"Girls have always wanted to be pretty, even in Egyptian times. Cleopatra wore all the eyeliner, you know." – Rita Ora
"If she likes makeup, let her wear it. If she likes fashion, let her dress up. But if she doesn't like either, let her be." – Chimamanda Ngozi Adichie
"I love being super–tough, but if I need to put on a dress and do my hair and makeup, I can do that too." – Elizabeth Rodriguez
"I believe in manicures, I believe in overdressing, I believe in primping at leisure and wearing lipstick." – Audrey Hepburn
"To me, the essence of truly modern makeup is the freedom to be yourself, to express who you are." – Francois Nars
"When I put on makeup, I'm not doing it to pander to antiquated patriarchal ideals of feminine beauty. I'm doing it because it makes me feel good." – Sophia Amoruso
"Lipstick is really magical. It holds more than a waxy bit of color – it holds the promise of a brilliant smile, a brilliant day, both literally and figuratively." – Roberta Gately
"Fenty Beauty was created for everyone: for women of all shades, personalities, attitudes, cultures, and races. I wanted everyone to feel included. That's the real reason I made this line." – Rihanna
"Have a better relationship with your makeup and take the time to learn what your products will do." – Sam Fine
"Black eyeliner. It's standard. It's all you need. It just makes the world a better place." – Marilyn Manson
"Bronzer is a booster. Choose a shade that's one shade darker than your skin tone. It adds warmth and richness." – Sam Fine
Funny Makeup Quotes
"The notion that wearing makeup is anti-feminist is silly. Cleopatra pretty much invented the eyeliner, and she ruled a kingdom!" – Natasha Scripture
"There's nothing worse than sleeping in makeup. You wake up looking like a painting that's been left out in a rainstorm." – Nina Dobrev
"Makeup can only make you look pretty on the outside, but it doesn't help if you're ugly on the inside. Unless you eat the makeup." – Audrey Hepburn
"Sometimes you just have to put on lip gloss and pretend to be psyched." – Mindy Kaling
"Just because you want to be glamorous, don't be a sheep about your eye makeup." – Loretta Young
Beautiful Without Makeup Quotes
"I believe all women are pretty without makeup – but with the right makeup can be pretty powerful." – Bobbi Brown
"Good skin is the best foundation for your makeup." – Holland Roden
"I feel beautiful without makeup on, but when I do put makeup on, it just gives me this extra pop." – Cardi B
"Whether I'm wearing lots of makeup or no makeup, I'm always the same person inside." – Lady Gaga
"I love natural beauty, and I think it's your best look, but I think makeup as an artist is so transformative." – Marina and the Diamonds
"I really believe less is more. When you get older, too much makeup can be aging, and when you're young, you should enjoy the fact your skin is free from lines and wrinkles rather than overloading it with products." – Louise Nurding
"That's the mistake women make – you shouldn't see your makeup. We don't want to look like we've made an effort." – Lauren Hutton
"There's beauty in the things we think are imperfect. That sounds very cliche, but it's true." – Laverne Cox
"Less makeup is better, and it's always better to let your natural beauty shine. Essentially, be happy with your appearance.
"Makeup is not a mask that covers up your beauty; it's a weapon that helps you express who you are from the inside." – Michelle Phan
"The best thing is to look natural, but it takes makeup to look natural." – Calvin Klein
"Keep it simple. You don't want to overdo it with too much makeup or crazy, over–the–top hairstyles. Let your natural beauty show through." – Heidi Klum
"I don't have makeup on all the time, but when I want, I have fun with my friends choosing clothes and putting nail polish on." – Emma Watson
"Beauty to me is about being comfortable in your own skin. That, or a kick-ass red lipstick." – Gwyneth Paltrow
"Real beauty isn't about symmetry or weight or makeup: it's about looking life right in the face and seeing all its magnificence reflected in your own." – Valerie Monroe.
"I'm very proud of my skin and face, and I have no problem not wearing makeup. I don't wear makeup because I feel like I need to cover myself up or because I don't feel confident. I wear makeup because it's fun; it's like painting on my face." – Zendaya
"To me, beauty is natural beauty. If you're naturally yourself, you're beautiful." – Young M.A
"Glamour is about feeling good in your own skin." – Zoe Saldana
"Style is a way to say who you are without having to speak." – Rachel Zoe
"Elegance is the only beauty that never fades." – Audrey Hepburn
Makeup can be a good transformation that can enhance our features, but true beauty comes from within. It's about feeling confident and comfortable in our own skin, and that starts with self-love, self-esteem, empowerment, and self-care. There are tons of wonderfully witty, thoughtful, and downright relatable makeup quotes by celebrities and famous personalities. You can use them as captions on your social media posts or in response to anyone who challenges your right to look as gorgeous as you can. Check out the infographic for a round-up of the choicest words ever spoken on makeup and its magic!



As a makeup aficionado, you can get inspiration from these quotes and develop wider perspectives when it comes to makeup. This is because these words have been said by some of the most influential personalities around the world, like Marilyn Monroe, Audrey Hepburn, Emma Watson, Coco Chanel, Marc Jacobs, Beyonce, Rihanna Chimamanda Ngozi Adichie, and more. And these famous personalities are highly acquainted with the very many aspects of the makeup world. So, what better way to understand the nitty-gritty of this world?
Frequently Asked Questions
How do you create a caption for your makeup selfie?
You can create a creative caption for your makeup selfie by putting the good stuff or key details in the first sentence. This will attract attention. Adding uniqueness and value with authenticity that shows your real self also can influence others to follow your makeup style.
How can I praise my makeup brand?
You can always promote the wellness of your makeup brand through captions on social media. Ensure to give a brief about the brand with branded hashtags, inspirational and inclusive content, and the mention of exclusive features.
Can makeup quotes be inspirational or motivational in nature?
Yes, they can be both. For a long time, we have portrayed makeup as something to change or conceal our features, but makeup quotes include self-care and acceptance of one's appearance.
Who invented makeup?
Beginning with the Egyptians, makeup has been used since 6000 BCE. They considered wearing makeup as equivalent to being holy, and that it would please the gods; both sexes, from the lowest to the highest social strata, wore makeup.
Can makeup quotes be used as a way to empower women or promote gender equality?
Yes, we can strategize when writing makeup quotes by not only targeting women but everyone. Gender-neutral quotes can be used to depict gender equality, mentioning that all, regardless of sexuality can wear makeup. Try writing quotes that encourage people, especially women, to accept and feel confident in themselves and to use makeup as a tool to enhance their natural beauty or demonstrate their creative skills.
Get ready to be inspired and uplifted as you dive into this captivating video that offers 25 empowering makeup quotes. Let these words of beauty and confidence boost your spirit and enhance your inner glow!