Makeup Tips For 8 Types Of Colored Hair
Learn the hacks to nail the perfect makeup look that complements your hair color.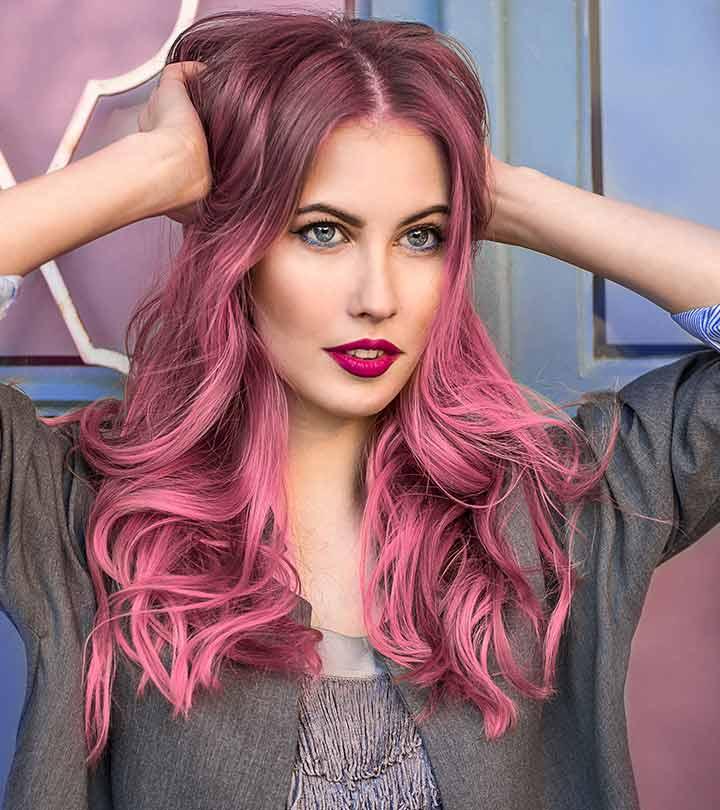 Are you searching for the best makeup tips for colored hair? We can help!
Makeup can be used to boost beauty features, hide imperfections, improve skin texture, and enhance your appearance and personal style. Nevertheless, effective makeup requires choosing cosmetics and colors that completely sync with your hair rather than simply following color fads.
Trying to match your makeup and hair can be difficult, whether you received that gorgeous hair color from a professional or are blessed with it. No matter how amazing your hair color is, both will fail if you do not have a perfect blend.
But worry not! In this article, we have added a few pointers to help you match your perfectly colored hair to your face. Keep scrolling.

Keep In Mind
Skin Tone: Skin Tone Rose pink and dewy makeup complement fair complexion with cool undertones. For medium to dark skin tones and warmer undertones, go with bronze or terracotta tints.
Attire: Skin Tone Harmonize your overall look when applying makeup. Wear makeup in contrast to your outfit or pick one main shade and go monochrome when confused.
Blush: Skin Tone Go light on blush with red hair, use pinks and peaches for blonde and brunette, and soft pinks for black hair.
1. Dark Hair/Black Hair
Dark haired beauties look best when they enhance one's features and keep the rest of the look simple. Dark hair is usually accompanied by dark eyes as well. This combination will allow you to wear almost any shade easily. Dark haired beauties can pull off more intense colours and also play with lighter shades.
Well defined eye makeup with nude lips and a peach or baby pink blush will look super good. Women having dark hair with medium skin tone should try out wine and blue based colours more often. Warmer colours such as bronze, corals, purple and browns on the eyes will look great too. You can wear bolt red or a deep plum on your lips and you will rock the look.


Quick Tip
You can go for smokey or cat eye makeup to help bring out the color in your eyes and help step up your makeup game.
2. Blonde Hair
Blonde beauties should choose their makeup carefully or they will end up with a washed out look. Soft tones and pastel shades work best for blonde hair as dark tones create a stark contrast.
Apply a good bronzer on your forehead, cheeks and chin. Apply it lightly; do not go heavy with it. You can opt for ivory or pink coloured eyeshadow and for cheeks choose a pink blush. Gray, blue and taupe coloured eyeliners work beautifully with this type of hair color. To finish off the makeup, reach for a brown or neutral lipstick with a pink or peach undertone. DO NOT use an out and out brown lipstick as it will make the face look dull. Don't go overboard with eye makeup. Black mascara will look equally good too.
Rachel Bernstein, a model and blogger, shares her experience and way of doing eye makeup for her blonde eyelashes and eyebrows. She writes, "I have blonde hair, and therefore, blonde eyelashes, and eyebrows…this sometimes is not so pretty. So I have come up with a certain way that I like to do my eye makeup that really accentuates the shape and beauty of them (i)." She continues, "Without eye makeup, my eyes look small and close-set. I try to make my eyes look larger and farther apart."
3. Medium Brown Hair:
Since your hair colour is not as deep as black or brown shades, you should apply shades that correlate with your skin tone or eye colour!  Add a little radiance to your skin tone by applying a bronzer or highlighter with hints of peach and pink tones to your skin. Bronzer will give a nice glow to your face and the peach blush will help to brighten the skin.
To sum up your look, don't go for the regular nude or neutral shade. Instead play up your lips with a slightly orange-red based lipstick and save the neutrals for the eye eyeshadow. Apply nice brown eyeliner and top it up with black mascara for that  perfect look!


Quick Tip
You can use eyeshadow shades like light tawny, mocha, coffee, forest green, light brown, violet, or plum to complement your brown locks.
4. Honey Colored Hair
For a natural look, a light shadow with some golden shimmer brushed up to the crease looks nice and brightens your eyes. Go for a neutral warm or pink toned blush. Choose either a brown or violet eyeliner to flatter your eyes or even a dark green, if you can find one.
Line the outer corner of the eyes on the top lash line and swipe two coats of mascara to complete your look. On the lips try a nude pink lipstick with a sheer lip gloss on the top. You can even switch the look and try more vivid colours during the night. A little turquoise goes well with the tanned skin and the light hair.
5. Caramel Hair
While the golden brown hues of caramel hair perfectly enhance a tan, it can make a paler skin tone look dull and ashy. If your skin is pale, avoid looking washed out by balancing out the cooler tones of caramel by using makeup in neutral and bright colours with satin finish.
You can use soft browns, gray, or ivory beige eyeshadows on your eyes and choose brown eyeliners. Add some glow to your skin by picking blushes in coral, fuchsia pink and soft pinks, try and avoid pale foundations. Neutrals would look best on the lips; you could try a soft pink gloss for adding some shine.
6. Red Hair
Dark red hair like cherry or auburn tones should play around with more neutral tones. You can also use shades with pink hints as well. Play up with your eyes and leave the lips neutral. This doesn't mean that you need to match your hair with your eyeshadow. Take two or three shades and blend them together like a champagne pink eyeshadow with a green or bronze tone. You can contrast your makeup with your hair.
If your red is lighter in shade, apply a pinkish coral blush on your cheeks. Do not over do the eyes since the hair and lips are already bright. Use a nice neutral shadow but avoid orange. Complete the look with a brown or gray eyeliner and black or brown mascara.


Quick Tip
You can experiment with blue, purple, or green eyeliner to help add a splash of color to your makeup.
7. Purple Hair
Purple colored hair can range from dark purple shade to light lilac hue which resembles a blonde color. You can use playful complementary makeup to bring out the jewel tones in your skin and eyes. Select two or three eyeshadow shades to create a stylish multi-dimensional look.
If your hair has a shade of darker purple, use light shades of makeup to complement your look. For lighter shades like lilac purple, use darker shades to create a contrasting effect. Jewel tones are complemented by earthy shades like black, brown and red. Apply a peach brown shade of blush and lip colour. Bright reds should be reserved for lilac purple
8. Magenta Hair
Since the hair colour itself is so bold, tone down your makeup during the day time. Go for light kohled eyes and dark nude lip pencil blended towards the center of your lips and apply clear or slightly tinted lip gloss on the top during the day time. For the night, you can add a splash of red or pink to your look. Line your eyes with a black or brown eyeliner but don't draw thick lines. You can use a bronzer or a blush but don't overdo it. Mascara should look natural, or you can even avoid it totally. Apply a neutral shade of lipstick.
Infographic: A Guide To Doing The Perfect Eye Makeup For Your Hair Color
Eye makeup can make or break your look. If you have recently dyed your hair and noticed that your regular makeup is not complementing your hair color, it might be because of contrasting eye makeup shades. The infographic below highlights a few tips that will help you balance your eye makeup with your hair color. Check it out.

Finding the best skincare and makeup tips for colored hair can be a difficult challenge. The right amount of makeup can compliment your skin tone, conceal imperfections such as pigmentation, accentuate your facial features, and improve your skin texture. Make sure you follow the tips mentioned in this article to get the perfect blend. If you are someone who has black or dark hair, go for defined eye makeup with nude, red, or plum lipsticks. Those with those gorgeous blonde locks should go for gray or blue eyeshadow with neutral lipsticks. If you have purple or magenta-colored hair, opt for lighter shades to create a simple and contrasting look. Remember to not overdo your makeup and choose shades that create a beautiful and glamorous look.
Frequently Asked Questions
Should blondes wear mascara?
In general, blondes should opt for light and natural makeup, especially for daytime. However, they can wear mascara— preferably brown during the day and black for a more defined and dramatic look at night.
What eye makeup goes with purple hair?
Blue and pink eyeshadows go well with purple hair. Neons in orange and green may also work well for a dramatic effect. However, you should also take into consideration the color of the eyes and the skin tone to find out the best eye makeup colors.
How can you adapt your makeup routine for different lighting conditions when wearing coloured hair?
In case of natural lighting, it's advisable to keep your makeup more natural and understated if you're going to be outside in this type of lighting. Stick to warm, earthy hues and pick a lip color that goes well with your hair color. For indoor lighting, choose bolder makeup and stick to more neutral tones if the lighting is bright to avoid looking harsh and artificial, while in case of artificial lighting, keep your surfaces matte for a natural appearance.
Key Takeaways
Women with dark or black hair look gorgeous with well-defined eye makeup and a bold lip color like bolt red or deep plum. Both intense colors and lighter shades go well with this hair color.
Women with blonde hair should use soft tones and pastel shades. Gray, blue and taupe eyeliners and brown or neutral lipstick with a pink or peach undertone is ideal.
Women with medium brown hair should wear natural-looking makeup that complements their skin tone or eye color. A brown eyeliner or black mascara can help nail the look.
Women with honey-colored hair should use a light shadow with golden shimmer, brown or violet eyeliner for the eye makeup, and nude pink lipstick with a sheer lip gloss for the lips.
Women with dark purple or magenta hair should opt for lighter shades, minimal eye makeup and nude lipsticks for a simple and contrasting look.
Image Source: 1 , 2 , 3 , 4 , 5 , 6 , 7
Unlock valuable makeup tips for redheads and enhance your natural beauty. Learn the techniques and products that complement your unique features from the following video.
Personal Experience: Source
i. My Signature Eye Makeup Technique
https://sunsetblonde.wordpress.com/2012/05/04/signature/
The following two tabs change content below.