Makeup For Olive Skin Tones
What Is Olive Skin?
Okay, so you just bought a brand new foundation. You're extremely excited, so you slather it on smugly to give it a try. But to your dismay, it looks like you're an extra from the Walking Dead. It's too ashy! So you go back and get a warmer shade, but then you look like you've been sitting in the tanning salon way too long. Clearly, that wasn't the shade for you either. This is probably because you fall somewhere in between the warm and cool tone spectrum.
When your skin has a green tinge combined with brown, you are said to have an olive skin tone. Olive skin can range between dark and pale. The green pigments present in the skin, when combined with red or brown hues, produce the appearance of an olive skin tone.
Olive skin is usually associated with people who have brown shades in their complexion. Instead of being warm or cool toned, those with olive skin have a neutral tone.
What Kind Of Makeup Can Be Used
The kind of makeup you use is ultimately up to you, but here are some makeup tips to help complement that beautiful olive skin.
Makeup Tips You Will Love!
1. Foundation
2. Blushes
3. Eyeshadows
4. Lipsticks
5. Highlighter And Contouring Kits
1. Choosing The Right Foundation
Having olive skin is a blessing because your skin glows and doesn't turn red! This is a huge advantage because you won't have to conceal much. All you need to do is find a good foundation, and you are pretty much good to go. Usually, foundations that say 'neutral' are suitable for olive skin, but you can experiment with the warm ones and a few cool ones as well.
At the end of the day, it's about what you think looks best on you, so play around and experiment a bit! In case you aren't big on foundations, CC or BB creams do a great job of evening out your skin and adding a light coverage. Now, I know that there are different ranges in olive skin tones as well, so I will list out a few shades that generally look great on olive tones.
Our Picks
L'Oreal True Match Foundation
MAC Studio Fix
2. Best Blushes For Olive Skin
The colors that best complement olive skin in terms of blush are peaches and pinks. Another shade that you can opt for is the bronzy shade. Slight shimmer can work amazingly well as a blush and a highlighter. A warm peach shade like the NARS blush in the shade Outlaw or a rosy pink such as the NYX high definition blush in the shade Baby Doll is perfect for olive skin tones.
Our Picks
NARS Blush in Outlaw
NYX High Definition Blush in Tuscan
3. Best Eyeshadows For Olive Skin
When it comes to the perfect eyeshadow for olive skin, gold and bronze shades are the safest options. The Naked Palette by Urban Decay and the Nudes Palette by Maybelline have a great number of such shades. They are your best bet and can be your go-to when you don't have much time to decide your look. If you want to play it up, you can go for deep blues and purples or a beautiful shimmery emerald green. Classic black smokey eyes also look great.
Our Picks
Naked Palette by Urban Decay.
Nudes Palette by Maybelline.
Teal Appeal and Sketch by MAC.
4. Lipsticks For Olive Skin
If you have olive skin, then consider yourself lucky, because there are a truckload of lip colors for olive skin! From subtle nudes and pinks to bright oranges and purples, it all depends on how comfortable you are and how far you are willing to take it with your experimenting. Most olive skinned women only face a problem when the word 'nude' is thrown into the picture. When makeup brands mean nude, apparently they don't take women with deeper skin tones into consideration. So, it ends up looking very ashy and dull on pigmented or darker lips that women with olive skin have.
Our Picks
NARS Audacious Lipstick in the shade Charlotte and Jane.
No Games by Sephora.
5. Best Highlighter And Contouring Kits
Can you highlight and contour if you have olive skin? Of course you can! It's all about finding the right shades though. Try looking for a highlighter that isn't too pale or else it can look too plastic. Even if the color is pale, make sure you use a very light hand so that you don't overdo it. You may use a matte bronzer for contouring, but you don't need to use it to warm up your face since you already have a lovely caramel color!
Our Picks
Ambient Lighting Powder in Radiant Light by Hourglass.
The Manizer Sisters Palette by The Balm.
Anastasia Beverly Hills Contour Kit
Too Faced Cocoa Contour Chiseled to Perfection
Alright, now that you've got the lowdown on what to do versus what not to do for you skin, try it out for yourself. The best part about having olive skin – there are very few days you don't glow! The natural neutral pigments in olive skin are the perfect balance of warm and cool tones and will make you look bright, almost always! Go ahead, flaunt that gorgeous olive skin.

The following two tabs change content below.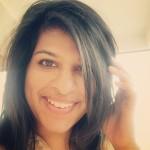 Latest posts by Komal Kaviliga (see all)