Malibu Hair Treatment: Benefits And How To Do It
Know all about this clarifying treatment and how it restores your hair health.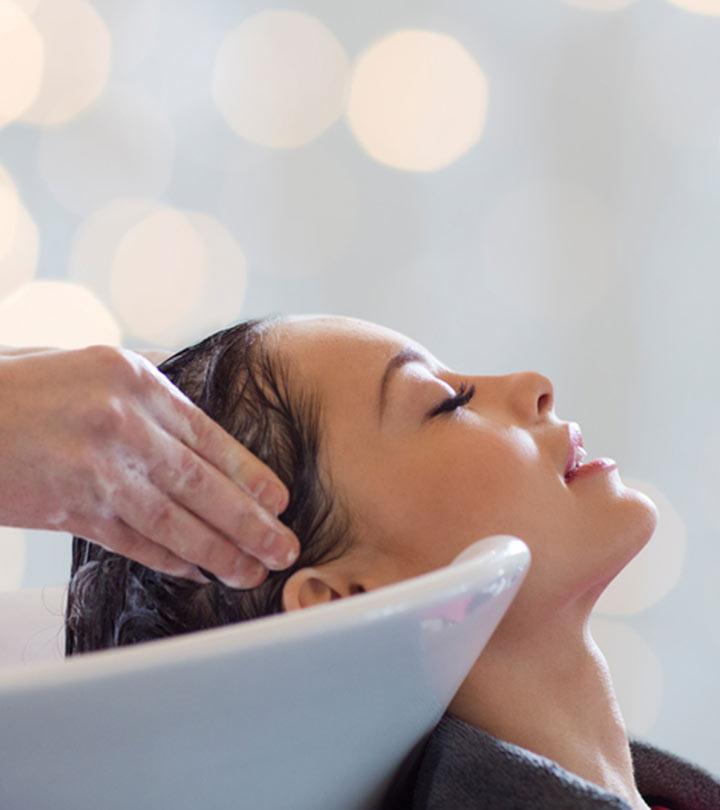 Malibu hair treatment has become popular as an effective cleansing option to remove the mineral buildup on the hair. It may be due to the hard water usage regularly. However, this mineral buildup cannot be completely cleared with clarifying shampoos and conditioners. Hence, malibu treatment can perfectly suit the purpose.
Read on to know more about malibu treatment and the benefits it offers to your hair. Scroll down.
How Does The Malibu Hair Treatment Work
The Malibu hair treatment comes in a packet containing crystallized vitamin C granules. It helps nourish the scalp and prevent oxidation or stress on the scalp that speeds up the aging and dehydration process. The crystallized vitamin C has time to soak into the hair and scalp during the processing time. These granules are mixed with filtered or distilled water, applied to hair, and are left to be processed under a hooded heated dryer for about 20 to 40 minutes. The duration and the cost of the treatment depend on your hair length and thickness (though the treatment generally costs around 35 dollars).


Trivia
Malibu products also take pride in their mission towards reducing water footprint by using PET recyclable packaging and plant-derived ingredients.
What Does It Do To/For Hair
This hair care treatment removes any buildup and product residue from the hair and scalp. It also removes the residue left by hard water and chlorine from swimming pools. It also nourishes the scalp with the vitamin C from the treatment as the hair sits under the dryer.
The iron and calcium in hard water may darken light hair. The minerals may also damage hair, reduce its thickness, shine, and body, and also fade any hair color. Chlorine may damage hair and also affect its UV protection. Hard water and chlorine residues are difficult to remove with regular shampoos. The Malibu hair treatment is often a desirable alternative for hair repair in this regard. It also could remove any particles left behind by medications and water softeners.
We discuss the benefits of this treatment in the following section.
Hair Benefits Of The Malibu Treatment
It removes buildup from hard water and medications.
It effectively removes any brassy, ashy, or muddy discolorations.
The crystal gel contains pharmaceutical-grade ascorbic acid, the most potent form of vitamin C. Ascorbic acid improves blood flow to the scalp (1). It also has natural antioxidant properties (2).
Its antioxidants prevent hair oxidation caused by chemical treatments.
Its multi-action formula soothes any scalp irritation caused by chemical services.
It can be used on virgin or chemically- and color-treated hair.
It preps the hair for other treatments like perms and coloring.
The Malibu hair treatment predominantly uses vitamin C. In the following section, we discuss the benefits of this nutrient for hair.
Benefits Of Ascorbic Acid For Hair
Ascorbic acid is the purest form of vitamin C. It is said to improve blood flow to the scalp (1). It also has natural antioxidant properties (2). Vitamin C deficiency leads to scurvy, which may cause hair loss and hair structure alterations (3), (4). The nutrient is often used as a scalp cleanser and may maintain the pH balance of the scalp and hair. It also has hair strengthening, hair protection, and hair damage repair capabilities which assist in hair growth and nourishment.
Why should you consider the Malibu hair treatment? While we have seen its benefits, the treatment also has other advantages.
General Pros Of The Malibu Hair Treatment
It is 100% vegan and uses ionic food-grade wellness ingredients.
It instantly improves hair feel and appearance.
It boosts hair restoration and hair health with added chelators.
It is eco-friendly and travel-friendly.
It does not contain any preservatives, parabens, gluten, fragrances, or sodium chloride that do not hinder the process of hair rejuvenation.
It is cruelty-free.

Trivia
Stylists claim Malibu hair treatments to be completely safe even during pregnancies.
How The Malibu Hair Treatment Is Given
The stylist washes your hair with a shampoo and rinses it.
They lather the treatment crystals into your hair. The crystals dissolve and form a gel that spreads easily through your hair.
They scrunch up your hair. They also may use a hooded hair dryer to add heat to the process.
They leave your hair under the dryer for 15 to 40 minutes.
The stylist rinses off the gel and follows with a shampoo and conditioner wash.
When Should The Treatment Be Done?
The Malibu hair treatment should be done before any chemical or coloring treatments. Since it removes residue from hair, it prevents the chemicals from interacting with the residue (which may otherwise leave your hair unevenly processed). The treatment is also believed to improve product absorption when used before other treatments.
Where Should It Be Done?
The Malibu hair treatment should be done by a professional stylist at a salon. It must not be carried out at home. The crystals are specifically formulated for in-house salon treatments. The treatment requires an even distribution of heat over your hair, something a regular hair dryer (often used at home) may not achieve.
You can find other Malibu products like shampoos and conditioners that help remove buildup and assist in deep hair conditioning. These can be used at home.
How Often Should You Repeat The Malibu Hair Treatment?
You can repeat the Malibu hair treatment once every nine weeks for the best results. Your stylist may recommend more frequent repetitions if you have color- or chemically-treated hair. Follow the instructions mentioned if you are using other malibu products, like the clarifying shampoo or conditioner.
Does The Treatment Fade Hair Color?
The malibu hair treatment removes any brassy, muddy, or ashy discoloration caused by hard water minerals. It prevents any oxidation caused by chemical treatments and products like peroxide. It does not fade the hair color when done right – one reason it must be carried out by a professional stylist.
Infographic: A Guide To The Malibu Hair Treatment And Its Top 5 Benefits
Malibu hair treatment is a safe way to remove product residue and buildup. The presence of vitamin C in it helps nourish your hair and promote hair growth. We have listed the top benefits along with a brief idea of the steps involved in the treatment. Check out the infographic to know more!



Malibu hair treatment is one of the best ways to erase product buildup from your regular use of hair products like shampoo, conditioner, hair oil, hair serum, hair mask, etc., or the remnants of hard water and chlorine from the scalp. This treatment, which nourishes the scalp with vitamin C, helps improve blood circulation and helps tackle hair discoloration, oxidation, and scalp irritation. Moreover, it is a vegan treatment that does not contain any harmful chemicals and preservatives. Go for this treatment before you undergo a coloring or chemical treatment to prevent chemical interactions with the residues. For better results, repeat this treatment every nine weeks.
Frequently Asked Questions
Does Malibu treatment dry out hair?
The Malibu treatment is a good hair therapy that revitalizes hair, using vitamin C to remove buildup and residue for a refreshed and healthy look. When performed by a professional, it won't dry out your hair. To maintain hair hydration and hair nourishment, use a moisturizing conditioner and deep condition weekly.
Does Malibu DDL damage hair?
The Malibu DDL is a gentle and nourishing hair cleanser that is safe for your hair. It is free of harsh ingredients like parabens, formaldehyde, gluten, and ammonia. It leaves your hair feeling clean and refreshed.
Can a Malibu hair treatment be used on color-treated hair?
Yes, you can use a Malibu hair treatment on color-treated hair to remove mineral buildup, chlorine, and other impurities that can cause color fading and damage.
Is a Malibu hair treatment safe for all hair types?
Yes, in general, Malibu hair treatments are safe for all hair types. They are formulated to be gentle, effective, and typically safe for use on all hair types, including color-treated, chemically-treated, and natural hair.
Key Takeaways
Malibu hair treatment is a popular cleansing method where vitamin C granules in distilled water are applied to your hair for 20 to 40 minutes.
The treatment is vegan and removes mineral buildup and brassiness from your hair.
It also prevents oxidation of the hair and stimulates blood circulation to the scalp.
The hair treatment should be done before any chemical treatment by an expert or hairstylist at a salon.
Want to learn how to make your own Malibu hair treatment at home? Watch this easy DIY tutorial to get shiny, healthy hair on your own!
The following two tabs change content below.