20 Best Manish Malhotra's Bridal Collection (Lehenags & Dress)
There's no need to look further for bridal outfit inspiration than these top picks.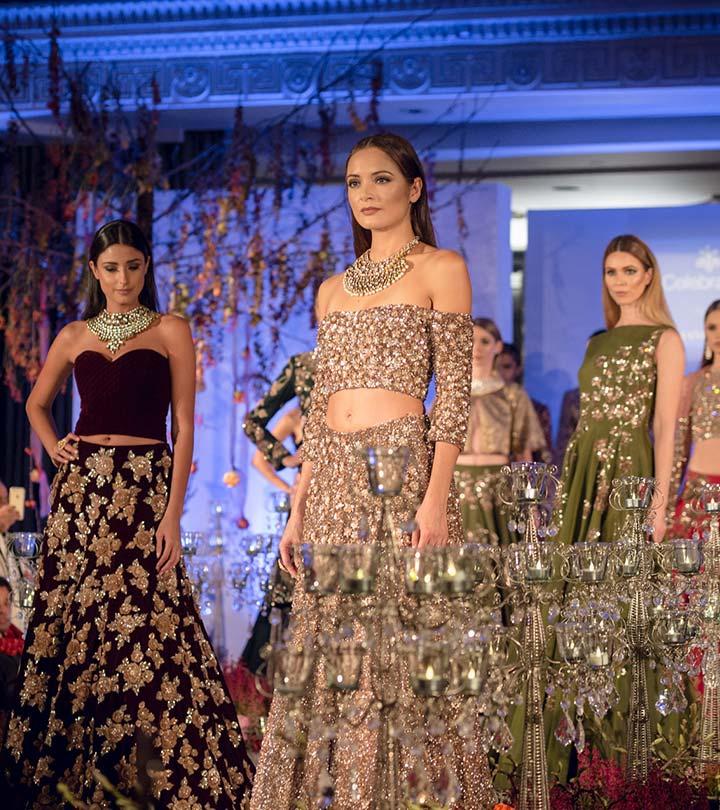 If you have been obsessed with Manish Malhotra's bridal collection, then this article is just for you. In this piece, we are going to provide you with a list of Bollywood celebrities who rocked the famous designer's wedding collection on the ramp. This list will give you a better understanding of how you want your Indian wedding look to be if you have been wanting to flaunt the designer's outfit. It is indeed true that Manish Malhotra has aced the art of designing attires, especially bridal outfits. Therefore, it is almost every woman's dream to look fabulous in his bridal attire. So let us help you with it. All you will need to do is scroll down and give this piece a read. So let nothing hold you back, for you totally deserve to steal the show at your wedding and look like a showstopper. Now, without further ado, go ahead and check out what we have in store for you. It is time for you to rock Manish Malhotra's most amazing bridal attire because you totally deserve to.


Ace The Look
Accessories: Keep your accessories simple to complement dresses of bright colors. If you are opting for a soft pastel bridal dress, consider metallic accessories.

Body Type: If you have an hourglass body type, go for bridal dresses that hug your curves. A pear body shape can wear a silhouette dress, and a triangle-shaped body can go for dresses with more embellishments for a more balanced look.

Fabric: Choose a dress with breathable and durable fabric. Satin and georgette are good options for all seasons.

Design: If your bridal dress is simple and minimal, pair it with jewelry of contrasting colors, while the heavily embellished bridal dresses can be paired with gold, silver, or minimal colors.
20 Best Manish Malhotra Bridal Collection (Lehenags & Dress)
1. Deepika Padukone Wearing Red Off Shoulder Lehenga Choli
Manish Malhotra's 2016 Couture collection was a visual extravaganza. He had stunning tales to tell, and took inspiration from Persian architecture. The scarlet lehenga, which was cut asymmetrically, had exuberant gold threaded work. The off-shoulder red blouse added to the charm. The Polki choker and chignon updo go well with the dress, and you can copy the look completely for your D-day as it is.
2. Alia Bhatt Wearing Red Embroidered Lehenga
Alia once said, "You're not a star unless you wear Manish Malhotra." Well, we agree! The 21-year-old killed it with confidence on the ramp in this lehenga. The heavily embroidered red skirt skillfully balances out the short red choli that has a plain bodice, scoop neck, and work on the sleeves. The nude and dainty dupatta with sequin border complement the rest of the outfit perfectly. If you are a bride who is inclined towards a traditional yet modern looking dress – this is an excellent choice.

Did You Know?
Manish Malhotra is also associated with Mijwan Welfare Society through which he promotes regional handicrafts and workmanship of rural India.
3. Parineeti Chopra In A Wedding Frock
Parineeti Chopra's wedding frock is a compelling take on bridal wear, and it will be an exciting addition to your wedding trousseau. The zari work designer choli sits perfectly on top of the double layered silk lehenga that has heavy but scattered zari work and a patch border. With a matching dupatta that follows a similar design pattern, this dress makes for an ideal sangeet dress.

4. Nargis Fakhri In Candy Pink Studded Lehenga
Nargis looks like a million bucks in this voluptuous candy pink lehenga in raw silk and tulle. This lehenga blends the idea of an Anarkali top with a lehenga skirt. It is heavily embroidered with Kashmiri and golden thread work. The layered skirt, sheer waistline, and embellishments of the tulle dupatta make this outfit a ten on ten.
5. Priyanka Chopra In Lehenga Choli
Our very own desi girl slays it with every outfit she chooses to wear. She walked the ramp wearing this peach lehenga in tulle with large golden motifs, sequined patchwork border, a tiny blouse, and a tulle dupatta that follows a similar embroidery pattern. On an entirely different note, she's given us major midriff goals.
6. Katrina Kaif In Sequined Top And Embroidered Skirt
Katrina Kaif was spotted wearing this ethereal ensemble from Manish Malhotra's bridal collection. Everything about this dress feels like it's meant for her. The gold colored floral thread work on the pastel lehenga is amazing. The alluring high-necked sequined lace choli is an ideal choice for an enchanting wedding. It also makes for a lovely bridesmaid outfit as well.
7. Anushka Sharma In A Nude Dress
Here comes one of the best bridal lehenga designs by Manish Malhotra. He created this stupendous piece by combining a chikankari thread work skirt with a fringe-style top. The fringed choli and the thread work lehengais equal parts contemporary and traditional. Probably how most of us like it. Style your hair in an updo and decorate it with a tulle dupatta with a silver sequined border. Wear it with a stone-studded choker, earrings, etc., to complete the look.
8. Aishwarya Rai In A Royal Indo-Western Wedding Gown
An enthralling wedding gown from "The Empress Story" collection by Manish Malhotra. He presented this at his first flagship boutique in London and Dubai. The entire collection was inspired by the age-old Indian heritage and the craftsmanship of artists from back in the day. The talented designer made it relatable to modern day India. This Indo-western dark brown wedding gown with rich golden thread work that balloons into a beautiful silhouette is priceless. An excellent choice for the modern bride.
9. Shraddha Kapoor In A Black A-Line Skirt And Sheer Top
A dress from his latest collection that gave Shraddha Kapoor a lot of attention and appreciation. This ensemble brought back the minimalistic style to the ramp and the bridal line. The black A-line skirt with the large golden motif, sheer thread work top, and illusion neckline are perfect for the elegant bride in you. It is an eccentric choice of lehenga, but one that belongs to the bride's treasure trove.

10. Prachi Desai In A Nude Bridal Dress
Leave the guests and your man drooling when you flaunt this nude floral thread work dress from Manish Malhotra's bridal collection. With overarching floral thread work canvassing the dress and the fringe style crop top, this dress is every bit dreamy and whimsical. You could simply recreate Prachi Desai's hair and makeup, and you are sorted.
Real Brides Wearing Manish Malhotra Bridal Lehengas
1. Pink And Dull Gold Lehenga
If you want to lightly inch away from the typical reds, yellows, and golds, you should probably consider this pink and dull gold lehenga. The zari work on the lehenga, top, and dupatta is breathtaking.
2. Classic Red And Soft Pink Lehenga
A picture-perfect image of a wedding dress, isn't it? A thoroughly embellished lehenga, matching choli, and a dupatta that is entirely fitting for a princess. This dress is all that, but with a little twist, and that's the value-add you get from wedding labels like Manish Malhotra. The soft pink hues of the dupatta take this outfit to another level.
3. Tulle Bridal Gown In Taupe
A whimsical ballroom wedding gown in tulle fabric with floral appliqué work adds all the charm to your romantic wedding affair. The plain nude dupatta with patch work border is just perfect as a hair accessory or to just drape it on yourself.
4. Red Lehenga With Gold Work
The traditional Indian attire or the shaadi ka joda, as they call it, is synonymous with red. This outfit, which has overarching golden work on the lehenga and scattered embroidery on the dupatta, is truly spectacular.
5. Floral Skirt And Silver Crop Top
Floral is the next big thing in fashion, and when you look around, it's all about floral. So, while at it, we might as well take it one step ahead and doll up in a floral wedding outfit. I mean, why not? Especially, when you find a dress as beautiful as this. If you're a bride-to-be and reading this, make space for a floral dress in your wedding wardrobe. The flouncy floral skirt with a sequined hemline is elegant while the fringe cut illusion sleeve silver top is chic. Go with cascading curls and a choker – nothing short of a dream.
6. Dull Gold Lehenga
Picking these designs was not easy, but this was love at first sight. An opulent wedding attire in a color I could never envision for a wedding dress. But, this prodigal design from Manish Malhotra is a beautiful amalgamation of modern and traditional and all things a wedding dress is meant to be.
7. Burnt Orange Lehenga
Coral, burnt orange, and hot pink are colors that are now ruling the wedding clothesline, just like every other segment of fashion trends. I really can't begin to describe the intricacies of this outfit as a whole. It is rich, balanced, and not-in-your-face. Credit to the designer for choosing a color that will subtly bring the design to life.

8. Royal Blue Skirt And Gold Illusion Top
A bespoke glamorous lehenga that is handcrafted to perfection is an epitome of glamour, elegance, sophistication and style. This royal blue lehenga that has a perfectly twirled hemline is something I cannot seem to get my eyes off from. This real Manish Malhotra bride accessorized it in a way it should be, no more, no less.
9. Mint Green And Dull Gold Lehenga
Green, at least mint green, is never the first thing that comes to your mind when you are trying to decide a color for your wedding dress. But, it probably will when you look at this lehenga made for brides who usually tend to go with the not-so-obvious blend of colors and designs. All of this while keeping the traditional element intact. Well, that is what you get from labels like Manish Malhotra.
10. Candy Pink Lehenga With Sequined Work
With a subtle candy pink canvas, this dress is as whimsical and wedding-like as it can get. A dress that is meant to be on you when you say 'I do!'. Unlike the usual overlay of embroidery, this dress comes with a mellowed down sequin border patch work on the skirt, dupatta, and a full blown work blouse with an illusion high neck. A dress where all the elements work in tandem.


Quick Tip
Manish Malhotra reflects contemporary India by showcasing our traditional art form like Chikankari, Banarasi, embroidery, and Indian motifs while creating silhouettes that convey emotions through designs.
Manish Malhotra's bridal collection is always in high demand. From Deepika Padukone to Alia Bhatt, Parineeti Chopra, and Nargis Fakhri, many Indian celebrities and runway models have flaunted their beauty in the designer's collection,and the reason is obvious – they are drop-down gorgeous! So, if you are looking for inspiration for your D-day attire, this page should be your ultimate guide. It is your special day, so make sure you are happy and smiling and twirling in a Manish Malhotra bridal lehenga! Also, don't forget to make a slo-mo while at it!
Frequently Asked Questions
How much does Manish Malhotra bridal lehenga cost?
It can range anywhere between 2.5 – 10 lakhs based on your design preferences, fabrics and customization requests.
Can you rent Manish Malhotra clothes?
Yes you can rent Manish Malhotra clothes through certain designer fashion startups.
Is Manish Malhotra and Sabyasachi same?
No, they are two distinctly different designers in Indian fashion industry.
Banner Image Credits: manishmalhotra.in

Get insights into the latest lehenga collection of Manish Malhotra and immerse yourself in the world of exquisite Indian fashion and luxury. Watch this video to know more.
The following two tabs change content below.