30 Stunning Maroon Hair Colors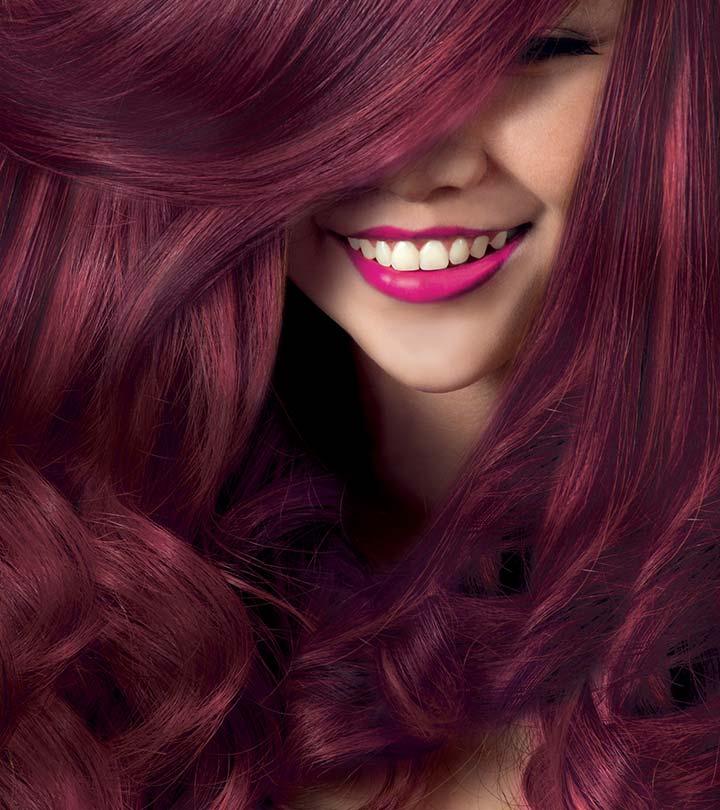 "It's a bit of red and pink? No, it's a mix of red, blue, and brown? No, it's uhhh…"
That's the description of maroon that I've gotten from most of my friends. This trending color has caused many a problem when it comes to its description. Often, women complain that they didn't get the right maroon hair color done at the salon. Here's what you need to know to avoid such a fiasco.
What Exactly Is The Color Of Maroon?
Maroon is most often mistaken to be burgundy. Maroon is a shade of red that has a tint of brown. Burgundy, on the other hand, is a shade of red with a tint of violet. Magenta is a mix of pink and red.
What Colors Does Maroon Go With?
Maroon is a cool-toned color. So, opt for colors that are more cool-toned – like silvers, blues, and greens. If you have warm-toned skin, you will need to consider a warmer shade of maroon that has a hint of orange, yellow, or gold.
Here are 30 stunning maroon hair shades to help you understand and get on board with this maroon faze.
30 Stunning Maroon Hair Colors
1. Wine Maroon
Wine maroon is the color of the sophisticated. Go wine this summer, and you won't be sorry. While wine is mostly a burgundy shade, hair colorists have come up with a few wine shades that have more of a maroon tint in them.
2. Maroon Braids
Black braids are stunning! But if you are bored of black and brown hair, you can jazz them up with some maroon braids! You can either color your hair maroon or go for colored extensions. Either way, it's sure to dazzle your weave.
3. Auburn Maroon
Auburn is my favorite shade, hands down! It has a nice warmth to it. It works perfectly when blended with maroon. It will give your hair an edgy reddish-orange tint and make it shine.
4. Deep Maroon
If you like darker shades, opt for this deep maroon color. If you are cool-toned, this intense shade will accentuate your skin. Notice that the roots are darker than the rest of the hair. This adds dimension to the locks.
5. Red Maroon
Maroon is a blend of red and brown. Opt for this color if you have warm-toned skin. Adding more red to the maroon gives it a bit more earthy feel. It looks wonderful!
6. Rosé Maroon
Who doesn't like to unwind with a nice glass of rosé? So, why not try it on your hair? This shade of maroon will add a new and feminine lease of life to your locks.
7. Plum Maroon
We know that red and purple make for a great combo. It's the same with plum and maroon. Mixing the two gives you a lovely deep purplish maroon that will make you swoon with glee.
8. Brownish Maroon
We know that maroon has a hint of brown in it. It's what sets this shade apart from burgundy and magenta. But if you have natural brown hair and don't want to color it too much, opt for this brownish maroon shade.
9. Hints Of Bright Red
As you keep staring at this lovely hair color and stunning updo, you will begin to notice slight hints of red spread all over her hair. This is to add dimension and depth to her locks to make them look thicker.
10. Light Maroon
If you want to take the full plunge into maroon, go for a lighter shade and try it in highlights to see how it suits your skin tone. This works especially well if you have blonde hair.
11. Deep Brown Maroon
Do you have naturally dark brown hair that looks so intense that it could be a thriller? Then, you are in luck! Add some light maroon to your locks to jazz them up. The deep brown adds tons of texture to the maroon, so it looks natural.
12. Dark Rooted Maroon Locks
Keke Palmer shows us that keeping your roots dark can help accentuate your added hair color. This is a great way to blend an added color into your natural hair color, especially when it comes to shades like maroon.
13. Deep Red Maroon
Red is such a fantastical color. It is super bright and feminine. It is also a color that works well with other shades. If you are head over heels in love with red, opt for this deep reddish maroon.
14. Deep Plum Maroon
Maroon is a stunning shade. But when you add a deeper shade of plum to it, it takes on an intense feel. It adds shine to your hair and also makes it look darker and thicker.
15. Light Maroon Dimensional
If you have thin hair or are looking to add structure to your face, consider a maroon dimensional. The multiple shades of maroon come together to make your hair look thicker while accentuating your facial features.
16. Maroon And Purple
Remember those rebellious teenage years when you wanted to (or actually did!) color your hair red? This blend of colors is the new rebel look! Relive your past glory days by going rebellious once more and stand for what you believe in.
17. Intense Reddish Maroon
This cool shade is perfect for the summer! It looks brilliant against the backdrop of a beach. So, plan a vacay this summer and treat yourself to a makeover. You deserve it!
18. Blonde Maroon
Before you raise your eyebrows at this shade's name, hear me out. Mixing blonde with maroon will add a glossy shine to your locks. It also adds warmth to your hair, making it look vibrant.
19. Pinkish Maroon
Pink symbolizes feminine strength, while maroon symbolizes confidence and passion. And, they go hand in hand! Take all that feminine energy to your locks and be the queen that you are!
20. Bright Red Tips With Maroon
If you have already colored your hair maroon, here's a way to jazz it up. Highlight your maroon hair with bright red tips. This draws attention to your thick maroon locks. It also streamlines your jawline. It's a win-win!
21. Burgundy Maroon
As I've said before, burgundy and maroon are two of the most interchanged colors. Why separate them when they make for such a great combo?
22. Intense Brownish Maroon
If you have warm or neutral-toned skin that leans towards warm, consider this shade. This maroon will look stunning in the winter or autumn as it has an earthy feel to it.
23. Glossy Maroon
We all want our hair to look glossy and shine like a diamond. Go for this glossy maroon by adding a dash of blonde to your locks. The shade of blonde you pick depends on your skin tone and preference. You will need to use a toner to remove the yellow tint created by the blonde.
24. Lighter At The Top
Notice that the top layer of hair on this look is light, but the layers below are deeper. This is to help frame your face and add volume to your locks. Cut your hair in layers to make the colors blend better.
25. Pastel Pink Tinted Maroon
Pastel shades are all the rage right. Pastel pink, even more so. If you are on the pastel pink bandwagon, this hair color is for you. Those curls make it look even more glamorous.
26. Maroon Brown
When you decide to color all your hair, it is a big step. So, before you plunge in, why not try out this shade? It adds a light touch of maroon to your brunette locks. You can try the same with blonde locks, which will give it a deep strawberry shade.
27. Deep Auburn Maroon
If you are looking for a shade to brighten up your spring even more, try this surreal, deep auburn maroon shade. Brown and red blend into the auburn to give you a lovely sun-kissed reddish shade.
28. Shocking Maroon
Move over electric red, say 'hello' to shocking maroon. Shocking maroon is a bright yet deep shade of maroon. It is perfect for a makeover after a break-up or as an act of rebellion.
29. Orange-Tinted Roots
Look closely at the roots, and you will notice a slight orange tint. This makes the maroon hair look deeper and thicker. This color works on both short and long hair. It also helps frame your face.
30. Maroon With Red Highlights
Add some red streaks to your maroon locks to infuse a bit more pizazz in them. Choose a shade of red that works more as a dimensional maroon over a stand-out red shade.
Maroon stands for confidence, passion, power, and strength – all the strengths of the woman of today. So, go maroon and let us know about your experience in the comments section below!
The following two tabs change content below.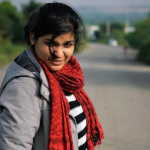 Latest posts by Anjali Sayee (see all)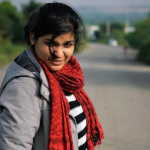 Anjali Sayee
Anjali Sayee is a writer and an introvert. From studying Aeronautical Engineering and wanting to design her own airplane to writing articles on hairstyles, she has been on quite a journey. She believes that hair is one of the key factors that define a woman's personality. To quote her, "What's the first thing they do in the movies to show a personality change? Change the hair – because it has a life of its own." She's here to help you find the hairstyle you need. This bookworm is a self-professed Wholocker, a talented drummer, and an amateur photographer.