Top 10 Maternity Fashion Brands For The Modern Mother
Maternity fashion line is growing by the day. While the big brands are doing a brand extension with maternity clothing, there are exclusive brands that are making maternity clothing fun and functional. Gone are the days when you shied away from wearing stylish clothes just because you were pregnant. In fact, now, you cannot say no to most dresses because the choices are overwhelming.
If I have to tell you a little secret, I have many maxi dresses, tops, and nightwear from brands like Maternity Motherhood because I'm a sucker for comfortable clothes, and these are so fashionable – so why not? Okay, let that be our little secret! And talking about maternity brands, let's look at some of the best brands to shop from. Here are your options, I mean, the best from the lot.
10 Best Maternity Fashion Brands
1. Maternity Motherhood
If you've been on the lookout for pregnancy clothes or know someone who is pregnant, you know that Maternity Motherhood is as good as it gets – regarding quality, style, functionality, and value for money. This brand has jeans, kaftans, T-shirt dresses, maxis, skirts, formals, casuals, and everything you need to feel normal about clothing during pregnancy.
Check Out Their Collection Here: www.motherhood.com
2. Hatch
'Hatch' clothing gives you comfort without making you feel pregnant, and that probably speaks a lot about the brand. Its collections are carefully designed, curated, and comfortable to fit you perfectly at every stage of your pregnancy. It was founded by Ariane Goldman, a mother of two, who worked on Wall Street before opening a bridal dressing line and then this to fill the gap for pregnant women. The idea is to make clothes that resonate with pregnant women with timeless silhouettes, high-quality fabrics, and chic patterns – thereby making pregnant women feel fully inclusive.
Check Out Their Collection Here: www.hatchcollection.com
3. Isabella Oliver
With frequent puking, discomfort, and mood swings creating a mess, pregnant women need constant love and comfort from every source possible. Isabella Oliver started the brand with a mission to be the best friend every woman needs in those few delicate months. The brand understands your journey and what you need, so the clothes are made keeping all that in mind. All of this without compromising on style and quality. From everyday essentials, trench coats, dresses, maxis, knitwear – they have it all.
Check Out Their Collection Here: www.instagram.com
4. Stitch Fix
How about having someone send you a box filled with clothes that match your style and personality without having to rake your brains? You pay a styling fee (which is nominal) and have stylists curate clothes and send them over to you. And it doesn't stop there – you can try them all and request for an exchange with no questions asked. Whether you are looking for a mixed bag or specific kinds of clothing, Stitch Fix is there to customize your needs.
Check Out Their Collection Here: www.stitchfix.com
5. ASOS Maternity
ASOS, as we know, is a brand that has the trendiest clothes you can find – not just on the internet, but offline too. If you are a fan of ASOS, you know by now that their maternity game is on point and unparalleled. So, whether it is a cocktail party, wedding invite, or a baby shower call you just received, you know where to go!
Check Out Their Collection Here: www.asos.com
6. H&M Mama
Yes, you heard it right – your favorite H&M store has something called H&M Mama because they understand that being pregnant doesn't mean you have to let go of all the fancy, funky, and sexy clothing. Leggings, jeggings, jeans, dresses, culottes, tops, and a lot of other fun stuff is in store for you, hot mama! So, go check them out.
Check Out Their Collection Here: www.hm.com
7. Filly Boo
Filly Boo is an Australian maternity brand that started about 15 years ago and quickly gained popularity. It specializes in making Bohemian clothing that is earthy, rooted, funky, hippie, and fun. Because why not? Keep the boho chic in you happy with their interesting apparel. They ship all over the world – another reason to go for the brand.
Check Out Their Collection Here: www.fillyboomaternity.com
8. Hot Milk
A brand exclusively for mothers built by mothers. Because they understand what it means to have things in place where everything seems to be a blur – the changing body, the irrational mood swings, and most importantly, the rapidly growing breasts that look like nothing we would have ever imagined. So, here's a brand started by a bunch of women (mothers) who thought this through and strived to make lingerie customized to make mothers feel comfortable, sexy, and empowered. From loungewear to panties, nursing and maternity bras, their stuff is irresistible and economical.
Check Out Their Collection Here: www.hotmilklingerie.com
9. Destination Maternity
Destination Maternity is perfect for anyone who is working on a shoestring budget. From everyday essentials to business casuals and partywear, this brand has it all. Walk into Macy's or check their collection online.
Check Out Their Collection Here: www.destinationmaternity.com
10. Le Tote
We have seen maternity brands that offer a huge variety, and brands catering to different needs and budgets. But how about skipping the investment in buying clothes and renting them? Yes, Le Tote does just that for you. When you have to attend a party or wedding, and you are not finding something you like in your budget – there is a solution. Rent clothes from Le Tote! The process is seamless and easy. Exciting? Check it out by clicking on the link below.
Check Out Their Collection Here: www.letote.com
Those were the best brands that cater to maternity fashion. You might be wondering about the right time to start wearing maternity clothes. We've got you covered! Scroll down!
When To Start Wearing Maternity Clothes
Wear the most comfortable clothes during the first few weeks of conceiving. Once the belly starts to grow, it is a good idea to start investing in maternity clothing – to keep you comfortable – as they are tailor-made to suit pregnant bodies. Their soft fabrics are soothing, and the patterns sit at the right places.
The idea of maternity clothing is changing, thanks to designers – which is why you can use them well after you deliver too. Don't go overboard because there will be size fluctuations. But remember to have fun and get a few good pieces of clothing like jeans, track pants, T-shirt dresses, and maxis.
Here's a guide that will help you.
Buying Guide For Maternity Clothes
Your maternity sizes are not very different from your regular sizes. You will still remain a small or medium – 2 or 4. So, try the same sizes unless there is a drastic change in your personality.
However, it might not be the same as your lingerie, especially bras. The band size remains the same, but the cup size changes, so you need maternity bras that support your growing breasts and double up as nursing bras post pregnancy. Thus, it is always a good idea to go for a fitting session first to understand your size and then order online.
Stop wearing the baggiest of clothes from your closet. Stop rummaging through your partner's clothes. You have options, and now you know. Get up, get stylish, and bump up your style (literally). Take on the most beautiful journey with panache. Did we miss out on any brands? Do you have any tips? Let us know by dropping in a text in the comments section below.
Recommended Articles:

The following two tabs change content below.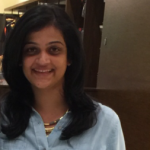 Latest posts by Pratima Ati (see all)