The Best And Most Stylish Maternity Clothes To Flaunt In 2019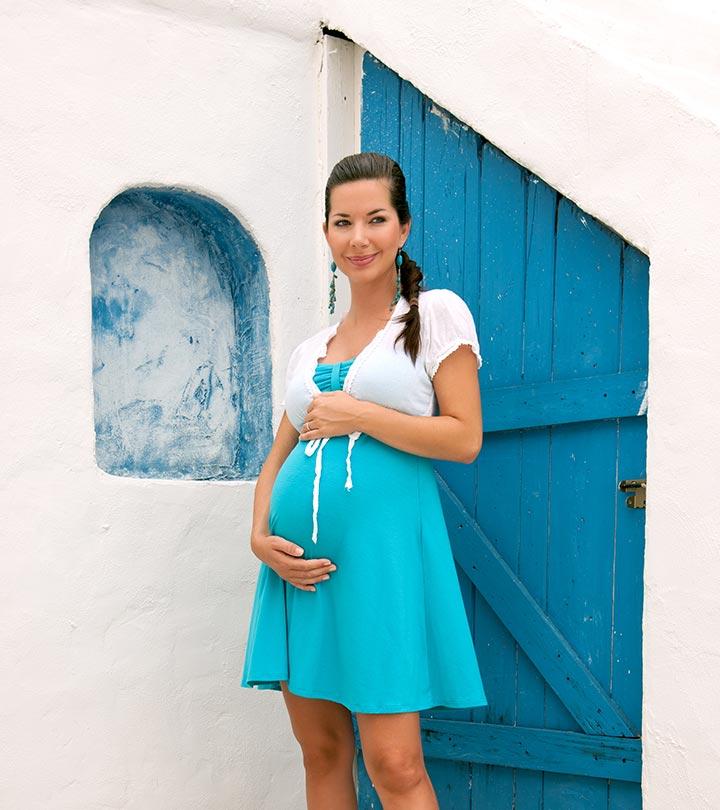 Pregnancy is a phase of constant change. Your hormones are on a rollercoaster ride, and you might experience a lot of mood swings. While all of this is going on, we are here to make sure you look nothing but the best during these nine tough but magical months.
Maternity fashion is trending all over. Soon-to-be moms are all up for pampering themselves with stylish outfits that make them look stunning while they flaunt their pregnancy glow. Maternity fashion has so much to offer that it's often hard to pick out the best.
We have put together some of the best maternity clothes you can invest in for the nine months you have ahead of you. Read on to know more about where you can purchase these stylish maternity clothes from at great prices.
1. Motherhood Side Ruched Maternity Sweater
Motherhood is a complete mother-friendly brand. Their maternity clothes are super stylish and comfortable for moms-to-be. This sweater has a crew neck and two full sleeves. The side ruching ensures a comfortable fit and flatters your belly throughout your pregnancy. The cotton blend fabric is comfortable and lightweight, making it feel cozy to wear during winter or cold evenings. You can pair it with jeans or twill pants.
2. Love2Mi Women's Maternity Tunic Tops
Lots of women swear by this brand for its simple yet comfortably stylish maternity tunics. The fabric is super stretchy and soft. This maternity tunic top can be worn over leggings, jeans, or even loose joggers. It exudes an easy look of comfort and style – just what a pregnant woman needs. It comes in three colors – black, maroon, and blue with white stripes.
3. H&M MAMA Shirt Dress
H&M MAMA Shirt Dress is a midi shirt dress with a grandad collar. It has buttons down the front and long sleeves. This stylish dress is loose and comfortable and is made of viscose. It comes in two colors – dark red and khaki green. This dress is just perfect for a casual day out with friends. You can pair it with loafers and a white fringe jacket to look chic and casual.
4. Seraphine Luxury Black Maternity and Nursing Shawl
Seraphine's Luxury Black Maternity and Nursing Shawl fuses the comfort of a cardigan with the style of a wrap. It is classy and elegant and fully reversible. The ultra-soft fabric and the slim fit sleeves elevate your style statement. This shawl is the perfect cover-up for a cold day or something to put on while you are relaxing at home or heading out for the evening.
5. GAP Maternity Twist Front Shirt Dress
GAP Maternity Twist Front Shirt Dress is made of soft and smooth poplin weave. It comes with long sleeves with button cuffs. The twist knot detailing at the waist is elasticized for comfort and ease around the belly. This shirt dress is effortlessly gorgeous for maternity clothing.
6. Bhome Maternity Mermaid Dress Short
Bhome Maternity Mermaid Dress is just the right amount of cute and elegant. It is a knee-length bodycon dress. It has a cute round neck and an adorable fishtail style. The fabric is super stretchy, soft, and durable and ensures a comfortable fit. It comes in five gorgeous colors – black, grapevine, green, yellow, and purple. You can wear this dress for baby showers, weddings, parties, etc.
7. Terramed Maternity Leggings
Terramed Maternity Leggings are soft, stretchy, and super comfortable. These leggings offer ample support, which is an important requirement for maternity clothing wear. The fabric used is breathable and lightweight. You can pair them with oversized sweaters or even tunics.
8. YoungMom Maternity High Waisted Lounge Pants
These gray maternity pants can be easily passed off as formal pants. The fabric is stretchy, soft, and lightweight. The high waist has a wide stretchy panel design that does not squeeze your baby belly. You can wear them all through your pregnancy and after it as well. These lounge pants are easy to wash and very durable, and you can wear them in all seasons.
9. A Pea in the Pod Babydoll Maternity Tank Top
A Pea in the Pod is a maternity clothing brand many moms swear by. This pretty lavender pink tank sleeveless top is lightweight and is made of rayon/spandex. You can pair this babydoll empire waist top with dark blue denim jeans or even white jeans. This tank top is easy to wash and very durable.
10. A Pea in the Pod Linen Woven Combo Maternity Top
This lightweight linen top is basic, simple, and elegant. The fabric used is durable and easy to wash. It has cap sleeves and a V-neck. You can wear this tank linen top over a pair of joggers or even loose mommy jeans.
11. PAIGE Women's Maternity Skyline Skinny with Elastic Insets
These mid-rise and skinny maternity jeans have deep-set elastic panels on the sides, which allow stretching, giving the mother-to-be comfort and support all through her pregnancy. They are super comfortable, and the fabric is soft and durable. You can pair these with basic tops or tank tops.
12. Motherhood Maternity Women's Maternity Long Sleeve Drape
This is a long cardigan that not only flatters your figure but also covers your growing belly. It has long sleeve drapes, front pockets, and rib cuffed sleeves. The waist tie is adjustable, which makes it comfortable to accommodate your baby bump. You can pair this cardigan with jeans or overalls.
13. Liu & Qu Women's Maternity Long Sleeve T-Shirt
This top is quite different from the regular tops and T-shirts. The button closure makes it easy to breastfeed your baby. The fabric used is soft, light, elastic, breathable, and durable. This top available in five different colors – black, dark gray, burgundy, khaki, and navy blue. You can wear pair it with jeans and coats and wear it in all seasons.
14. XIAMOOR Women's Summer Tunic Tops
These maternity T-shirts are suitable for all stages of pregnancy, and you can flaunt them through all seasons and on all occasions. They are made of lightweight, soft, stretchy, and breathable material. The waist folds ensure that there is enough room for your growing belly. They are available in different colors, patterns, and sizes. They are easy to wash and very durable.
15. PattyBouitik Ruched Sheath Dress
This dress is perfect for the choice of maternity clothing for casual night-outs. The fabric is super stretchy, comfortable, and soft. The crochet lace detail around the neck makes this dress look lovely and comfortable to wear in summer. The ruched detail accommodates your growing baby bump. This dress is available in four beautiful colors – deep red, navy blue, black, and dark green.
16. LaClef Women's Off Shoulder Maternity Dress
This stunning cold-shoulder maternity dress will make you look amazing and feel comfortable through all stages of your pregnancy. The off-shoulder ruffled sleeves lend it a touch of elegance and cuteness, and the ruched sides ensure comfort to the growing belly. You can wear this dress for parties, night outs, or even family dinners. The fabric used is soft, elastic, and comfortable. This dress comes in several colors and is available in all sizes.
17. Motherhood Maternity Women's Maternity Indigo Blue Denim Overalls
These denim overalls are comfortable, relaxed, and fun to wear. The fabric is stretchable and ensures a relaxed and comfortable fit. The buckles on the top provide adequate support, and the knit elastic side panel expands with the growing belly. It also has bib patch pockets.
18. HELLO MIZ Women's Sweater Knit Maternity Long Sleeve Tunic Top
This shawl collar V-neck sweater top is super comfortable and helps in keeping you warm and cozy. The fabric is lightweight, easy to wash, and durable. It comes in many colors and patterns and can even be worn after pregnancy. The sweater is super stretchy and durable. You can pair this top with jeans, leggings, or shorts.
19. Liu & Qu Women's Maternity Sleeveless Tank Dress
This maternity sleeveless tank dress is super cute and pretty. It is effortlessly stylish and comfortable. The fabric is super soft, light, stretchable, and breathable. The dress has a ruched side design that gives your belly more room to grow. You can wear it to parties, casual outings, baby showers, or brunches. It is available in a variety of colors and patterns.
Motherhood can be a tough time, but who says you can't look and feel your best while you are at it? We hope you these nine months go by smoothly, and you look and feel comfortable in your skin. Did any of these maternity clothing ideas inspire you? Let us know in the comments box below.
Recommended Articles:
The following two tabs change content below.

Latest posts by Nooraine Firdouse (see all)