Top 10 Matrix Hair Serums Available In India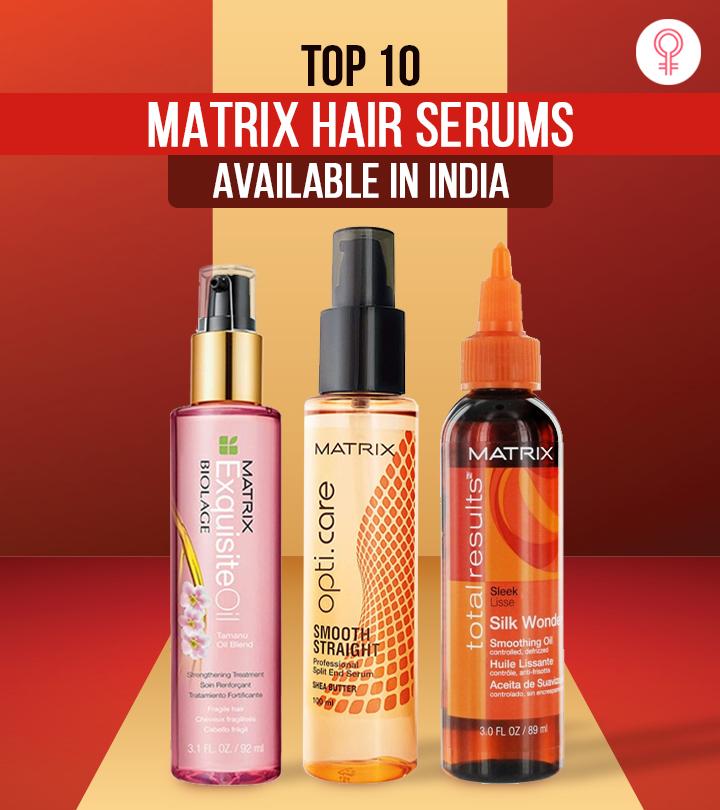 Are you fed up with your dry, frizzy, and unruly hair? If you are still in a dilemma about which serum to opt for, then it is time to invest in some quality hair care that will solve your problem and at the same time offers you some salon-type hair serum for your hair.
Well, here I introduce the Matrix hair serum product, which does it all. Matrix has been a popular name in the hair styling industry that offers some amazing hair care products that are created to give you a salon-like hair spa look, right in your home. This hair serum has been made from botanical extracts mainly, so it will not harm your hair in the long run. One can easily reduce oil production by using serums that reduce frizz and provide moisture.
Top Picks
Let us focus on the best Matrix hair serums today for shiny, nourished, and manageable hair all day. Here are our tops 10 picks:
This deep smoothing serum from the Biolage Smooththerapie range of Matrix has earned a lot of reputation for its strong results. Being enriched with the bright golden oil extracted from the seeds of the camellia flowers, this product contains lots of antioxidants, vitamin E, and essential fatty acids which give the ultimate smoothness and shine to coarse, unmanageable hair without weighing it down.

Those who are suffering from split ends after getting a chemical straightening should give this serum a try. The key ingredient of the product is shea butter, which nourishes the hair strands internally, detangles them, smoothes out frizzes, and treats split ends efficiently. It is very light-weight and absolutely non-sticky. Hence, regular application can put a stop to frayed hair tips and add a sparkling shine to your locks.

The Mix In Shine Brilliant Serum from Matrix Design Pulse can be used either in the pure form or by mixing with other hair care products. But whatever the usage method is, you can always get silky smooth hair with long-lasting shine. It is perfectly suitable for normal to coarse hair and gives a soft hold for them.
4. Matrix Shine Maker Clean Polish Serum:
If you want to give your hair a clean and polished finish, the Shine Maker Serum will be your best pick. The light-weight formula is rich in Hi-Shine silicones, which provide both intense frizz control as well as lustrous shine to the hair. The product is also capable of shielding our hair from the damaging UV rays and you can certainly expect long-term effects from it.
As the name suggests, the Biolage ExquisiteOil is complete protection for our hair. Be it nourishing our hair, making it frizz-free, or simply adding instant shine to it, this serum can do all good things for all types of hair and the secret of its great versatility is Moringa Oil Blend. You can use this product in 7 different ways and it will give you the best results each time without weighing your hair down.

Here is another multi-purpose serum from the Biolage ExquisiteOil range of Matrix that is specially made for people with brittle hair. The product is ultra-light and comes with a nice fragrance. It contains Polynesian Tamanu Oil Blend which reduces the breakage of thin and fragile hair strands by making them stronger. Moreover, it provides nutrients to the hair roots so that your hair looks healthy and shiny.

The Matrix Opti Care Smooth Straight Split End Serum repairs damaged hair and helps prevent split ends. The lightweight, non-greasy formula smoothens frizz and flyaways. This serum imparts a glossy shine to your hair and does not weigh your hair down. All you need is just a few drops of this serum and enjoy a smooth, straight look.

It is an instant formula for controlling frizzes and smoothing out flyaways. The main ingredients present in this lightweight sealing serum are shea butter, ceramides, and apricot oil, which work together on rough and uncontrollable hair for taming it as well as enhancing its texture effectively. At the same time, the product also treats split ends and adds a reflective shine to your locks.

If you want an easy glide for flat-ironing of your hair, go for this Sleek Iron Smoother launched by Matrix Total Results. The silk amino acid content of the product can boost the strength of the hair shafts by protecting the building blocks of hair proteins even at a temperature of 400 degree C, while the dual styling polymers present in it gives tight hold and intense frizz control. It also contains silicone that makes hair smooth and glossy.

Last but not least is the Silk Wonder Smoothing Oil that gives the ultimate potion to coarse and unruly hair. The ultra-light oil-like formula is the specialty of this product, while shea butter and concentrated olive oil are its principal ingredients. It gets absorbed fast into the hair, condition it properly, controls frizzes, and leaves a wonderful shine.

*Subject to Availability
Which Matrix hair serum is your favorite? Do share your likes and views below.

Recommended Articles
The following two tabs change content below.