13 Best Mauve Lipsticks In 2023 For Every Skin Type
Mauve can be your go-to color for any occasion, especially if you have one of these!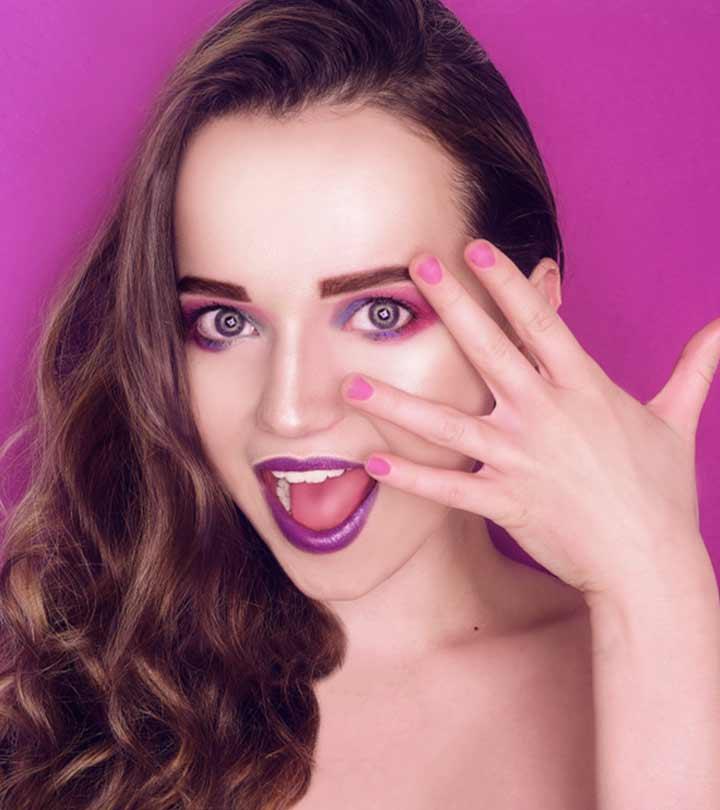 Mauve lipsticks have an expansive range in the cosmetic industry and are often considered to be a controversial shade name. There are numerous variants of this shade, from soft shades of lavender to pale purple to dusty shades of rose and neutral pink. Lipsticks are constant beauty partners for makeup lovers all around the world. It is the one product that can elevate one's look effortlessly in no time! It can give a peppy twist to an everyday outfit in seconds. Sporting a hot pink or a tangy red may be too loud for specific events, and nudes may be way too subtle! For such occasions, mauve lipsticks are the perfect showstoppers. If you are confused about which shade of mauve to fill your lips with, we have narrowed the choices down with some of our top picks. Take a look!
13 Best Mauve Lipsticks For Plump And Luscious Lips In 2023
 

If you're looking for a super moisturizing lipstick that provides an intense mauve shade to your lips, this one from Maybelline won't disappoint you. Formulated with honey nectar, it settles as a smooth finish and preps up your lips without a lip balm. With this lipstick on, you are sure to rock your date nights. All you need is just one swipe, and you are good to go. This Maybelline mauve lipstick contains natural and healthy ingredients like honey, sesame seed oil, and beeswax that lend it its moisturizing properties.



Pros
Creamy formula
Allergy-tested
Keep the lips hydrated
Dermatologist-tested
Cons
It make take a lot of time to dry completely

Pro Tip
Exfoliate your lips before applying this lipstick to create a smooth and flawless base for the rest of your look.
Price at the time of publication: $7.0
This beautiful nude mauve shade is something that every woman needs. It instantly dolls up your look and makes your skin look brighter. The NYX Professional matte lipstick is a high-quality lipstick that doesn't feel sticky or heavy on the lips. In fact, it is creamy, non-drying, and stays in place. With a simple glide, this matte mauve shade takes over the dullness of your lips. The color suits all skin tones and is perfect for daily wear.
Pros
Long-lasting wear
Cruelty-free
Smooth finish
Lightweight
Available in 45 shades
Cons
Price at the time of publication: $6.52
Most of us dream of lipstick that stays like a true friend throughout the day and makes our lips look plump without any extra effort. One such lipstick that can last long is this one from Maybelline. The 300 Frosted Mauve shade is a wonderful light mauve that offers incredible coverage. The lipstick is designed like a lip gloss and lends a smooth color. Infused with ultra-conditioning balm, this lipstick hydrates and nourishes your lips. The Microflex technology of this lipstick helps in keeping the lip color fresh for long durations, thus, making it an ideal choice for long hours. 
Pros
Satin finish
Doesn't chip or crack
Up to 24-hour wear
No touch ups needed
Deep mauve lipstick
Cons
Slightly clumpy over time

Pro Tip
If you want to get a stained or diffused look, use a fluffy eyeshadow brush to apply your lipstick.
Price at the time of publication: $8.98
This mauve lipstick shade from Milani is the ultimate purple shade. It is vibrant, smooth and goes well with all skin tones. Just a smooth glide on your lips and you are all set to make a statement. Formulated with nourishing vitamins, this lipstick lends your lips the nourishment it needs. The color suits both the ones who prefer bold shades and the ones who like to work with minimal makeup. The Milani Uptown Mauve lipstick can be paired with all your day or evening looks throughout the year. Go ahead and check out this YouTuber's video for more details about the product.   
Pros
Moisturizing
Long-wear
Fruity fragrance
Cruelty-free formula
Available in 40+ shades
Cons
Price at the time of publication: $15.0
The Revlon mauve lipstick in the shade Shameless is one of the most popular dusty mauve lipsticks available in 2023. It is packed with botanical complex along with cupuacu butter, agave, and moringa oil that keep your lips nourished and supple. Despite being matte, the lipstick doesn't make your lips feel chapped and dry. We love the fact that it is super creamy and saves us from any unnecessary dragging on lips. 
Pros
Velvety feel
Lightweight
Ultra-hydrating
True matte finish
Available in 25 shades
Cons
May not be best suited for earthier skin tones
Price at the time of publication: $4.97
A perfectly rich mauve color is something that can brighten up both your face and mood. Loaded with vitamins A and E, this lipstick balances hydration and keeps your lips fresh and healthy, while being lustrous and doesn't feel sticky. This lipstick serves the role of a perfect everyday lipstick and keeps your lips moisturized for 6 hours. It also contains castor seed oil and carnauba wax to keep your lips supple throughout the day. 
Pros
Locks in moisture
Easy to apply
Shiny texture
Long-lasting nourishment
Cons
Price at the time of publication: $5.49
This lipstick boasts a wonderful rich pinkish-mauve color and spreads easily onto the lips. Made with light formula infused with vitamins A, C and E, this lipstick pampers your lips and lends a beautiful moisturizing lip color. All you need to do is apply it on your lips, and you are all ready to leave everyone in amazement. The pigmented lip color looks lovely and feels really smooth. The texture is quite creamy which results in soft, supple lips. 
Pros
Rich pigmentation
Intense color
Comfortable to wear
Dermatologically-tested
Provides hours of moisture
Cons
May not offer long-lasting staying power
Price at the time of publication: $5.75
Made from naturally-sourced ingredients, this rosy mauve color lipstick is the ultimate hydrating lipstick that you can put to use in 2023. The key ingredients are aloe vera, jojoba oil, safflower oil, castor oil, candelilla wax, sesame oil, vitamin A and E, wheat germ oil, etc. that are highly nourishing in nature. What's even more interesting is that it provides all-day hydration. This exquisite formula is easy to apply with young fingers, a lip brush, or even directly from the lipstick. The color is intense and leaves your lip feeling smooth and creamy. 
Pros
Vegan
Cruelty-free
Chemical-free
Petrochemical-free
Cons
Price at the time of publication: $19.35
This mauve color liquid lipstick from Burt Bees is quite different. Unlike other mauve lip colors, this one has a crimson shade with a bright red tint. Formulated with intensely nourishing ingredients like shea butter, apricot, and babassu oil, this liquid lipstick does not cause chapping of the lips, nor does it cause drying. Instead, it provides deep hydration and makes the lips soft and healthy. The intense pigmentation suits all skin tones and is a fantastic choice for special occasions and cocktail dinners. 
Pros
SLS-free
Paraben-free
Glossy finish
No phthalates
Available in 12 shades
Cons
Not suitable for those looking for a matte finish
Price at the time of publication: $8.99
If you are looking for a rich mauve color that feels and looks extremely luxurious, this one fits the bill perfectly. L'Oreal Paris is a renowned name when it comes to high-end drugstore makeup products and this lipstick is no different. With omega 3, argan oil, and vitamin E, this moisturizing lipstick is, hands-down, the winner. It nourishes your lips while imparting a beautiful warm mauve shade. The L'Oreal Paris Saucy Mauve lipstick is perfect for day and night wear. A distinctive color, it pairs well with bright peppy makeup and helps you complete a bold and classy look. 
Pros
Hydrating properties
Creamy feel
Great coverage
Good pigmentation
Warm undertones
Cons
May not offer long-lasting wear
Price at the time of publication: $6.49
A creamy lipstick that lasts long and offers a demi-matte finish is quite rare to find. Kiko Milano brings to you this rare, intense mauve pink lipstick that makes you look absolutely stunning. The aluminum design is another feature that is unique. Not only does it look elegant but also is quite modern. A versatile color, the formula of this lipstick stays unaltered and gives you a perfectly-staying lipstick for long-lasting performance.
Pros
Available in 10+ shades
Moisturizing
Attractive packaging
Dermatologically-tested
Mauve matte lipstick
Cons
Some may find the finish too opaque
Price at the time of publication: $14
The Noyah lipstick is an all-natural lipstick brand that boasts a unique range of natural lipsticks that are enriched with ingredients like shea butter, coconut oil, and vitamin E. The ingredients are immensely hydrating and moisturize the lips thoroughly. There is 60% less plastic involved in these lipsticks, which is a great thing for our environment. This lipstick lends a great semi-matte finish that lasts long and works for both days and nights. It is a perfect mauve lipstick for dark skin.
Pros
Plumps the lips
Cruelty-free
Natural ingredients
Eco-friendly packaging
Cons
Price at the time of publication: $17.99
This immensely moisturizing mauve lipstick is an all-time favorite for many beauty gurus all over the world. It is a simple yet classic mauve nude shade that works wonders for all skin tones. It comes loaded with shea butter, vitamin E, and jojoba seed oil that protect the lips and keep them from drying. The formula is creamy and spreads easily in a single glide. It is apt for occasions when you want to keep your makeup neutral and still look ravishing. Altogether, it is a great choice for hydrating your lips along with providing an intense finish. To get a better understanding of the product, you can check out this video on YouTube.
Pros
Vegan
Gluten-free
Cruelty-free
Paraben-free
Cons
Price at the time of publication: $17.1
So, these are the top different shades of mauve that go with all skin tones and are great for nourishment. Take a look at the following points given below to invest in the best option for yourself. 
How To Choose The Best Mauve Lipstick For Your Skin Tone
Use the following points to choose the perfect mauve lipstick for your skin tone:
Light skin tone
If your skin tone is light, and you are thinking of the perfect mauve shade for your lips, hop on to any mauve color, which is bright or comes with a pink tint. Such shades are neither too bright nor too dull.
Medium skin tone
For those who have slightly yellow or olive skin tones, the good news is that mauve shades are made for your skin type. Basically, all mauve shades along with brown lip colors would work wonders for your skin tone.
Dusky skin tone
For dusky or deep skin tones, mauve shades slightly on the darker side look absolutely stunning. Crimson shades will also add a hint of sophistication to your cocktail events.
How To Wear Mauve Lipstick
A mauve lipstick stands the test of time and is the perfect fit for any occasion. Just when you are about to give up on bold lip shades like red or hot pink, and you don't wish to look dull with nude lipstick shades, it is time to give mauve lipstick its due. Here's how you can apply it:
Choose a mauve lipstick from a decent brand, according to your skin tone.
Outline the lips with the lipstick.
Fill in the lips and you are good to go.
Pair it with bold eyes or just a tint of blush on your cheeks for that extra oomph.
Lipstick enhances your overall makeup look and there is a wide range of shades available in the market. But, the mauve shade stands apart from the rich reds, pinks, and browns. The best mauve lipstick helps you to get a minimalist look or brighten up your makeup game. This shade also suits all skin tones. Most of the mauve lipsticks listed above keep the lips hydrated, some provide a smooth finish, while some nourish your lips and make them supple. In addition, most are cruelty-free and transfer-resistant. Consider investing in the mauve lipsticks that last long and glide on smoothly onto the lips. And avoid lipsticks that are free from parabens, phthalates, and other harmful chemicals.
Why Trust StyleCraze?
Chaitra Krishnan is a beauty writer who is passionate about makeup. She is obsessed with lipsticks and therefore, decided to create a comprehensive article on the same for her readers. She spends hours reading the online user reviews and product specifications to find the best mauve lipsticks available on the market. Her recommended formulas are long-lasting, offer moisturization to the lips, and offer great color payoff.
Frequently Asked Questions
Does Mauve Lipstick Look Good On Everyone?
Yes, the combination of neutral pink and purple suits everyone.
Does Mauve Lipstick Make Teeth Look Whiter?
Yes, mauve lipstick makes teeth look whiter due to the blue or purple undertones that assist in counteracting the warmer, yellow tones in your teeth, giving a whiter smile.
What eyeshadow colors go with mauve lipstick?
Navy blue color as eyeshadow makes a perfect combination with mauve lipstick.
Can you use mauve lipstick every day?
Yes, it can be an excellent option for everyday wear.