Maybelline Clear Glow Bright Benefit Cream Review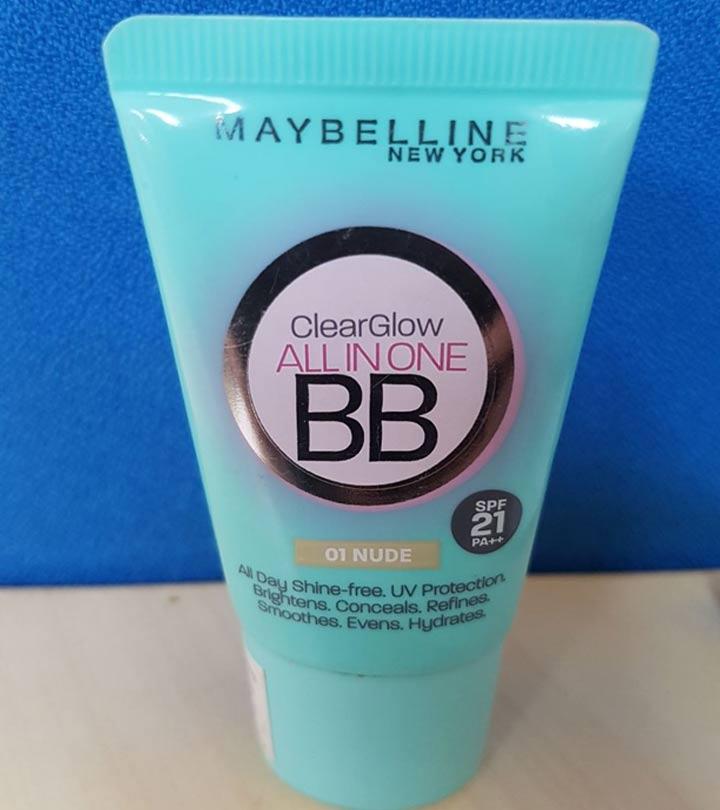 Some mornings you really need makeup but don't have the time. Anyone who can manage to wear foundation with a perfect finish within minutes is most certainly worthy of worship. For those of us who lack the talents, there's always BB cream. In this article, I'm going to review Maybelline's Clear Glow BB cream.
Also known as blemish base, beauty balm, blemish balm, and beblesh balm in different part of the world, BB cream helps give your skin subtle coverage and light moisturization. It's an essential product for anyone who is constantly on the go. The best part is that BB creams are usually quite budget-friendly. Keep reading to find out how Maybelline's Clear Glow BB Cream fared in this review.
Maybelline Clear Glow Bright Benefit Cream Review
Maybelline's Clear Glow BB Cream is described as a "bright benefit cream" rather than a beauty balm. The product claims to give you superior and flawless coverage with its special mineral clay formula. This BB cream from Maybelline offers 12 hours of shine control while acting as a concealer and moisturizer. It also offers sun protection with an SPF 21 and PA++ formula. This product offers 8 amazing benefits. The all in one formula claims to leave you with a matte finish, protect your skin from harmful UV rays, and conceal blemishes, while brightening, smoothening, evening out, refining, and hydrating your skin.
Features And Benefits
Hydrates and nourishes your skin
Offers sun protection
Suits all skin types
Dermatologically tested
Allergy-tested
Non-comedogenic
Does not irritate sensitive skin
Gives a matte finish
Sweat and sebum resistant for up to 5 hours
Evens out your skin tone
Smoothes your skin and makes it softer
Conceals blemishes
Keep reading to find out whether it comes through on these claims.
Packaging
Maybelline's Clear Glow BB Cream is packaged in a plastic tube. The light teal tube-type packaging is small and holds 18 ml of product. The screw cap and narrow nozzle ensure that there is no spillage or wastage, making it extremely travel-friendly. Although hard to read, the packaging also mentions the full list of ingredients along with benefits and directions for use.
Ingredients
The ingredients list is impossible to discern. However, yours truly managed to figure out what this product is packed with. This formula is free of parabens and contains a variant of vitamin C that helps brighten your skin. However, it contains Benzyl Alcohol and Titanium Dioxide which aren't ingredients I'd look for in a product.
AQUA/WATER, ETHYLHEXYL, PALMITATE, NIACINAMIDE, SILICA, OCTYLDODECANOL, TALC, OCTYLDODECYL, XYLOSIDE, PHENOXYETHANOL, SODIUM ACRYLATE/SODIUM ACRYLOYLDIMETHYL TAURATE COPOLYMER, ISOHEXADECANE, HYDROXYETHYL ACRYLATE/SODIUM ACRYLOYLDIMETHYL TAURATE COPOLYMER, PEG-30 DIPOLYHYDROXYSTEARATE, SODIUM DEHYDROACETATE, ASCORBYL GLUCOSE, HYDROGENATED LECITHIN, CAPRYLYL GLYCOL, DISODIUM EDTA, CITRIC ACID, POLYSORBATE 80, POTASSIUM SORBATE, PARFUM/FRAGRANCE, HEXYL CINNAMAL, BENZYL SALICYLATE, BENZYL ALCOHOL, LINALOOL LIMONENE, MAY CONTAIN TITANIUM DIOXIDE, IRON OXIDES, AND CI 77499, CI 77482, CI 77481
My Experience With Maybelline Clear Glow Bright Benefit Cream
I stumbled upon the Maybelline Clear Glow BB Cream at the supermarket when my old product had run out. Having heard a lot of positive reviews, I made space for it in my cart (literally.) And I haven't had much use for my foundation and sunscreen since.
Shades And Availability
The Maybelline Clear Glow All In One Bright Benefit Cream comes in three shades – 01 Nude, 02 Radiance, and 03 Natural, with 01 Nude being the darkest and 03 Natural being the lightest. This is a bit disappointing as it only caters to consumers with light to slightly dusky skin tones. I decided to buy 01 Nude and 03 Natural because I had a hard time figuring out which one would suit me, and turns out there is not much of a difference in both the shades. While both of them work just fine for my face, I swatched them on my hand, which has a bit of a tan, and both shades left a white cast even though had given it time to oxidize. The white cast that 01 Nude (on the left in the picture above) left behind was slightly less apparent than the one left behind by the latter (on the right.) For a product that is being marketed for an Indian consumer base, the unavailability of shades is a huge disappointment.
Coverage

In the image above I swatched two Maybelline Clear Glow BB Cream Shades – 01 Nude (Left) 03 Natural (Right). While the coverage is light, it is enough to even out your skin tone while masking redness and healing acne scars. Although the cream cannot fully replace foundation, it does make for an excellent base on the days when I choose to wear heavy makeup, and on the days when I go for the natural no-makeup look. It reduces the appearance of fine lines and makes my skin look smoother and evenly toned. As you can see in the image, while the shades aren't very far apart, 01 Nude is closer to my skin tone and blended beautifully.
Texture
The cream feels extremely light on my face and spreads evenly regardless of whether I use a brush, sponge, or my fingers. It is neither too runny nor too thick, but has the perfect consistency for efficient blending.
Fragrance
It has a subtle and pleasant fruity fragrance which has me swatching and sniffing all day. However, the fragrance fades quite quickly.
Performance
Since I have light skin, I haven't had a problem with the white cast that these BB creams tend to leave behind on darker skin tones. The cream instantly brightens and mattifies my normal-combination skin, and controls oiliness at my T-zone. It also makes for a perfect base for my foundation, but on most days it provides more than enough coverage by itself. It subtly masks my healing acne scars and completely evens out redness, and brightens up my under eyes, giving my skin a flawless finish. I've been using the product for about 3 weeks now, and it has still not run out.
Pros
Comes through on all of its claims
Offers sun protection
Travel-friendly packaging
Non-comedogenic (doesn't clog your pores)
Instantly brightens your face
Controls oiliness to a certain extent
Gives you a matte finish
Does not cause breakouts
Covers minor blemishes
Easily available
Reduces the appearance of pores and fine lines
Cons
The unavailability of shades for people with darker skin tones
Small quantity
Not suitable for oily skin during summers
How To Use Maybelline Clear Glow BB Cream?
Squeeze a dime-sized amount of BB cream onto the back of your hand.
Using your finger, apply five dots of the cream on your forehead, cheeks, nose, and chin.
Make sure that all the dots have an equal amount of the cream.
Using your finger, a brush, or a sponge, gentle blend the cream into your skin.
If there is any cream left at the back of your hand, use it to cover up any visible blemishes or dark circles.
When working the cream at your under-eye area, gently pat instead of rubbing.
Shelf Life: 36 months from the date of manufacture.
Do I Recommend Maybelline's Clear Glow BB Cream?
I would recommend BB cream to women with light skin, and ones with combination, normal, or dry skin types. It is most suitable for people who do not have a lot of skin issues as it helps even out your skin tone by covering up redness, slight pigmentation, and light marks. However, it does not offer heavy coverage for people who might have excessive acne scars or pigmentation.
I would have given this cream a better rating if only there were more shades made available for Indian skin.
How To Buy Maybelline Clear Glow BB Cream Online?
If you are constantly on the go (and have light skin) this is the product for you. The only thing keeping me from saying that I love this product is the unavailability of shades. Have you ever used Maybelline's Clear Glow Bright Benefit Cream? Tell us about your experience in the comments section below.
Recommended Articles
The following two tabs change content below.