Maybelline Color Show Matte Lipstick Review Do you want a deep, rich lip color that lasts throughout the day? The solution is a Maybelline Color Show Matte Lipstick. This matte lipstick is pigmented and long-lasting, and I couldn't have been pleased as it's classy, rich, and best of all, it's not sticky! If you're curious about how this lipstick functions, keep reading. Here's my full review of one of my favorite affordable brands' creamy matte lip colors.
Maybelline Color Show Matte Lipstick Review
The Maybelline Color Show Matte lipsticks are the first hydrating creamy matte colors. You get a burst of bold, vibrant color when you try on this matte color. It's enriched with an ultra-care hydrating formula. Maybelline New York brings you 12 lipstick shades of the beloved Color Show Lipsticks in matte!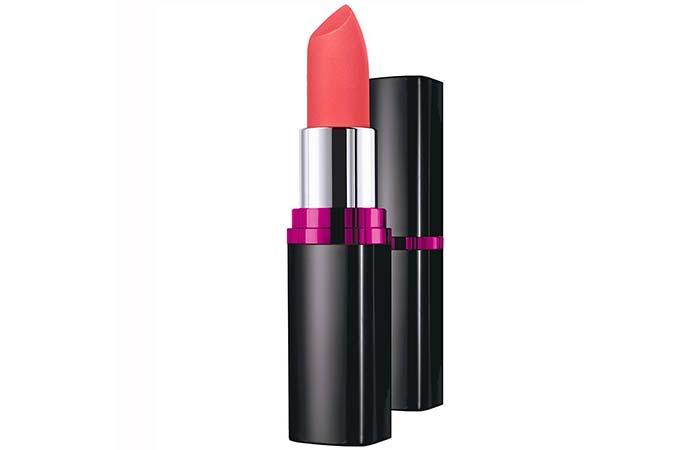 Features And Benefits
Here's what Maybelline claims are the features and benefits of its Color Show Matte Lipsticks range:
Provides all-day hydration
Lip color doesn't fade in extreme heat and humidity
Shades stay true without drying out your lips
Available in an array of vivid colors
Glides on easily
Long lasting
Ingredients
Isononyl, Isononanoate, Octyldodecanol, Oleyl Erucate, Silica, Cera Alba / Beeswax, Lake Phenyl Trimethicone, Synthetic Wax, Sesamum Indicum Seed Oil, Sesame Seed Oil, Glycol Copolymer, Mica, Paraffin, Cera Microcristallina / Microcrystalline Wax, Iron Oxides, Kaolin Disteardimonium Hectorite, Dimethicone, Parfum / Fragrance, Tocopheryl Acetate, Pentaerythrityl Tetra-Di-t-Butyl Hydroxyhydrocinnamate, Titanium Dioxide, Citronellol, Linalool, Limonene, Mel / Honey, Alpha-Isomethyl Ionone, Aluminium Hydroxide, Tocopherol, Hydrogenated Palm Glycerides Citrate.
Packaging
The Maybelline Color Show Matte lipsticks come in a classy black tube with a rim at the center, corresponding to the shade of the lipstick. Its sealed in a plastic wrap, which has information such as the ingredients list, price, and manufacturing date. The lipstick closes with a slight click, ensuring safety at all times. You can carry it around in your purse without having to worry about the tube opening and making a mess. The label at the bottom gives you information about its shade name.
My Experience With Maybelline Color Show Matte Lipstick
Maybelline has come up with some incredible products under its Color Show range. When I came across the vibrant bunch of colors from this line, I was excited to try them out, and I picked up a few from the 12 shades. Here's my experience with the Maybelline Color Show Matte Lipstick.
Texture And Fragrance
This lipstick is easy to apply – it glides smoothly across the lips without pulling or tugging. Its texture is fairly creamy. It's not a true matte finish, which means it's not really drying on the lips. However, upon application, it looks quite matte, but at the same time, it does not leave your lips feeling dehydrated and gross.
It has a mildly sweet fragrance that varies depending on the shade.
Pigmentation And Performance
When it comes to pigmentation, this formula falls into the moderate to deep category. It's not extremely pigmented, but multiple swatches will easily help you achieve the desired result.
What I liked most about this lipstick is that its formula never tends to dry out my lips (like most matte lipsticks have done in the past) and the shades are true to their colors. Also, it does not feel sticky or tacky on the lips. Its color does not fade, no matter what the weather is like.
Staying Power
With my experience, this lipstick stays on for about four to five hours. It can survive light meals and drinks, but needs a re-touch after a heavy meal. Its formula did not transfer all that much and stayed put through the afternoon.
Maybelline Color Show Matte Lipstick Shades
The Maybelline Color Show Matte Lipstick range comes in 12 different shades, from reds, pinks and oranges to browns and mauves. Here's how each shade looks and performs.
M101 Pink Power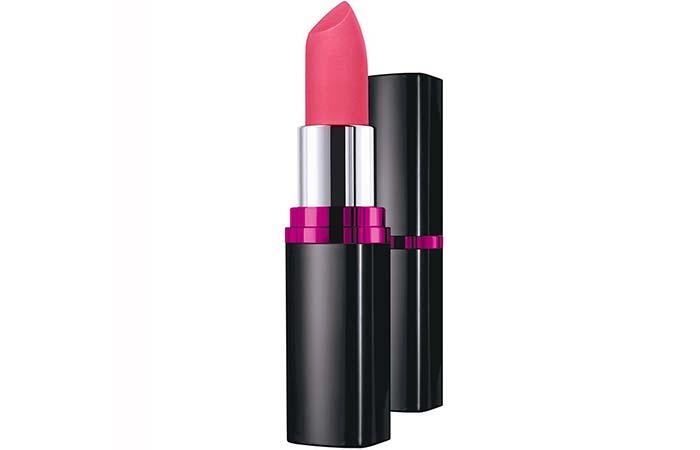 If you're into pinks, the shade 'Pink Power' is the perfect Barbie pink which makes instantly brightens up your face. It looks like a very retro shade, straight from the 80s. Also, it suits all skin tones well and is perfect for spring or summer!
M102 Pop of Pink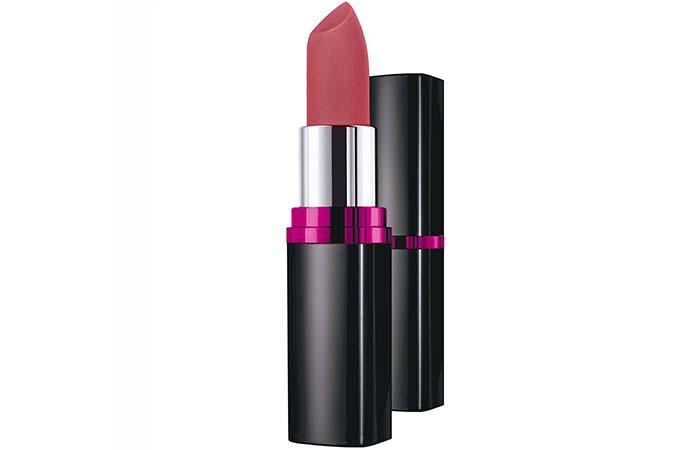 This one's a muted pink, and it looks very subtle and feminine. It complements medium to fair skin tones well and makes for a great daily wear shade for teenagers, college go-ers, and working women.
M103 Rock the Coral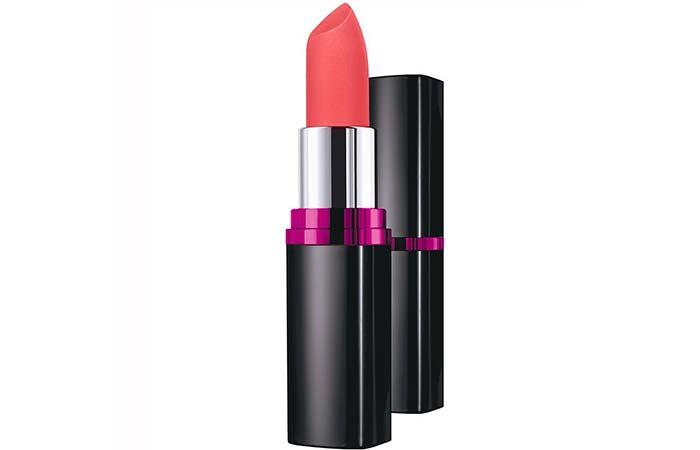 This one's a pink and coral shade, and it looks like it's made for spring! It's a very chic color and is an ideal choice for younger women.
M104 Flaming Fuchsia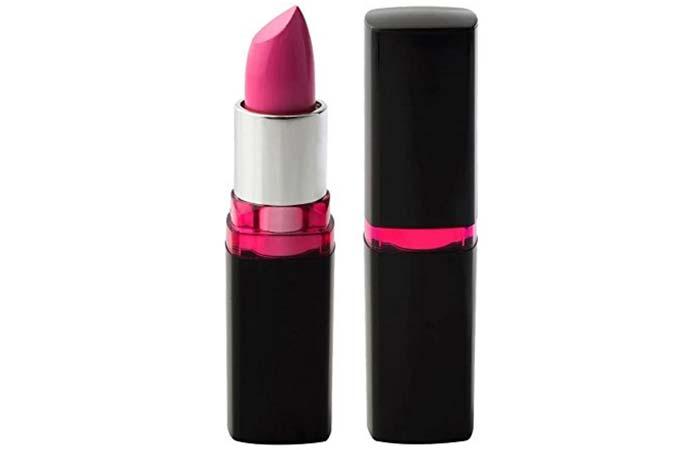 This shade is not for everyone! It's incredibly bright and has a neon/fluorescent effect to it. If you're into bright pinks, this one's something you will love. It suits medium to fair skin tones well.
M201 Bold Crimson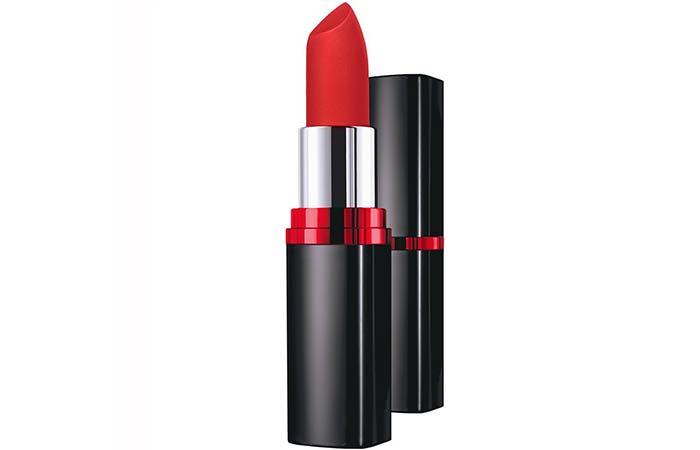 This red lipstick is the perfect go-to red. It's bright and bold! Also, it flatters almost every skin tone.
M202 Firecracker Red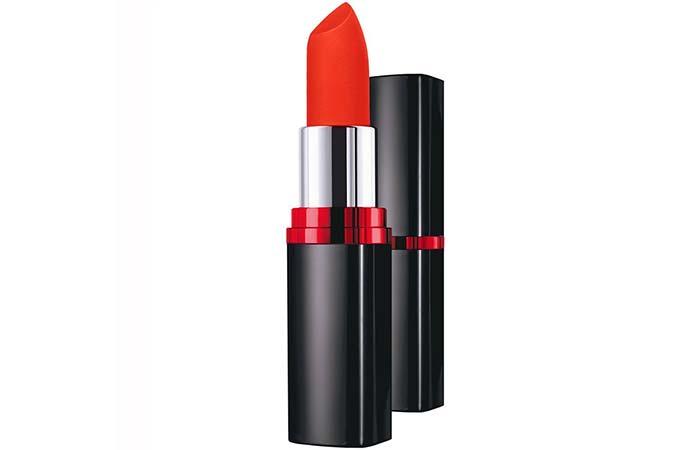 If you're a fan of red with a tinge of orange to it, 'Firecracker Red' does the job wonderfully. In fact, it's more of an orange with a tinge of red. This shade suits medium to light skin tones well.
M203 Hot Chili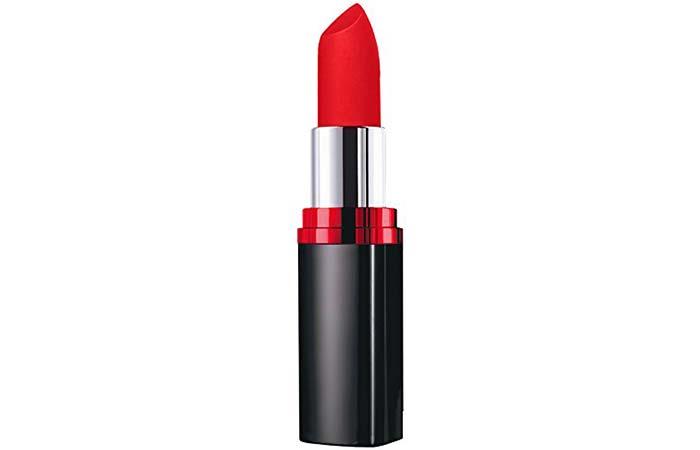 The shade 'Hot Chilli' is red with pink undertones. It's incredibly pigmented and is such a playful, vibrant color for anyone who's into bold shades.
M 204 Red Carpet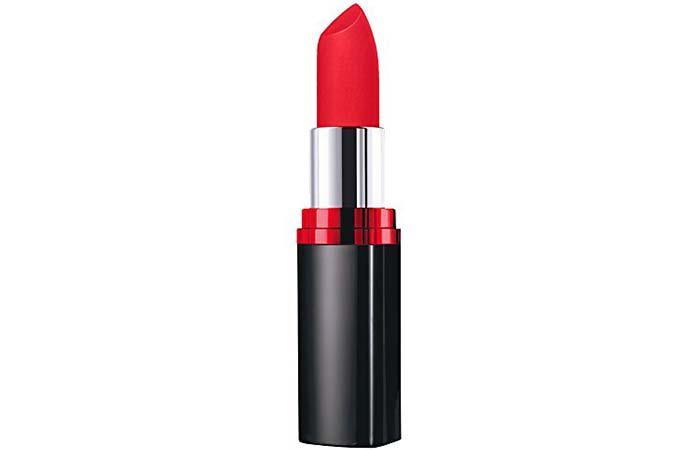 Want to feel extra special? This is a very pigmented red with a subtle tinge of maroon. It's perfect for occasions such as dates, weddings, parties, and so on. Two swipes of this will give you a fully opaque finish.
M303 Peach Personality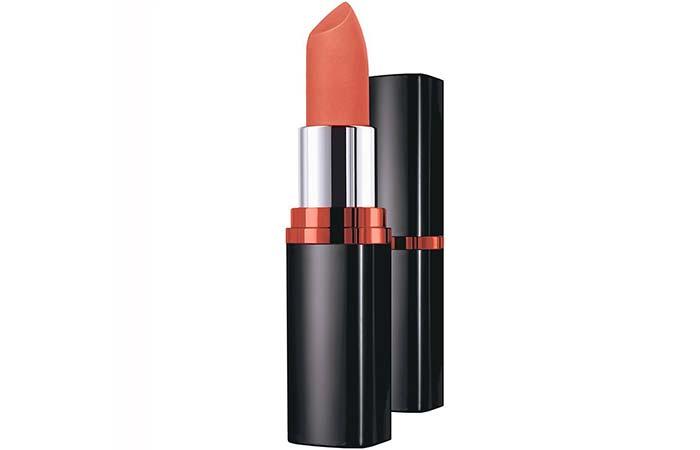 If you prefer lighter shades of lipstick – this peachy shade is perfect for you. It complements medium to fair skin tones.
M304 Mysterious Mocha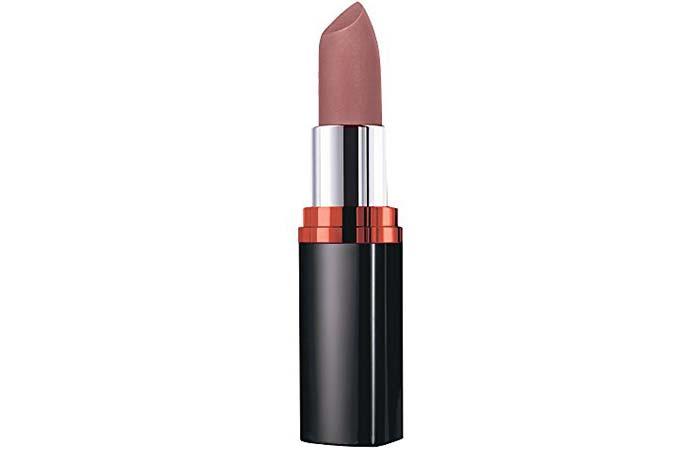 The shade 'Mysterious Mocha' is the perfect blend of purple and brown. I love this nude shade from this range. It reminds me of Kylie's Moon Lip Kit.
M401 Lively Violet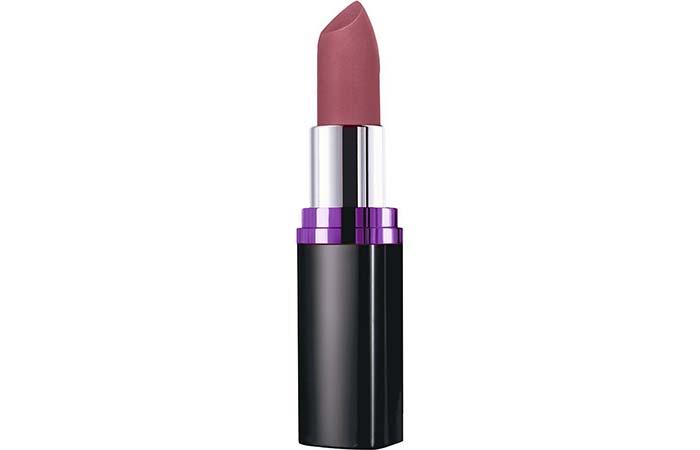 'Lively Violet' works for every skin tone. It's not too bright and neither too dull. It's a great combo of purple and pink. This shade can be worn on a daily basis.
M402 Madly Magenta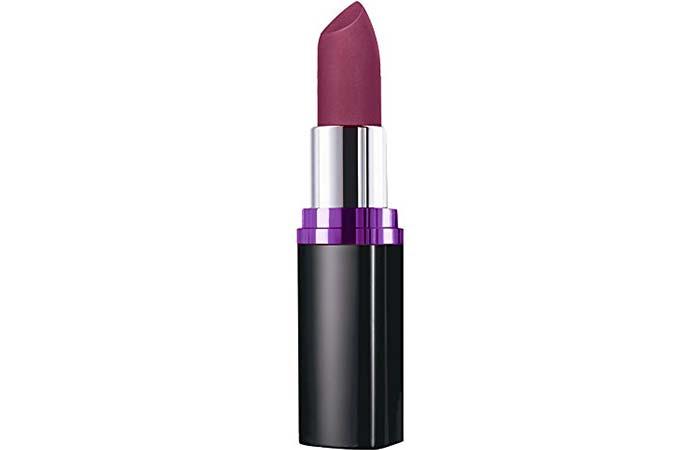 This one's a highly pigmented magenta with a lot of purple in it. It's a very bright and poppy shade, not for everyone, but if you can pull it off, then there's nothing like it!
To help you make your decision, here are the pros and cons of this Maybelline lipstick.
Pros
Wide variety of shades to choose from
Its texture is fairly creamy and won't be very drying on the lips
Comes in a simple and convenient packaging with the shade corresponding to its rim
Stays on for long
Does not transfer much
Does not stain the lips
Easy to remove
Super affordable
Cons
Lips need a lot of prepping before application
It looks patchy on severely dry lips, which is the case with most matte formulas
How To Use Maybelline Color Show Matte Lipstick?

No matte lipstick will look its best without properly preparing the canvas. Here's how to apply the Maybelline Color Show Matte Lipstick perfectly:
Prep! Use a lip scrub to exfoliate and get rid of any dry skin on your lips.
Remove any flakiness using a soft, damp toothbrush.
Apply some lip balm for added moisture if you want some extra hydration.
Start by applying in the center of your upper lip, and continue to the outer corners of your mouth.
Next, glide the lipstick over the entire bottom lip.
Blot using a tissue.
Pro Tip: Use a lip liner that matches your natural lip color to prevent bleeding and for a far more precise application. Also, highlight your cupid's bow to make your lips look fuller.
Shelf Life: 36 months
Will I Recommend This Product?
Yes, I do recommend the Maybelline Color Show Matte Lipstick to anyone who's looking for an affordable, high quality, creamy matte formula. You have a whole bunch of shades to choose from, and there's something for everyone. Even if you have really dry lips, you can still make this formula work for you with a bit of prep. All things considered, these are definitely worth trying!
There are way too many reasons to love a good old matte lipstick – the color is so bold, it doesn't budge, and generally, it's easy to apply. This lipstick scores well on all these fronts! That was my review of the Maybelline Color Show Matte Lipstick range. Have you ever tried these lip colors? What did you think of them? Let me know in the comments section below.
Frequently Asked Questions
Does Maybelline Color Show Matte Lipstick smudge easily?
The Maybelline Color Show Matte Lipstick is known for its long-lasting and smudge-resistant formula, making it less likely to smudge easily. However, experiences may vary depending on factors such as application technique and activities carried out throughout the day.
Are there any allergic reactions reported for Maybelline Color Show Matte Lipstick?
Although it's a rare possibility, certain ingredients in the lipstick may cause allergic reactions such as redness, itching, swelling, or rash in some people. Make sure to patch test before applying the lipstick to your lips to prevent any possible adverse reactions.
Is Maybelline Color Show Matte Lipstick waterproof?
No, the Maybelline Color Show Matte Lipstick is not a waterproof lipstick. While its matte formula provides some water resistance, it is not intended to withstand prolonged exposure to water or heavy moisture.