Maybelline Fit Me Matte And Poreless Foundation Review A flawless, solid base is the foundation of any stunning makeup look. There are days when my skin needs some extra coverage and glow – that's when I ditch my go-to BB cream and reach out for my foundation. I found the Maybelline Fit Me Matte and Poreless Foundation at my local drugstore and I had to try it! Its packaging looked so inviting, and it was available in a whole bunch of shades. In this article, I'm going to review the Maybelline Fit Me Foundation in detail.
If you are a beginner to wearing foundation, don't fret because it isn't a terribly complicated makeup product to wear. In fact, Fit Me is the perfect option if you're just starting out and need a foundation that's easy to wear. It's time for the verdict now – read on to find out how it fared in this review.
Maybelline Fit Me Matte + Poreless Foundation Review
Fit Me Matte and Poreless from Maybelline New York is described as the ultimate natural skin fit that goes beyond skin tone matching to solve the unique texture issues of normal to oily skin. Some foundations can exaggerate pores and oily skin, but the Fit Me claims to contain genius blurring micro-powders that erase pores and absorb oil for a naturally matte and poreless-looking finish.
Features And Benefits
Evens out your skin tone
Conceals flaws and blemishes
Buildable coverage
Non-comedogenic
Easy to use and apply
Suits all skin types well
Hydrates and nourishes your skin
Does not clog pores and is oil-free
Dermatologist and allergy tested
Sweat and sebum resistant for up to 5-6 hours
Tone and texture-fitting foundation for the ultimate natural fit
Packaging
Maybelline Fit Me Matte and Poreless Foundation comes in a clear glass bottle with a black screw cap. This bottle is quite light, does not feel very bulky and the cap is tight and secure, making it travel-friendly. Its shade name and number is mentioned on the sticker at the top of the cap. The only factor that bothered me with its packaging is that it comes without a pump dispenser. This makes it unhygienic and messy to get the product out and also leads to wastage of the product.
Ingredients
Aqua / Water / Eau Cyclohexasiloxane Nylon-12 Isododecane Alcohol Denat. Cyclopentasiloxane Peg-10 Dimethicone Cetyl Peg/Ppg-10/1 Dimethicone Peg-20 Polyglyceryl-4 Isostearate Disteardimonium Hectorite Phenoxyethanol Magnesium Sulfate Disodium Stearoyl Glutamate
Maybelline Fit Me Matte and Poreless Foundation Shades
The Fit Me foundation comes in 40 super-saturated shades. Let me introduce you to its wide range of shades.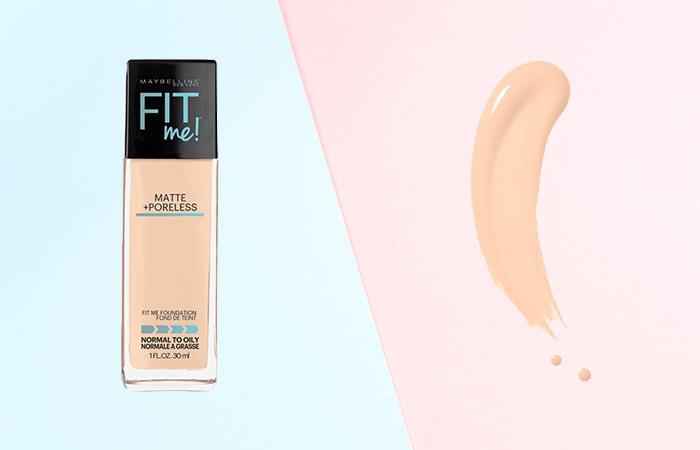 This shade is perfect for those of you with a fair complexion. It's more orange-toned than yellow, as it's supposed to be.
Price at the time of publication: ₹549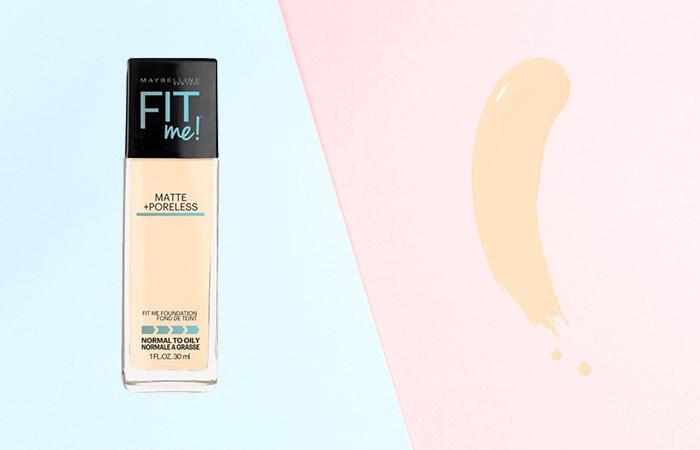 This one is another shade for fair skin. 'Porcelain' is a perfect fit for cool undertones and neutral-cool undertones.
Price at the time of publication: ₹2793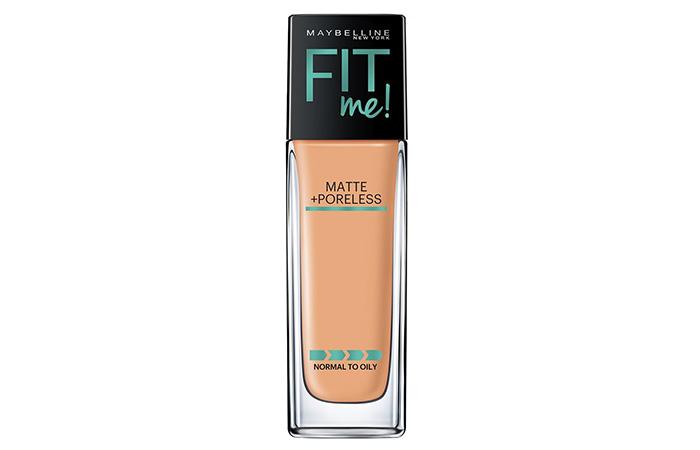 This shade has a neutral undertone and works best for people with medium and neutral skin tones.
Price at the time of publication: ₹619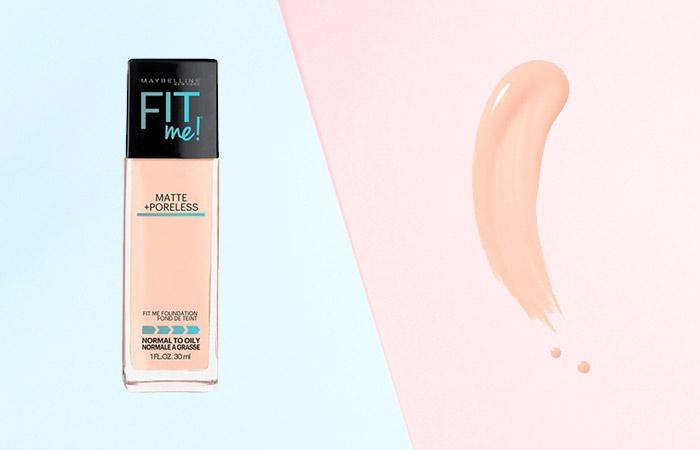 This is ideal for pale skin. It's a pink-based shade and will add a peachy sheen to your skin.
Price at the time of publication: ₹5.42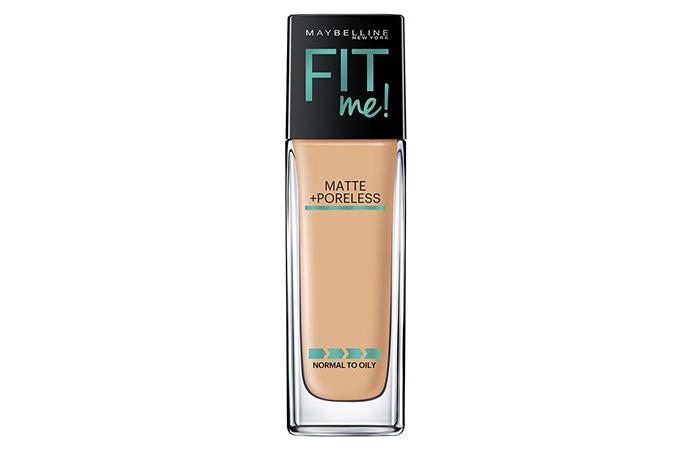 This shade has a yellow undertone suitable for people with medium skin tones.
Price at the time of publication: ₹619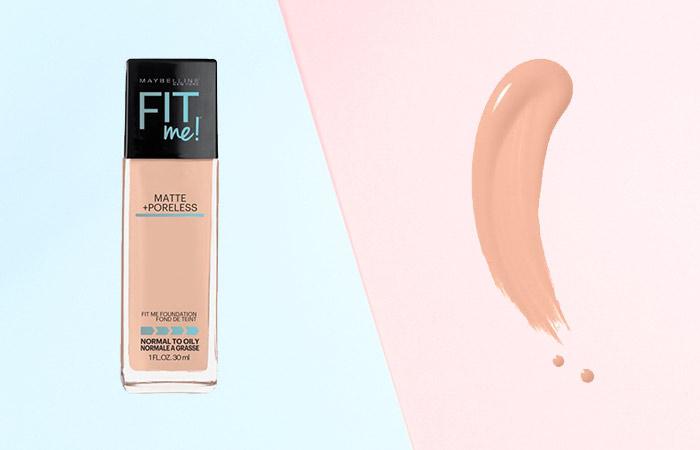 If you have a fair to medium skin tone with neutral undertones, the shade 'Nude Beige' will be a good fit.
Price at the time of publication: ₹6.94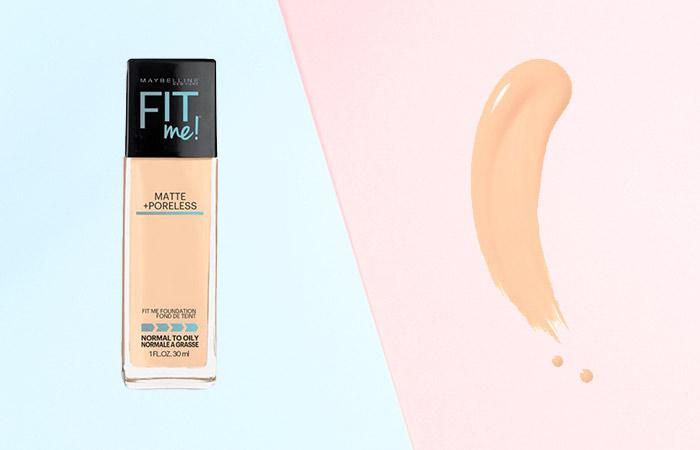 This will suit pale skin tones with warmer undertones.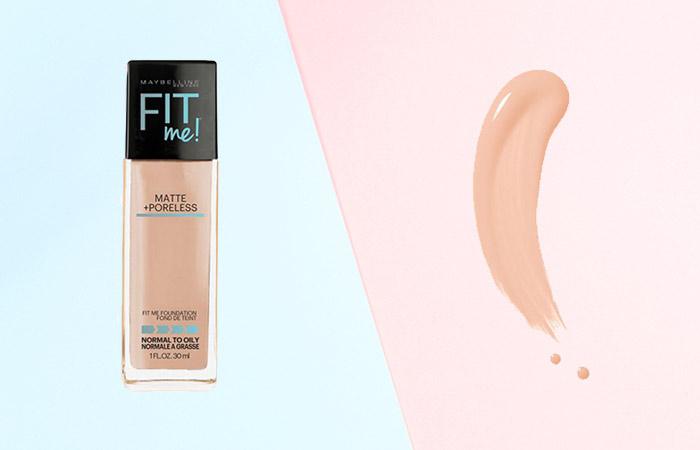 Buff beige is great for those of you all with fair skin and slightly yellow undertones.
Price at the time of publication: ₹645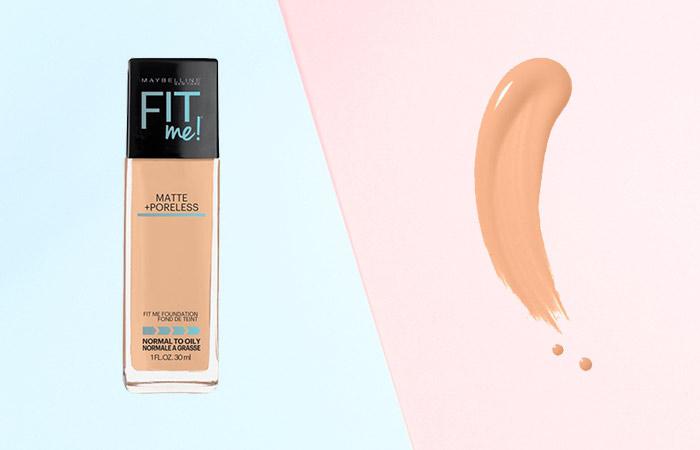 This shade will flatter fair to medium skin tones with yellow undertones.
Price at the time of publication: ₹6.2
'True Beige' is best suited for medium skin tones with pink undertones.
Price at the time of publication: ₹1924
Below are the other shade options available in the Fit Me range.
228 Soft Tan
230 Natural Buff
235 Pure Beige
238 Rich Tan
310 Sun Beige
320 Natural Tan
322 Warm Honey
330 Toffee
332 Golden Caramel
335 Classic Tan
338 Spicy Brown
340 Cappuccino
355 Coconut
360 Mocha
Maybelline has also introduced a bunch of new shades for medium to dark skin tones.
102 Fair Porcelain
105 Fair Ivory
118 Light Beige
124 Soft Sand
242 Light Honey
245 Classic Beige
312 Golden
334 Warm Sun
356 Warm Coconut
358 Latte
362 Truffle
365 Nutmeg
368 Deep Golden
370 Deep Bronze
375 Java
380 Espresso
My Experience With Maybelline Fit Me Matte + Poreless Foundation
I bought this foundation in the shade '220 Natural Beige' for my fair complexion. It was so easy to apply, and a little went a long way. I used my fingers to blend, and to my surprise, it applied very smoothly and evenly. I particularly suggest trying this technique if you are new to using foundation as it's quick, simple, and it even looks great.
Texture And Fragrance
The Fit Me has a creamy soft texture, and its consistency is slightly runny. So, be careful not to get too much out of the bottle as this will only lead to wastage. It has an extremely faint fragrance that did not bother me one bit.
Coverage And Efficacy
The coverage of this foundation is absolutely incredible – it's buildable, so you can achieve a medium to high coverage according to what you prefer. It covers acne scars, blemishes, and dark spots beautifully! What I loved most about it is how lightweight it felt on my skin – it actually did not feel like I was even wearing foundation. I got so many compliments while wearing this foundation as my skin looked fabulously dewy.
If you have oily skin, you needn't worry because this will be your holy grail. It mattifies your skin and makes it look super radiant. I was so thrilled because I did not have to constantly bother myself with touch-ups or even use a compact over this.
If you are someone with dry skin, you need to moisturize and hydrate your skin properly before going in with this foundation. However, even during the winter, when my skin was rather dry and dull, this was my go-to foundation, and it did not highlight my dry patches.
It's also suitable for sensitive skin – it did not cause any acne or breakouts.
Staying Power
Coming to the staying power, it stays on until you actually take it off at the end of the day. I wore this to the beach, and it conveniently withstood water splashes, so this foundation is water-resistant to a certain extent. Also, what's remarkable about the Fit Me foundation is that it somehow adapts itself on any skin type – so whether you have dry skin, oily skin, textured, porous or shiny skin, it just works perfectly.
Pros
Leaves your skin with a natural, matte finish
Hides imperfections like blemishes, dark spots, and scars well
Evens out skin tone and adds a radiant glow to the skin
Feels extremely light on the skin
Does not look cakey
Blurs out large pores
Buildable coverage
Does not clog pores or cause your skin to breakout
Suitable for sensitive skin
Available in a wide array of shades
Super affordable and easily available
Cons
The bottle comes without a pump dispenser
Contains parabens
How To Use This Product?
This is applied to the skin and blended with fingertips or an applicator. Read the step by step tutorial for more details.
Shelf Life: 30 months
Will I Recommend This Product?
I would absolutely recommend the Maybelline Fit Me Matte And Poreless Foundation, especially to women with oily skin. It works beautifully even for normal, dry, and combination skin types. It's most suitable for those of you looking for a lightweight foundation to even out your skin tone by covering minor imperfections, redness, pigmentation, and marks. It offers buildable coverage, and you have a lot to work with.
Also, if are you someone who is low-maintenance and are on the hunt for a foundation that is extremely easy to use without looking like you have a "heavy base" going on, this is something that you will absolutely love.
Rating: 4.9/5
Where To Buy Maybelline Fit Me Matte and Poreless Foundation Online?

All things considered, I'm definitely obsessed with Fit Me, and it is one of the best affordable foundations in the market. If you are on a budget and want a natural-looking, easy to wear product, then this one is a great bet. Have you ever used Maybelline's Fit Me Matte And Poreless Foundation? Tell me about your experience in the comments section below. And if you haven't, it's about time you give this a shot!
Frequently Asked Questions
Does the Maybelline Fit Me Matte and Poreless Foundation oxidize on the skin?
Yes, especially on oily skin types, as foundations oxidize because it combines with the skin's oil. So, make sure your skin is oil free before applying this foundation.
What is the best way to apply the Maybelline Fit Me Matte and Poreless Foundation?
The best way to apply the Maybelline Fit Me Matte and Poreless Foundation is with an applicator sponge or fingertips.
Does the Maybelline Fit Me Matte and Poreless Foundation contain SPF?
No, it does not have SPF. So, apply a good sunscreen before your makeup rotuine.
How do the Maybelline Fit Me Matte and Poreless Foundation compare to other Maybelline Foundation options?
Compared to other Maybelline foundation options, it stands out for its oil-controlling properties and ability to provide a smooth, poreless look. It offers a pore-blurring effect, while other Maybelline foundations may focus on different skin concerns or desired finishes.
Recommended Articles