A Beginner's Guide To Mediterranean Diet, According To Experts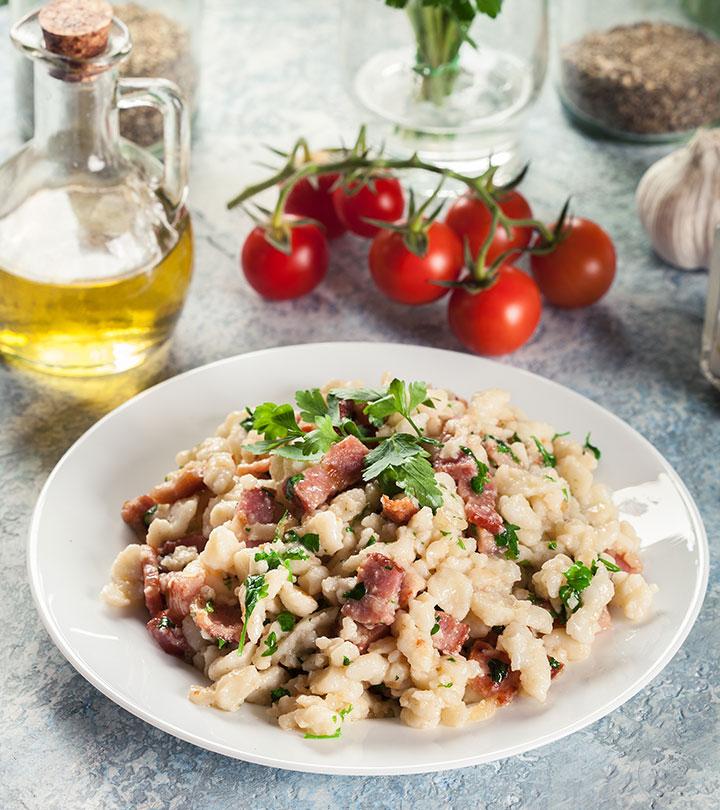 The Mediterranean diet is a proven diet for living longer and staying young. Scientists studied the dietary pattern of the Mediterranean people for 25 years and found that the Mediterranean diet reduces the risk of cardiovascular diseases when compared to the foods habits of people in the US and northern European countries (1). In fact, these dietary habits can also reduce the risk of many other new-age health issues. The best part? The Mediterranean diet includes delicious foods, curbs hunger, and helps you shed the excess flab. Both dieters and dietitians approve of this diet!If you want to follow the Mediterranean diet, check out this ultimate beginner's guide. You will get expert advice from doctors and seasoned dietitians, a 7-day Med diet plan, foods to eat and avoid, and its benefits. Read on!
Definition: What Is A Mediterranean Diet?
The Mediterranean diet is a heart-healthy dietary pattern followed by the people of the Mediterranean countries (2). Holly Klamer, MS, RDN, says, "The Mediterranean Diet emphasises consuming heart-healthy omega-3 fatty acids, fruits, vegetables, legumes, and whole grains." She adds, "Following the Mediterranean Diet has been associated with reduced mortality risk and lower risk of cardiovascular diseases." (3)
The Mediterranean diet has been shown to improve the life expectancy of people in some parts of the Middle East and countries like Spain, Greece, Italy, Crete, and southern France. It also reduces the risk of chronic diseases and improved general well-being (4). According to the scientific guidelines of the US Departments of Agriculture (USDA) and the Health and Human Services (HHS), most people can benefit from following a Mediterranean diet, including vegetables, fruits, whole grains, and seafood, and reducing refined carbs, processed foods, red meat, trans fat, sugary food, and salty food (5).
Below, you will find a list of reasons why the Mediterranean diet is good for you. Take a look.
Benefits: Why Is A Mediterranean Diet Good For You?
1. Good For Your Heart
The modern-day diet mainly includes saturated fats and trans fats that cause various heart issues. The Mediterranean diet includes fish rich in omega-3 fatty acids, nuts, seeds, whole grains, and lots of vegetables and fruits, reducing cholesterol levels, improving heart health, and preventing ischemic stroke (6), (7).
Dr. Carrie Lam, MD, FAAMFM, ABAARM, confirms, "This diet improves blood sugar levels, reduces inflammation, and body mass index (BMI), which helps to reduce the risk of cardiovascular diseases."
According to the American Heart Association (AHA) and the American College of Cardiology (ACC), following a Mediterranean diet may help reduce the risk of cardiovascular diseases (8).
2. Facilitates Weight Loss

Obesity and excess weight gain due to over consumption of food and a sedentary lifestyle are the most common reasons for many health complications worldwide. Dr. Carrie Lam says, "The Mediterranean diet is not necessarily a weight loss-centered diet, though it may help you to lose weight."
This diet pattern controls excess calorie intake, reduces hunger (due to high-fiber content), and lowers BMI (9).  It is safe to say that weight loss through the Mediterranean diet is a byproduct of choosing nutritious foods over processed and junk food.
3. Good For Controlling Diabetes

Dietary and lifestyle modifications have shown favourable results in diabetes management. A 6-month study about the effects of following a Mediterranean dietary pattern on people with type 2 diabetes showed better glycemic control and lower cholesterol levels and body weight compared to other diets. Higher adherence to the Mediterranean diet reduced the risk of future diabetes by 19%-23% (10).
4. Improves Brain Health

The Mediterranean diet is rich in olive oil, nuts, seeds, and fish. Rachel Fine, RD and Nutrition Counsellor, says, "Omega-3 fatty acids are found in flax seeds, olive oil, and fatty fish. They have anti-inflammatory properties, and omega-3 fats are metabolised into EPA and DHA, which are powerful nutrients for brain health."
Research shows that higher adherence to the Mediterranean diet reduces the risk of Alzheimer's disease and cognitive impairment  (9).
5. Regulates Blood Pressure Levels
The Mediterranean diet excludes red meat, processed, and junk foods. Adhering to this diet reduces the risk of hypertension, which is primarily caused due to higher salt consumption through processed foods, higher BMI, and high cholesterol levels due to consuming red meat and saturated fats (11).
A study published in the Journal of Hypertension confirmed that the Mediterranean diet is an effective dietary strategy to control blood pressure levels (12).
6. May Reduce The Risk Of Cancer

According to Dr. Carrie Lam, "The Mediterranean diet has proven to reduce risk of chronic diseases like heart disease, diabetes, and cancer."
Multiple scientific studies show that the Mediterranean diet can help reduce the risk of cancers of the breast, head, neck, colon, rectum, prostate, liver, and stomach. This diet also reduces cancer mortality rate (3), (9).
7. Improves Sexual Function In Women

Metabolic syndromes like obesity, diabetes, hypertension, and cardiovascular conditions can affect sexual function in women. A study showed that women who adhered to a Mediterranean diet had a better sexual function index than those who did not (13). Therefore, this could be a potential dietary strategy to improve sexual function in women with metabolic syndrome.
8. Reduces Inflammation
Chronic inflammation can increase the risk of obesity and arthritis and lower immunity (14). A Mediterranean-style diet rich in omega-3-fatty acids helps reduce inflammation, reducing the risk of diseases and other health conditions ( 15), (16). Other foods like vegetables and fruits included in the diet also have antioxidant properties that reduce inflammation.
9. Promotes Healthy Aging
Aging is inevitable. However, with the right diet and lifestyle, you can slow down the aging process. A Mediterranean diet excludes all processed foods and includes omega-3-rich and antioxidant-rich foods that aid in healthy aging and improve the quality of life.
Studies show that this diet decreases early cardiovascular risks and onset of frailty (reduced physical resilience) due to aging (17). It also improves physical agility and mobility and reduces the risk of age-related diseases, contributing to healthy aging (18).
10. Improves Mental Health
Mediterranean diet is also good for improving your mental health. A study showed that adhering to a Mediterranean-style diet could reduce inflammation and protect against depression (19). Another study conducted on Spanish students confirmed that a Mediterranean-style diet improved their emotional well-being (20).
The Mediterranean diet can help you change and improve your overall quality of life. And to do so, you need to eat the right foods and avoid processed foods. Go to the next section to get a consolidated list of Mediterranean foods.
Foods List: What To Eat And Avoid On A Mediterranean Diet
Foods To Eat
Foods To Avoid
 Vegetables – Leafy greens, broccoli, carrot, beetroot, scallion, chive, yam, sweet potato, bell peppers, cucumber, eggplant, tomato, spring onions, onion, celery, Brussels sprouts, and fennel.
 Refined Carbs – White sugar, white bread, refined flour, pasta, bagels, and croissant.
 Fruits – Apple, banana, watermelon, peach, avocado, muskmelon, pear, kiwi, raw mango, lime, lemon, orange, grapefruit, tangerine, java plum, strawberry, blueberry, acai berry, blackberry, mulberry, plum, date, and apricot.
 Processed Foods – Sausage, salami, frozen foods, canned foods, ready-to-eat foods, chicken nuggets, and cheese sticks.
 Whole Grains – Whole wheat bread, wheat pasta, oats, barley, millet, wheat, broken wheat, quinoa, amaranth, and sorghum.
 
 Sugary And Salty Foods – Cake, pastry, doughnuts, wafers, candies, caramel, flavoured hot or cold coffee, milk chocolate, packaged iced tea, maple syrup, pickle, kimchi, added salt, packaged sauces, and high fructose corn syrup.
 Proteins – Fatty fish like tuna, salmon, and mackerel, crab, mussels, clam, lobster, shrimp, mushrooms, tofu, lentils, kidney beans, garbanzo beans, and hummus.
 Protein – Red meat and chicken with skin.
 Healthy Fats – Olive oil, avocado oil, rice bran oil, almond, walnut, pistachios, pine nuts, macadamia nuts, flax seeds, sunflower seeds,  melon seeds, sunflower butter, ghee, and peanut butter and almond butter (in moderation).
 Fats, Oils, & Trans Fats – Lard, margarine, butter, vegetable oil, mayonnaise, chips, and fried foods.
 Dairy – Milk, plain yogurt, and cheese.
 Dairy – Flavoured yogurt, processed cheese, and non-dairy whiteners.
 Beverages – Water, tea, or coffee without sugar and cream, freshly pressed fruit/vegetable juices.
 Beverages – Excess alcohol, packaged fruit and vegetable juices, sports drinks, and soft drinks.
Along with the foods list, having a well-planned diet chart is crucial for any beginner to kick start the Mediterranean diet. Scroll down to get your 7-day Mediterranean diet plan that you can download for future reference.
Diet Plan: A 7-Day Mediterranean Diet Plan For Beginners
Day 1

Breakfast: Kale and celery smoothie + 1 boiled egg+ 4 almonds
Lunch: Tuna/tofu, tomato, cucumber, and lettuce salad + 1 cup of plain Greek yogurt
Snack: 1 cup watermelon, feta cheese, and mint salad
Dinner: 1 cup lentil soup + ½ cup of cooked or raw vegetables + 1 cup of milk before bed
Day 2
Breakfast: Avocado toast with soft-boiled eggs/sesame seeds + 1 cup of tea
Lunch: 3 oz grilled fish/ 3-4 slices of eggplant + 1 cup of cooked veggies + 1 cup of buttermilk
Snack: Baby carrots and hummus + 1 cup of tea
Dinner: Kidney beans with brown rice with a side of veggies + 1 small cup of yogurt
Day 3
Breakfast: ½ cup of vegetable quinoa + ½ grapefruit + 4 almonds
Lunch: 1 cup of quinoa and bell pepper salad + 1 hard-boiled egg
Snack: 1 cup of mixed fruits
Dinner: ½ cup of chickpea curry + 2 whole wheat bread slices + 1 cup of cucumber and tomato salad
Day 4
Breakfast: 1 cup of oatmeal with seasonal fruits, almond shavings, and melon seeds
Lunch: 2 crab cakes or grilled tofu + 1 cup of mixed greens + ½ cup of raw or cooked veggies
Snack: 1 cup of freshly pressed juice (with the pulp) + 10 unsalted pistachios
Dinner: 1 cup of chicken/mushroom clear soup + ½ cup of boiled veggies
Day 5
Breakfast: Shakshuka + 1 cup of coffee + 4 walnuts
Lunch: ½ cup of sprout salad + ½ cup of cooked veggies
Snack: 1 cup of tea + 1 digestive biscuit
Dinner: Broccoli and mushroom casserole + 1 cup of mixed leafy greens
Day 6
Breakfast: Whole wheat bread toast with peanut butter and banana + 1 cup of tea
Lunch: Zucchini, bell pepper, olives, and mushroom wheat pasta with olive oil
Snack: ½ cup of grapefruit salad
Dinner: 3 oz grilled chicken/tofu + 1 cup of mixed veggies + 1 piece of dark chocolate
Day 7
Breakfast: Shakshuka + 1 cup of tea + handful of unsalted nuts
Lunch: Quinoa, chickpea, bell pepper, and greens salad with cheese
Snack: 1 cup of cold coffee (with coconut sugar) + 1 saltine cracker
Dinner: 6 oz grilled salmon + 1 cup of mixed greens + ½ cup of veggies
You can print this 7-day Mediterranean diet plan and pin it on your ambition board to stay focused and motivated. But before you start the Mediterranean diet, here are a few things to keep in mind.
Precautions: Are There Any Risk?
Though the Mediterranean diet is healthy and highly beneficial, in some cases, it may lead to:
Low levels of iron and vitamin B12 from not eating enough red meat.
Calcium loss from consuming fewer dairy products.
Nut and seafood allergies.
Note: A Mediterranean diet can be low in omega-3 fatty acids, which are beneficial for brain function. It may also be higher in saturated fat than recommended.
The Mediterranean diet has been shown to improve the life expectancy of people by reducing the risk of chronic and life-threatening diseases like cancer, focusing on wellness, and promoting healthy aging. It eliminates processed carbs and trans fats, which helps keep cholesterol levels in control. Moreover, it contains high-fiber and low-calorie foods that suppress hunger and help manage obesity and type-2 diabetes. While on the Mediterranean diet, your need to exclude certain animal foods like meat, keep a watch on certain nutritional deficiencies and take supplements accordingly. Follow the diet plan mentioned above to kick-start your journey toward healthy eating!
Key Takeaways
The Mediterranean diet is based on the dietary patterns of Mediterranean people and focuses on the consumption of heart-healthy omega-3 fatty acids, fruits, vegetables, legumes, and whole grains.
This diet is considered to be beneficial for heart health and may facilitate weight loss, improved blood sugar and blood pressure management and can improve brain function and boost mental health.
Potential allergic reactions to seafoods or nuts, a lack of iron and vitamin B12 from exclusion of red meat and possible calcium deficiency are some of the disadvantages of the Mediterranean diet.
Sources
Articles on StyleCraze are backed by verified information from peer-reviewed and academic research papers, reputed organizations, research institutions, and medical associations to ensure accuracy and relevance. Read our editorial policy to learn more.
The following two tabs change content below.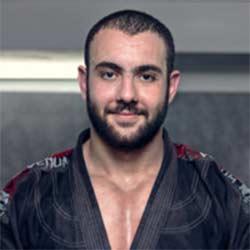 Reda Elmardi
(RDN)

Reda Elmardi is a registered dietician, certified nutritionist, and certified strength and conditioning specialist trainer. He has more than 10...

more