Medlar Fruit Benefits: Everything You Need To Know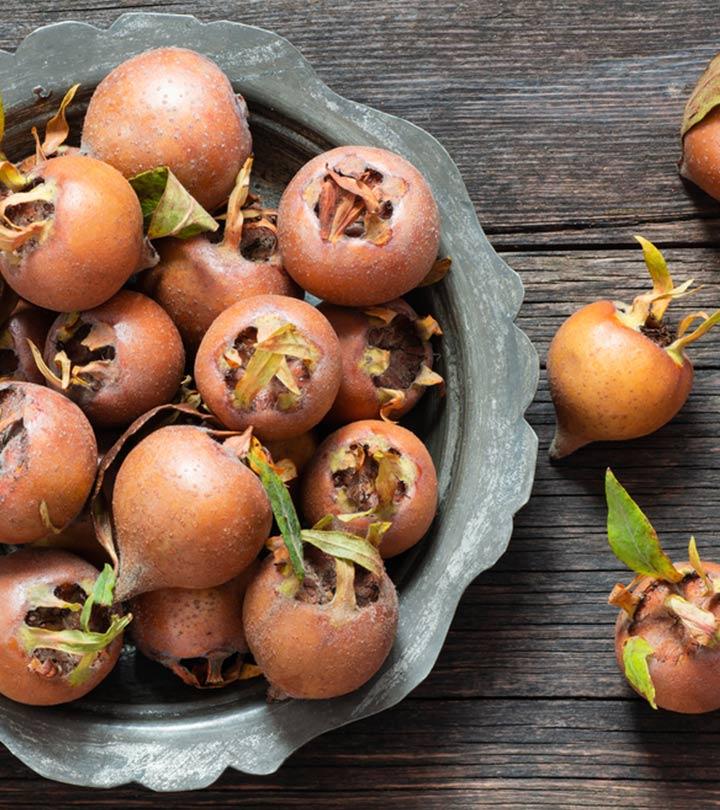 Have you ever heard of a fruit that tastes best when it's rotten? Yes, you read that right! The fruit of the medlar tree (Mespilus germanica), belonging to the Rosaceae family, is one such fruit that is harvested when raw and is then allowed to rot and ferment to become edible. Medlar fruit is usually harvested in late autumn after the leaves have fallen off, as it is known to taste best then. In this article, we take a look at the medlar fruit's benefits along with its origin, nutrition facts, recipes, and ways to include this interesting fruit in your diet.
What is Medlar Fruit? History And Origin
The medlar is a pome fruit from the Rosaceae family, closely related to quinces, pears, and apples. Originally from southwestern Asia, it was brought initially to Greece and Italy and later on, to the whole of Europe. Interestingly, this fruit has been mentioned in Shakespeare's Romeo and Juliet.
The fruit is unusual for two reasons.
They are harvested in late autumn, mostly in November and December, making them an important source of sugar in the cold winters.
They can be eaten only when they're rotten.
Medlar fruits are picked raw in late autumn and are allowed to rot beyond ripening, a process called "bletting". They are usually stored in a cool dry place until they become soft and mushy and darker brown in color. It then takes on a sweet and slightly acidic flavor. These can then be eaten directly scooped out of the fruit or can be baked, roasted, or made into jelly, tarts, cider, wine, or brandy.
Medlars, though not as known and widely found as apples and pears, are regaining their use and popularity because of their abundance in nutrition.
Nutritional Information Of Medlar Fruit
The medlar fruit is rich in nutrition and healthy components. It contains significant amounts of amino acids, tannins, sugars, pectins, and organic acids (1). These add up to give it the characteristic sweet yet tart flavor.
Medlar contains nutrients such as carotene, vitamin C, and vitamin B complex. It is also a rich source of calcium, potassium, iron, magnesium, sodium, and phosphorus that are found in smaller yet significant concentrations (2), (3).
Medlar fruit, with its phenolic compounds, flavonols, and ascorbic acid can also be an important source of natural antioxidants (4).
With the above important nutrients, medlar can provide you with a host of health benefits as discussed below.
Potential Health Benefits Of Medlar Fruit
The medlar fruit helps in treating intestinal infections and inflammations, menstrual irregularities, diarrhea, stomach bloating, internal bleeding, and strengthens the nerves as well (5). It offers the following benefits as well:
Common medlar is a natural source of polyphenolic compounds, particularly phenolic acids that show strong antioxidant properties. The medlar fruit, bark, and leaves all contain significant amounts of plant flavonoids and polyphenols (6). The consumption of food rich in polyphenols has been associated with a reduced risk of several diseases such as atherosclerosis and diabetes (7), (8).
Anti-inflammatory And Antibacterial Properties
Gallic acid is a polyphenol found in the highest proportion in medlar extracts (6). Gallic acid, with its anti-inflammatory properties, might be instrumental in reducing fat storage in obese people (9). Simultaneously, it might have potential antibacterial activity against food-related Pseudomonas strains (10). This means a possible application of medlar extracts in the food preservation industry as well.
Rich In Immunity-boosting Minerals
Calcium, potassium, magnesium, iron, and other minerals found in medlar fruit help boost overall immunity. With its rich content of vitamin C, medlars also hold the potential to help treat scurvy (2), (11).
Rich In Health-promoting Pectin
Pectin is a good source of dietary fiber derived from the cell walls of plants. Medlar fruit with its rich pectin content may help reduce cholesterol levels, prevent constipation, and stimulate bowel activity along with its other anti-inflammatory effects (12), (13).
Might Help Treat Diabetes
Polyphenols found in medlar, especially phenolic acids, and flavonoids are known to inhibit α-glucosidase and α-amylase in carbohydrate metabolism. This can be useful in the formulation of medicines and nutraceuticals significant for diabetes treatment (14), (15).
Might Help Prevent Alzheimer's Disease
As per a study on rats, high levels of flavonoids in the medlar fruit might be effective in the prevention of memory loss and neural injury. This could be further investigated for potential treatment options of similar neurodegenerative diseases in humans (16).
With knowledge of the medlar health benefits above, let's explore the many ways you can include them in your diet.
How to Use Medlar Fruit In Your Diet?
When ripe, the medlars can burst open easily at the slightest touch, so you need to be careful while taking the pulp out. Gently peel off the stalk and squeeze out the pulp holding at the crown. Remove the seeds before eating.
Once ripe, medlars can either be eaten raw or can be used in a number of ways as follows:
It can be easily made into jams, jellies, marmalade, or syrups.
Medlar can also be consumed as candied fruit or with cheese as a dessert.
The fruit pulp with eggs and butter can be made into medlar cheese.
Unripe fruit can be pickled with vinegar and sugar.
Medlar can also be used as a condiment in making fruit wine (17).
Can be made into a thick sauce that enhances many meat dishes.
Let us help you with some popular medlar recipes in case you happen to come across this hidden gem of fruit.
Popular Recipes Of Medlar
1. Compote Of Ripe Medlars
Ingredients
medlars (half-ripe) – 1kg
brown sugar – 800 g or honey – 50 g
water – 0.5 litres
Instructions
Wash, clean, and dice the half-ripe medlars into small pieces.
Dissolve the honey or sugar in water.
Pour the liquid mixture over the cut medlars.
Cook on low heat for an hour.
Cool it down slightly.
When lukewarm, pour into jars.
Seal and keep aside.
2. Medlar Jelly
Ingredients
medlars – 2kg
water
sugar – 375 g per 500ml of strained juice
lemon (juiced) – 2
Instructions
Let the medlars ferment and soften.
Place them in a preserving pan and cover them with sufficient water.
Bring it to a boil and let it simmer for about 90 minutes to 3 hours (depending on the amount of bletting).
Strain the mixture through a muslin cloth or jelly bag.
Do not push the fruit through to avoid a cloudy jelly.
Measure and add 375g of sugar per 500ml of the strained liquid.
Add in the lemon juice.
Bring to a boil and simmer for about 10 minutes until the setting point is reached.
Pour hot into sterilized jars and seal.
To know if it has set well, place a plate with a spoonful of jelly in your freezer. Let it cool and then run your finger through it. If it parts through and crinkles at the edges, it's ready. If not, you need to cook the jelly for another 5 minutes.
Now that you know how to include medlar in your diet and its popular recipes, let's also be aware of its potential side effects.
Possible Side Effects Medlar Fruit
Like other members of the Rosaceae family, the seeds of medlar contain hydro-cyanic acid (prussic acid) and might be poisonous if eaten (5).
Even though the medlar fruit is rich in nutrients and health benefits, the use and intake of medlar seeds should be avoided.
To Sum Up
Medlar is a pome variety of fruit closely related to apples and pears. Usually harvested in late autumn, medlar is edible only after a period of bletting wherein it becomes fermented beyond ripe. Rich in vitamin C, polyphenols, and antioxidants, medlar provides you with a host of health benefits. There is also a significant potential for its use in the development of medicines and nutraceuticals, especially in the treatment of Alzheimer's and diabetes. You can use the common medlar for its sweet and tart taste in jams, jellies, marmalade, pickles, or even wine and medlar cheese.
Frequently Asked Questions
What is medlar used for?
Apart from their therapeutic properties, medlar leaves, bark, and unripe fruits contain high levels of tannins, justifying their use in tanning leather and clarifying wines. Medlar wood is hard, heavy, and quite pliable, making it useful in making fishing rods, knives, and other tools (6).
Is medlar safe to eat?
The medlar fruit is safe to eat when ripe. The seeds are poisonous and should be avoided.
References:
Articles on StyleCraze are backed by verified information from peer-reviewed and academic research papers, reputed organizations, research institutions, and medical associations to ensure accuracy and relevance. Read our editorial policy to learn more.
The following two tabs change content below.