Megan Fox's Makeup, Beauty And Fitness Secrets Revealed
Exclusive, never-heard-before tips and hacks behind her killer, seductive looks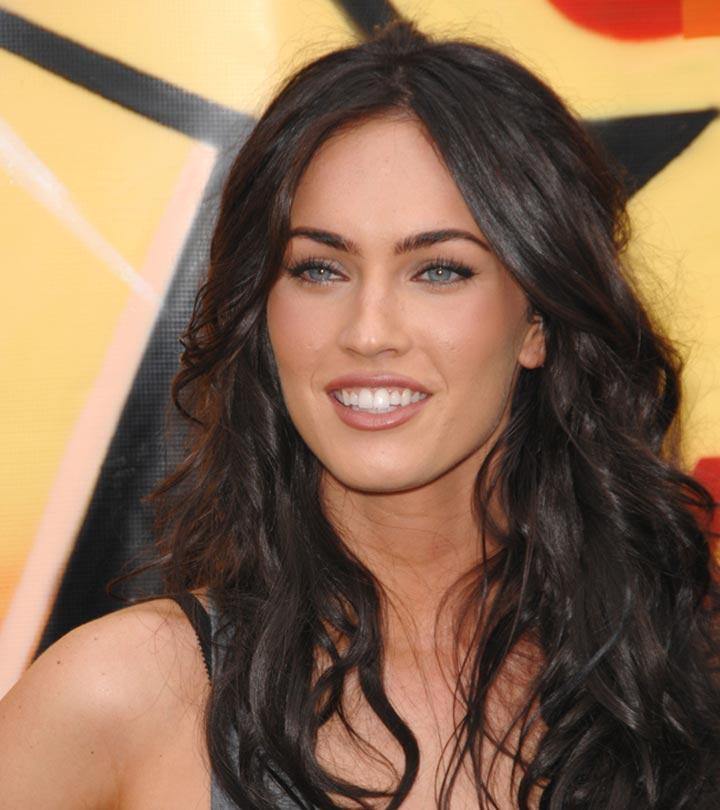 Good news, ladies! We have figured out Megan Fox's beauty secrets and are here to share them with you. This Hollywood diva has made us drool over her beautiful skin for decades now. From the juicy pout and captivating eyes to the silky soft hair and glowing face, she is divine. So, swipe up to know the deets about her skin care regimen!
Megan Fox Beauty Secrets:
The saying 'less is more' is perfectly true when it comes to this sultry actress. Her regular beauty regimen mostly includes cleansing and moisturizing. She washes her face thoroughly at least twice a day followed by a mild moisturizing with Bulgarian Rose Otto by Epicuren Discovery.
Soaking in bathtub for hours is not her cup of tea. Rather, she prefers to take showers as and when required and moisturize her skin with Cold Pressed Organic Oil (Grapeseed Oil) by Whole Foods. The American beauty simply loves this moisturizer as it is lighter than olive oil and suits her skin very well.
She is not at all a sunscreen-person. The chemicals present in readily available sunscreen lotions or sun blocks cause allergies to her sensitive skin. Hence, she tries to provide sun protection on her skin by going out as less as possible and she wears hats most of the time. However, if she really needs to step out in the sun, La Roche-Posay Anthelios AC SPF30 High Protection Fluide Extreme Sunscreen is her only choice.
Fox takes care of her beautiful cat eyes with Perricone MD's Vitamin C Ester Eye Serum. She makes sure to apply it at least 3-4 times a day right after washing her face.
Weekly oxygen facial is a must for this gorgeous beauty (if she is not too busy). As she does not have enough time to use masks, she makes it a habit to get facials as and when required.
Drinking lots of water is another secret of her mesmerizing beauty. It flushes out toxins from her body and keeps her skin flawless.
She also believes that sound sleep is essential for healthy and radiant skin.

Trivia
In an interview, Megan Fox mentioned her preference for DIY masks for her sensitive and dry skin. She uses a blend of Aquaphor and grapeseed oil to hydrate her skin.
Megan Fox Makeup Secrets:
Fox does not like to wear makeup all the time and makes room for her skin to breathe when she is not working. On a regular day, a tinted moisturizer, good mascara and an attractive lip gloss are all she needs.
She suggests girls to give the foundation a miss occasionally. She also advices to apply Vaseline on cheekbones as well as eyelids.
Beach wave's hair is her favorite look for a simple date night and she relies on Bumble and Bumble Surf Spray for getting that thick and beautiful hair texture.
The glamorous actress is extremely conscious about her fashion and makeup. She makes sure that her makeup and hair are soft and natural when her dress is bold.
Highlighting eyes is an indispensable part of her makeup practice. She ensures her eyes are highlighted in any situation by shaping the brows properly and filling them delicately.
When it comes to lip makeup, Fox just loves to experiment with different shades of red. Be it deep wine-red or fresh orange-red, she knows how to sport the look absolutely well. Giorgio Armani Rouge d'Armani Lipstick in 400 is her favourite as it goes wonderful with her complexion and hair colour.
'Red lips and plain eyes' is the signature look of the talented actress. She uses a light foundation and a little blush to complement it.
She can't go without her moisturizer, concealer, mascara, fragrance and Jao Hand Refresher. Some of her essential makeup items include Giorgio Armani Luminous Silk Foundation, Armani Code fragrance, Shu Uemura Eyelash Curlers, etc.
Megan Fox Fitness Secrets:
Megan Fox's flawless beauty is often attributed to her strict health and wellness routine, which she prioritizes above everything. In addition to maintaining a healthy diet and regular exercise routine, this celebrity beauty also swears by a strict beauty routine that includes a variety of high-end beauty products and innovative beauty hacks. As a well-known celebrity in the beauty industry, she is often at the forefront of the latest beauty trends and standards and has become a prominent beauty influencer within the beauty community.
Fox exercises regularly not only to get an enviable figure but also to boost her with positive energy. Her fitness secret is the perfect daily workout routine and a 5 Factor Diet Plan made by her celebrity fitness trainer Harley Pasternak. These help her a lot in looking fad from flab.
In order to be lean and sexy, Fox targets her full body by undergoing a 45-minutes circuit training session and working on each and every major muscle group. She performs exercises, such as lateral plank, crunches, swiss ball, hyperextensions, etc. each for 5 minutes followed by a 30-seconds rest period.
Apart from this, she also practices Pilates, weight lifting, and cardio workouts like cycling, running, dancing, and so on to keep herself fit and flexible.
Megan Fox Diet Secrets:
The 5 Factor Diet Plan of Fox include '5 small meals a day' along with a 'cheat day' on which she can eat any type of food as per her desire.
Instead of dieting, she focuses on consuming healthy foods which mostly comprises raw and fresh fruits, veggies, etc. It provides her adequate carbohydrates.
She makes it a point to take silica as well as fish oil supplements in a regular manner. Processed foods (and dairy items are strict no-no for her. The stunning lady also steers clear from grains (she prefers whole foods), white bread, crackers, etc.
She never skips her breakfast as she considers it as one of the most vital meals of the day. Her breakfast consists of 2 egg whites, 1 oz. of almonds and a bowl of fresh fruits. Egg is her favourite and almonds contain high level of antioxidant vitamin E, fibre and protein. As a result, she does not have hunger pangs for the rest of the day and stays in shape by boosting the effectiveness of her workout sessions.
The striking star is very fond of salads and likes to mix apple cider vinegar with them to get rid of excess body fat.
She also makes sure that her diet includes a fair amount of fat.

Trivia
The 5-Factor diet is focused on the number 5. Megan Fox's meals were prepared with five ingredients that take less than five minutes to prepare.
Infographic: Top 5 Beauty Secrets of Megan Fox
Megan Fox continues to dazzle us with her astounding looks. Not only does she rock the red carpet, but she is also a natural beauty thanks to her diet, skin care, and fitness routine that she follows religiously!
Scroll down to the infographic below to get acquainted with her exclusive beauty secrets.


Megan Fox is the top Hollywood celebrity with captivating looks. Her magical eyes, flawless skin, and radiant face have made many of us in awe of her charming beauty for decades. Megan Fox's beauty secrets will help you achieve your best appearance. Her routine includes cleansing and moisturizing. She prefers to take showers and believes in sound sleep. Additionally, she exercises regularly and consumes healthy foods, including fresh fruits and vegetables. These beauty tips and secrets may help one achieve healthy, flawless skin.
Frequently Asked Questions
Is Megan Fox a vegan?
No, Megan Fox is not vegan. She consumes eggs and fish products. However, she supports veganism.
What is Megan Fox's favorite food?
Red smoothies and protein shakes are among Megan Fox's favorite foods.
What skin tone does Megan Fox have?
Actress Megan Fox is a famous Hollywood diva with fair/light skin.
Is Megan Fox's a cool or warm skin tone?
Megan Fox has translucent skin with warm undertones.
Key Takeaways
Megan Fox is a popular American actress with a minimalist approach to her beauty regime.
She swears by her weekly oxygen facials and staying properly hydrated to achieve her glowing skin.
She loves experimenting with the color red for her makeup and is often found sporting red lips.
Megan emphasizes on eating healthy over dieting and prioritizes her breakfast to ensure she has enough energy for the day.
Learn how to achieve an easy, everyday makeup look inspired by Megan Fox using only drugstore products! Check out this video for her tips and tricks to achieve a flawless finish.
The following two tabs change content below.