25 Mesmerizing Mermaid Hair Color Ideas
Pick marine colors from the depth of seas and splash them onto your locks at home.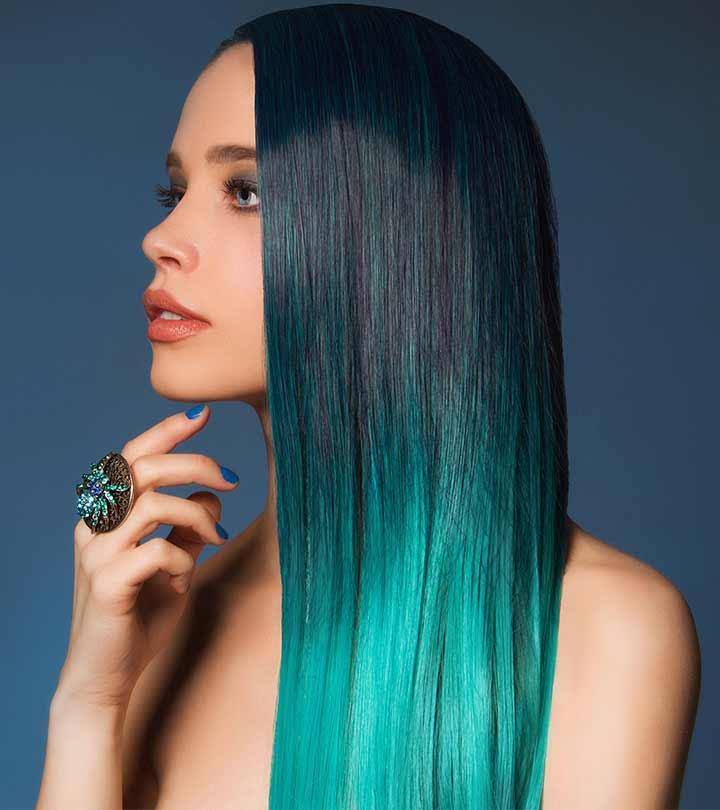 If you are on Instagram, your feed has probably been flooded #mermaidhair images. The best way to describe this hair color craze is different colors bleeding into each other. In this post, we bring you 25 fantastical mermaid hair color ideas for your next hair color experiment.
Because this trend allows you to play with more than one shade, the possibilities are endless! You can find green, blue, purple, pink, and other versions of the mermaid hair trend, such as coral-colored hair, seaside hair, rainbow hair colors and so on. But before that, tickle your DIY bones and learn how to achieve this color trend right at home!

Quick Hair Color Guide: Mermaid
How To Choose A Shade: Opt for subtle gray ombre, sea green, or aquamarine blue if you have a cool undertone and dark ruby and deep purple if you have a warm undertone.
Level Of Maintenance: Medium to high.
Suitable For: All skin tones and straight or wavy hair
Looks Best With: Smokey eye makeup and soft nude lipstick
How To Get Mermaid Hair At Home
You Will Need
A bleaching kit (if you have dark hair.)
Hair dye
Applicator brush
An old shirt
Color protecting shampoo and conditioner
Clips for sectioning
Hairbrush/comb
Gloves
Petroleum jelly
Plastic bowls
Pre-Lightening
Ensure that your hair has not been washed in 2-3 days. The oils in your hair will help with the lightening process.
Brush out your hair to get rid of any tangles or knots.
Wear your gloves and apply the petroleum jelly along your hairline on your forehead, neck, and ears.
Following the instructions on the kit, mix your bleach.
Section away the crown part of your hair and as per the instructions on the kit, apply the bleach onto the loose hair with the applicator brush.
Once you're done with the bottom sections, undo the sectioned away the top part of your hair and repeat the application process.
Leave the bleach on for the recommended duration of time and then proceed to shampoo and condition your hair.
Note: You might have to repeat this process a couple of times to achieve the desired lightness.
Coloring
Once you've pre-lightened your hair, pick some mermaid colors of your choice.
Ensure that your hair has been freshly washed and conditioned.
Brush out your hair to get rid of any tangles or knots.
Wear your gloves and apply the petroleum jelly along your hairline on your forehead, neck, and ears.
Pour the hair dye into bowls. Have a separate bowl for each color if you are using more than one. For an ombre effect, take two bowls; one containing hair dye, and another containing hair dye that has been diluted with conditioner. (Arctic fox, manic panic, pravana, pulp riot, and crazy color are some good brands to work with.)
Start applying the dye onto your lightened hair in sections. You can paint random strands with different colors, or you can use one or multiple colors to create an ombre effect.
Once you've applied the dye, wait for 30 minutes.
Wash your hair with a color protecting shampoo and conditioner.

Quick Tip
A simple tip for choosing the best shades for a mermaid hair color look is to go for ocean color palettes. Or experiment with reds for a refreshing twist to Ariel's fiery red hair.
25 Mermaid Hair Color Ideas
1. Gray Mermaid
The gray hair trend is never going to die, and in combination with mermaid hues, this look is absolute perfection. The dark black roots have been expertly blended out to a beautiful aqua which then seamlessly transitions to a beautiful gray.
2. Aquamarine Waves
If this is what real mermaids look like, give us a pair of binoculars and leave us stranded at the beach. These beautifully long beachy waves have evenly taken color to create a flawless aquamarine look. If you love aqua colors, there is no way you won't fall head over heels with this nautical hair style.
3. Ruby Locks
Who doesn't love a Victorian mermaid? This style has been perfected with lavender, pink, and ruby tones that add dimension and volume. This style incorporates vivid ruby hues near the crown section which melt into a pink and then to a lavender, and you move further down the layers.
4. Ocean Depths
Could the name for this style be apter? With colors that were picked from the depths of the ocean, this hairstyle is one of the best mermaid looks that we've come across. The deep blue roots fade to an aqua with electric green streaks that add movement. The style then picks up color again, transitioning to a deep berry blue at the tips. This blue-green hair style is, no doubt, a deep-sea masterpiece.
5. Silver Kelp
We love green hair, especially in this style. The black to silver-gray roots pick up a phantom green creating a balayage effect. The style is dimensional and creates enough volume to be perfect for women with medium-length fine hair.
6. Sea Green Sombre
Talking about fine seafoam hair and creating dimension, this style has nailed the concept. With a deep green at the roots that fade out at the tips, this hair color looks phenomenal. The best part is that you won't have to lighten your hair too much to achieve this look. The natural yellow tones add dimension and look beautiful when weaved into the green.
7. Sea Princess
A foreign mermaid princess who loves peacocks? Sounds pretty apt. With tones of jade, teal, and royal blue, this style is nothing short of perfect. The multi-toned sea-inspired highlights locks help create movement, making this style perfect for women seeking volume.
8. Ocean Waves
A lot like the previous style, this one too incorporates multi-colored streaks. The style has incorporated a pop of purple, adding so much dimension to this multi-hued look. The beach waves just help tie the whole look together, making it one of the best wavy mermaid hair styles we've laid our eyes on.
9. Sterling Blue
This mermaid style is so badass with its storm-like color scheme. The dark roots fade to a denim blue which takes on silver tones at the tips. The style is bold, beautiful, and badass, all at the same time.
10. Platinum Peekaboo Mermaid
We love our perfect platinum, but this style has taken the look to a whole new level by incorporating shades of blue and purple in the lower layers. The peekaboo colors help add depth to the style, reflecting the perfect ocean-inspired hair.
11. Midnight Moonlight
The moonlight glinting off the waves of the ocean during the darkest hour of night. That's what this style looks like to us. We can't stop ooh-ing at this perfect blue balayage. This style is sure to suit all hair types and textures.
12. Mermaid Grunge
There's no way that this mermaid does not have an ear for grunge. This absolutely badass hairstyle incorporates capri blue hues at the lower lengths of the hair. The balayage has been painted on perfectly to add subtle texture, and we are in love.

Quick Tip
A fool-proof styling hack for mermaid hair colors is to use fishtail braids or get mermaid waves. Seashell and pearl accessories can add a classic mermaid touch!
13. Dream Blue
This blue haired mermaid is just nailing the look. From the Purple roots that melt into the deep ocean blue to the subtle fade as your eyes travel down the length of her locks. The hairstyle takes on teal tones in the mid-lengths. This look is sure to look as good fading out as it looks freshly colored.
14. Crowned Mermaid
If simplicity were an art, this hairstyle would be one of the best masterpieces that we've had the pleasure of appreciating. In this shell-inspired hair, dark roots seamlessly melt to a deep aqua blue that further fades to a lighter aqua. The vivid color is perfectly adorned by seashells. What accessory could be more fitting?
15. Electric Mermaid
WE LOVE THESE NEW GLOW-IN-THE-DARK shades. While they look like regular vivid colors with the lights on, they turn into magnificent sources of luminance when the lights go off. Can you picture this mermaid swimming in the ocean with her gloriously glowy saltwater hair?
16. Purple Depths
Ooh, this vibrancy. With dark roots melting into vivid blues and purples. The artist has created the perfect melt near the roots which then progresses into the perfect purple balayage as you move down to the tips.
17. Midnight Waters
This magical deep ocean blue is so simple yet so stunning. With dark black roots that flawlessly melt to blue, this style is absolutely gorgeous. The style incorporates an ombre effect where the dark hair fades to a light yet vivid blue.
18. Bohemian Mermaid
This style has so much going on and in all the right ways. This is one of the most perfect combinations of natural and unnatural colors that we've come across. The style has shades of dirty beachy blonde hair, dirty brown, blue, aqua, pink, orange and some yellow and green neons. The artist has to be a true genius to have pulled the look together so well.
19. Opalescent Shimmer
This style is pastel perfection and one so gorgeous, nobody can deny it. With pastel tones of pink and blue painted on platinum hair, this is one of the coolest styles (pun intended) that we've come across. Lovers of cool tones, this one's for you.
20. Jaded Purple
This cannot not be a mermaid because we've never seen hair this perfect on a human being. The aqua roots melt into a beautiful jade color which flows through the length of the hair. The artist has also meticulously woven tones of purple and aqua, creating the perfect contrast and just the right amount of "pop."
21. The Little Mermaid
Ariel is definitely our favorite Disney princess, and this is the perfect fantasy hair color, and we can say with conviction that this has to be Ariel because nobody else has red locks this gorgeous. This single-toned beachy curls mermaid style has been styled to perfection. The color has taken to the hair so evenly, it almost looks fake. In the best way possible, of course.
22. Pastel Mermaid Undercut
As the saying goes- Always be yourself. Unless you can be a mermaid. Then definitely be a mermaid. This beautiful style has pastel shades of green, blue, pink, and purple. The fish-scale undercut ties the whole look together, making this mermaid perfect.
23. Mermaid Fairy Floss
Are you a mermaid who loves pink? Then it definitely can't get better than this for you. The deep pink melts into a multi-hued pastel balayage, and the outcome is truly glorious. And we cannot deny how beautiful these colors look on braided dos.
24. Clear Waters
What's more breath-taking than relaxing in crystal clear waters? This hairstyle. The style starts off with aqua roots that soon melt to a gorgeous platinum. The mid-lengths start to take on a gorgeous ash-blue color near the ends. It is so easy to go wrong with adding movement at the mid-lengths, but this style is all things right.
25. Subtle Fishtail
If you love subtlely, this might be the style for you. The artist took a loud neon green and created a balayage so well done that the result is anything but loud. The dirty blonde, in combination with the green, is the best subtle mermaid balayage we've laid our eyes on.
Infographic: How To Maintain Mermaid Hair Color
Rocking the mermaid hair color is adventurous and needs some creativity too. There are multiple ocean-inspired hair color and mermaid hair color ideas, such as aquamarine waves, ocean depths, sea princess, and more. However, having multiple dyes to bring out the mermaid inside you can be overwhelming. Thus, check out the infographic below to learn about how to maintain healthy and shiny mermaid hair and stand out in the crowd.



Looking at these 25 mermaid hair dye ideas, it is no surprise why this hair color craze is trending. These mermaid shades look so mythical and surreal. From a simple gray blue ombre and victorian ruby blend to a mermaid fairy floss or a subtle neon green balayage, these mermaid looks are truly divine. Not only do they make your hair look phenomenal, but also you end up looking like an independent mermaid queen ready to protect your seas and treasure. So, scroll up, pick your favorite style, head on to the hair salon (or try it yourself if you are feeling particularly lucky), and go on your mythical mermaid journey!
Frequently Asked Questions
How much does mermaid hair coloring cost?
Danielle Keasling, a celebrity hairstylist, says, "Mermaid hair can cost anywhere from $100 all the way up to $1000 on average in salons, depending on the process. In order to lay in these fantasy tones, you need to pre-lighten the hair most of the time. This is a separate process that needs to happen in order to get the vibrancy of the fashion tones. However, if you're naturally blonde, most of the time, pre lightening won't be needed."
What color is the mermaid blue?
Keasling says, "Mermaid blue is a combination of aqua, teal, retro blue, royal, and navy with reflections of silvers, grays, and greens."
How do you do mermaid hair for short hair?
Use a flat iron to get the classic beach waves according to your preference. Finish your mermaid's hair look with a glossy hairspray.
Are mermaid waves still in style?
Yes. Mermaid waves are a type of well-defined crimped hairstyle that is perfect for a beach day to accentuate your tresses.
Key Takeaways
Hair dye works best on hair that is not washed for 2-3 days as the oils in the hair help with the lightening process.
Wait for at least half an hour after coloring your hair and follow up with color-protecting shampoo and conditioner.
Hairstyles such as grey mermaid or aquamarine hair color may look good on wavy hair.
If you like braids, then try hairstyles such as mermaid fairy floss, or subtle fishtail.

Get inspired to create a unique look with vibrant colors and creative styles. Check out the video below for the top 20 mermaid hair color ideas.

The following two tabs change content below.