8 Mesmerizing Beauty, Makeup And Fitness Secrets Of Princess Mary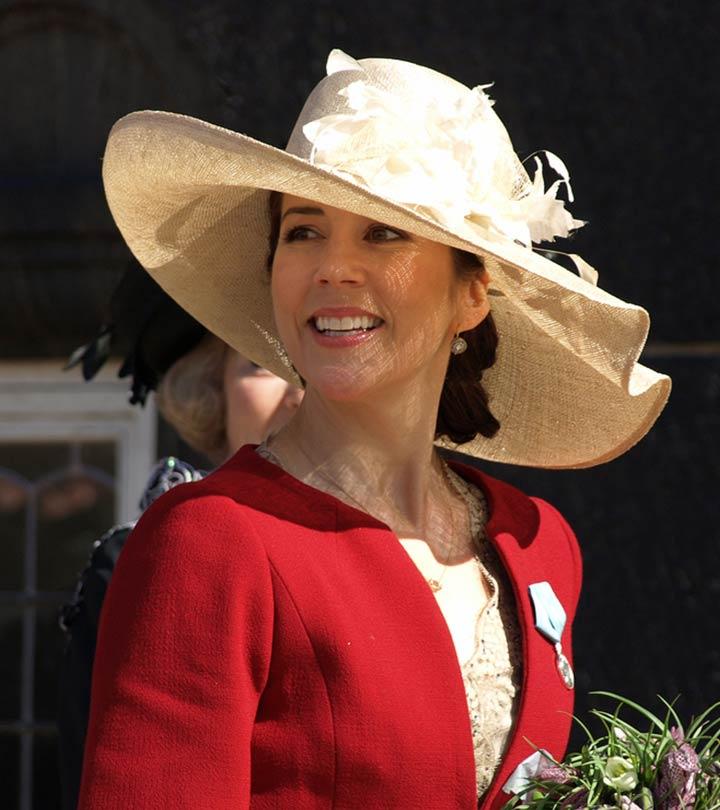 Princess Mary, redefines the definition of beauty and style in her own royal ways. The princess of Denmark is an Australian by birth, but adopted Denmark citizenship after her marriage. Her innate sense of style makes her one of the most fashionable royals of the world.
Here are some secrets about her beauty, makeup and fitness that we gleaned just for you!
[ Read: Fitness, Beauty & Makeup Secrets From Princess Charlotte Casiraghi Of Monaco ]
Beauty Secrets:
Unlike many other princesses who just follow different trends and styles, Princess Mary of Denmark is engaged with the fashion industry professionally. Her charm is not just limited to pretty crowns and gorgeous dresses; instead, it extends to creating fashion for the rest of the world. But when it comes to her beauty, she is naturally blessed!
Radiant Skin: The glowing skin of Princess Mary is a matter of envy for many women across the globe. Shine naturally comes to her fair complexion that looks baby-smooth. She looks like a princess from a disney-themed fairyland. The lack of pollution in Denmark surely plays a part in her clear and smooth skin. However, the food items native to the place are particularly skin-friendly and also help the princess maintain her skin's health. Olive oil and salmon are the secret to a flawless skin, probably like the skin of this royal Denmark beauty.
Blazing Brown Magic: This royal would-be queen flaunts dark brown hair and eyes. Her twinkling eyes and silky smooth hair make her one of the prettiest princesses and fashion divas in the world.
Fashion Connection: Princess Mary is a mixture of style and grace. She looks absolutely stunning in everything she wears. Four colors that you may find her wearing the most, are yellow, magenta, black and nude. However, she looks stunning in every other color one could probably think of.
Gowns Galore: She is a gown lover. She usually cascades her way in fairytale gowns during many royal events. Her unique dressing style has even earned her a position in the list of the best dressed celebs internationally. She is usually spotted flattering the world in exclusive designer pieces from Prada, Malene Birger, Hugo Boss and a few more.
Variations In Style: She never bores the world with a single look. You can easily spot her in casuals, elegant dresses, gowns, pants with sequined tops, bodycon dresses, formals and much more. It is her strength to pull off each look with confidence. Confidence is sexy, isn't it?
Love For Shoes: A perfect shoe made Cinderella meet her prince. Princess Mary and Prince Frederik experienced a similar fairytale like romance. He was the royal highness and she was a common woman. Sparks flew and the world got a beautiful princess to look up-to. An absolute fashion diva, Princess Mary just can't do without a perfect pair of shoe for every occasion. She is a lean and tall woman. She carries pumps with grace in most of the events she is a part of. Her style guide for a perfect shoe makes her love for pumps very clear and evident.
[ Read: Makeup, Beauty & Fitness Secrets Of Princess Letizia ]
Makeup Secrets:
The natural beauty of Princess Mary surmounts any need for un-natural or heavy makeup. She is usually bare faced yet manages to look so gorgeous. She is usually seen wearing bare or nude base that perfectly complements her skin tone. A hint of rose red blush (just a little would do) and baby pink/ coral shades of lip glosses- that's it and she is good to go out and rock the event.
Fitness Mantras:
A glass of red wine seems to be her immunity booster. Yes, she is usually spotted at evening dinners and royal parties with a glass of red wine. The mother of 2 and godmother of 5, is an active member of the WHO's anti-obesity campaign. She is good at basketball and hockey too, and has been involved with these games since her childhood.
It seems like the royal beauties are not mere plastic dolls, but women of steel. Crown Princess Mary of Denmark is an active socialite and supports various good causes for the betterment of the society at large. A woman of substance, indeed!
Which royal love story is the most fairytale like in your view? Share with us in the comments section below.
The following two tabs change content below.

Latest posts by preeti bhatt (see all)