85 Best And Cute Short Bob Hairstyles For Women In 2023
Shaggy, layered, windswept, teased, wavy – meet the many versatile forms of a bob!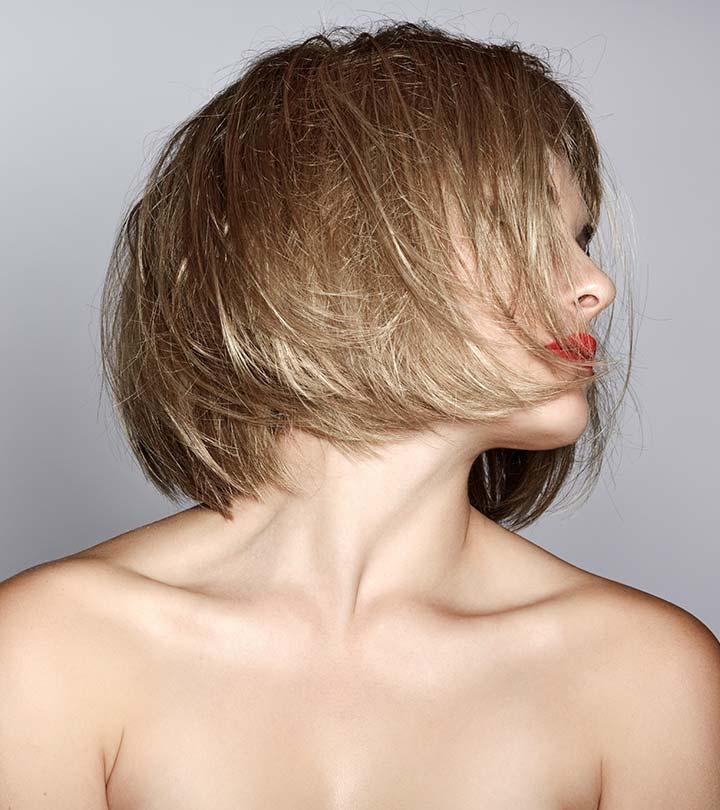 Messy hair is all over the place right now. And if you have a bob, you know the messier, the better and edgier it looks. Keep reading to check out the 80 chic, messy short bob hairstyles you can try out.
Short bob haircuts are versatile and low maintenance. And with these messy looks, you will not be spending all day in front of the mirror trying to manage and style your short hair. Scroll down to learn how you can style a messy bob perfectly.


Before You Get Started
Short bobs are high maintenance. The tiniest growth can change the look entirely. Thus, a trim every 3-6 weeks is a must to maintain the style.
Choose a short bob according to your face shape. Textured bobs look good on round faces. Bobs below chin length complement a square-shaped face, and voluminous blunt bobs look good on oblong faces. All bobs work with this face shape.
Super short bobs also draw attention to your neck. Go for longer cuts if you have a wider neck.
Short hair generally exposes your entire neckline. So also make sure to use a body exfoliator for smooth skin.
How To Style A Messy Bob
Here are a few pointers to consider when styling your bob to messy perfection.
When styling your bob, add some texture to your hair with the help of gel or mousse. This will help you get the messy look you are aiming for.
Waves and curls will make your bob look fuller, thicker, and more voluminous.
Get your bob cut in layers to accentuate the messy vibe.
When creating a pouf, don't neaten it out. Just spritz some hairspray on it to lock in the messy pouf.

Did You Know?
The short bob cut is considered a representation of progressive, spirited, and independent women.
Now, let's check out some trendy messy bob hairstyles!
85 Latest And Most Popular Messy Bob Hairstyles For Women
1. Vintage Rounded-End Bob
Keira Knightley has served many iconic bob looks and this is no different. This vintage look is achieved by softly twisting and curling the ends of the ear-length bob. While this could be an enviable retro-themed hairstyle, you can also wear it for a casual day out in town.
2. Top Knot On Wavy Blunt Bob
Do you have a sharp, blunt bob hairstyle that makes for an edgy look when messed up? And you want to add a softer, casual touch to it? Easy! Just make a top knot, and you have a girl-next-door look.
3. Sharp Wavy Bob With Baby Bangs
Baby bangs are the must-try trend these days. No matter the length of the hair, many influencers and celebrities are chopping away their bangs in bold ways to experiment with the look. You can style your hair in curls and waves and it would look just as cool!
4. Tousled Blunt Bob With Neat Side-Part
If there is one thing Dua Lipa's bobs are iconic for, it's the clean parting. For this look, while her bob is slightly tousled, the sharp side-parting is neat as ever.
5. Soft Messy Waves With A Middle-Part
Margot Robbie's neat middle parting with her messy bob is another example of how this neat-messy combo works. Soft waves frame the face for a dreamy look. This style will help in slimming down wider face shapes.
6. Shaggy Bob
Rosie Huntington Whiteley is beautiful! This shaggy bob accentuates her beauty even more. Do note the blonde highlights that are accentuating the shaggy layers. Part your hair on one side with a slight lift to add more volume.
7. Messy Teased Bob
Kat Dennings slays with this messy bob. Her curls have been backcombed to add more volume. When recreating this look, don't forget to comb the top of your hair to neaten it a tad.
8. Brown To Blonde Ombre
If you have brown hair, a great way to jazz things up is to go blonde. Consider a lovely blonde ombre. Keep your roots brown and lighten the color to blonde as you reach the tips. The middle parting helps accentuate your jawline.
9. Deep Brown Ombre
A deep brown ombre is just what you need this autumn. It will blend in well with the earthy theme of fall. I love how the very ends are slightly lighter. This is a great way to spice up your brunette hair.
10. Fluffy Messy Bob
Does your hair get fluffy when it is humid? This fluffy messy bob is a brilliant way to use it to your advantage. The sharp side-swept bangs go perfectly with this shoulder-length bob.
11. Sculpted Messy Bob
If you love planning things to a T, this hairstyle is for you. Sculpt your hair into curves on one side with the help of a round brush and a blow dryer. Pin back your bangs on the same side. The dark roots help in framing your face. They also give your hair a thicker appearance.
12. Windswept Crimped Curls
This crimped bob looks stunning. You can achieve this look with the help of a straightening iron and some mousse. Wrap your hair around the straightener to give it the crimped curl look. Tousle your hair with your hands to give it that windswept and naturally messy look.
13. Messy Layered Bob
This look can best be described as a beautiful mess. This bob with a messy texture brings out Dianna's eyes beautifully. The dark roots make her hair look fuller at the top. The thinned-out ends enhance the volume further.
14. Faux Sidecut Messy Bob
If you have a bob cut, one edgy way to style it is with a faux sidecut. You can either weave one side in thin braids or simply pin it up to achieve a faux sidecut look. Leave the rest of your bob messy and loose.
15. Short Red Wavy Bob
Did you know that Emma Stone is a natural blonde? It's true! But red hair suits her better, and even Emma loves it! By styling her hair wavy, she adds texture and volume to it. I love the short layers at the front of this angled bob. Very stylish!
16. Messy Wavy Lob
Rosamund Pike looks like an angel with this messy lob. If your bob is growing out, leave it be! Style it in some subtle waves and let the compliments flood in.
17. Feather-Ended Lob
Cara Delevingne's blonde hair and red lip color make for a stellar combination. They also bring out her gray eyes. If you have a lob cut, feather out the ends. This will give your lob more volume and make it look thicker.
18. Curly Blonde Bob
Ashley Benson brings us this stunning curly bob. I love how messy yet elegant this hairstyle looks. Place medium sections of hair around the barrel of your curling iron to get those perfect curls. Keep the ends of your hair wispy to give it a thicker appearance.
19. Sharp Layered Bob
The layers of this bob are accentuated by the crisp waves. Use a straightening iron to achieve this look. This messy hairstyle really suits Lana Condor's black hair. I also love the sleek middle parting.
20. Side-Swept Bangs With Messy Bob
Olivia Wilde has stunning hair that she flaunts perfectly with this messy bob. Side-swept bangs are a great way to jazz up this bob. Love how the layers add to the messy vibe of this look!
21. Heavily Layered Bob
If you have a bob, flaunt it with layers. Start the layers from midway down. This will help frame your face and add dimension to your locks. Use the point-cut method to feather out the ends of the layers.
22. Slick Messy Bob
Uneven bangs add to the messy vibe of this slick bob. I love how it is neat at the top, but from midway down, you can see a few stray strands break away from the bob. This messy look is great for the workplace.
23. Messy Curly Ended Bob
Got a bob cut recently but your bangs are growing out fast? This is a great way to embrace grown-out bangs. The longer the bangs, the messier the bob looks. Add a nice swivel at the end of the bob to accentuate its messy texture.
24. Messy Blunt Lob
Sometimes, the best tools for taming your hair are your fingers. Use your fingers to give your blunt lob a messy look. Make sure your parting is not very neat as it adds to the messiness of the look.
25. Blonde Textured Messy Lob
If you have a lob cut, play around with it. If your natural parting lies at the center, part your hair on the side. It will give your messy lob a nice lift. This adds height to your hair and helps in framing your face. It also adds texture to your tresses.
26. Sharp Choppy Layered Bob
Jenna Dewan stunned all of us with this short bob cut. The ends are cut choppy and blunt, which enhances the messy vibe of her look. Don't give your hairstyle a definitive parting, but keep shifting your hair from one side to the other. This will make it look beautifully messy.
27. Blonde Lowlighted Messy Bob
If you have light blonde hair, add some lowlights to it. Part your hair deeply on one side and let your bangs fall naturally. The light blonde color will give your messy bob a soft look, which makes it perfect for any occasion.
28. Brown Balayage Messy Lob
So your bob is growing out fast. This is the best time to get that balayage you have always wanted! A lob is a great way to showcase a new hair color. Keep the look messy with center-parted bangs.
29. Messy Short Bob
There is no hairstyle that Emilia Clarke cannot rock! And when it comes to short and messy hair, she absolutely nails it. This messy bob looks perfect with the long hair at the top and short hair at the back. The dimensional blonde color adds texture to her hair and frames her face beautifully.
30. Naturally Messy Bob
When you wake up, where does your hair naturally part? Embrace this natural parting to give yourself the perfect "just got out of bed" look. That's the best thing about having a bob cut – you get to leave your hair messy, but it still looks great!
31. Voluminous Messy Bob
If you have a heart-shaped face that is the widest at the forehead, this hairstyle is for you. By teasing your hair from the midway down, you can draw attention to your jawline. Part your hair down the middle to cover up the width of your forehead.
32. Partially Highlighted Bob
So you have perfected the messy bob look, but now, you want to spice it up? Look no further than Demi Lovato. Take a cue from her and add in some partial highlights. They can be used for framing your face or to add color or contrast to your hair.
33. Messy Short Curly Bob
Carey Mulligan looks utterly adorable with this messy girl-next-door girl bob. Style your hair in curls with velcro rollers and arrange them with your fingers. This hairstyle looks even better when your hair is cut in layers.


Trivia
American actress from the silent film era, Mary Thurman, is known to have popularized the short bob cut in the first half of the 1920s.
34. Messy Soft Lob
This hairstyle proves that Emily Blunt was the right choice to play Miranda Priestly's right-hand woman in The Devil Wears Prada. This soft lob is just the right amount of messy and not shabby. The brown ombre accentuates the lower layers of her hair.
35. Sculpted Curly Messy Bob
Have an event to get to, but you can't get your hair looking the perfect amount of messy? No worries. Here's a stunning messy hairdo you can sport to your prom or wedding! Sculpt your hair in waves using a round brush, blow dryer, mousse, and hair clips. Once it is in place, spritz on some hairspray and leave it be.
36. Highlighted and Grown Out Pixie
This is a short ash brown pixie with golden brown and natural blonde highlights. Being a grown out one with the visibly unkempt layers, it can be a good choice for you as a messy short bob.
37. Highlighted Curly Bob with Long Bang
This is a very short boyish bob on dark brown silky smooth hair with light brown highlights. The large messy curls all over the head and a long spiral side bang have given it a distinct look.
38. Full Head Highlighted Bob With Wispy Ends
Get a full-head bob cut on your ash brown wavy hair with natural golden blonde highlights. Add volume to it and give the ends of the waves a beautiful wispy effect for a true messy look.
39. Reverse Stacked Bob With Uneven Front Fringes
This is a very short jet-black bob with reverse stacks. The wispy ends of layers and the irregular front fringes are two unique features of this hairstyle.
40. Chin-Length Wavy Bob With Frail Ends
Side-part your chin-length black bob with random waves. Make sure that their ends are frail enough and add a messy flair to the whole look. Set the style with pomade or hair wax.
41. Curly Rounded Bob With Highlights
In this rounded bob, the layers are curled up intensely for a cute and adorable look. The light brown highlights on ash brown locks, the coils swinging over the forehead and the overall tangled finish are the biggest features of the style.
42. Side-Parted Bob With Messy Textured Layers
The long layers and the dark roots have given this short blonde bob an exclusive appearance. The layers are textured and messed up slightly, while the front section is swept over the forehead for a neat look.
43. Neck-Length Layered Bob With Volume and Curls
A layered neck-length bob can look awesome if the ends of the layers are curled up nicely in the outward direction. Let the sides and the top remain wavy and a bit messy and sweep the front section over the forehead for a trendy look.
44. Wavy Jaw-Length Bob With Rounded Back
A jaw-length bob goes excellent with almost all face shapes. Here, the side-parted bob is rounded at the back, while the side locks are waved up and allowed to frame the face in a tangled way.
45. Super Wavy Inverted Bob With Highlights
Ditch your straight inverted bob and go for this tapered style by giving it a super wavy look with wispy ends. Dark brown highlights, side part and an untidy effect will make you look truly different.
46. Side-Parted Bob With Messy Waves
Part your neck-length bob hair to one side. Now, take the locks in thin sections, create waves on them and give a tangled finish. That's all.
47. Blonde Curly Bob With Side-Swept Bang
This sexy natural golden blonde bob will give you a refreshing look in no time. Just part it to one side, curl up the messy locks randomly and add pretty long side-swept bangs to them.
48. Highlighted Asymmetric Curly Bob With Long Curvy Fringes
Get an asymmetrical bob cut on your jet black hair with dark brown highlights. Create curves on the long front fringes and let them swing over your eyes, while the rest of the hair should be curled up subtly.
49. Golden Blonde Curly Bob With Layered Side-Swept
Dark roots, layered side-swept bangs and a touch of pink are the USPs of this golden blonde bob. Curl up the locks in thin sections and texturize them for a better look.
50. Smart Bob With Graduated Fringes and Highlights
This smart bob is almost similar to the regular boy cut hairstyle with graduated fringes lying over the forehead. However, you can tease up the crown to add volume to it and add golden brown highlights for a difference.
51. Jet Black Boyish Bob With Wispy Layers
This short jet black bob with fringes is also quite boyish in appearance. Apply mousse to add volume to the roots of the hair and also, make sure that it includes small layers with wispy ends so that you look elegant.
52. Layered Bob With Wispy Ends and Random Fringes
In this very short bob hairstyle, the layers are made extremely short, frequent, and wispy at the ends to get a voluminous look. The random front fringes complement the entire style perfectly.
53. Trendy Bob With Pointy Ends and Forehead Band
This very short trendy bob can make you look super smart and highly stylish at the same time. Cut your jet black hair into wispy layers with pointy ends and wear a monochromatic forehead bandana to balance off the look.
54. Messy Short Bob With Random Layers and Fringes
When it comes to achieving a true casual look, this short bob can be your ideal solution. It features random layers with graduated fringes. But, the totally unkempt finish adds a real casual feel to it.
55. Voluminous Highlighted Curly Bob With Smooth Side
This is an ear-length light brown bob with golden and silver blonde highlights. Create a deep side part on it, add volume to the crown and curl up the locks in the larger section intensely, while leaving the smaller section smooth.
56. Voluminous Wispy Full-Head Bob
If you are ready to sport something unique, this reddish blonde wispy bob with golden blonde highlights will be a good choice for you. The full-head bob features thin wispy layers, almost straight fringes and a fluffy voluminous look.
57. Glossy Copper Pointy Bob With Textured Waves
The sizzling copper color and the shiny texture of this cheek-length bob is enough to make you stand out from the crowd. You can get pointy ends and texturize the messy waves nicely for amazing add-ons.
58. Curly Reddish Blonde Bob With Frizzes
Create thin curls on your reddish blonde chin-length bob and mess them up slightly. The locks at the back side of your head should be frizzy to give you a carefree yet pretty look.
59. Asymmetric Bob With Rippling Waves and Fringes
If you already have an asymmetric bob haircut, you could try creating rippling waves on it. Here, the yellowish-blonde messy locks with random front fringes have made the look even better.
60. Careless Wavy Bob With Frizzes and Mess
Ready to sport just the right careless look! Opt for this short ash-brown bob with almost invisible layers, a touch of black highlights, absolute frizzes and extreme mess. Let the waves swing over your forehead casually.
61. Frizzy Curly Bob With Wavy Side Sweep
Those who have fine locks can give this messy and frizzy short bob a try for a change. Curl them up in short sections after parting to one side and sweep the front waves over the forehead neatly. Simple!
62. Wavy Blonde Bob With Long Front Fringes
This is actually a very short blonde bob, which reaches up to the ears. But the wavy front fringes in it are quite longer than usual and covering the forehead in a semi-circular shape. And don't miss out the frizzy finish too.
63. Voluminous Curly Bob With Wispy Layers
The stunning cinnamon red shade has made this short curly bob with extra volume a super hit among ladies. Part it to one side and let the wispy layers frame your face nicely.
64. Fluffy Curly Bob With Ribbon Bow
In this black bob hairstyle, the short layers are curled up in such a manner that it creates a fluffy and messy look. Apply a gel with good hold to set the style and adorn it with a huge ribbon bow.
65. Stacked Bob With Random Feathery Layers
This is a dark brown stacked bob in which the layers are made random and given a spiky or feathery effect to come up with a messy sporty look. Apply a stronghold hair gel to maintain the style for long.
66. Half-Curled Blonde Bob With Wavy Layers
This is a simple golden blonde bob that basically features wavy layers with messy flair and added texture. It has been made exclusive by curling the locks halfway up from the bottom. Nice, no?
67. Retro Boyish Bob With Bangs Tucked Behind Ear
If you flaunt a retro hairstyle like this, you will look super stylish with no additional effort. Get a very short bob cut on your ash brown hair, let the long wavy bangs tucked behind your ears and mess the layers up to create a smart sporty finish. Amazing!
68. Irregular Bob With Textured Wavy Layers
An irregular bob features layers of different length with no proper order. Once you get your messy bob haircut, texturize the waves in small sections and add a messy flair to the whole style.
69. Very Short Bob With Large Dramatic Curls
Make a deep side part on your dark brown wavy locks with light brown highlights and add considerable volume to the larger section. Creating large dramatic curls at the front and giving an overall tangled finish will make the hairstyle more eye-catching.
70. Glossy Blonde Bob With Messy Rippling Waves
In this hairstyle, rippling waves are created all over the golden brown blonde bob. A side part and slight frizziness will help you master the style perfectly.
71. Textured Wavy Bob With Highlights and Lowlights
The choice of highlights and lowlights has turned this apparently simple bob into a dazzling one. Zigzag part, wispy waves and added texture are some other big features of this style.
72. Center-Parted Asymmetric Bob With Dense Waves
Part your golden brown bob with dark roots in the middle and create intense waves all over it. Being an asymmetric one, some of the locks should reach your shoulders, while rest of the wispy ends should swing freely around your face.
73. Platinum Blonde Bob With Waves and Frizzes
Start with making an untidy center part on your platinum blonde bob with light brown highlights. Let the waves frame your face nicely and complement the whole style by creating frizzes.
74. Full-Head Super Curly Beige Blonde Bob
If you have super curly hair, you will simply love to opt for this messy short bob style. Here, the beige blonde rounded bob is featuring intense curls with added volume and no part. Cute and adorable!
75. Funky Black Stacked Bob With Red Highlights
Those who have inclination to funky hairstyles will find it fun to sport this one. It is an absolutely messy stacked bob with long front fringes and fiery red highlights. So, ready for it?
76. Highlighted Boyish Bob With Outward Spikes
Here is another example of a chic boyish golden brown bob with natural blonde highlights. However, the layers are extremely short here and the spikes in the outward direction have added zing to them.
77. Charming Bob With Layered and Textured Waves
Hate that boyish look? Don't worry. Here is a super girly short bob in which the layers are turned into random waves followed by perfect texturization in order to create a charming and refreshing look. Lovely, isn't it?
78. Jaw-Length Wavy Bob With Stray Front Fringes
As you can see, this is a soft black jaw-length short layered bob with golden brown highlights and messy waves. But it is the stray front fringes swinging over the forehead, which has made it distinct.
79. Voluminous Corporate With Intense Curls
This is a perfect style for corporate women with short bob hair. Curl up the hair in thin sections and create extensive volume all over the head. You are done!
80. Afro-Textured Curly Bob With Shaved Side
Now, here is something that girls with Afro-textured curls can certainly give a shot. To jazz up the messy short bob, add a slightly longer bang at one side and shave up the other side to some extent.
81. Grown Out Pixie With Pretty Headband
This grown-out pixie cut can also be considered a nice choice for messy short bob hairstyles. The thick, sharp layers, subtle highlights, puffy crown, and dazzling headband – all contributed to its elegance.
82. Face-Framing Curly Bob With Textured Wavy Side Sweep
Apart from its hot golden brown shade with dark roots, the face-framing shape of this messy curly bob will grab your attention. Let the texture waves lie on the top and sweep over your forehead to balance off the entire look.
83. Very Short Messy Bob With Spiral Curls
This extremely short bob with long spiral curls all over the top of the head has created the example of a perfect messy hairstyle. Wear it with proper attitude and get appreciated.
84. Uneven Peach Bob With Fringes and Pink Highlights
This is a true rock star look in which the uneven peach wavy bob with long straight fringes is jazzed up with straight pink highlighted strips. It itself looks quite messy and attractive at the same time.
85. Bob With Straight Wispy Layers, Spikes and Curls
At last, here is a punk bob hairstyle that you can try too. The dark brown hair features lots of straight layers on the forehead and both sides, sharp spikes on the top, long wavy bangs tucked behind one ear and curly bangs behind the other. Did you love it?
Dominique Sachse, a YouTuber, emphasizes the importance of finding the right balance while presenting a tutorial for styling a bob haircut with textured layers and curtain bangs: "It is so important to have the right product and the right tools to get the right result. If there is one thing I have learned about hair is that equation, you know, it's x plus y equals these times something, and then you get boom! (i)"
Infographic: Dos and Don'ts To Maintain Short Bob Hairstyles
These attractive hairdos inspired by celebrities such as Lana Condor, Emma Stone, and Emilia Clarke might have convinced you to chop off your long locks for show-stopping short bobs. But once you get them you need to learn how to maintain these hairstyles so they always look on-point.
Check out the infographic below to know the necessary dos and don'ts to efficiently maintain short bob hairstyles for a long time.



Short hair is easy to manage and style. Anyone who has cut their hair short would know how easy it is to take care of the hair when it is short. Short bob hairstyles can be mixed with other hairstyles. You can keep it messy to make your hair appear voluminous and thicker. The messier your hairstyle, the thicker it looks. You can accentuate your fresh and modern messy look with some layers and curls too. Styling messy short bobs is simple. The 80 short messy hairstyles listed here may help you find the one suitable for your style and hair.
Frequently Asked Questions
What is a wedge bob?
A wedge bob is a short and layered haircut. It has shorter layers at the nape of the neck and long layers near the face.
What is the French bob?
A French bob consists of two key elements: cheek-skimming layers and wispy baby bangs. Sometimes, it can be a blunt cut with eyebrow-skimming bangs that make it a low-maintaining hairdo.
What is a stacked bob haircut?
A stacked bob involves precisely cut graduated layers at the back to make your hair look rounded. It can be super short, mid-length, or with bangs. It is suitable for both thin and thick hair, but it looks especially great on straight hair.
What is a feathered bob?
A feathered bob offers a more natural finish with a short cut and feather-like layers. It is popular as an easy-to-manage cut for both thick and thin hair.
Learn about the most stunning short hair bob-cut hairstyles that will unleash your cute and quirky side. If you wish to transform your look, check out this video.
Personal Experience: Source
i. 4 Ways to Style a Short Bob Haircut | Dominique Sachse
https://www.youtube.com/watch?v=kJEJjkWB4O8
The following two tabs change content below.