13 Best Michelle Obama Fashion Looks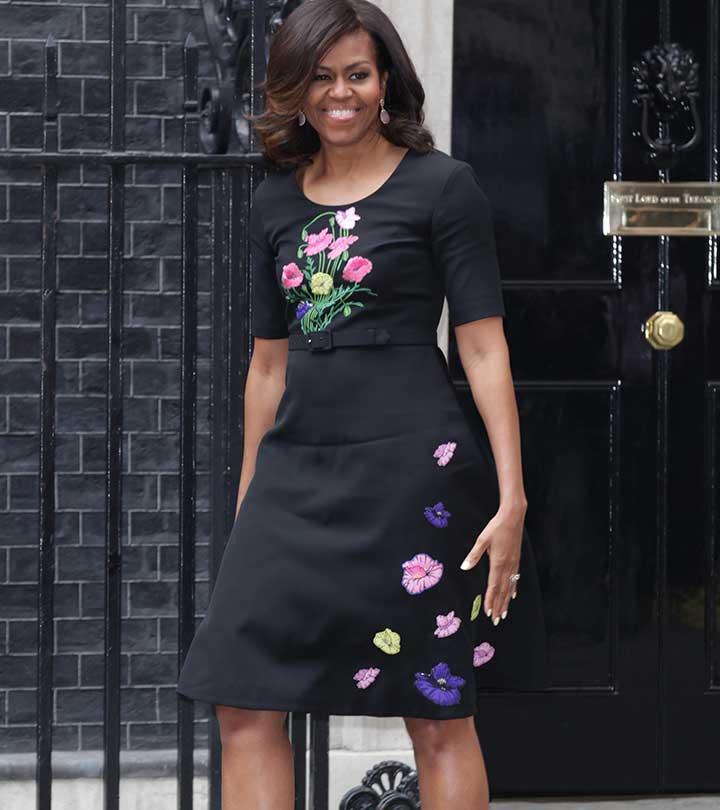 "Your story is what you have, what you always have. It is something to own." – Michelle Obama
Michelle Obama, former first lady, has had her fair share of the spotlight due to her impeccable outfits. Being the profound intellectual that she is, she enhances her image by using fashion to her best advantage. Over the years, she has evolved out of her comfort zone and experimented with pieces that shed light on her confident and bold personality.
Let's take a look at 13 of her best outfits.
1. Michelle Obama In Thigh High Boots
When you are out to meet the queen of shoes herself, it's a given that you have to up your game. Michelle Obama did more than just turn heads when she met Sarah Jessica Parker in Brooklyn for her Becoming book tour. She went all-in for this one.
Michelle sported a bright yellow silk dress with a slit right above her knee, paired with bold over-the-knee, glittery gold Balenciaga boots. Vogue has now dubbed these boots "The Knife Boots". The boots have stiletto heels and are made of sequined fabric. The boots glammed up the yellow silk dress to make Michelle look stunning.
2. Michelle Obama In Yellow Dress
Michelle Obama was spotted at an outdoor event wearing a bright yellow lace dress. She opted for something that was elegant and simple, yet made a statement. Michelle went for the minimalistic approach and wore a simple belt around her waist. She finished off the outfit with a pair of nude sandals.
3. Michelle Obama In Emerald Green Tuxedo
Leave it to the former First Lady to raise the bar every time she dresses up. In this emerald green tuxedo, her outfit is a complete 10 on 10. From her soft curls and her smoky eyes to her black stilettos, she looks stunning head to toe. Michelle's tuxedo exuded power and confidence as she stepped out for an event for her Becoming book tour. This outfit has to be one amongst our favorites.
4. Michelle Obama's Red Ball Gown
Mrs. Obama was the definition of stunning in this red silk gown designed by renowned fashion designer Jason Wu. This particular shade of red looks very flattering on her dark skin tone. The halter neck flaunts her well-structured yet lean arms. Her bangs are perfect for this outfit. Michelle opted for some slick Jimmy Choo shoes to finish off this look.
5. Michelle Obama's White Inaugural Ball Gown
Michelle Obama looks spectacular in this heavenly white ball gown by Jason Wu. This ivory chiffon, one-shoulder masterpiece is everything. Its beauty lies in details like the organza appliques and Swarovski crystals. Michelle wore this splendid gown at The Youth Inaugural Ball back in 2009.
6. Michelle Obama In A Striped Suit
Michelle looked stunning in this red suit with bold black buttons. It's well fitted and has a slightly quirky vibe. She paired this suit with soft loose curls and a black mani. The color red pops on Michelle, making her look stunning.
7. Michelle Obama In Satin Orange Blouse And Pants
This satin orange blouse and pants set is another of Michelle's Becoming book tour outfits that caught our eye. The peachy orange color is fierce, and the satin makes it almost sensual. She went for bold earrings and soft curls to balance out the outfit.
8. Michelle Obama In A Black Gown
Michelle turned heads in this black off-shoulder gown alongside her husband, Barack Obama. She sported this dress with ease and sophistication. The open neckline adds a dramatic effect, and heavu silver necklace and bracelet create an avant-garde vibe. This gown flaunts her curves to perfection, making her look absolutely marvelous.
9. Michelle Obama In A Floral White Dress
How bright and aqua! Michelle opted for a classic blue and white floral dress at a panel discussion with Jennifer Lopez. She looked effortless with her hair let down and smoky eyes. This dress worked in her favor as she does not wear these colors often, making it a breath of fresh air.
10. Michelle Obama In A Gold Versace Dress
For her last White House dinner, Michelle Obama went for something extravagant. She made a show-stopping entrance with Barack Obama in a custom rose gold Atelier Versace gown. It featured a fitted bodice, Grecian drapery, and an asymmetric off-shoulder neckline. Michelle slayed this look.
11. Michelle Obama In A Silk Green Dress
This silk chiffon green dress by Kia Milla was worn by Michelle Obama at a celebratory gala event. This outfit is polished and poised. She paired this dress with silver statement heels and a silver bracelet that add excitement to the look.
12. Michelle Obama In A Black Sequined Gown
Michelle looked all sparkly in this gown designed by Peter Soronen. This strapless gown enhanced her neckline, and the pearl necklace looked simply stunning with her hair tied up.
13. Michelle Obama In An All-White Dress
Michelle Obama seemed to glow in this all-white attire. It is a simple and elegant white statement outfit. She matched her shoes to her outfit to keep the all-white theme going.
Though Michelle Obama has an impeccable sense of style and a great wardrobe, she too has had her fair share of fashion blunders. It could be a lack of effort on her end or simply that she didn't care at that point. The public and media have criticized her for this. What do we think? Well, nobody looks like perfect every single day. We all have those "I wore the first thing I saw in my closet" days. We are sure Michelle Obama does too. Let's take a look at a few of her fashion blunders.
Michelle Obama's Fashion Blunders
Whether you love her style or couldn't care less about it, one thing is for sure – Michelle Obama is an inspiration to not only women but everyone around the world. Which of her outfits did you love the most? Comment below to let us know!
The following two tabs change content below.

Latest posts by Nooraine Firdouse (see all)