What Role Does Microneedling Play In Acne Scar Treatment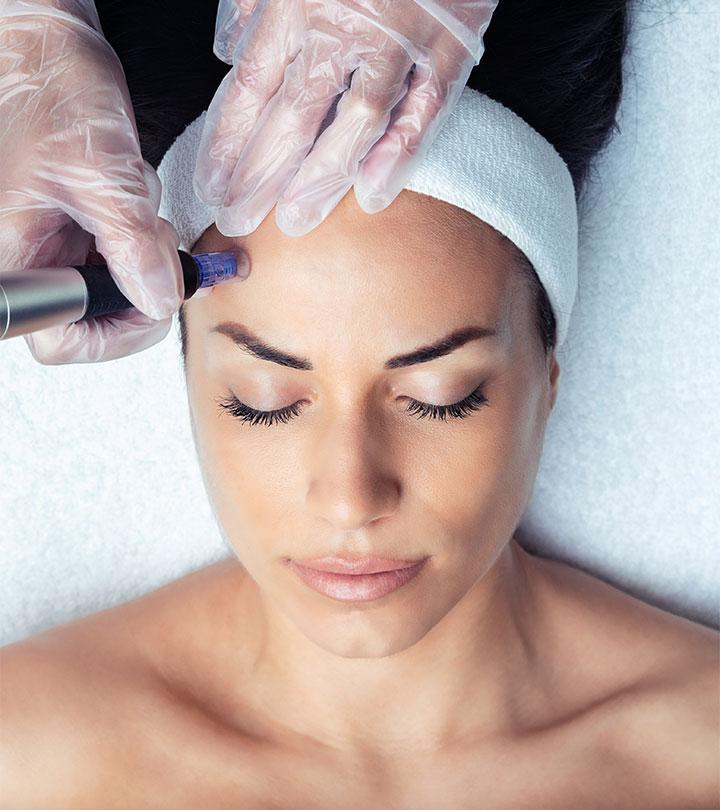 Acne is the most common skin condition and often leaves behind scars. Luckily, there are treatments to fade acne scars, and one of them is microneedling. It is an in-office treatment and is performed under the supervision of a doctor. Keep scrolling to learn more about it.
What Is Microneedling? How Does It Work For Acne?
Microneedling is a minimally invasive treatment that removes the top layer of the skin. It helps minimize the appearance of acne scars by promoting collagen formation, which plumps the scar site and makes it appear smoother.
Microneedling is done with a device called dermaroller, which contains small needles of different sizes. The device creates micro-wounds on the skin. This prompts the skin to produce collagen, promote cell turnover, and replace the scar tissue with healthy tissue (1).
Here are the benefits of microneedling for acne scars.
Benefits Of Microneedling
1. It Is Quick, Comfortable, And Cost-effective
Microneedling is a quick, comfortable, minimally invasive, and safe treatment for acne scarring and other skin issues like fine lines, large pores, and wrinkles (2). When performed under the supervision of a doctor, microneedling does not cause many side effects.
2. Minimizes Dark Spots And Hyperpigmentation
Microneedling can minimize hyperpigmentation, dark spots, and patches to even out your skin tone and make it bright and clear (3).
Microneedling is usually performed under the supervision of a doctor. However, you will also find dermarolling devices on the market to perform microneedling at home. This is not recommended at all. However, if you want to try, here is how to do it.
How To Do Microneedling At Home
Disinfect The Dermaroller: Soak the roller in 70% isopropyl alcohol solution for at least 10-15 minutes before using it on your skin.
Cleanse Your Face: Wash your face with a mild cleanser and pat it dry. If you cannot tolerate pain, you may also apply a mild numbing cream.
Use The Dermaroller: Roll the device 2-3 times vertically or horizontally on the affected area (avoid the eye area). Roll only in one direction and lift the roller before rolling again. Cover the entire section.
Wash Your Face: Clean your face only with water and gently pat it dry.
Sanitize The Device: Wash the device with warm water and soap and disinfect it again (follow the first step).
Performing microneedling at home is not recommended as it may cause undesired effects.
Side Effects Of Microneedling
Microneedling may cause initial side effects like:
Skin irritation
Redness
Bleeding
Bruising
Follow the doctor's instructions to care for your skin after the procedure. The minor side effects usually go away in a few days. However, if you try it at home, or if microneedling is performed by an inexperienced person, it may cause serious side effects like:
Discoloration
Hyperpigmentation
Scarring
Peeling
Infection
If you experience any of these side effects, consult a dermatologist. Here are the answers to some common questions regarding microneedling.
How Long Does It Take To Show Results?
You can expect visible results between four to six weeks after treatment.
How Many Microneedling Sessions Are Required For Acne Scars?
It depends on the severity of the scars. Usually, you may have to go for at least three to four sessions, as suggested by the dermatologist.
The Takeaway
Microneedling is a common cosmetic procedure for minimizing acne scars. While it may have some minor side effects, they usually go away after a few days. It is not advisable to try it at home. The best way is to visit a dermatologist, get your skin checked, and then go for it under their supervision. This will give better results and minimize the risk of long-term damage.
Sources
The following two tabs change content below.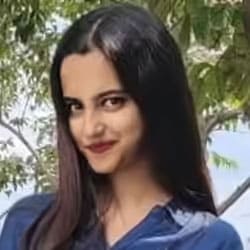 Monomita holds a master's degree in journalism and mass communication. Her passion for and understanding of all things related to skin, hair, and beauty propelled her to pursue a career in writing. She wants to travel the world and taste all kinds of food, preferably with a cat as her companion. She is a trained film director, and her eclectic taste in cinema ranges from anime to horror movies.