20 Easy And Stylish Middle Part Hairstyles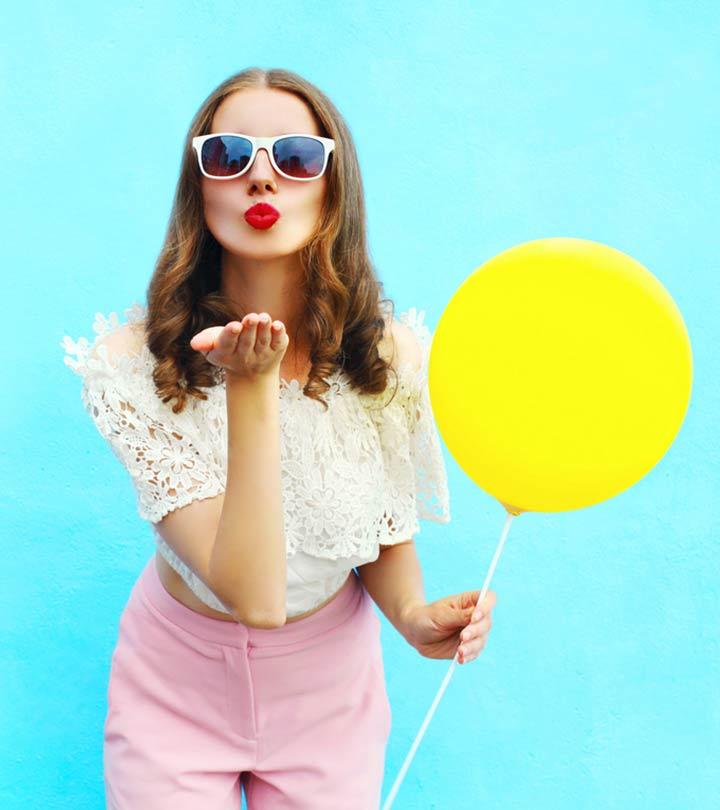 "Part your hair down the middle." How often have you come across this line in hair tutorials? Very often, I'm sure. That is because many of the hairstyles we see sported by celebs have a middle parting. It can be a long one or a small one just to accentuate your hair. Either way, a middle parting is a great way to frame your face. If you want to know how to style your hair right with the help of a center parting, read on!
How To Part Your Hair Down The Middle
What You Need
Mirror
Rat-tailed comb
Brush
How To Do
Brush your hair to remove all knots or tangles. Then, brush backwards.
With the tail end of a rat-tailed comb, mark the center of the front hairline and drag the comb back till where you want the parting to end.
Check the parting to make sure it is straight.
Comb the hair on both sides to accentuate the middle parting.
If you are wondering how to style your perfectly center-parted hair, keep reading!
20 Easy And Stylish Middle Part Hairstyles
1. Slight Lift
Anne Hathaway looks like an angel in this slightly wavy, layered hairstyle. The dark color at the roots and the layers work towards accentuating her jawline while also slimming down her face. This hairstyle shows off her two distinct features: her eyes and her beautiful smile.
2. Moussed Hair
This red carpet look had a lot of heads turning. I love how Zendaya's brown hair compliments her eyes perfectly. She is a natural brunette but likes to experiment with hairstyles and colors. The middle parting is accentuated with the slicked down hair at the top.
3. Boho Romantic Updo
Lili Reinhart looks phenomenal in this hairstyle. The lovely delicate side bangs add a romantic feel to the hairstyle. A middle parting is a great way to make your face look longer. This hairstyle accentuates all the features of her face while not focusing on the shape of her face.
4. Mild Parting
The middle parting works wonders for people with round faces. It looks especially brilliant with long, flowy hair. Take a cue from Khloe Kardashian and try it with slightly wavy hair. It slims down your face, while the layers add focus to your eyes, nose, and mouth.
5. Space Buns
Millie Bobby Brown looks stunning in this hairdo. The sleek hair, space buns, and middle parting draw attention to her eyes and eyebrows. Enhance your eyes even further by using eyeliner.
6. Slick Smart Updo
This hairstyle is perfect for the fiery businesswoman. It is very different from the loose wavy hairstyle we usually see Jessica Alba sport. The bun paired with the slick middle parting not only looks amazing but also elongates her face.
7. Side Bangs
This stunning hairstyle is perfect for round faces. So often we see curls being used to make a hairstyle look more soft and romantic. It's great to see a straight-haired updo that would be perfect for prom or a wedding. This hairstyle brings a more angular look to your face rather than softening your features.
8. Brown Ombre
Jessica Biel looks fabulous in this gorgeous hairdo. The soft curve at the bottom of her hair makes her face look slender, while the dark roots add height to her face. The lighter hair color accentuates her gray eyes.
9. Dark Roots
The darker hair color at the roots and the slight waves make Lili Reinhart's face look slender and her hair look more voluminous. A center parting with voluminous hair makes any face appear longer.
10. Straight Down The Middle
If you have a round face, the key is to make your face appear longer, add height to your crown, or cover up wide cheeks. The middle parting is the big winner here. Salma Hayek paired it with a stylish lob. If you have an oval, square, or diamond face, a simple tuck behind the ears can add some oomph to the look.
11. Slight Wavy
Cameron Diaz stuns in this wavy long lob hairdo. Her roots are visibly darker than the bottom half of her hair. This helps in framing her face and adding depth to her tresses. The middle parting allows her side layers to act as side bangs.
12. Small Parting
If you want to accentuate an updo, add a slight middle parting to the front. Sometimes, this happens naturally if your hair naturally parts at the center. It is a small touch, but it adds symmetry to your face and draws attention to your facial features.
13. '20s Middle Parting
Styling a parting with full frontal bangs is an art that needs to be learned. If not done right, it will mess up your hairstyle. Take a cue from Zendaya! Comb your bangs down and then part your hair down the middle. This show off your bangs and your cool new haircut!
14. Sleek Straight
Naomi Campbell looks superb with this hairstyle. Let's not forget that she is the queen when it comes to sporting the middle parting. Her long locks flow effortlessly. She shows off her chiseled jawline by making sure her hair is falling behind her shoulders.
15. Perfectly Messy Updo
A slightly messy updo with a mild middle parting accentuates facial features like your eyes, nose, and jawline. Notice the ever so slight puff at the crown of Jlaw's hair, which adds height to her face. The stray hair falling on her face adds to the romantic appeal of this hairstyle.
16. Long And Wavy
Layers always look great on round faces. They make your face look thinner and longer. The soft waves add volume at the end of the hair, making the top look thinner, which makes your face look leaner. I love how this shade of blonde brings out Miley's eyes. The middle parting is the glue holding this entire look together.
17. Loose Ponytail
A middle parting with a messy ponytail is perfect for a round face. The best thing about messy wavy hair is that it adds volume to your hair. If you have a round face, you need to use it to your advantage like Chloe Moretz. Leaving your hair loose can get in the way of your everyday activities. So, simply tie it up in a side ponytail paired with a middle parting. This hairstyle is also perfect if you are a bridesmaid or need a quick hairstyle for a formal event.
18. Double-Layered Bob
Millie Bobby Brown's straight lob is perfect. The dark shade of brown makes her eyes pop. The double-layered hair along with the center parting makes her face appear more symmetrical. If you have wide cheeks, get longer layers that end below your cheeks.
19. Minimalist
If you have a heart, diamond, or oval face shape, this is the perfect hairstyle for you. A long middle parting with loosely flowing hair and some color can create a stunning hairstyle. Finish it off with a tuck behind the ears, and you are ready to slay! This hairstyle accentuates your jawline and cheekbones. Choose a hair color that makes your eyes pop.
20. Half Ponytail
Camila Mendes looks elegant and pretty in this hairstyle. You can see the layers fall beautifully down her back. The middle parting is accentuating her forehead and drawing attention to her eyes.
A middle parting is the easiest way to style your hair. Try out some of these looks and let us know about your experience in the comments section below.
The following two tabs change content below.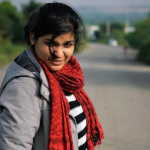 Anjali Sayee is a writer and an introvert. From studying Aeronautical Engineering and wanting to design her own airplane to writing articles on hairstyles, she has been on quite a journey. She believes that hair is one of the key factors that define a woman's personality. To quote her, "What's the first thing they do in the movies to show a personality change? Change the hair – because it has a life of its own." She's here to help you find the hairstyle you need. This bookworm is a self-professed Wholocker, a talented drummer, and an amateur photographer.