40 Best Middle Part Hairstyles For Women To Try In 2023
This classic hairstyle is known to highlight your facial features and frame the face.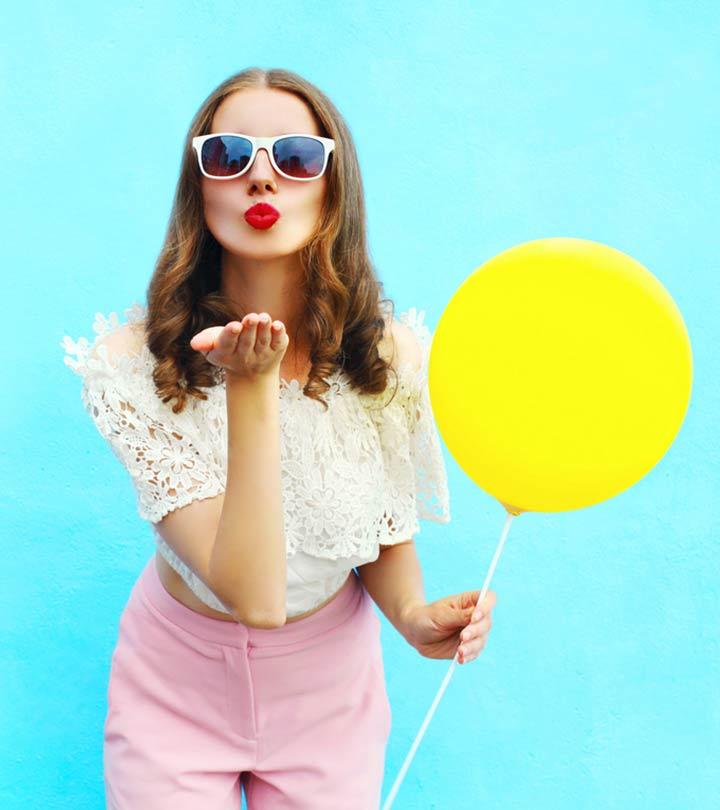 Middle part hairstyles are back after a long hiatus! From celebs to beauty bloggers, everyone is raving about middle part hairstyles that complement all face shapes, long hair, short hair, and different hair textures. You can tuck the hair behind your ears to exude a '90s vibe or just leave it loose to get transported to the '70s! Now, isn't that cool? Read on to check out our exclusive catalog of middle part hairstyles and try them out yourself. Swipe up!


Before You Get Started
Middle-part hairstyles are perfect for oval, diamond, or heart-shaped face shapes. They help create the illusion of length and complement facial features.
Those with a natural part need to give their hair some time to fall down the center effortlessly.
Style middle-part hairstyles with a blow-dry after washing and rubbing a dollop of styling cream evenly.
How To Part Your Hair Down The Middle
What You Need
Mirror
Rat-tailed comb
Brush
How To Do
Brush your hair to remove all knots or tangles. Then, brush backward.
With the tail end of a rat-tailed comb, mark the center of the front hairline and drag the comb back till where you want the parting to end. Licensed cosmetologist Tuera A. Jacobs, who has over 20 years of experience, says, "Metal rat-tailed combs tend to work best because of the sharp tail, making parting easier and well-defined."
Check the parting to make sure it is straight.
Comb the hair on both sides to accentuate the middle parting.

Quick Tip
If you are unable to create a middle part easily, here is what you can do. Take the end of the comb and trace a line from the bridge of the nose and go upwards. This will make it easier to create a middle part.
If you are wondering how to style your perfectly center-parted hair, keep reading!
40 Easy And Stylish Middle Part Hairstyles
1. Sleek Blunt Bob
Even though Cardi B seems to favor smooth center partitions most of the time, she carries the look very well wherever she goes. A contemporary, blunt bob with a middle parting is always a good choice. Straight hair makes it look extra sleek because it creates the appearance of a chiseled face and jawline.
2. Vibrant Mullet
With a middle part, Billie Eilish's smooth and flirtatious new mullet is even better and a far cry from the haircuts of the '70s. The goal is to have a free-flowing, informal structure with lots of movement. Due to the layers and the cut's form, it adds a natural volume rather than the forced volume produced by spray and product.
3. Upbraided Halfdo
Giulia Salemi is sporting a middle-parted and neat upbraided half-do.Be it a date or a casual brunch with friends, everyone can flaunt this simple hairstyle with confidence.
4. Modern Bouffant
Anna Hathaway sure looks like a doll with a modern bouffant and a small middle parting at the front. Celebrities and actresses have consistently preferred puff or bouffant hairstyles from the 1960s. This hairstyle will definitely make you appear stylish and confident.
5. Twisted Updo
Kim is the queen of middle parting. Regardless of the length, she is always rocking a fantastic hairdo. The simple twisted updo with a middle parting accentuates her facial features and makes it appear slimmer.
6. Voluminous Cascading Curls
Ciara, who is well known for her eclectic hairstyles, displayed her natural curls with a middle partition on the red carpet at the Billboard Music Awards in Las Vegas. This hairstyle is going to make those who believe curls are boring think again!
7. Bubble Braids
Kendall Jenner is rocking the middle-parted bubble braid at the Warner Bros. MTV Movie Awards. The sleek side bangs undoubtedly add a dramatic effect to this iconic look.
8. Dreadlocks
At the "Aladdin " premiere in Los Angeles, Zhavia Ward sported white dreadlocks with a middle partition, showing the world that you can rock this gorgeous hairstyle with confidence and sass.
9. Front Row Braids
Emily Blunt arrived at the 72nd Annual Golden Globe Awards sporting an amazing hairstyle that featured a classy updo with front-row braids. The hairdo draws attention to her defined cheekbones and jawline.
10. Mermaid Box Braids
Amandla Stenberg is well known for her bold and vibrant hairstyles. When she showed up for the 5th Annual InStyle, she caught everyone's attention with her mermaid box braids. These intricate braids can be customized for both formal and informal occasions.
11. Loose Pigtail Braids
When she arrived for Disney's "Frozen 2" Los Angeles Premiere in California, Selena Gomez undoubtedly raised eyebrows with the middle-parted pigtail braids. We can all agree with the fact that she wore the hairstyle better than anybody else.
12. Pigtails
During the Powerpuff Girls Runway Show at Los Angeles, Paris Hilton walks the runway wearing tight yet stylish pigtails. Who knew pigtails could be worn even by adults this boldly!
13. Curly Half Ponytail
Nico Parker wore her curly locks in a stunning half ponytail at the Reminiscence Los Angeles Premiere. The good news is people with curly or wavy hair benefit the most from it because it adds volume and depth to your locks.
14. Reverse French Braid
Kaitlyn Dever sports a reverse French braid on the red carpet with class. This elegant and simple hairstyle draws attention to your face and eyes.
15. Blonde Layers
Cameron Diaz shows off her natural beauty at the Santa Monica beachside Film Independent Spirit Awards with beautiful blonde layers with a middle parting. Be it every day or on a major occasion, this simple hairstyle won't disappoint you.
16. Low Pony
Beyonce sported a simple low ponytail with a middle partition at the 2013 Grammy Awards in Hollywood, California. This chic hairstyle can be recreated every day in a matter of minutes.
17. Sleek A Bob
At a photocall for the 68th Venice Film Festival in Venice, actress Keira Knightley poses with a spectacular sleek A bob with a middle partition. Even though the haircut has been fashionable for years, it is considered a classic even today.
18. Twisted And Textured Braid
At the Los Angeles premiere of Fifty Shades of Darker, Dakota Johnson pulls off these effortless twisted braids with side-swept bangs. This hairstyle creates a smooth, soft, and elegant look.
19. Half Up Half Down Bouffant
While Laura Dern's messy bouffant gives off retro vibes in the 23rd Annual Hollywood Film Awards, it is timeless. The front-parted bangs add softness to the look.
20. Messy Textured Curls
Paulina Rubio sports messy textured curls with elegance. She really nailed the look by letting her curls loose with a middle partition. All you need is a good texturizing spray to add some volume to your magnificent curls for this look.
21. Slight Lift
Anne Hathaway looks like an angel in this slightly wavy, layered hairstyle. The dark color at the roots and the layers work towards accentuating her jawline while also slimming down her face. This hairstyle shows off her two distinct features: her eyes and her beautiful smile.
22. Moussed Hair
This red carpet look had a lot of heads turning. I love how Zendaya's brown hair complements her eyes perfectly. She is a natural brunette but likes to experiment with hairstyles and colors. The middle parting is accentuated with the slicked down hair at the top.
23. Boho Romantic Updo
Lili Reinhart looks phenomenal in this hairstyle. The lovely delicate side bangs add a romantic feel to the hairstyle. A middle parting is a great way to make your face look longer. This hairstyle accentuates all the features of her face while not focusing on the shape of her face.
24. Mild Parting
The middle parting works wonders for people with round faces. It looks especially brilliant with long, flowy hair. Take a cue from Khloe Kardashian and try it with slightly wavy hair. It slims down your face, while the layers add focus to your eyes, nose, and mouth.
25. Space Buns
Millie Bobby Brown looks stunning in this hairdo. The sleek hair, space buns, and middle parting draw attention to her eyes and eyebrows. Enhance your eyes even further by using eyeliner.
26. Slick Smart Updo
This hairstyle is perfect for the fiery businesswoman. It is very different from the loose, wavy hairstyle we usually see Jessica Alba sport. The bun paired with the slick middle parting not only looks amazing but also elongates her face.
27. Side Bangs
This stunning hairstyle is perfect for round faces. So often we see curls being used to make a hairstyle look more soft and romantic. It's great to see a straight-haired updo that would be perfect for prom or a wedding. This hairstyle brings a more angular look to your face rather than softening your features.
28. Brown Ombre
Jessica Biel looks fabulous in this gorgeous hairdo. The soft curve at the bottom of her hair makes her face look slender, while the dark roots add height to her face. The lighter hair color accentuates her gray eyes.
29. Dark Roots
The darker hair color at the roots and the slight waves make Lili Reinhart's face look slender and her hair look more voluminous. A center parting with voluminous hair makes any face appear longer.
30. Straight Down The Middle
If you have a round face, the key is to make your face appear longer, add height to your crown, or cover up your wide cheeks. The middle parting is the big winner here. Salma Hayek paired it with a stylish lob. If you have an oval, square, or diamond face, a simple tuck behind the ears can add some oomph to the look.
31. Slight Wavy
Cameron Diaz stuns in this wavy long lob hairdo. Her roots are visibly darker than the bottom half of her hair. This helps in framing her face and adding depth to her tresses. The middle parting allows her side layers to act as side bangs.
32. Small Parting
If you want to accentuate an updo, add a slight middle parting to the front. Sometimes, this happens naturally if your hair naturally parts at the center. It is a small touch, but it adds symmetry to your face and draws attention to your facial features.
33. '20s Middle Parting
Styling a parting with full frontal bangs is an art that needs to be learned. If not done right, it will mess up your hairstyle. Take a cue from Zendaya! Comb your bangs down and then part your hair down the middle. This show off your bangs and your cool new haircut!
34. Sleek Straight
Naomi Campbell looks superb with this hairstyle. Let's not forget that she is the queen when it comes to sporting the middle parting. Her long locks flow effortlessly. She shows off her chiseled jawline by making sure her hair is falling behind her shoulders.
35. Perfectly Messy Updo
A slightly messy updo with a mild middle parting accentuates facial features like your eyes, nose, and jawline. Notice the ever so slight puff at the crown of Jlaw's hair, which adds height to her face. The stray hair falling on her face adds to the romantic appeal of this hairstyle.
Tuera A. Jacobs, a licensed cosmetologist, adds, "Gone are the days of updos that are frozen with a ton of hairspray… let your hair be as whimsical and capricious as you are!"
36. Long And Wavy
Layers always look great on round faces. They make your face look thinner and longer. The soft waves add volume at the ends of the hair, making the top look thinner, which makes your face look leaner. I love how this shade of blonde brings out Miley's eyes. The middle parting is the glue holding this entire look together.
37. Loose Ponytail
A middle parting with a messy ponytail is perfect for a round face. The best thing about messy wavy hair is that it adds volume to your hair. If you have a round face, you need to use it to your advantage like Chloe Moretz. Leaving your hair loose can get in the way of your everyday activities. So, simply tie it up in a side ponytail paired with a middle parting. This hairstyle is also perfect if you are a bridesmaid or need a quick hairstyle for a formal event.
38. Double-Layered Bob
Millie Bobby Brown's straight lob is perfect. The dark shade of brown makes her eyes pop. The double-layered hair, along with the center parting, makes her face appear more symmetrical. If you have wide cheeks, get longer layers that end below your cheeks.
39. Minimalist
If you have a heart, diamond, or oval face shape, this is the perfect hairstyle for you. A long middle parting with loosely flowing hair and some color can create a stunning hairstyle. Finish it off with a tuck behind the ears, and you are ready to slay! This hairstyle accentuates your jawline and cheekbones. Choose a hair color that makes your eyes pop.
40. Half Ponytail
Camila Mendes looks elegant and pretty in this hairstyle. You can see the layers fall beautifully down her back. The middle parting is accentuating her forehead and drawing attention to her eyes.


Quick Tip
You can decorate your middle part with creaseless clips to make sure your hair lays straight on both ends of the parting.
Infographic: What Does Middle Parting Do To Your Face?
From the above discussion, it is clear that middle part hairstyles will never go out of fashion. Not only do they look flattering, but they are easy to manage too.
So, if you have decided to get them, check out our infographic below and how middle parting gives an instant twist to your look and lets you stand out from the crowd:


Style your hair with a simple and elegant center part. They are the easiest go-to styles and work well with many hair types. You may sport middle-part hairstyles with an updo, side bangs, or simply as is to get a stunning look. Whether paired with sleek straight hair or a fun messy updo, there is something for everyone here. Feel free to experiment and tailor these styles to your needs and preferences. A hairstyle like this can make you look good effortlessly and easily make you stand out.
Frequently Asked Questions
Is the middle part more attractive?
A middle part has its charm. The middle part is a great choice if you want to elongate your face and need a style to complement your facial symmetry. However, there are several ways to style a middle part to suit anyone. You will need to do a bit of experimenting to figure out which look you like best.
Do middle parts make your nose look bigger?
Not necessarily. Middle parts tend to make your sharp features look more pronounced. For instance, if you have a big nose, it can look more prominent because of a middle-part hairdo. However, middle parting with loose and messy styles takes the attention away from your nose and other sharp features.
Should I change to a middle part?
Middle parting is in trend and goes well with almost all hair types and looks. You may try it out and experiment with it.
Does parting your hair in the middle cause hair loss?
It may. And this may apply to any style in which you keep your hair for long periods. However, always parting your hair in the same place could wear your hair down in that area, leading to breakage, hair loss, and wider parting. Therefore, remember to switch partings and styles once in a while.
Key Takeaways
The middle-part hairstyle is very versatile and flatters a wide variety of hair lengths, shapes, and textures.
Whether you go for a boho updo, space buns, or just a simple, elegant half ponytail, the options are endless.
You can channel any style from the 70s to the 90s with this easy hairstyle.