Revealed! Miley Cyrus Diet And Exercise For A Healthy And Fit Body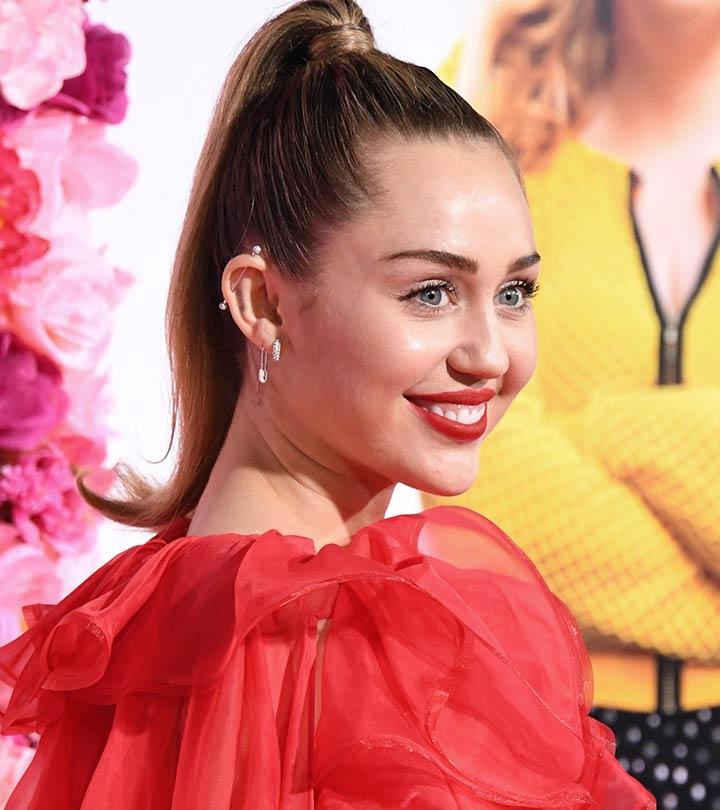 The über talented Miley Cyrus's stunner performance of her new song "Slide Away" at the 2019 MTV VMAs had us in tears. We were sad for her public breakup, but happy for living life on her  terms. What piqued our interest is – how does she maintain a fit, slim, and strong frame? Love her or hate her, you cannot ignore those flat abs, shapely legs, and a super flexible body! Is she on a special diet? Does she workout? Can you follow her lifestyle? Read on to know everything about Miley Cyrus' diet and exercise routine and what you can learn from it.
Miley Cyrus Diet Plan 
Miley Cyrus is vegan since 2014. She doesn't consume animal products like meat, seafood, eggs, milk and other dairy products, and honey. In an interview, she said, "By not consuming animal products over the years I have protected myself from preventable diseases."
According to The American Journal of Clinical Nutrition, vegans tend to be slim and have lower blood cholesterol, blood pressure, and heart disease risk (1). A plant-based diet is also helpful and recommended for people with diabetes (2).
The Animal Rights National Conference also honored Miley with the Celebrity Advocate Award for not just "talking the talk but also walking the walk." She loves green juice, vegan snacks, vegan dessert, vegan meat, and plant-based protein sources like tofu and legumes. 
Miley Cyrus is off gluten and dairy products since 2012. Lactose intolerance, lactose maldigestion, and practicing veganism prevents Miley from consuming dairy products. She says that going gluten and dairy-free prevented weight gain in the late teens.
A dairy-free diet also helped Khloe Kardashian lose 40 pounds.
Miley Cyrus had days when she would smoke pot and take ecstasy. But in a recent interview with Billboard, she said, "I'm not doing drugs, I'm not drinking, I'm completely clean right now!" She is off alcohol, smoking, and drugs since 2017. She also sings about it in her song "Slide Away." What can you learn from Miley Cyrus' diet?
Takeaway
Go on a dairy-free diet if you are lactose intolerant or have problems digesting lactose. You may or may not be gluten-sensitive. Talk to your doctor and do the allergy test to find out. Go on a gluten-free diet if it helps you. Going on a vegan diet  is a personal choice. Choose a diet that works for you, is healthy, and brings you joy
What Miley Cyrus Eats In A Day?
Miley Cyrus Exercise Routine 
Miley  Cyrus started doing Pilates in 2013. She loves doing Pilates and also has a Pilates studio at home. According to her former instructor, Mary Winsor, Miley spends 30 minutes doing Pilates every day and does ab exercises to improve her core strength and side kicks to increase lower body movement and flexibility.
Mary Winsor also said in an interview with People, "You have to learn how to not just tighten up your tummy but actually pull your tummy in to your lower back as much as you can. Just doing 40 crunches a day isn't gonna do it for you."
Miley Cyrus does 2 hours of yoga every day. Her preferred type of yoga is Ashtanga. This type of yoga improves cardiovascular fitness and health through breathing exercises. This explains her slender structure and incredible flexibility. Miley posted on Instagram, saying, "I will never not practice for 10 days ever again! Today I got my ASStanga kicked!"
Miley loves hiking and kayaking. These are great calorie burners and help improve muscle endurance, boost metabolism, and tone the body. Who can forget hours and hours of practice for sold-out concerts and then performing live in front of millions of people? 
Takeaway
You do not always have to go to a gym and lift dumbbells to become lean and fit. Choose a workout that you truly enjoy. Mix cardio and strength training. Get at least 5 hours of exercise sessions per week. Walk, run, swim, dance, and play sports to burn calories in a fun way.
Over the years, we have seen Miley transform. Here are a few pictures of Miley Cyrus growing up from Hannah Montana to the star performer and social activist that she is today.
Miley Cyrus – Growing Up
How To Use Miley Cyrus's Diet And Exercise Routine For Better Health And Fitness? 
Choose plant-based foods for better health and protecting yourself from lifestyle-related diseases.
Avoid gluten and dairy if you are allergic to them.
Take vitamin and mineral supplements if you are on a vegan diet.
Practice yoga daily.
Practice meditation daily.
Work on your core. Strengthen it by doing plank holds and skipping.
Do HIIT to burn calories, improve endurance, and muscle power.
Snack healthy.
Indulge in high-calorie foods once in a while.
Build your social support by joining vegan groups.
Run for a social cause.
When you are on a vegan diet and work out, you will lose weight and start to become fit in 3-4 weeks. Make sure that you talk to your doctor before going on any diet plan.
Conclusion
Miley Cyrus is known as one of the most honest and authentic human beings living in Hollywood. Her love for animals, her dedication towards being the voice of the LGBTQA community, practicing what she preaches, pouring her heart out with every song she writes, and  determination to leave her history with drugs and becoming healthy is commendable and inspiring. Leave your unhealthy habits and strive to be fit instead of trying to fit in a  particular dress size. "Remember only God can judge ya, Forget the hater 'cause somebody loves ya."
Sources
Articles on StyleCraze are backed by verified information from peer-reviewed and academic research papers, reputed organizations, research institutions, and medical associations to ensure accuracy and relevance. Check out our
editorial policy
for further details.
The following two tabs change content below.